What to Know in Washington: Biden to Order Supply Chain Review
Bloomberg Government subscribers get the stories like this first. Act now and gain unlimited access to everything you need to know. Learn more.
President Joe Biden on Wednesday will order a government review of U.S. supply chains, seeking to end the country's reliance on China and other adversaries for crucial goods.
But the process will take months, offering no immediate solution for a shortfall of semiconductors that's idled auto production at several factories.
The administration's 100-day review will cover chips but also include large-capacity batteries, pharmaceuticals and critical minerals and strategic materials like rare earths, according to U.S. officials who briefed reporters on condition of anonymity.
The issue has taken on urgency with a global chip shortage that's forced some U.S. carmakers to idle plants. The supply disruptions threaten to harm U.S. economic growth and could lead to layoffs, prompting concern from the White House as Biden seeks to rebuild an economy battered by the coronavirus.
Before signing the order, Biden is scheduled to meet with a group of lawmakers from both parties at the White House to discuss the semiconductor shortage, and ways to strengthen supply chains, according to the officials. Read more from Jenny Leonard.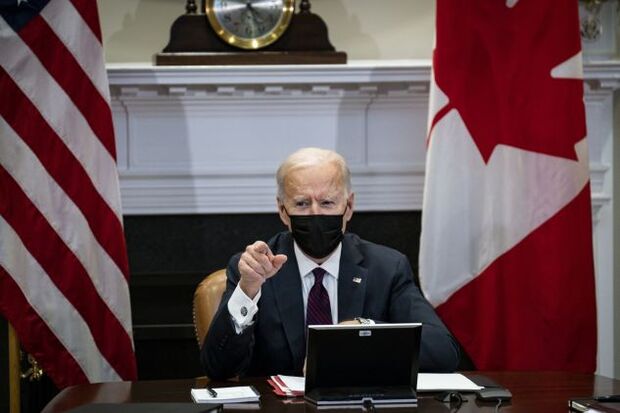 Legacy and Fallout of Capitol Riot
GOP Voters' Post-Riot Departures Firm Trump's Grip: Tens of thousands of Republicans have left the party in the weeks since the Jan. 6 riot at the U.S. Capitol, a move that sidelines members who could have loosened Donald Trump's ever-tightening grip on the GOP. In six key states, 57,000 voters have quit the GOP, becoming Democrats, Libertarians or just unaffiliated, according to a Bloomberg analysis. Nationally, some estimates put the number at more than 100,000.
That's a sliver of the 74.2 million people who voted for Trump in November, but some Republican leaders, like Arkansas Governor Asa Hutchinson, see the departures as a "warning sign." Yet the actual effect on partisan politics might be the opposite of what was intended. The remaining Republicans are likely to be those most loyal to Trump — which could help Trump-backed candidates get elected in primaries that often are decided by just a few votes. And in states that favor Republicans, that could bolster their chances in a general election. Read more from Gregory Korte.
Sen.

Mitt Romney

(R-Utah) said yesterday Trump likely would win the Republican presidential nomination if he opts to run in 2024. Romney, the only Republican who voted to convict Trump in both impeachment trials, said he expects the former president will continue to play a big role in the GOP. "He has, by far, the largest voice and a big impact in my party," he said at a New York Times event, Laura Davison reports.
House Republican Conference Chair

Liz Cheney

(R-Wyo.) said the GOP needs to acknowledge the damage done by Trump's claims that the election was stolen from him and his provoking of the mob that stormed the Capitol. In the latest sign that a rift in the GOP is far from healing, Cheney used part of a speech yesterday at the Reagan Institute to criticize the former president, Daniel Flatley reports.
Capitol Attack Fallout Seen in Postal Vote: Fallout from the attack was on display last night when an otherwise routine vote on naming a post office—something usually handled via a simple voice vote— became a roll call vote requiring all members to weigh in, Emily Wilkins reports. Rep. Sean Casten (D-Ill.) requested the roll call vote because the sponsor of the bill, Rep. Trent Kelly (R-Miss.), was one of 139 Republicans to vote to overturn the results of the Electoral College. In a letter to other lawmakers, Casten said the vote to overturn the election results after the attack "was a bridge too far." Fifteen Democrats opposed the legislation, despite Democratic leaders urging members to vote yes on the bill naming a post office after Colonel Carlyle 'Smitty' Harris, a Vietnam veteran and prisoner of war.
Post-Riot Security Spurs D.C. Push for Statehood: In the days after the insurrection, a 7-foot-high fence topped with coils of razor wire went up around the U.S. Capitol in Washington. Mayor Muriel Bowser tweeted that the city "will not accept" a long-term fence and an online petition against any long-term security fencing garnered more than 20,000 signatures as of Feb. 22. Resentment over the cordoning off of the "people's house" is feeding into the D.C. statehood movement—which, with the Democrats in charge of the White House and both houses of Congress, now has its most promising (if narrow) political window ever. Read more from Amanda Hurley.
Domestic Terror Policy Lapses to Get Scrutiny: Senators probing the deadly Jan. 6 attack on the U.S. Capitol are calling for more answers on intelligence failures and ways to change what some lawmakers view as a faulty approach to domestic terrorism. "There was a failure to take this threat more seriously," said Senate Homeland Security and Governmental Affairs Chair Gary Peters (D-Mich.) during a hearing on the attack. Peters said he continues to pressure the FBI, DHS, and the National Counterterrorism Center for a report to Congress on domestic extremism that is now eight months late. Shaun Courtney has more.
Rep. Josh Gottheimer (D-N.J.) called on Secretary of State Antony Blinken to designate the Proud Boys as a terrorist group. The designation would open additional tools up to law enforcement and the intelligence community "to prosecute, financially counter and defeat these groups," Gottheimer said, Caitlin Webber reports.
Happening on the Hill
Stimulus Update: The House will vote Friday on Biden's American Rescue Plan, Majority Leader Steny Hoyer (D-Md.) said last night. The House Rules Committee is set to consider the chamber's $1.9 trillion coronavirus relief bill Friday. Read the bill text and hearing information here. Sen. Susan Collins (R-Maine) said yesterday she doesn't see a single GOP vote for the legislation. She suggested that though Biden himself was interested in bipartisan talks, they were halted by aides. Separately, Biden, at a virtual roundtable with Black essential workers, acknowledged that the vote in Congress will be close, Erik Wasson reports.
Lawmakers to Push Housing Tax Credit: Lawmakers will soon relaunch efforts to expand a long-established affordable housing incentive, pitching it as a way to help the people most harmed by the Covid-19 pandemic. The low-income housing tax credit has existed in some form since the mid-1980s as an incentive for developers to build and rehab affordable units. Congress recently tweaked the credit—which can subsidize up to 70% of the cost of constructing affordable housing—in December's government funding and Covid relief bill, but advocates argue bigger changes are needed given the pandemic's continuing effect on the economy. Read more from Kaustuv Basu.
Becerra Makes Nomination Battle Personal: Biden's choice to lead his health department is betting that a personal touch will secure enough votes to assure his nomination in coming weeks. Xavier Becerra will face lawmakers for his second confirmation hearing today, sitting down with members of the Senate Finance Committee. A day earlier, he sought to retain the support of abortion-rights Democrats while also wooing the GOP during his meeting with the Senate panel that oversees health. Outside his nomination hearings, Becerra has met with key Republican senators, even as several staunch conservatives in Congress and anti-abortion groups publicly condemned his nomination. Read more from Alex Ruoff.
Reed Urges Pentagon to Finish F-35's Combat Tests: Senate Armed Services Chairman Jack Reed (D-R.I.) said he's impatient for the Pentagon to finish rigorous combat simulation testing of the F-35 and provide an assessment of the stealthy fighter jet's effectiveness. "We've been building it" for years "and it's still in operational testing and evaluation, and once that's finished — and we hope it's finished promptly — then we can make a much more thorough assessment of the system," Reed said in an interview this week. "We hope that the answer is delivered soon about the effectiveness of the F-35 and the justification for its billing as the 'premier' fighter aircraft of the world," he added. Reed will have to wait a while longer. Read more from Tony Capaccio.
Coalition Says Carbon Capture Tax Change Would Spur Growth: More U.S. carbon-capture projects could be deployed if they could claim a federal tax credit as an estimated tax payment, a coalition of business and environmental groups said today in a report.The option "is the most important next step Congress and the administration can take to enable economywide deployment of carbon capture technologies to meet midcentury climate goals," the Carbon Capture Coalition report said. The coalition, which includes project developers and energy and industrial companies, issued the report as a federal policy action blueprint for the 117th Congress and the Biden administration. Read more from Dean Scott.
Senators, CEOs Recommend Hack Reporting Mandate: A bipartisan group of senators and technology CEOs recommended that the U.S. consider requiring companies to disclose when they've been hacked. At the first public hearing before Congress since a massive cyberattack by suspected Russian hackers was disclosed last December, Intelligence Chair Mark Warner (D-Va.) was joined by three Republicans in calling for the measure. Read more from Alyza Sebenius and Rebecca Kern.
Texas Moves to Replace Lawmaker Who Died: Texas Gov. Greg Abbott (R) set May 1 as the special election date to fill the 6th congressional district House seat vacated by the death of Republican Ron Wright. All candidates seeking a place on the ballot must file their applications by March 3, Paul Stinson reports. Wright was hospitalized with Covid-19 earlier this month. He was also battling cancer.
Around the Administration
Biden, Trudeau See Unity on Virus, China, Climate: Biden and Canadian Prime Minister Justin Trudeau said that their nations would adopt a unified approach toward the pandemic, climate change, and China, putting aside trade and other tensions in what the White House called the new U.S. president's first bilateral meeting. After about a two-hour virtual meeting between the two leaders yesterday, Biden said they'd agreed to cooperate to strengthen the World Health Organization and combat climate change, among other issues. Read more from Justin Sink and Jordan Fabian.
Biden Shelves Mass Mask Shipments: Biden will announce a program to send cloth masks to disadvantaged U.S. communities to curb the coronavirus pandemic while deciding for now to shelve a proposal to send masks to every American, according to two administration officials familiar with the plans. The U.S. will probably send millions of masks across the country "very shortly," Biden said yesterday at a virtual roundtable event with Black essential workers. "We're probably going to be sending out an awful lot of masks around the country, very shortly — millions of them," he said, without elaborating. Read more from Shira Stein and Josh Wingrove.
Biden DOL Targets Contractors on Wages: Labor Department leaders are planning to ramp up enforcement of wage standards on federally funded construction and service projects, aiming to reverse a recent trend that has been compounded by attrition of seasoned investigators, according to four sources briefed on the initiative. Read more from Ben Penn.
Pentagon Urges Turkey Not to Retain Russian S-400s: The U.S. urged Turkey not to go ahead with the delivery of Russian S-400 missiles and jettison the battery it already acquired, as Ankara engages in talks with Moscow over the delivery of a second system. Read more from Selcan Hacaoglu.
To contact the reporters on this story: Zachary Sherwood in Washington at zsherwood@bgov.com; Brandon Lee in Washington at blee@bgov.com
To contact the editors responsible for this story: Giuseppe Macri at gmacri@bgov.com; Loren Duggan at lduggan@bgov.com; Michaela Ross at mross@bgov.com
Stay informed with more news like this – from the largest team of reporters on Capitol Hill – subscribe to Bloomberg Government today. Learn more.