What to Know in Washington: Biden to Meet Utilities on Climate
Biden to meet with electric utility executives as spending plan stalls
House sends Senate stopgap government funding bill to avoid shutdown
President Joe Biden is set to meet today with the leaders of some of the nation's largest electric utilities, as he continues to push for lawmakers to approve $550 billion in spending on energy and climate measures.
The session comes as Senate Democrats and the White House attempt to find a way to advance a new version of provisions in the stalled Build Back Better Act. Of the $550 billion related to climate and energy, more than $300 billion would go toward new and expanded tax credits for wind and solar power, nuclear plants, and other items that have drawn utilities' support.
It's the latest effort by Biden to rally support for the bill from corporate leaders. Last month, he hosted executives from Microsoft, General Motors and Ford, who praised the plan's provisions for child and elder care.
Among the participants in the meeting are several chief executive officers from companies including Southern Co., American Electric Power, Edison International, Duke Energy, Avangrid, and PNM Resources. Executives from Ameren, Exelon, DTE Energy, and Edison Electric Institute are also expected to attend, the White House said.
The attendees and their organizations "know that the best way to ensure future economic growth is to make long-term investments that will combat the climate crisis, increase the competitiveness of our industries and protect our electrical grid from extreme weather events — all while lowering costs for American families across the country," the White House said in a statement. Read more from Ari Natter and Jennifer Epstein.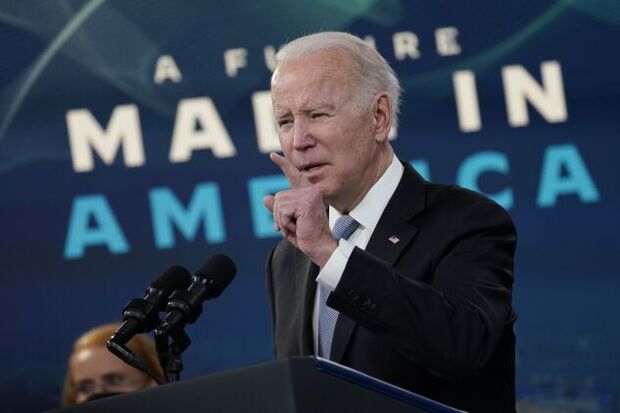 In a related effort to fight climate change, the Biden administration is pushing for federal infrastructure money to be used to fix crumbling roads and bridges before being spent to build new ones. But the White House may have little say in how hundreds of billions of dollars are deployed.
Over the next five years, the $1 trillion infrastructure package that Congress enacted in November will send hundreds of billions of dollars for roads to states, where expansion projects and highway building have contributed to the transportation sector generating the largest share of the nation's greenhouse gas emissions. Republicans are bashing administration directives on how to spread the infrastructure funds as federal overreach, and the back-and-forth has become contentious in recent weeks as money from the law has started to flow. Read more from Lillianna Byington.
Biden's stalled economic package also risks leaving vulnerable Democrats bereft of promised benefits for voters during this year's tax-filing season. Embedded in the Build Back Better package were two provisions that Democrats designed so that the effects would be felt immediately by key constituencies: lower-income families, along with wealthier voters in areas with high local taxes, critical to a number of swing districts.
One of the plan's components was an extension of the monthly child tax credit. Another component was an expansion of the federal deduction for state and local taxes, or SALT. Against a backdrop of surging living costs and a chaotic tax season with little expectation of help from hard-pressed IRS staff, the Democrats' legislative disappointment risks turning into an electoral one. Read more from Laura Davison.
BIDEN'S SCHEDULE:
Biden and Energy Secretary Jennifer Granholm meet at the White House 2:30 p.m. with the CEOs of electric utilities.
The White House Covid-19 response team holds a briefing at 11 a.m.
Press Secretary Jen Psaki holds a press briefing at 12:30 p.m.
Happening on the Hill
CONGRESSIONAL AGENDA
The House returns at 9 a.m. to vote on an LGBTQ rights sanctions bill.
The Senate is in at 10 a.m. to vote on defense, diplomatic, and judicial nominees.
Click here for a complete list of today's hearings and markups.
The House passed a three-week government funding bill on a 272-162 vote, sending the measure to the Senate ahead of a Feb. 18 government shutdown deadline. The Senate is set to vote next week on the stopgap, which would keep the government open through March 11 and provide Democrats and Republicans time to settle on a longer-term funding deal. The bill continues funding the government at fiscal 2021 levels with just a few exceptions. Those so-called "anomalies" include up to $1.6 billion for the Navy's Columbia-class nuclear submarine, a top Pentagon priority.
Democrats and Republicans claim they are close to agreeing on an outline for full-year appropriations, but how much money to send to the Department of Defense remains a key sticking point. Senate Majority Leader Chuck Schumer (D-N.Y.) said yesterday that negotiators are making "good progress" and he's confident they can reach a deal on a bill by March 11. Lawmakers of both parties are debating the top-line spending level, with Democrats seeking a 13% hike to domestic spending. Erik Wasson has more.
But the stopgap will further kick the can down the road in implementing the bipartisan infrastructure law and the Biden administration's transportation goals, senior Democratic lawmakers warned yesterday. The bill leaves in question dozens of programs in the infrastructure law, and at least $18.5 billion in spending this fiscal year, the Department of Transportation's dashboard on implementation says. "We're unable to go full throttle on a number of areas," said Rep.

David Price

(D-N.C.), chair of the House Appropriations Transportation Subcommittee, Lillianna Byington reports.
Biden's bid for a majority-Democrat Federal Communications Commission resumes today, as nominee Gigi Sohn defends herself from criticism leveled by Republicans and broadband providers. Sohn, a communications lawyer, is to appear a second time before the Senate Commerce, Science and Transportation Committee. The panel was set to vote on her nomination last week but a Democratic senator, Ben Ray Lujan (N.M.), fell ill, depriving Sohn of a needed vote on the closely divided committee and opening the way for today's hearing. Read more from Todd Shields.
Mitch McConnell expressed skepticism about the effectiveness a sanctions measure would have in swaying Vladimir Putin's decisions on Ukraine. "I don't think Putin will be deterred by any piece of legislation in the Senate," he said. McConnell (R-Ky.) said the Nord Stream 2 pipeline should be halted now, and that Biden already has the power he needs to enact sanctions. His comments come as Congress struggles to find a unified position on how to respond if Russia invades Ukraine, and how soon sanctions should kick in. Read more from Daniel Flatley.
A key senator says it's "absolutely" time for U.S. sanctions on China over its treatment of Uyghurs. "It is unconscionable that in the in the 21st century, we have concentration camps anywhere in the world," said Sen. Bob Menendez (D-N.J.), head of the Foreign Relations Committee. He suggested during a Washington Post Live event the U.S. take additional action beyond a law passed with unanimous backing in Congress and signed in December by Biden, which bans goods from Xinjiang unless firms can prove they aren't made with forced labor, including sanctions. Read more from Daniel Flatley.
Schumer endorsed banning stock trading by members of Congress, giving additional momentum to an idea that's being pushed by progressive Democrats and conservative Republicans alike. "We have different bills from a variety of different members and I've asked our members to get together and try to come up with one bill," Schumer told reporters yesterday when asked if he'd like to see a stock trading ban on the Senate floor this year. "But I would like to see it done." Read more from Steven. T. Dennis and Zach Cohen.
House Republicans are pushing broad immigration legislation that would boost resources for border security, offer a path to legal status for some undocumented people, and funnel "restitution" funding to a U.S. workforce program. Rep. Maria Elvira Salazar (R-Fla.) unveiled the legislation yesterday with six Republican cosponsors. The bill isn't expected to gain traction in the Democrat-controlled Congress, but it provides a preview of potential GOP approaches to immigration policy should the party win either chamber in November. Read more from Ellen M. Gilmer.
Politics & Influence
Voter frustration with pandemic lockdowns and restrictions is on the rise as the omicron wave recedes across the U.S. Among almost every segment of society—the vaccinated and unvaccinated, Republicans and Democrats, city dwellers and their country cousins—growing numbers of Americans are becoming resigned to living with Covid-19, even if it means accepting that more people will get sick and die. The Biden administration, though, hasn't changed its message, putting the president increasingly out of step with the public. That risks sinking the party's candidates in elections this fall and imperils its slim hold on Congress. Read more from Joshua Green.
Washington state's legislature enacted a new congressional map yesterday practically identical to the status quo boundaries the state's redistricting commission approved last November. The revised 10-district map in one of the nation's most Democratic states includes six districts that clearly favor Democrats, two with a decided Republican lean, and two that are highly competitive. The state's Senate approved the new lines 35–14 by the deadline for the legislature to adopt minor amendments to the proposal. The state House voted 88–7 for the map on Feb. 2. Read more from Greg Giroux.
Chief Justice John Roberts was once in the vanguard as the U.S. Supreme Court rolled back the Voting Rights Act. But as his more conservative colleagues showed Monday in restoring a Republican-drawn Alabama congressional map, Roberts is no longer in control. Roberts joined the three liberal justices in dissent as the court blocked a lower court ruling that said the landmark 1965 law required Alabama to have a second heavily Black district. It's the latest order from a court whose bold reshaping of the law is leaving its chief justice on an island, often backing his fellow Republican appointees on their general direction but trying unsuccessfully to slow them down. Read more from Greg Stohr.
The Supreme Court's "shadow docket" debate broke new ground when Republican-appointed justices responded in writing for the first time to what they say was the dissent's "worn-out rhetoric" on the subject. Justice Brett Kavanaugh's concurrence on Monday took umbrage at Elena Kagan's dissent for the three Democratic appointees that accused her colleagues of making new law in the voting case without explanation. "It clearly struck a nerve," said Stephen Vladeck, a University of Texas law professor and leading critic of the court's unusual and unexplained procedural maneuvers. Read more from Jordan S. Rubin.
Around the Administration
The White House must move swiftly to fill key health posts to advance biomedical initiatives after the departure of its first-ever, Cabinet-level science adviser, research groups say. Eric Lander said he'll resign by Feb. 18 from his job as Biden's science adviser and Office of Science and Technology Policy director after an investigation said he bullied staffers. The announcement came as Biden's White House pushes ahead with plans to create a new entity to spur medical discoveries and launch a second iteration of his Cancer Moonshot initiative. Jeannie Baumann and Alex Ruoff have more.
The U.S. should negotiate a digital trade deal with like-minded countries to guarantee protection on issues including the movement of data across borders, the nation's biggest business lobbying group said. In a report set to be released today, the U.S. Chamber of Commerce outlines the case. The organization identifies a group of countries that it dubs the "Digital Dozen" that would be good partners. Read more from Eric Martin.
Fifteen Republican-led states and a quartet of GOP senators urged the Supreme Court to take a veteran disability case that could make federal regulations of all types more vulnerable to a legal challenge. The state coalition and Republican lawmakers filed briefs Monday backing Air Force veteran Thomas Buffington's bid for nearly three years of disability benefits he said were wrongfully rejected. The U.S. Court of Appeals for the Federal Circuit invoked the "Chevron doctrine"—which calls for courts to defer to agency interpretations of ambiguous laws—to side against Buffington. Robert Iafolla has more.
China came up more than one-third short of its purchase commitments for goods in the trade deal that the world's second-largest economy reached with the U.S. during the Trump administration, according to a Bloomberg News analysis of data shared by the Commerce Department's Census Bureau. Read more from Eric Martin.
A U.S.-led group of democracies condemned China for "suppression" of Hong Kong's press freedoms in a statement that was "firmly rejected" by China, highlighting lingering tensions over human rights. Read more from Iain Marlow.
The partial lifting of U.S. metals tariffs slapped on Japan under the Trump administration is the latest bid by Biden to mend ties with a major ally and counterbalance an increasingly powerful China. Read more from Isabel Reynolds.
Biden's White House sharply criticized an effort in Florida's legislature to limit discussions of gender and sexual identity in schools, saying the bill threatens to exacerbate high rates of mental health struggles among gay and transgender children. Jonathan Levin and Jennifer Epstein have more.
To contact the reporters on this story: Zachary Sherwood in Washington at zsherwood@bgov.com; Brandon Lee in Washington at blee@bgov.com
To contact the editors responsible for this story: Giuseppe Macri at gmacri@bgov.com; Loren Duggan at lduggan@bgov.com; Michaela Ross at mross@bgov.com