What to Know in Washington: Biden to Launch Gun Crime Strategy
President Joe Biden will launch a comprehensive plan to curb gun crime, including by allowing states and municipalities to tap into coronavirus relief funding to hire police officers under certain circumstances.
Biden will unveil the strategy in a speech this afternoon, officials familiar with the plan said, speaking on condition of anonymity before the announcement. Measures include toughening rules for gun dealers, expanding summer programs for teenagers and doing more to hire people released from prison.
Biden and Attorney General Merrick Garland will also lead a meeting today at the White House on crime prevention. Among those scheduled to attend are New Jersey Attorney General Gurbir Grewal, Baton Rouge Police Chief Murphy Paul, and the mayors of Baltimore, Md., and Miami-Dade County, Fla.
Biden is initiating the effort as data show a continued increase in violent crime, one that carried through the pandemic, and as Congress continues to negotiate over police reform. Polls have also signaled growing unease over crime, a potential liability for Biden and Democrats in next year's midterm elections.
White House Press Secretary Jen Psaki said yesterday that Biden's strategy on community safety goes hand-in-hand with the effort by allies to reach a deal on police reform. Read more from Josh Wingrove.
Today's Agenda: Biden will also attend and deliver remarks at the funeral ceremony of former Virginia Senator John Warner at the Washington National Cathedral at 11 a.m.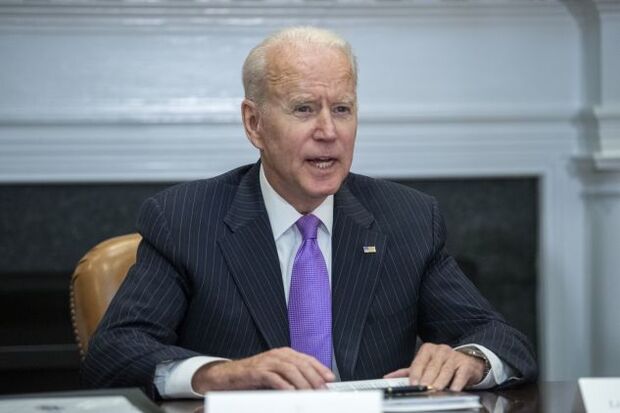 Happening on the Hill
Happening Today:
The House will consider a bill that would change the burden of proof for workplace age- or disability-related discrimination claims. The chamber will also consider 16 measures under expedited procedure.
The Senate will consider two of Biden's judicial nominees.
Click here for a complete list of today's hearings and markups.
Biden Aides Leave Talks Without Deal: Top White House aides wrapped up a meeting with a group of senators yesterday without producing an infrastructure compromise, as differences on how to pay for a proposed $579 billion in new spending for roads and other projects continue to bedevil the talks. National Economic Council Director Brian Deese and others were at the Capitol to talk to the 10-member Senate group.
"While progress was made, more work remains to be done," White House Press Secretary Jen Psaki said in a statement calling the session "productive." She added that the White House expects the advisers "to meet again with the bipartisan group later today or tomorrow, as schedules permit." Sen. Rob Portman (R-Ohio) told reporters there is still work to do and both sides would try to continue talks this week before the Senate leaves Washington until mid-July.
Separately, Senate Majority Leader Chuck Schumer (D-N.Y.) and Speaker Nancy Pelosi (D-Calif.) plan to meet today with White House officials, including Deese and Ricchetti, on a strategy for moving forward on Biden's agenda, according to people familiar with the plans. Read more from Erik Wasson and Laura Litvan.
Meanwhile, Sen.

Elizabeth Warren

(D-Calif.) and over 100 other House and Senate Democrats urged congressional leadership to support at least $700 billion over 10 years for child-care infrastructure. Brody Ford reports.
House Panel to Consider Tech Antitrust Bills: A House committee will take up legislation today aimed at reining in U.S. tech giants, the first significant bipartisan push to limit the power of internet platforms, even though the measures lack a clear path to become law. Most of the six bills to be considered by the Judiciary Committee came out of a 16-month investigation by its antitrust panel into Apple, Facebook, Alphabet's Google and Amazon and seek to address the companies' dominance over markets. Read more from Anna Edgerton and Rebecca Kern.
GOP Blocks Senate Voting Bill: Senate Republicans blocked Democrats' expansive overhaul of election laws from advancing to the chamber floor, dealing the Democratic majority a defeat on a chief 2020 campaign promise and underscoring their limited power in a chamber evenly split between the two political parties. The bill was blocked on a 50-50 party-line vote, short of the 60 needed to overcome a filibuster. Sen. Joe Manchin (D-W.Va.) made a last-minute decision to side with his party, providing Schumer sought-after Democratic unity after weeks of negotiations with him. Read more from Laura Litvan and Steven T. Dennis.
Pelosi to Decide on Select Panel to Probe Capitol Riot: Pelosi plans to announce this week whether she will create a select committee to investigate the Jan. 6 insurrection at the Capitol after Republicans blocked naming an independent commission to conduct the probe, a spokesman said. Pelosi set out the timetable at a leadership meeting, Drew Hammill, Pelosi's deputy chief of staff, said. "Her preference continues to be a bipartisan commission which Senate Republicans are blocking," Hammill said on Twitter. Read more from Billy House.
Warren Stalls Vote on Higher Ed Pick: Sen. Warren has slowed the confirmation of Biden's pick to oversee federal higher education policy, a person familiar with the issue said. James Kvaal is the former president of the nonprofit The Institute for College Access and Success. The Education Department faces an ambitious overhaul of student loan regulations and other pressing issues, such as the expiration of a moratorium on federal loan payments. The hold Warren requested on the nomination was related to the administration of the federal student loan program, and not tied to debt cancellation, the person said. Read more from Andrew Kreighbaum.
Wyden Unveils Principles on Drug Pricing: Senate Finance Chairman Ron Wyden (D-Ore.) yesterday laid out what he wants to see in a major drug pricing reform package, hewing closely to what Democratic leaders have already proposed. Wyden told reporters yesterday he's working on a drug pricing package "in parallel" with discussions around a bipartisan infrastructure deal led by the White House, which so far has not included drug pricing provisions, Alex Ruoff reports. Read the document here.
Film Director Lobbies Meditation on Capitol Hill: David Lynch credits meditation with helping him create some of his legendary works. The film director's eponymous foundation is turning to Congress to help spread the word to others who might benefit. The David Lynch Foundation recently hired its first lobbying firm, Michael Best Strategies, to discuss with congressional offices the role meditation can play in treating post-traumatic stress, anxiety, and trauma. Read more from Megan R. Wilson.
Around the Administration
Austin Reverses on Sexual Assault Prosecutions: Defense Secretary Lloyd Austin has thrown his support behind sweeping changes to the way the military prosecutes sexual assault cases in a major turnabout for the Pentagon, which has long resisted doing so despite an increase in sex crimes and harassment in the ranks. Austin said yesterday he would recommend to Biden that prosecution of sex-related crimes be removed from the U.S. military's chain of command, a key demand by some members of Congress and advocates for victims who say commanders too often protect alleged wrongdoers from prosecution. Read more from Roxana Tiron and John Harney.
Powell Plays Down Inflation: Federal Reserve Chair Jerome Powell said the price increases seen in the economy recently are bigger than expected but reiterated that they will likely wane. "A pretty substantial part, or perhaps all of the overshoot in inflation comes from categories that are directly affected by the re-opening of the economy such as used cars and trucks," Powell said yesterday in response to a question before the House Select Subcommittee on the Coronavirus Crisis. "Those are things that we would look to to stop going up and ultimately to start to decline." But the Fed chair acknowledged the uncertainty around that view. Read more from Craig Torres.
Antitrust Crusader Lina Khan Faces Court Obstacle: The fiercest foes of America's technology giants cheered when Lina Khan, a professor at Columbia Law School, was confirmed by the Senate last week for a seat on the Federal Trade Commission. Then the president handed them a gift they could hardly believe: He was naming her chairwoman of the antitrust agency. Now comes the hard part: putting her agenda into action. The biggest hurdle, say antitrust experts, is a judiciary that has made it very difficult for competition watchdogs to win ambitious cases. And to make any change of consequence, whether breaking up a monopoly or stopping a takeover, enforcers must prevail in court. Read more from David McLaughlin.
Audit Regulator Backtracks on Advisory Group: The U.S. audit regulator, under new leadership after its chairman was ousted, is halting its push to reform its advisory groups in response to criticism from investors and other stakeholders. The Public Company Accounting Oversight Board will weigh the structure and membership of the groups, including a new panel focused on standards, the board said. Read more from Amanda Iacone.
NSA Opens to Private Sector in Hopes of Curbing Hacks: The National Security Agency, which is renowned for its secrecy, has opened its arms to the private sector and, at least for a day, the media. The agency invited reporters yesterday to tour its Cybersecurity Collaboration Center, an unclassified space opened last year where private companies can swap information with the spy agency about cybersecurity threats and overseas hackers. It's part of an effort by the agency to deepen its relationship with American companies in the hopes of thwarting cyberattacks in the U.S. Read more from William Turton.
Foreign Policy Priorities
Manhattan Meeting for World Leaders Wins U.S. Backing: The Biden administration is calling for a scaled-down, in-person gathering of world leaders for the United Nations General Assembly in September as New York City, once the epicenter of the coronavirus pandemic in the U.S., recovers. UN officials and diplomats from member states met last week to discuss possible formats for the annual General Assembly, and there was a growing consensus that the high-profile event should be in-person, according to diplomats involved in the talks. Read more from David Wainer.
U.S. to Counter China Without Stereotyping Asians: The U.S. Justice Department will counter hacking and other illegal activity by the Chinese government while being careful to avoid negatively stereotyping Asian Americans and citizens of China, Attorney General Merrick Garland said yesterday. Garland described a delicate balancing act that the department is taking with regard to China. Read more from Chris Strohm.
Meanwhile, China's efforts to join a regional trade deal that originally aimed to exclude Beijing "should set off alarm bells" in Washington, where a growing number of lawmakers are calling for the U.S. to re-assert its influence in Asia, according to Sen.

Tom Carper

(D-Del.). Read more from Augusta Saraiva.
Iran, U.S. Haggle Over Pre-Trump Issues With Nuclear Deal: Iran said the U.S. had agreed to lift sanctions on Iran's oil industry and banks but the main issues stalling efforts by world powers to revive the nuclear deal are linked to penalties that go back to 2015, during negotiations over the original landmark accord. Read more from Golnar Motevalli.
Meanwhile, the U.S. seized three dozen Iranian websites, according to a U.S. official, in a move likely to inflame tensions ahead of nuclear talks in Vienna expected to resume next month. A message appeared on several Iranian state-run news websites claiming they were "Seized by the United States Government" in a joint law enforcement action between the FBI and the Commerce Department's Bureau of Industry and Security. Read more from Chris Strohm and Nick Wadhams.
With assistance from Brandon Lee
To contact the reporter on this story: Zachary Sherwood in Washington at zsherwood@bgov.com
To contact the editors responsible for this story: Giuseppe Macri at gmacri@bgov.com; Loren Duggan at lduggan@bgov.com; Michaela Ross at mross@bgov.com