What to Know in Washington: Biden to Focus on Ukraine, Inflation
Biden speech to pressure Russia, present inflation plans
Ukraine invasion to enter new, more deadly, phase
President Joe Biden built his five-decade political career around his foreign policy expertise and deft touch with everyday Americans, qualities that polls show many voters now doubt.
He'll need to rediscover both of those traits today in his first State of the Union speech, as the U.S. and its allies step up pressure on Russia over Ukraine. Biden must also persuade skeptical voters that he can lead the country out of its pandemic doldrums after key pillars of his economic plan collapsed and inflation spiked.
The speech at 9 p.m. in Washington comes at a critical time for Biden, with views of the president hitting new lows. Midterm elections in November are set to cost Democrats control of Congress and looming over it all are fears that the war in Ukraine could spiral into a wider conflict.
Not since 2003, when George W. Bush laid out his case for war against Iraq in his State of the Union address, or 2010, when Barack Obama was confronting the financial crisis, has a U.S. leader delivered his annual address to Congress in such a fraught moment.
Biden's job will be difficult, given the deep partisan split that has riven the country and attitudes toward the president's job performance. Biden's approval rating has wilted to just over 40%, according to an analysis of polls by FiveThirtyEight, and surveys show less than one-third of Americans think the country is headed in the right direction. Jenny Leonard, Nick Wadhams and Nancy Cook preview what to expect from tonight's speech.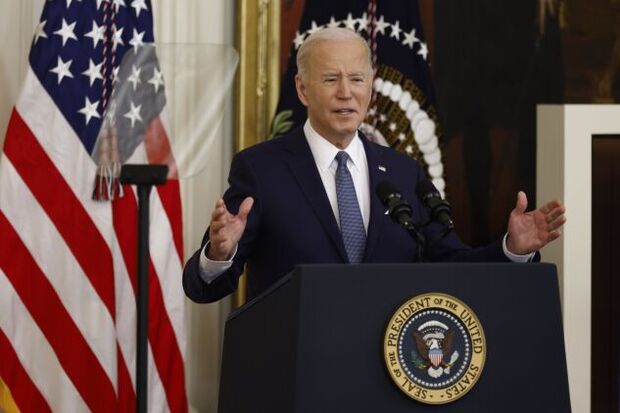 BIDEN'S POLICY POINTS:
Biden will call on Congress to revive stalled climate legislation, pitching a package of tax credits and climate spending as a way to battle inflation and save the average American family $500 per year. Biden is not expected to explicitly lay out an alternative legislative vision, according a senior administration official. Rather, he'll describe fighting climate change as integral to boosting middle class finances. The proposal comes as Biden's Build Back Better economic measure—carrying renewable and clean energy tax credits—remains stalled. Justin Sink and Jennifer A. Dlouhy have more.
Biden will push for major changes to the ocean shipping industry, announcing new initiatives and calling on lawmakers to pass legislation to revamp regulations. Supply chain bottlenecks and backed-up ports have slowed the flow of goods in recent months. Biden is pitching ways to deal with concentrated market power among ocean shipping carriers to help alleviate the delays. Lillianna Byington has more.
Biden will announce plans to impose mandatory staffing at nursing homes, according to a White House fact sheet. In addition, Biden will ask Congress for nearly $500 million—a 24% increase—to fund expanded health and safety inspections at nursing homes. And Biden plans to increase penalties for poor-performing facilities, the fact sheet says. The staffing push comes amid the coronavirus pandemic, which has created the worst staffing crisis the nursing home industry has ever experienced. Read more from Tony Pugh.
BIDEN'S SCHEDULE:
Biden will receive his daily brief at 9:50 a.m.
At 9 p.m. Biden will deliver the State of the Union address to a joint session of Congress.
Latest on the Ukraine Crisis
Russia's invasion of Ukraine is entering a new phase, promising a more deadly time ahead for the country's civilians and its remarkably determined army, according to Western military officials. Early signs are that Russian commanders are abandoning the approach that marked the first days of the conflict, in which they relied on lightning strikes into cities they assumed would be half-heartedly defended, the officials said. Marc Champion has the latest.
Senators of both parties are pushing the Biden administration to designate Ukraine for Temporary Protected Status, which allows Ukrainians already present in the U.S. to stay for now. Senate Judiciary Chairman Dick Durbin (D-Ill.) yesterday led a bipartisan letter calling on Biden to quickly "ensure that Ukrainian nationals present in the United States are not forced to return to Ukraine." Sen. Alex Padilla (D-Calif.), Sen. Bob Menendez (D-N.J.), and Rep. Zoe Lofgren (D-Calif.) announced support for TPS last week, Ellen M. Gilmer has more.
Government regulators said yesterday the U.S. financial system was functioning "in a normal manner" as global markets reacted to the invasion of Ukraine and sanctions imposed on Russia. The Financial Stability Oversight Council, headed by U.S. Treasury Secretary Janet Yellen, came to that conclusion during a previously unscheduled meeting. The council would continue to monitor financial developments, according to a statement from the Treasury Department. Read more from Christopher Condon.
Policymakers from New York to California want public pensions to shed hundreds of millions of dollars in investments tied to Russia. So far, the retirement funds aren't moving quickly to divest—in many cases, they can't. The funds have small exposure, but unwinding such assets is complex and may mean losses as they are trading at deep discounts and liquidity is scarce. Many of the largest retirement systems—which invest billions of dollars for teachers and other public servants—are adopting a patient approach. Read more from Fola Akinnibi.
The U.S. is signaling its support for democratically run Taiwan with a visit by former U.S. national security and defense officials, a trip that comes as Washington heaps sanctions on Russia for its invasion of Ukraine. A delegation that includes former chairman of the Joint Chiefs of Staff Michael Mullen and ex-undersecretary of defense for policy Michèle Flournoy was set to land in Taipei today, Taiwan's Presidential Office said. They'll meet President Tsai Ing-wen tomorrow to discuss international issues including Taiwan-U.S. relations, according to the statement. Read more from Bloomberg News.
Happening on the Hill
CONGRESS SCHEDULE:
The House is in at noon to consider the rule for a bill that would expand VA benefits for burn pit exposure.
The Senate returns at 10:15 a.m. to resume debate on legislation to overhaul the U.S. postal service.
The House overwhelmingly passed a bill to make lynching a federal hate crime. Under the bill, any conspiracy to commit a federal hate crime could be punished with as many as 30 years in prison if the crime resulted in death or serious bodily injury, or if it involved kidnapping or aggravated sexual abuse. The chamber passed the "Emmett Till Antilynching Act" by a vote of 422-3. The bill now heads to the Senate, where members are working on a bipartisan path forward. The effort for federal anti-lynching legislation has spanned over 100 years, sponsor Bobby Rush (D-Ill.) said. Read more from Adam M. Taylor.
A bill that would ban natural hair discrimination in employment, public accommodations, housing, and other venues failed to garner enough support in the House. The Democrat-led House brought up the measure following a growing state legislative push and litigation on the issue. The House took up the bill, titled the CROWN Act, under rules requiring a two-thirds majority to pass. The 235-188 vote didn't meet that threshold. The bill's sponsors said they would seek a vote under regular House rules "in the coming weeks," in which case it would pass. Read more from Paige Smith.
Legislation to safeguard the right to abortion services in the U.S. fell short in a procedural vote yesterday, leaving the fraught dispute largely in the hands of the judiciary. Abortion rights supporters say just getting a vote in the Senate is historic and shows that Congress can't sit quietly as the Supreme Court signaled it may toss nearly a half-century of protections for abortion access. The vote itself is meant to remind Americans that their representatives in Congress could move to enshrine the right to access to abortion, advocates argue. Read more from Alex Ruoff.
Politics & Influence
Texas is holding the first House primaries of the 2022 elections—and the first contests held with lines redrawn as part of the decennial redistricting process. Today may be the highlight of the state's congressional election action this year. Texas is poised for a third straight cycle of significant turnover in its congressional delegation. What's different is that most of the changes will be decided in the primaries and any necessary runoffs on May 24, thanks to nearly all of the new districts being drawn to greatly favor one party or the other. Read more from Greg Giroux.
Pennsylvania Republicans want the U.S. Supreme Court to block the congressional map chosen by their state's highest court and require statewide at-large elections until lawmakers enact a new redistricting plan. The emergency motion filed yesterday is also asking that a court-imposed elections calendar be tossed out. "A belated injunction that pronounces the congressional map unconstitutional after the candidates have gathered the needed signatures and organized their campaigns" will "lead to chaos," wrote attorneys for two Republican congressional candidates and other plaintiffs. Read more from Jennifer Kay.
Arizona voters will decide whether to require extra identification to cast a ballot under a proposal Republican lawmakers approved yesterday. The measure, which voters will consider in the November general election, takes particular aim at the mail-in system used to cast about 89% of ballots in 2020. Voters would be required to provide a signed affidavit including their date of birth and identification such as a driver's license number with their early ballot, if the measure passes. Read more from Brenna Goth.
U.S. prosecutors rejected arguments that they acted for political reasons in delaying an indictment of Colony Capital founder Tom Barrack until after President Donald Trump left office. Barrack, a longtime friend of Trump, asked a judge a month ago to dismiss charges that he illegally acted as an agent of the United Arab Emirates to influence U.S. policy before and after the 2016 election. Barrack claimed prosecutors waited until Biden took office to indict him and an aide, Matthew Grimes. Read more from Patricia Hurtado and David Voreacos.
To contact the reporters on this story: Zachary Sherwood in Washington at zsherwood@bgov.com; Brandon Lee in Washington at blee@bgov.com
To contact the editors responsible for this story: Giuseppe Macri at gmacri@bgov.com; Loren Duggan at lduggan@bgov.com; Michaela Ross at mross@bgov.com