What to Know in Washington: Biden to Face Questions on Agenda
Joe Biden will host his first formal news conference at the White House today, a high-stakes test for a president facing questions about two recent mass shootings, a surge in migrant children at the U.S. southern border and the ongoing pandemic.
Biden's performance will be under close scrutiny after public appearances during his campaign and early presidency were limited by the coronavirus outbreak. While presidents traditionally hold a news conference within their first month in office, Biden has broken with that precedent, prompting critics to accuse his administration of not being transparent.
White House aides have pointed out that the president has repeatedly fielded impromptu questions from the media. He did so on Tuesday during a trip to Ohio, where he spoke about his administration's response to the mass shootings in Georgia and Colorado as well as Democratic senators' concerns that his cabinet lacks diversity.
Still, today's session in the East Room — which is scheduled to begin at 1:15 p.m. and expected to feature about 40 socially distanced journalists — will see Biden for the first time field questions on live television on the toughest issues that have dominated the first months of his presidency. Justin Sink previews some of the most likely questions he'll face.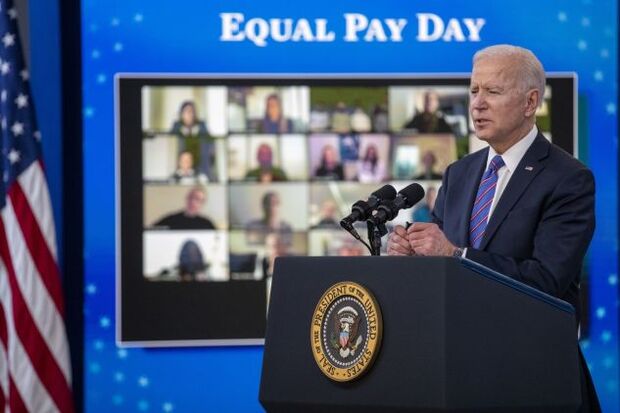 Happening on the Hill
Assault Weapons Ban Faces Obstacles: Biden's call for Congress to pass an assault weapons ban faces skepticism from some advocates and lawmakers who prefer to focus on gun control bills that stand a better chance of being signed into law. The president's plea came after 18 people were killed in two recent mass shootings, one in Atlanta and another this week in Boulder, Colo. In both cases, the alleged shooter used an assault weapon.
A ban on assault weapons has been introduced in the House, along with legislation that would expand background checks and another bill that would require a longer waiting period for background checks to be completed before a firearm can be sold. While the House passed the background check measures, the assault weapons ban has yet to come to the floor. Read more from Emily Wilkins.
Renewable-Energy Backers Want 10-Year Tax Credits: The clean energy industry is rushing to hitch a ride on Biden's emerging infrastructure plan, lobbying for a decade-long extension of coveted tax credits as the White House drafts a recovery proposal that could top $3 trillion. Lobbyists for the industry want to attach the long-term extension of credits used by the wind, solar and other industries, to the plan — a windfall that would be worth billions of dollars if successful. "The flood gates are open," said Paul Bledsoe, a former Senate Finance Committee staffer now with the Progressive Policy Institute. "Everyone is trying to get the maximum amount." Read more from Ari Natter.
Electric Car Makers Seek Tax Credit: Democratic lawmakers are working to overhaul a tax credit for electric cars, an effort that comes as the Biden administration seeks ways to make America more competitive in the industry. The electric vehicle tax credit of up to $7,500 currently phases out after a manufacturer sells 200,000 vehicles—a milestone that Tesla and General Motors have already surpassed. The industry and some Democratic lawmakers are hopeful that the administration's in-the-works infrastructure package would offer a chance to restructure the credit to help electric vehicles to flourish in the U.S., such as lifting the cap on vehicles sold or creating additional incentives. Read more from Kaustuv Basu.
Sanders Proposes Big Tax Hikes: Senate Budget Chairman Bernie Sanders (I-Vt.) is proposing tax increases that are even bigger than the ones Biden is considering. Sanders, in an interview with NPR, said that he is planning to introduce legislation today that would raise the corporate tax rate to 35%, higher than the 28% that Biden has proposed. The corporate rate is currently 21%, which was cut from 35% in President Donald Trump's 2017 tax overhaul. Read more from Laura Davison.
Senate Panel Issues Resolution Backing Ecuador's Moreno: The Senate Foreign Relations Committee issued a unanimous resolution yesterday supporting Ecuadorian President Lenin Moreno's strengthening of his country's democracy and its ties with the U.S., according to a statement from the panel. Ranking Republican Jim Risch (R-Idaho) said he expects "swift passage" of the panel resolution, which praises Moreno "for recommitting Ecuador to democratic values," by the full Senate, Stephan Kueffner reports.
Around the Administration
Biden Boosts Vaccine Efforts: The Biden administration will steer nearly $10 billion toward bolstering Covid-19 vaccine access for vulnerable U.S. communities that have suffered the most from the pandemic — including funding aimed at encouraging people to get inoculated. The money, largely from the $1.9 trillion relief package passed earlier this month, will expand Biden's efforts to help disadvantaged parts of the country, including Black and Latino communities where people are more likely to fall ill with coronavirus and die from it. Read more from Josh Wingrove.
Migrant Children Will Be Housed at Two U.S. Military Bases: Unaccompanied migrant children will be housed on military bases in Texas as waves of people from Central America continue to arrive at the U.S.-Mexico border. A Defense Department spokesman, John Kirby, said in a statement released last night that the children would be taken to a vacant dormitory at Joint Base San Antonio and on an "area of land" at Fort Bliss, where temporary housing would be constructed. Read more from John Harney.
HHS Deputy Pick Levine Wins Senate Confirmation: Biden's nominee to lead a key public health office within the HHS, Rachel Levine, was confirmed yesterday by the full Senate. The Senate voted 52-48 for Levine to serve as assistant secretary for health of the Health and Human Services Department under Secretary Xavier Becerra. The votes came one week after the Health, Education, Labor, and Pensions Committee voted to advance her nomination. She is the first openly transgender person ever confirmed for any Cabinet post. Read more from Shira Stein.
DOT Begins Undoing Trump-Era Rulemaking Restrictions: The Transportation Department has begun the process of undoing a set of Trump-era regulations that grounded agency work with industry to a halt and threatened to slow the adoption of major policy goals of the Biden administration. Secretary Pete Buttigieg acted because the Trump-era rule imposed in 2019 at the department "would hamstring the department's ability to respond quickly and effectively to the challenges we face as a nation," DOT said in a statement. Alan Levin has more.
Biden, Rapinoe Decry Lower Pay for Women: Biden decried the salary gap between men and women, and was joined by members of the U.S. women's national soccer team, including Megan Rapinoe, who described getting paid less than male counterparts. "The pay gap is real," Biden said yesterday at the White House. "And this team is living proof that you can be the very best at what you do and still have to fight for equal pay." Read more from Jennifer Jacobs and Erin Mulvaney.
Loan Fraud Hunt to Take 10 Years, SBA Watchdog Says: Fraud probes in the Small Business Administration's pandemic-relief loan programs will take 10 years to resolve, according to the agency's watchdog. SBA Inspector General Hannibal Ware said yesterday fraud is so pervasive in the Paycheck Protection Program and Economic Injury Disaster Loan program that it'll take a targeted effort to oversee them and crack down on fraudulent acts. David Hood has more.
Regan Calls on Panel to Help Biden Equity Effort: A panel of environmental justice experts should start thinking now about how Biden's plan to make all agencies address the issue can help communities disproportionately affected by years of pollution, EPA chief Michael Regan said. The National Environmental Justice Advisory Council should think beyond the role it has held for decades, mostly advising the EPA, to weigh in on what Biden has vowed will be an all-of-government approach, Regan told the panel. Read more from Dean Scott and Stephen Lee.
Yellen Targets Climate for Financial-Stability Meeting: Treasury Secretary Janet Yellen will preside over her first meeting as head of the Financial Stability Oversight Council on March 31, with climate change on the agenda of the cross-agency body's initial gathering under Biden's administration. The public portion of the agenda includes "climate change" and "its potential impacts on financial stability," according to a statement from the Treasury Department. Read more from Christopher Condon and Saleha Mohsin.
North Korea Fires First Ballistic Missiles: North Korea fired its first ballistic missiles in a year, Japan said, providing an early challenge for Biden as he forms his policy toward Kim Jong Un's regime. Read more from Go Onomitsu and Jeong-Ho Lee.
U.S. Creates Special Envoy Post for Ethiopia: Secretary of State Antony Blinken approved the establishment of a special envoy for the Horn of Africa, where multiple political crises are unfolding. The envoy, who is expected to be appointed in the coming weeks, will focus on the conflict in Ethiopia's Tigray region and tensions between Sudan and Ethiopia over a disputed border area, the department said in a statement yesterday. Read more from Samuel Gebre.
Politics & Influence
GOP Hopefuls Tiptoe Toward 2024: Former Secretary of State Michael Pompeo is laying the foundation for a possible 2024 presidential run with appearances this week in early primary states, moves that risk alienating Donald Trump, who could be either his biggest asset or his toughest rival. Potential Republican presidential candidates like Pompeo are heading to Iowa, New Hampshire and key battleground states like Florida, beginning to build an operation and supporting down-ballot candidates. But all those moves will be for naught if Trump decides to seek another term, a campaign that at this point is widely expected to overtake any other. Read more from Mark Niquette and Nick Wadhams.
Facebook and Amazon Unleash Spending: Facebook and Amazon became the largest corporate lobbying spenders in Washington the last two years, outstripping defense contractors and telecommunications providers, according to a new report from a progressive consumer advocacy group. Facebook increased spending 56% to $19.7 million between 2018 and 2020, while Amazon spent 30% more to reach $18.7 million. Read more from Ilya Banares.
To contact the reporters on this story: Zachary Sherwood in Washington at zsherwood@bgov.com; Brandon Lee in Washington at blee@bgov.com
To contact the editors responsible for this story: Giuseppe Macri at gmacri@bgov.com; Loren Duggan at lduggan@bgov.com; Michaela Ross at mross@bgov.com