What to Know in Washington: Biden to Ditch 'America First'
President Joe Biden will re-introduce himself and the U.S. to world leaders at a pair of international conferences today, calling on industrialized democracies to partner in confronting the pandemic and climate change in a sharp departure from his predecessor's foreign policy.
In remarks to the Group of Seven and a speech to the Munich Security Conference, Biden will portray collective action as essential, too, in great-power confrontations with Russia and China, pivoting from former President Donald Trump's "America First" approach to global affairs. Trump antagonized allies in order to secure more favorable trade deals and reduce the U.S. military footprint, ties Biden seeks to swiftly repair.
The new president will also ask foreign leaders to match his efforts to make large investments in economic stimulus, infrastructure and technology, warning that a greater risk lies in austerity, according to a senior administration official. Biden will argue that democracies must fight to preserve their institutions in the wake of both foreign interference in their elections and domestic upheaval, like the attack in January on the U.S. Capitol by Trump's supporters.
The appearances are Biden's first opportunity since his inauguration to address an international audience. His speech to the Munich conference, an annual gathering of world leaders, diplomats, defense officials and others, will follow a private summit with the G-7 leaders. In the speech, Biden will detail U.S. efforts to combat the pandemic and call for international cooperation to strengthen cybersecurity and curb nuclear proliferation, the U.S. official said.
He'll offer a rough sketch of his approach to Afghanistan, malign behavior by Russia, and Iran's nuclear program, but the speech is intended largely as a proclamation that the U.S. is ready to re-engage in a transatlantic partnership, the official said, after Trump's exhibitions of disdain for NATO. Read more from Justin Sink.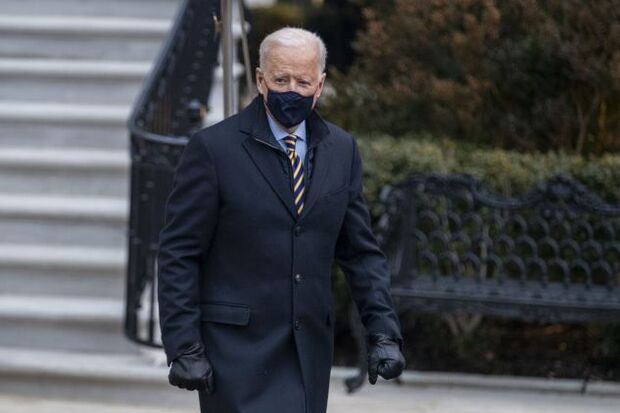 Biden to Pledge $4 Billion for Vaccines: The U.S. will contribute up to $4 billion to Covax, the global campaign to fund vaccinations in poorer countries, but doesn't plan on shipping any of its own vaccines to those places until America's own demands have been met, according to officials familiar with the matter. Biden will announce during a G-7 call today that the U.S. will commit $2 billion immediately to Covax and another conditional $2 billion. Josh Wingrove has more.
Meanwhile, Rep. Jan Schakowsky (D-Ill.) wants the Biden administration to support a waiver for portions of the World Trade Organization's intellectual-property rules to boost vaccine access for poorer nations. Schakowsky said that she's drafted a letter asking the president to reverse the Trump administration's opposition to removing the barrier for production in developing countries. Read more from Eric Martin.
Happening on the Hill
Zuckerberg, Pichai, Dorsey Due Back in Congress: The chief executives of Facebook, Twitter, and Google are set to testify in Washington next month as Congress gears up for a new round of scrutiny of giant technology companies. Two separate House committees announced plans yesterday to examine the power of the major tech platforms. The three executives will appear in March, while a House antitrust panel announced hearings to consider legislation that could curb the companies' dominance. Read more from David McLaughlin and Billy House.
Robinhood, Citadel CEOs Spar With Lawmakers: House Democrats sparred with the leaders of Robinhood Markets and Citadel yesterday, with lawmakers pressing the firms over whether they profit at the expense of retail investors and complaining they got few satisfying answers. At the Financial Services Committee hearing, Robinhood's Vlad Tenev and Citadel's Ken Griffin took fire on issues ranging from trading halts provoked by capital shortfalls to whether "free trades" are really free. At times, the CEOs' long responses were cut off and met with derision. Read more from Robert Schmidt, Ben Bain and Jeff Kearns.
Proposals to Fix Supreme Court's 'Shadow Docket': The Supreme Court's so-called shadow docket—where justices settle disputes without explanation—is in the congressional spotlight, and a civil rights lawyer has proposed a "narrow fix" to promote public confidence. Amir Ali, director of the MacArthur Justice Center's Washington office, told a House Judiciary subcommittee yesterday that Congress could provide guidance to the Supreme Court about the standard to apply when overruling execution stays imposed by lower courts. Read more from Jordan S. Rubin.
Lawmakers Revisit Changes to H-1B Lottery in Immigration Plan: Employers of holders of H-1B visas could see a Trump-like wage-based selection system put in place by Biden, under a provision included in newly released immigration legislation. According to the House and Senate bills introduced yesterday, the U.S. Citizenship Act of 2021 would give the heads of the Homeland Security and Labor departments the authority to determine the order in which visas should be distributed among H-1B workers. Read more from Genevieve Douglas.
Around the Administration
Biden to Visit Pfizer Vaccine Plant: Biden will travel today to the Michigan plant where Pfizer is manufacturing its Covid-19 vaccine as his administration works to boost the number of shots delivered each day. The plant, in Portage, just outside Kalamazoo in southwest Michigan, is Pfizer's largest manufacturing facility. There, the company's coronavirus vaccine is formulated and filled into vials before being shipped for distribution.
Biden's visit will be just his second trip away from the East Coast since taking office last month, following a Tuesday appearance in Milwaukee, Wis., at a CNN town hall. Last week, he toured the National Institutes of Health in Maryland, getting a first-hand look at federal research on the virus. Read more from Jennifer Epstein.
There are early signs of a rebound in Covid-19 cases in the Great Plains, the area where the most-recent nationwide surge first began. The seven-day average of new cases in North Dakota has climbed by 147% in the past week, the most in the U.S., according to Covid Tracking Project data. Nebraska's cases are up 20% in the period, and South Dakota's are up 17%. Read more from Jonathan Levin.
Biden to Invoke Defense Production Act Strategically: The Biden administration intends to go further than it or the Trump administration has in its use of the Defense Production Act to look beyond filling immediate needs and comprehensively improve the medical supply chain so it can weather future disasters and coronavirus-like pandemics. So far, the Korean War-era law has been used as a vehicle for government contracting, but supply consultants said the federal government hasn't really looked at how it could be better used to shore up the pharmaceutical supply, ensure a steady production of critical items like masks and gowns, or provide loans to manufacturers. Read more from Shira Stein.
Yellen Cites Data in Push for $1.9 Trillion Aid Bill: Treasury Secretary Janet Yellen defended the need for $1.9 trillion in pandemic-aid spending, the second-largest emergency relief bill on record, even with recent strength in retail sales and U.S. stock values. "It's very important to have a big package that addresses the pain this has caused," Yellen told CNBC yesterday. Read more from Saleha Mohsin and Christopher Condon.
Proposed SEC Climate Disclosure Mandate Pushed: The Biden administration wants the Securities and Exchange Commission to require companies to disclose information about their greenhouse gas emissions, a proposal endorsed in a report released today by the Center for American Progress. The proponents contend that mandatory and uniform standards for reporting the information would increase transparency for investors and mitigate the risk that climate change poses to the financial system. Read more from Kellie Lunney.
Biden Has Hefty Clean Air To-Do List: Outdated emissions limits, regional underfunding, and the exclusion of long-suffering communities has left more than 150 million Americans still living under unhealthy levels of pollution, and groups are calling on Biden to fill the gaps by prioritizing air quality standards. Trump stripped away dozens of protective clean air and environmental standards during his four years in office, whittling away at agency authority to regulate issues like toxic air pollutants. That kept a status quo of emission limits that experts and scientists said were too low to begin with. Read more from Jennifer Hijazi.
Triple Paid for Drugs in Medicare Than Medicaid: Brand name drugs covered by Medicare's outpatient plans are three times more expensive on average than the same drugs covered by Medicaid, the Congressional Budget Office found in a report published yesterday. The report highlights the massive role discounts play in the payment pipeline. Most entities don't end up paying the base list price for a drug. What a government, employer or an individual ultimately spends boils down to how much leverage they have to pull in discounts. Jacquie Lee has more.
Blinken Rallies 'Quad' Democracies: Secretary of State AntonyBlinken held his first virtual meeting since Biden's election with counterparts from Japan, India and Australia, showing support for the so-called Quad grouping that seeks to counter an increasingly assertive China in the Indo-Pacific. The talks, held yesterday Washington time, included discussions on "the priority of strengthening democratic resilience in the broader region," Blinken's spokesperson Ned Price said in a statement. Read more from Jason Scott.
U.S. to Leave Germans Out of Nord Stream Sanctions: The U.S. is likely to hold off sanctioning any German entities for now over the Nord Stream 2 gas pipeline from Russia, according to four people familiar with the matter, as the Biden administration seeks to halt the project without antagonizing a close European ally. A key report to Congress that was due last Tuesday could be out as soon as today, and it's expected to list only a small number of Russia-linked entities, according to the people, who asked not to be identified because the policy hasn't been announced. Read more from Nick Wadhams and Vanessa Dezem.
Iran Snubs Biden in Calling for End to Sanctions : Iran said the U.S. must first return to the 2015 nuclear deal and lift sanctions if it wants to start talks with the Islamic Republic, appearing to snub an effort by the Biden administration to begin direct discussions before officially rejoining the accord. The "key sequence" for nuclear talks between Iran and the U.S. is commitment, action, then a meeting, Iranian Foreign Ministry spokesman Saeed Khatibzadeh said in a tweet today. Read more from Golnar Motevalli, Yasna Haghdoost and Patrick Sykes.
DOJ Pick Aims to Revitalize Civil Rights Office: Kristen Clarke, Biden's pick to head the Civil Rights Division at the Department of Justice, aims to return the office to prominence amid what she calls a "national reckoning with racism." "We're emerging from 2020, a year in which we experienced a national reckoning with racism and hate and other problems tearing at the fabric of communities across our country," Clarke said. "The Justice Department stands to play an important role in moving our nation forward." Read more from Ayanna Alexander.
The federal government's workplace civil rights agency will emphasize enforcement of laws to combat systemic discrimination, EEOC Chair Charlotte Burrows said during her first public speech since being named to the post. Under her leadership, the U.S. Equal Employment Opportunity Commission also will work with the U.S. Labor Department to target outreach to veterans facing discrimination, and aim to hold a hearing to address workplace concerns stemming from the pandemic, Burrows said at an American Bar Association event yesterday. Read more from Paige Smith.
NASA Nails Historic Mars Landing: NASA successfully landed its largest and most sophisticated science rover on Mars, as the spacecraft Perseverance touched down in an ancient river delta that may contain signs of whether the planet ever harbored microbial life. Cheers erupted at NASA's Jet Propulsion Laboratory in Pasadena, Calif., which oversees the agency's rover fleet, when flight controllers received a signal yesterday that the rover had landed. Read more from Justin Bachman.
To contact the reporters on this story: Giuseppe Macri in Washington at gmacri@bgov.com; Brandon Lee in Washington at blee@bgov.com
To contact the editors responsible for this story: Giuseppe Macri at zsherwood@bgov.com; Loren Duggan at lduggan@bgov.com; Michaela Ross at mross@bgov.com