What to Know in Washington: Biden to Detail Afghanistan Exit
President Joe Biden will withdraw U.S. troops from Afghanistan by Sept. 11, the 20th anniversary of the terrorist attacks that precipitated the American invasion that ousted the country's Taliban leadership, according to people familiar with the plan.
Biden will speak today at 2:15 p.m. on Afghanistan from the White House, according to his daily schedule. Afterward, the president will visit section 60 of Arlington National Cemetery to pay his respects to service members lost in recent conflicts.
American forces, in conjunction with troops from NATO allies, will begin withdrawing before the end of this month, according to a senior administration official who briefed reporters yesterday. The September deadline isn't "conditions-based" and could be completed early, the official added.
After a review of U.S. policy that Biden ordered after taking office, the administration concluded it could address any terrorist threat emanating from Afghanistan from elsewhere. The official also said the U.S. will work with other countries to protect gains made by women in the country, a major issue given the Taliban largely barred women from education and employment when they were in power.
The new deadline means Biden will leave a few thousand troops in the war-torn country beyond a May 1 target set in an agreement between the Trump administration and the Taliban last year. Biden had signaled he viewed that original deadline as a "tough" one to meet given continuing violence in the country and a lack of progress in peace talks between the Afghan government and the Taliban.
His announcement has thrown into doubt a U.S.-backed peace conference in Istanbul that representatives of the Afghan government and the Taliban were due to attend from April 24. The Taliban said in a tweet late yesterday it would not participate. "Until all foreign forces completely withdraw from our homeland, the Islamic Emirate will not participate in any conference that shall make decisions about Afghanistan," wrote Mohammad Naeem, a spokesman from the group's Doha political office. Read more from Daniel Flatley and Justin Sink.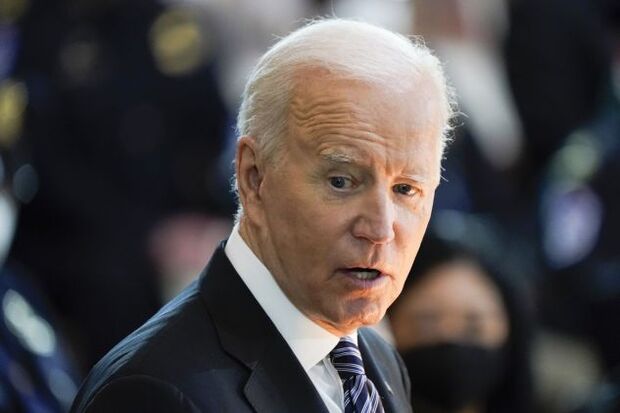 Happening on the Hill
Today's Agenda: The Senate plans a procedural vote today to begin debate on a bill to expedite review of hate crimes against Asian Americans. The chamber also plans to hold confirmation votes on two of Biden's nominees: Gary Gensler to be a member of the Securities and Exchange Commission and Brenda Mallory to be a member of the Council on Environmental Quality.
Click here for a complete list of today's hearings and markups.
Biden Invited to Address Joint Session of Congress: House Speaker Nancy Pelosi (D-Calif.) invited Biden to deliver his first address to a joint session of Congress on April 28. The address will come just before his 100th day in office. While Biden will deliver the speech in the House chamber, other aspects of the night's format, including Covid-testing requirements and who will be able to attend in person, have yet to be arranged, said an official involved with the planning. The official also said that a security plan for the event must be established, just as it was for the inauguration in January. Read more from Jennifer Epstein and Billy House.
Schumer Pushes Plan to Ax Trump Methane Rule: The Senate will consider as soon as next week whether to kill a Trump administration methane-emissions rule in what would be the first time this Congress that the chamber deliberates using its power to overturn regulations. The Congressional Review Act allows Congress to repeal regulations issued during the waning weeks of a previous administration. Senate Majority Leader Chuck Schumer (D-N.Y.) discussed using the CRA to scale back the methane rule during a caucus meeting yesterday, a Senate Democratic source who attended the gathering said. Read more from Courtney Rozen.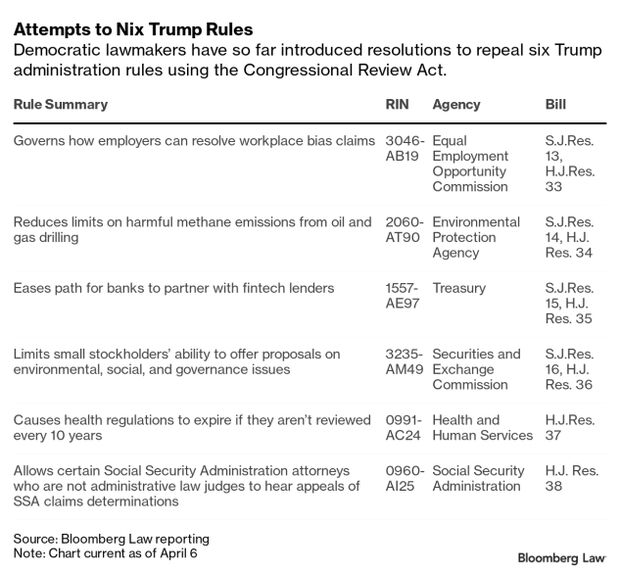 Also this spring and summer, Schumer plans hearings and markups on various elements of Biden's Build Back Better infrastructure agenda, according to the Senate Democratic source. Democrats' election and voting overhaul measure, the For the People Act (S.1), could also be scheduled for a markup in the Rules & Administration Committee the first week of May, according to the source.
Chamber Opposes Voting Rights Bill: The U.S. Chamber of Commerce urged senators to reject Democrats' House-passed voting bill — and the powerful business lobby warned that it might highlight where they stand on the issue. In a sharply-worded letter sent on Monday, the Chamber said it strongly opposed the "disingenuously named the 'For the People Act of 2021.'" The bill is unlikely to get the 60 votes needed to overcome a filibuster in that chamber, as most Republicans oppose it. Read more from John Harney.
Fentanyl Ban Complicates Biden's Drug Policy Shift: Biden is facing a crucial test of his promise to reduce overdose deaths in the U.S. through addiction treatment, civil rights and drug policy groups say. Biden has signaled he wants to take a different approach from previous administrations that embraced addiction treatment and crack-downs on the opioid trade. The House Energy and Commerce Committee today will consider Republican-led legislation legislation to make permanent the temporary classification of fentanyl-like substances as one of the most-strictly controlled drugs. That classification expires on May 6. Read more from Alex Ruoff.
Democrats Demand SALT Break Restoration: Seventeen New York Democrats told Pelosi that any economic recovery measures paid by tax hikes will also need to fully restore the state and local tax deduction to get their support. "We will not hesitate to oppose any tax legislation that does not fully restore the SALT deduction," the 17 Democrats including Rep. Jerrold Nadler said. Read more from Laura Davison.
Inhofe Wants FBI to Probe Pentagon Nominee: The top Republican on the Senate Armed Services Committee joined 18 GOP senators in seeking an FBI probe into whether Colin Kahl, one of Biden's Pentagon nominees, publicly disclosed classified or sensitive information on social media. Jim Inhofe (R-Okla.), the panel's ranking member, said yesterday he supports the request for an investigation and the chamber should review the results before voting on Kahl's nomination. Read more from Roxana Tiron.
House Postpones Medicare Cuts, Teeing Up Likely Spending Debate: The House yesterday cleared a bill by a vote of 384 to 38 to delay until 2022 cuts to Medicare, pushing off until next year a larger debate over federal spending. House lawmakers March 19 voted to postpone the cuts and waive budget requirements of the $1.9 trillion stimulus package approved earlier in the month, but Senate Republicans in a March 25 vote only agreed to deal with the more-immediate threat to Medicare. Congress will be faced with more than $36 billion in pending reductions to Medicare in 2022. Read more from Alex Ruoff.
Warren Wants Loan Servicer Navient Out: Sen. Elizabeth Warren (D-Mass.) said the Education Department should drop its contracts with loan servicing giants Navient Corp. and Pennsylvania Higher Education Assistance Agency. The companies are two of the biggest firms charged with handling payments on the $1.6 trillion federal student loan portfolio and administering programs like Public Service Loan Forgiveness. Andrew Kreighbaum has more.
Money Race Shows Democrats' Divisions in Louisiana: An all-Democratic runoff election for a vacant Louisiana congressional district has divided House Democrats and allied groups, with the latest fundraising showing the party's progressive and more establishment wings taking opposing sides. Labor unions and Black men in Congress are among the most recent donors to state Sen. Troy Carter ahead of the April 24 election in Louisiana's 2nd District. He grew his fundraising edge over state Sen. Karen Carter Peterson, whose backers include environmental and progressive groups and Democratic women in Congress. Read more from Greg Giroux.
Around the Administration
Biden Rushes to Protect the Power Grid as Hacking Threats Grow: A White House plan to rapidly shore up the security of the U.S. power grid will begin with a 100-day sprint, but take years more to transform utilities' ability to fight off hackers, according to details of a draft version of the plan confirmed by two people.
The plan is the policy equivalent of a high-wire act: it provides incentives for electric companies to dramatically change the way they protect themselves against cyber-attacks while trying to avoid political tripwires that have stalled previous efforts, the details suggest. Among its core tenets, the Biden administration's so-called "action plan" will incentivize power utilities to install sophisticated new monitoring equipment to more quickly detect hackers, and to share that information widely with the U.S. government. Read more from Shaun Courtney and Michael Riley.
Biden to Pick Beaudreau for Interior's No. 2: Tommy Beaudreau, a veteran of the Interior Department who charted new restrictions for Arctic oil drilling under former President Barack Obama, is being tapped to return to the agency as its No. 2 official. Biden is slated to nominate Beaudreau to be the deputy Interior secretary, according to two people familiar with the matter who asked not to be named before a formal announcement expected later this week.
Beaudreau, a lawyer, rose to prominence for his role amid the disastrous Deepwater Horizon oil spill in the Gulf of Mexico in 2010, when he was responsible for helping to turn around the Interior Department's oversight of offshore oil development. Read more from Jennifer Dlouhy.
Environmental Justice Pledge is a Moving Target: Environmental justice groups are finding it harder and harder to pin down Biden's promise to steer 40% of clean energy and other funding to boost racial equity and help vulnerable communities. One of Biden's campaign promises was to funnel 40% of his "historic investment in a clean energy revolution" to communities disproportionately impacted by pollution.
The pledge, later to be called Justice40, drew praise from advocates for low-income neighborhoods and communities of color demanding attention for decades and getting little benefit from a U.S. clean energy revolution. But that pledge has morphed since Biden has been in office, advocates say, and has raised plenty of questions over how his new administration will measure benefits. Read more from Dean Scott.
U.S. Trade Chief Meets on WTO Vaccine Waiver: Biden's trade representative yesterday met with groups seeking a waiver for parts of the World Trade Organization's intellectual-property rules to improve vaccine access for lower-income nations. U.S. Trade Representative Katherine Tai told the groups, including Public Citizen and Human Rights Watch, that the White House is committed to increasing the production and distribution of vaccines, according to statements from the USTR, which didn't contain any commitment to changing the U.S. stance at the WTO. Read more from Eric Martin.
J&J Blood-Clot Pause Done to Educate Doctors, Monitor Cases: U.S. health officials urged a pause on the use of Johnson & Johnson's Covid-19 vaccine due to dangerous blood-clotting to give them time to educate doctors on how to treat the exceedingly rare disorder and to "look in all the nooks and crannies" for other cases. That's the message from Peter Marks, a top official at the U.S. Food and Drug Administration, after six women between the ages of 18 and 48 developed severe blood clots in the brain days after getting the one-shot vaccine and federal officials called for a temporary halt in its use. Read more from Riley Griffin, John Lauerman and Angelica LaVito.
To contact the reporters on this story: Zachary Sherwood in Washington at zsherwood@bgov.com; Brandon Lee in Washington at blee@bgov.com
To contact the editors responsible for this story: Giuseppe Macri at gmacri@bgov.com; Loren Duggan at lduggan@bgov.com; Michaela Ross at mross@bgov.com