What to Know in Washington: Biden to Convene Climate Summit
President Joe Biden will host a virtual discussion of climate change with world leaders today as he tries to accelerate efforts to slash greenhouse gases amid concerns that commitments are lagging before a pivotal United Nations summit.
The leader-level summit is expected to be a sober assessment of global progress – or lack thereof – six weeks ahead of the U.N. gathering in Glasgow, which climate activists and government officials have described as a make-or-break moment to curb climate change.
The discussions take place as the White House concedes its biggest challenge has been persuading nations to bring a sense of urgency and plans for concrete actions to the summit in Scotland, according to a senior U.S. official who requested anonymity to preview the closed-door meeting.
The president is hoping to use today's meeting to push members of the Major Economies Forum – a mix of advanced and developing economies – to up their ambitions, including through a new pledge to reduce methane emissions, according to the U.S. official.
The U.S. is asking countries to slash emissions of the greenhouse gas – which is a powerful driver of global warming – by at least 30% before the end of the decade, according to a background memo distributed to the leaders invited to today's session seen by Bloomberg News. Read more from Justin Sink and Jennifer Dlouhy.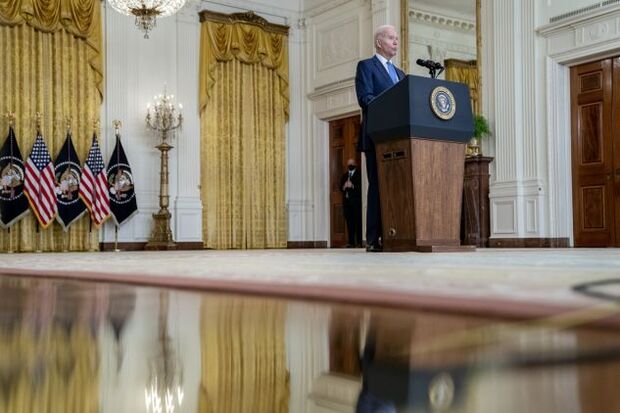 Today's Agenda: Biden is scheduled at 8:30 a.m. to reconvene the Major Economies Forum on Energy and Climate. At 11:45 a.m. the White House Covid-19 Response Team will give a press briefing.
Happening on the Hill
Biden Discusses Economic Plan, Debt Ceiling with Pelosi, Schumer: Biden discussed plans for advancing his economic policy agenda and addressing the debt ceiling with Speaker Nancy Pelosi (D-Calif.) and Senate Majority Leader Chuck Schumer (D-N.Y.), according to a White House readout of yesterday's call, Se Young Lee reports.
Biden, Pelosi and Schumer agreed repealing tax cuts implemented during the Trump administration is "only fair" to support working families. The call also discussed plans on passing a continuing resolution to fund government operations. Maintaining the U.S. government's credit and keeping government running are bipartisan responsibilities and "Any suggestion by Republicans that they will shirk their responsibility is indefensible," the statement says.
Progressives Lead Bid for Expanded Unemployment Aid: Reps. Cori Bush (D-Mo.) and Alexandria Ocasio-Cortez (D-N.Y.) are leading a group of House Democrats in pressuring party leadership to include an expansion of unemployment aid in the $3.5 trillion tax and spending package being drawn up in Congress. "The current state of the unemployment system is a threat to all communities, especially Black and brown communities," the lawmakers and 11 others told leadership. Read more from Jarrell Dillard.
Home Care Plan Could Fail Without $250 Billion: Labor, aging, and disability advocates are fighting to get lawmakers to put at least $250 billion toward their plan to expand home and community-based care for the elderly and disabled and improve conditions for the workers that tend to them. But the plan, which the administration wants funded at $400 billion over eight years, could fail if Congress approves a low amount that spurs states to not to take the money and leave Medicaid programs as is. Shira Stein has more.
Migrant Care Contracts, Diverted Funds Draw GOP Scrutiny: Republican lawmakers want answers from the Biden administration on how the Department of Health and Human Services is awarding contracts and redirecting money for the care of unaccompanied migrant children. Rep. James Comer (Ky.), the top Republican on the House Oversight and Reform Committee, joined with colleagues in letters demanding HHS explain its management of record numbers of unaccompanied minors. Ellen M. Gilmer has more.
Navy Ship Plan Portends Historic Budget Increases: The Congressional Budget Office said in its annual review of potential Navy shipbuilding expenditures that costs for new-ship construction in the fiscal 2022, 30-year plan released in June—including unmanned vessels—"would average between $23.4b and $30.6b per year." Estimated expenditures for the new construction would be 15% to 50% greater than the $20.2 billion Congress appropriated for construction, on average, over the last five years, it said. Tony Capaccio has more.
Patent Tribunal Under Fire in Drug Price Fight: Lawmakers are calling out a U.S. Patent and Trademark Office tribunal favored by generic drugmakers over policy they say blocks pharmaceutical competition, urging the agency to take action amid an ongoing spat to lower prices on prescription drugs. The Patent Trial and Appeal Board has "begun frequently denying petitions" to reconsider the validity of already-granted IP rights "for reasons not based on the merits," lawmakers from both parties wrote. Ian Lopez has more.
Politics & Influence
Gonzalez, Who Backed Trump Impeachment, Won't Run Again: Rep. Anthony Gonzalez (R-Ohio), one of 10 Republicans in the House who backed impeaching Donald Trump, will retire rather than face what would've been a stiff primary challenge from an opponent endorsed by the former president. Gonzalez called Trump a "cancer for the country" in an interview with the New York Times, where he also faulted his House Republican colleagues for hewing close to Trump. Gonzalez added that most of his political energy will be spent on making sure Trump won't be president again, reports Derek Wallbank.
Trump-Era Lawyer Indicts Lawyer Tied to Hillary Clinton: A private lawyer with links to Democrats and Hillary Clinton was indicted yesterday by Justice Department Special Counsel John Durham over claims he made a false statement to the FBI in 2016, as an inquiry into the origins of the FBI's Russia probe continues. The lawyer met with the FBI's then-general counsel in September 2016 to convey information that may have indicated talks between the Trump Organization and a Russian bank, a report says. Chris Strohm has more.
What Else to Know Today
'Pressure's On' OSHA to Quickly Deliver Shot Mandate: Biden's call for an employer vaccine mandate has put the federal government's short-staffed Occupational Safety and Health Administration in a tight spot. In effect, an agency not known for speed is being forced to develop a complex rule under an expedited format in a matter of weeks—with legal challenges all but guaranteed once it takes effect. It will be the second Covid-19 emergency rulemaking for the agency this year. The first one took the agency nearly five months to complete, missing Biden's initial deadline by more than three months. Read more from Ben Penn.
Federal employees must be fully vaccinated by Nov. 22 or face progressive discipline that can include termination, according to new guidance from the White House on how agencies must implement the president's Covid-19 inoculation requirement. Additional guidance from the White House's Safer Federal Workforce Task Force yesterday outlined enforcement of the vaccine requirement, documentation, and "limited exceptions" to the mandate. Read more from Paige Smith.
Booster Debate to Hinge on Key FDA Meeting: Biden's push to begin offering third doses of Pfizer's coronavirus vaccine faces the first of two crucial tests today, when advisers to the Food and Drug Administration meet to explore whether booster shots should be offered to most Americans. The meeting will take place as an extraordinary public debate plays out among U.S. officials, drugmakers and public health experts on whether boosters are even needed, and whether they may do more good being sent to poorer nations.
The administration's plan to start offering boosters to almost all vaccinated adults starting next week has raised concerns among health experts that the administration is rushing ahead without enough data and regulatory oversight. The announcement came without the FDA and Centers for Disease Control and Prevention publicly saying they had fully vetted giving a third shot to the 180 million fully vaccinated Americans by year-end. Fiona Rutherford and Anushree Dave have more.
Texas Judge Rejects Bid for Earlier Abortion Hearing: A federal judge in Texas denied a Justice Department request to move up a hearing on whether the state's restrictive new abortion law should be paused while the federal government challenges the ban in a lawsuit. The White House had argued that an Oct. 1 hearing on its motion for a temporary restraining order against the law should be moved to Sept. 21 because women are already at risk. But U.S. District Judge Robert Pitman denied that request. Erik Larson has more.
EPA Set to Slash 'Super Pollutants' With First Big Climate Rule: The EPA is set to issue a final rule slashing the use of ozone-depleting, planet-warming hydrofluorocarbons early next week, before a Sept. 23 deadline, said people familiar with the matter. Proposed limits for so-called HFCs—used widely for industrial refrigeration and air conditioning—call for cutting production and use in the U.S. by 85% over the next 15 years through an allocation and trading program. Once released, the standards will be the first major regulatory step from the Biden administration to stem the release of planet-warming greenhouse gases.
The EPA's effort would dovetail with possible Senate ratification of the 1987 Montreal Protocol's Kigali Amendment, an international pact to reduce HFC emissions. The Biden administration is set to send the Kigali Amendment that aims to phase down hydrofluorocarbons to the Senate as soon as today, setting up possible ratification later this year. Read more from Jennifer Hijazi.
Biden Says He's Exploring Why Gas Prices Are High: In his latest attempt to counter inflationary pressure, Biden said his aides are looking into high U.S. gasoline prices. "There's lots of evidence that gas prices should be going down—but they haven't," Biden said. "We're taking a close look at that." Oil prices have risen 50% so far this year, with global demand for fuel roaring back after Covid-19 wiped out consumption last year. At the same time, global crude production is far lower than before Covid-19. Mike Jeffers has more.
U.S., France Dispute Australia Sub Deal Details: Secretary of State Antony Blinken stressed the U.S. consulted with France before announcing a new deal that meant France would lose out on a submarine contract valued at more than $65 billion. French officials said that wasn't true. "We had no heads up," the French embassy spokesman in Washington said. The French foreign minister was more blunt. France feels it was "stabbed in the back," Jean-Yves Le Drian said. Read more from Nick Wadhams and Peter Martin.
U.S., Australia Concerned for HK, Will Boost Taiwan Ties: The U.S. and Australia said they intend to strengthen ties with Taiwan and expressed "continued concern for the erosion of autonomy and democratic institutions and processes in Hong Kong" in joint statement after officials met in Washington. Blinken and U.S. Secretary of Defense Lloyd Austin hosted Australian Minister for Foreign Affairs Marise Payne and Australian Minister for Defence Peter Dutton, Laura Curtis reports.
To contact the reporters on this story: Zachary Sherwood in Washington at zsherwood@bgov.com; Brandon Lee in Washington at blee@bgov.com
To contact the editors responsible for this story: Giuseppe Macri at gmacri@bgov.com; Loren Duggan at lduggan@bgov.com; Michaela Ross at mross@bgov.com