What to Know in Washington: Biden Tees Up Voting-Rights Push
President Joe Biden travels to Georgia today for a speech on voting rights as Democrats work to advance legislation on Capitol Hill. Democrats are weighing changes to Senate rules in an effort to overcome Republican opposition to the legislation, but they face resistance from moderate members of their caucus.
Here's what Bloomberg Government is tracking for Tuesday.
Congressional Schedule:
The House starts at noon and plans to vote on a rule setting up consideration of two bills expanding eligibility for veterans' benefits.
The Senate meets at 11 a.m. and plans to vote on nominees for posts at the Commerce Department and the Federal Railroad Administration.
Click here for a complete list of today's hearings and markups.
Biden's Schedule:
The president is scheduled to arrive in Atlanta at 12:45 p.m. Biden and Vice President Kamala Harris at 2:40 p.m. will visit the crypt of Martin Luther King Jr. and Coretta Scott King.
Biden and Harris will visit the Historic Ebenezer Baptist Church at 3 p.m.
Shortly before 4 p.m., they're scheduled to deliver remarks at Morehouse College and Clark Atlanta University.
Biden and Harris are scheduled arrive back in Washington before 8 p.m.
Biden Talks Voting Rights as Allies Worry He's Too Late
President Biden will work to rally public support today for passage of voting rights legislation that Senate Republicans vow to block, even as some allies complain he hasn't done enough to advance the measure.
Biden will make the case for a bill to prevent states from curbing access to balloting during a trip to Atlanta, which includes a visit to Ebenezer Baptist Church and remarks alongside Harris at Morehouse College. The president will evoke the legacies of civil rights leaders Martin Luther King Jr. and John Lewis and cast the vote as "the most bedrock of American rights," according to the White House.
"Will we choose democracy over autocracy, light over shadow, justice over injustice?" Biden will say, according to an excerpt of his prepared remarks released by the White House. "I know where I stand. I will not yield. I will not flinch. I will defend your right to vote and our democracy against all enemies foreign and domestic. And so the question is, where will the institution of United States Senate stand?"
The president's trip has drawn objections from some of his allies, who are upset he didn't make a priority of voting rights months ago and instead focused on trying to win passage of his tax and spending plan. Voting activists in Georgia said Biden and Harris would make better use of their time staying in Washington to prod their caucus.
"If President Biden was going to make a speech calling for its passage, more important than doing it in Georgia would've been actually doing it in the Senate at one of the Dem caucus meetings, which by the way would've allowed them to hear his speech at breakfast and go out and vote by lunchtime," said Cliff Albright, co-founder of Black Voters Matter Fund, a group credited with helping to flip the state for Biden in 2020.
Biden's event is designed to ratchet up pressure on reticent Senate Democrats — including West Virgina's Joe Manchin and Arizona's Krysten Sinema — for a controversial one-time change in Senate filibuster rules that would clear the way for action on voting rights. Senate Majority Leader Chuck Schumer (D-N.Y.), who presides over a chamber split 50-50 with Republicans, is setting up for a vote on altering filibuster rules. Read more from Justin Sink, Laura Litvan and Ryan Teague Beckwith.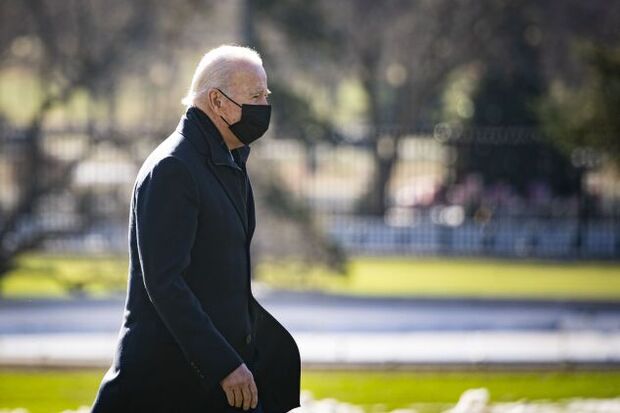 Senate Democrats are considering modest rules changes to advance the voting rights legislation, though are unlikely to abolish the super-majority threshold that has been the biggest obstacle to moving the election agenda. There are two major ways to change Senate rules. Majority leaders of both parties in the last decade have used a simple majority to lower the 60-vote threshold to invoke cloture, or limit debate, on presidential nominees. That approach, referred to as the "nuclear option," calls for the majority to overturn the ruling of the chair, revise Senate rules, and create new precedent.
The problem for Democrats in going that route is that Manchin has bucked successful efforts by Democrats and Republicans alike in the past decade to modify Senate rules with a simple majority and has said he'd like to see GOP support for any further changes. Read more from Zack C. Cohen on the potential rules changes.
ALSO HAPPENING ON THE HILL:
Congressional Agenda Webinar
Join Bloomberg Government's legislative analysts tomorrow at 11 a.m. for a deep dive into the policy areas, spending fights, and other activities to watch on Capitol Hill this year.
Analysts will discuss Democrats' social spending package, fiscal 2022 spending negotiations, and legislation to address U.S. competition with China. Register here.
Politics & Influence
Crypto Firms Gear Up for Battles in Washington: The cryptocurrency industry is bracing for an onslaught of regulatory and enforcement action this year, flooding Washington with money, snapping up lobbying firms, and building up their trade associations in an effort to curb new rules. After a decade of scant attention from regulators, crypto companies are facing increasing pressure to hire lobbyists in Washington to play defense. Read more from Joe Light.
Former President Donald Trump's long delay in calling for an end to last year's assault on the U.S. Capitol could be viewed as evidence that he agreed with the rioters' actions, a federal judge suggested. U.S. District Judge Amit Mehta asked why it should not be seen that way during a hearing in Washington on Trump's motion to dismiss three suits alleging he conspired with other defendants to incite the Jan. 6 insurrection. Trump lawyer Joseph Sibley didn't attempt to explain the delay but said it cannot be used as evidence against Trump. Read more from Erik Larson.
Sen. Mike Rounds defended his comments that Trump lost the 2020 election in the face of criticism from the former president and called on fellow Republicans to reject false claims of voter fraud or risk losing future elections. Trump attacked Rounds (R-S.D.) in a statement yesterday as a "weak and ineffective leader" and RINO — Republican in Name Only — after Rounds said Sunday on ABC's "This Week" that the 2020 presidential election was "as fair as we have seen." Read more from Mark Niquette.
The Republican National Committee sued New York City over a law that will give as many as 800,000 non-citizens the right to vote in local elections. The RNC, along with the state party and a group of Republican office-holders, filed suit yesterday in Staten Island seeking to invalidate the law on the grounds that it violates the state constitution. They are also seeking an order blocking city officials from registering non-citizens and from counting their votes. The legislation is "a blatant attack on election integrity," the RNC said in a statement. Read more from Bob Van Voris.
New York's independent redistricting commission will have a second chance at drafting state legislative and congressional district lines, after lawmakers rejected their initial maps yesterday, Keshia Clukey reports. The 10-member panel had failed to come to a consensus and put out competing proposals, one from Democrats and one from Republicans.
Around the Administration
Biden's administration moved to require private insurance companies and group health plans to cover the cost of at-home, rapid Covid-19 test kits beginning Jan. 15. The new policy will cover a certain number of tests each month, depending on the size of the covered family, the Centers for Medicare and Medicaid Services said.
The move, previously announced in December, comes as the Biden administration wrestles with a historic rise in Covid-19 cases across the country, and is facing criticism for a nationwide shortage of at-home tests. The new coverage—and plans to ship 500 million at-home test kits any Americans who want them—is key to the administration's effort to curtail the virus' spread. But by making the tests effectively free for consumers with private coverage, insurers fear the costs of the tests could skyrocket. Read more from Tony Pugh.
The Biden administration urged Chicago's mayor and teachers union to strike a deal to return children to classrooms as the high-profile battle undercuts his push to keep schools open across the U.S. "The president's been very clear, as we have been clear: We're on the side of schools being open," Psaki said, asked about the standoff in Chicago. Late last night, Mayor Lori Lightfoot announced that the Chicago Teachers Union and Chicago Public Schools had agreed to resume in-person classes on Wednesday. The union's members must still vote on the agreement. Josh Wingrove and Nic Querolo have more.
The White House signaled it would curtail oil development in the National Petroleum Reserve-Alaska and restore restrictions on drilling that had been jettisoned under Trump. The Bureau of Land Management said that after reevaluating a 2020 environmental analysis, it was now formally adopting as the "preferred alternative" a plan to go back to an Obama-era program for the 23-million-acre petroleum reserve that imposes more stipulations on leaseholders and provides more safeguards for threatened and endangered species, Jennifer A. Dlouhy reports.
The U.S. has announced $308 million in new humanitarian assistance to help ease an urgent food and healthcare crisis in Taliban-led Afghanistan. USAID will direct the funds through independent aid organizations on the ground that work to provide emergency health, shelter and nutrition services in the country, Emily Horne, spokeswoman for the National Security Council said in a statement. The aid brings America's total financial assistance in the country to nearly $782 million since October last year, Eltaf Najafizada reports.
To contact the reporters on this story: Zachary Sherwood in Washington at zsherwood@bgov.com; Brandon Lee in Washington at blee@bgov.com
To contact the editors responsible for this story: Giuseppe Macri at gmacri@bgov.com; Loren Duggan at lduggan@bgov.com; Michaela Ross at mross@bgov.com