What to Know in Washington: Biden Team Warns on China, Russia
President Joe Biden and China's Xi Jinping to discuss Ukraine
GOP could target dark money in Biden SCOTUS pick hearings
China's muted response to Russia's invasion of Ukraine has hardened views within the Biden administration that President Xi Jinping may be moving closer to supporting Moscow as the conflict continues, several people familiar with the matter said.
Even as the Chinese government publicly voices some support for the Ukrainian people and calls for a peaceful solution, top American officials see signs that China is seeking ways to soften the blow of sanctions imposed on Russia by the U.S. and its European allies, according to the people, who say they have knowledge of deliberations in Beijing.
The people, who asked not to be identified because of the sensitivity of the matter, did not offer details on how Beijing might be able to offset the economic consequences of the sanctions. They also declined to elaborate on U.S. sources of information about China's government and its interactions with the Kremlin. Some of the people said Beijing is also considering supplying Moscow with weapons such as armed drones.
Beijing denies that it has tacitly backed the invasion, and Chinese officials have rejected U.S. reports that Russia asked China for financial and military assistance shortly after touching off the war, labeling them disinformation. "We're concerned that they're considering directly assisting Russia with military assistance to use in Ukraine," Secretary of State Antony Blinken said Thursday.
President Joe Biden is set to speak by phone with Xi on Friday at 9 a.m. in Washington, with U.S. misgivings about China's stance over Ukraine high on the agenda. In his call, Biden is expected to try to persuade his Chinese counterpart to back away from any support for Russian President Vladimir Putin and his war. The stakes are potentially ground-shifting, after a six-hour meeting on Monday in which National Security Adviser Jake Sullivan warned China's senior diplomat of serious consequences should Beijing support Russia through its banks or on the battlefield.
"The fact that China has not denounced what Russia is doing in and of itself speaks volumes," said White House Press Secretary Jen Psaki in a briefing Thursday. Biden's talks with Xi, she said, will be "an opportunity for him to speak directly, leader to leader, about a range of issues. Russia's invasion of Ukraine will be a part of that. What role or how President Xi sees the role of China in that conflict, will be a part of that." Read more from Peter Martin, Jenny Leonard, Alberto Nardelli, and Jennifer Jacobs.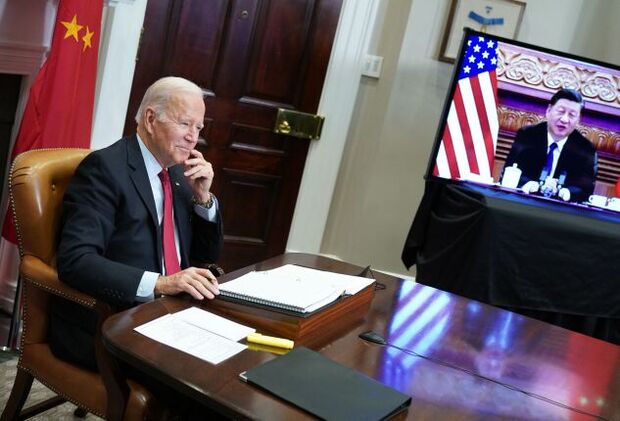 MORE ON THE WAR IN UKRAINE:
Putin could be expected to brandish threats to use nuclear weapons against the West if stiff Ukrainian resistance to the invasion continues, draining conventional manpower and equipment, according to a new report by the Pentagon's Defense Intelligence Agency. "Protracted occupation of parts of Ukrainian territory threatens to sap Russian military manpower and reduce their modernized weapons arsenal, while consequent economic sanctions will probably throw Russia into prolonged economic depression and diplomatic isolation," Director Scott Berrier said. Tony Capaccio has more.
The World Health Organization said there have been 43 confirmed strikes on health-care facilities in Ukraine since the Russian invasion started and aid convoys have been stalled. Director-General Tedros Ghebreyesus told the United Nations Security Council that aid shipments to the cities of Sumy and Mariupol, surrounded by Russian soldiers, have been stymied. At least eight facilities that produce oxygen for health facilities have been closed due to the war, he said. Disease outbreaks are expected as the conflict continues.
Russia's foreign minister repeated a threat to target arms convoys in Ukraine sent by the U.S. and its allies. Missiles again hit areas in the far west of Ukraine, including near the airport at Lviv, the mayor said. It was the first reported Russian strike in some days in regions close to the Polish border that are a key corridor for Ukrainians attempting to flee to Poland. Read the latest in the Bloomberg News Ukraine Update.
Also Happening on the Hill
CONGRESSIONAL SCHEDULE:
The House meets at 9 a.m. to vote on legislation to ban discrimination based on hair.
The Senate is out, but returns Monday to begin hearings on Biden's Supreme Court nominee.
The House passed a bill to void all pre-dispute mandatory arbitration agreements in employment, antitrust, consumer, and other matters, following on the heels of a new law that specifically barred the agreements for "#MeToo" allegations. The House voted 222-209 on Thursday to pass the FAIR Act, moving closer to expanding a bill that Biden signed into law that bars the enforcement of the agreements for workers alleging sexual harassment or assault. That law enjoyed bipartisan backing from the start, as compared to the FAIR Act which only has one Republican sponsor. Read more from Paige Smith.
Energy Secretary Jennifer Granholm and Sen. Joe Manchin (D-W.Va.) on Friday will announce a program to develop lithium batteries in the U.S. as part of a broader strategy to help Appalachia amid a transition away from coal. Lithium-based batteries are critical components of electric vehicles, grid storage and weapons, but the U.S. relies on international markets for the processing of most raw materials, according to the Energy Department. The department is promoting a plan to support a domestic battery supply chain — from critical minerals mining to manufacturing and recycling. The DOE is also announcing $5 million in funding for pilot projects for workers in communities where energy and automotive industries once held sway. Read more from Ari Natter.
Legislation to establish the biomedical innovation accelerator proposed by Biden must avoid duplicating NIH work by making it independent of the existing agency, top members of a House health panel agreed. The health subcommittee on the Energy and Commerce Committee held a hearing Thursday on a slate of 22 bills that the panel is largely eyeing to attach to must-pass FDA user fee legislation. Two of those bills would authorize the Advanced Research Projects Agency for Health, envisioned to be similar to programs in the departments of Defense and Energy. Read more from Jeannie Baumann.
Also at the hearing, lawmakers said two bills aiming to clarify application requirements for generic drugs and biosimilar products might help bring more products to the market that are interchangeable with costly brand-name products. The two proposals would push the FDA to simplify how it determines whether cheaper versions of currently marketed pharmaceutical or biological products are similar enough to be substituted at the pharmacy counter. Celine Castronuovo has more.
The nation's electric sector would have to better plan for power grid upgrades to accommodate the renewable energy rollout while more frequently reporting greenhouse gas emissions data to federal energy regulators, according to legislation that Senate Democrats unveiled on Thursday. The bill, called the Charge Act of 2022, seeks to spur growth of power lines and infrastructure by expanding oversight of the Federal Energy Regulatory Commission, the five-member panel that oversees interstate flow of energy and the wholesale power market. Read more from Daniel Moore.
GOP Dark Money Criticisms in Supreme Court Fight Mirror Democrats
Sen. Sheldon Whitehouse (D-R.I.) brought poster boards to Justice Amy Coney Barrett's 2020 confirmation hearing highlighting the interconnections among conservative groups like the Judicial Crisis Network and the Federalist Society.
Now, Republicans have a chance to turn the tables, criticizing the role played by Demand Justice, which also doesn't disclose its donors, in championing Ketanji Brown Jackson's Supreme Court nomination.
Focusing on the influence of "dark money" groups that don't need to disclose their donors may prove appealing for Republicans sensitive about how they oppose the first Black woman Supreme Court nominee, according to University of Massachusetts Amherst political science professor Paul Collins.
"Instead of attacking Judge Jackson directly, they can attack the process, which includes spending by outside organizations whose donors can't be traced," said Collins, who studies Supreme Court confirmation hearings. Read more from Madison Alder.
MORE POLITICS & INFLUENCE:
Former Alaska Gov. Sarah Palin is appealing her loss in the defamation suit she filed against The New York Times. The 2008 Republican vice presidential candidate filed her notice of appeal Thursday in a federal court in Manhattan. She has also said she plans to seek a new trial because the judge said last month he'd dismiss her claims while jurors were still deliberating. The jury decided against her the following day, but several jurors said they learned of the judge's plans before they delivered the verdict. Read more from Bob Van Voris.
Andrew Cuomo said Thursday he's open to running for New York governor again and would consider creating his own party to do so. The three-term Democrat, who resigned in August amid a sexual-harassment scandal, gave his second public address in as many weeks in front of a group of clergy at a church in the Bronx. Asked if he's planning a run for governor, Cuomo said, "I'm open to all options." When asked whether he'd consider creating his own party to do so, he said, "I've done it before. My father's done it before." Laura Nahmias has more.
Around the Administration
BIDEN'S SCHEDULE:
The president and Chinese counterpart Xi Jinping are scheduled to speak at 9 a.m. by phone.
Biden delivers remarks on ARPA-H, an envisioned biomedical research incubator, at 1:30 p.m.
Abolitionist and union army member Harriet Tubman, and George Marshall, America's foremost soldier during World War II, could replace Confederate generals who grace the names of Army bases. Also on the list from the Naming Commission, released Thursday, is former President Dwight Eisenhower, who commanded U.S. troops in World War II and warned against the influence of the U.S. military-industrial complex. Congress mandated the commission in the annual defense authorization bill for fiscal 2021, over former President Donald Trump's veto. Read more from Roxana Tiron.
The Covid-19 pandemic reinforced the difficulties low-wage workers can face in getting unemployment benefits—particularly in states with large shares of Black workers, where benefits tend to be less generous and shorter-lasting. But those advocating for change face little appetite in Congress, and the upcoming November elections could make pro-worker federal legislation even less likely if Democrats lose the House or Senate. The likelier result—if past experience is indicative—is a patchwork of tweaks by state legislatures and agencies, funded in part by the U.S. Department of Labor. Read more from Chris Marr.
A global plan to ignore drugmaker intellectual property rights over Covid vaccine production could have severe consequences on drug investments for pandemic purposes and beyond, according to critics of a pitch backed by the U.S. before the World Trade Organization. Since 2020, South Africa and India have pushed WTO countries to permit third parties to replicate IP-protected Covid vaccines and therapeutics for global use. The U.S. and EU this week agreed to a trimmed down version of the plan, setting a stage for a vote that advocates say will set perilous precedent. Ian Lopez has more.
Meanwhile, Moderna filed for FDA clearance of another booster shot for every adult, covering significantly more people than Pfizer-BioNTech's earlier request for emergency authorization for people over 65. The application comes amid heated debate over how long vaccinations protect from one infection and whether repeated shots are necessary to prevent severe disease and death. Several countries such as Israel have started administering a fourth dose to adults, with data showing a fivefold increase in the production of infection-fighting antibodies. Michelle Fay Cortez and Robert Langreth have more.
Homeland's Alejandro Mayorkas is considering new supplemental guest worker visas for the second half of the fiscal year, he told reporters Thursday. Business groups and lawmakers have called for offering more guest worker visas amid a historically tight labor market. The Homeland Security Department announced in December that it would issue 20,000 additional H-2B visas, the first time the department had exceeded the 66,000 yearly cap in the first half of a fiscal year. A rule authorizing the visas was published in January. Read more from Andrew Kreighbaum.
To contact the reporters on this story: Giuseppe Macri in Washington at gmacri@bgov.com; Brandon Lee in Washington at blee@bgov.com
To contact the editors responsible for this story: Loren Duggan at lduggan@bgov.com; Michaela Ross at mross@bgov.com