What to Know in Washington: Biden Team Plans Massive Oil Release
White House weighing large release of oil to combat inflation
Biden efforts to boost voting left undone as primaries near
The U.S. is considering a plan to release around a million barrels of oil a day from U.S. reserves, for several months, to combat surging gasoline prices and supply shortages following Russia's war in Ukraine, people familiar with the matter said. The total release may be as much as 180 million barrels, the people said, speaking on condition of anonymity ahead of an official move.
The proposal is accompanied by a diplomatic push to coordinate a global release by other countries. A final decision hasn't yet been reached on the global release, but an announcement on the U.S. release may come Thursday, one person said.
The White House said in a statement that Biden would speak on Thursday about his efforts to reduce energy prices "and lower gas prices at the pump for American families," which it blamed on Putin. The White House didn't immediately comment. Biden is under pressure to slow the pace of inflation and reduce gasoline costs ahead of November's midterm elections. Despite the administration's assurances last year that pump prices would fall in 2022, they have instead risen, with gasoline in California at nearly $6 a gallon, according to auto club AAA.
Biden has already ordered two large releases of oil from U.S. reserves in the past six months—50 million barrels in November, and another 30 million in March after Russia's invasion. The previous releases have had a muted effect on prices: U.S. average pump prices rose after the administration began discussing its first release last fall. The Biden administration has at the same time also struggled to coax OPEC nations to increase production enough to reduce U.S. gasoline prices.
And though oil in the stockpile has been sold or exchanged roughly two dozen times, including to mitigate supply disruptions, reduce the deficit and offset federal spending, it's never been on this scale. As of March 25, the reserve had 568 million barrels remaining, according to Energy Department data. Biden discussed oil supplies and the potential for another round of releases from reserves during meetings with allies in Europe last week, National Security Adviser Jake Sullivan, who said the issue was a "major topic of conversation" at a meeting of the G-7, said. Alberto Nardelli, Jennifer Jacobs, Saleha Mohsin have more.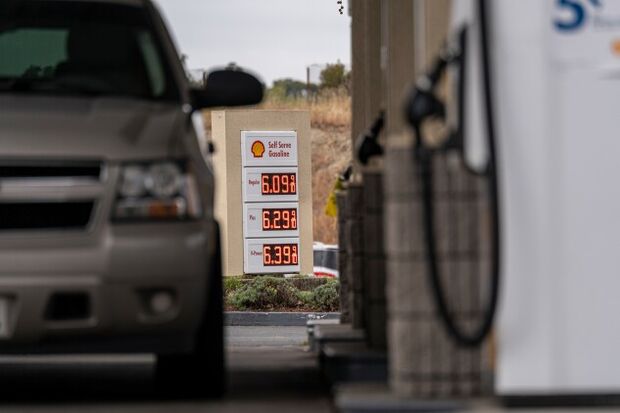 Donald Trump is seeking to temper his description of Vladimir Putin as a "genius" shortly before the invasion of Ukraine while the Biden administration sharply criticized the former president over his comments this week about the Russian leader. Trump's remarks that Putin was "very savvy" to say he was declaring portions of Ukraine independent and amassing troops on the border as part of a peace-keeping operation were widely condemned. He said in a statement Wednesday that he was referring to Putin's strategy as a negotiating tactic. "Unfortunately, and tragically, Putin went too far." Read more from Mark Niquette.
MORE ON THE WAR IN UKRAINE:
Russian forces are deliberately trying to damage Ukraine's agriculture sector, a main source of income, President Volodymyr Zelensky told Dutch lawmakers. Troops have placed landmines in fields and agricultural equipment has been destroyed, he said. Follow the latest in the Bloomberg News Ukraine Update.
The U.S. and Australia criticized India for weighing a proposal that would undermine sanctions levied by the U.S. and its allies, showing a deepening divide between the emerging security partners as Russian Foreign Minister Sergei Lavrov traveled to Delhi for talks. Read more from Eric Martin and Sudhi Ranjan Sen.
Also Happening on the Hill
CONGRESSIONAL AGENDA:
The House meets at 10 a.m. with debate planned on legislation to address the cost of insulin.
Senators return at 10 a.m. for a procedural vote on a measure to boost Covid funding.
Activists for home health care are asking Democrats to follow through on promises to expand access to the services that are increasingly in demand as the U.S. population ages. Labor unions, disability rights groups, and others have been pleading for legislation to strengthen in-home care for the elderly and disabled, while also increasing caregivers' wages and unionizing opportunities. Their calls have taken on new urgency, as states face a March 31 deadline to apply for money from a pandemic-era program that sought to lay the groundwork to expand Medicaid's home care offerings. Alex Ruoff has more.
The Senate turned back Biden's nomination of David Weil as the Department of Labor's top wage-hour regulator. The 47-53 vote on a motion to proceed prevented a final vote on Weil to be the department's Wage and Hour Division administrator. Weil was Biden's nominee for the position since June 2021, but his nomination languished for much of last year. He had to be nominated again for the role in January. Weil has faced opposition from business groups and Republicans over his scrutiny of gig-economy companies' labor practices when he served in the Obama administration. Read more from Paige Smith.
The chair of the House panel investigating the Jan. 6 attack on the U.S. Capitol said the panel is considering subpoenaing Trump's personal phone records to help fill-in a more than seven-hour gap in White House telephone logs on the day of the riot. "All that's up for discussion," Chair Bennie Thompson (D-Miss.) said, adding there are "some other options" that he refused to detail. Logs showing no calls to or from Trump from a little after 11 a.m. until nearly 7 p.m. "are not consistent" with other information the panel has, Thompson said. Read more from Billy House.
The White House request for $10 billion in federal election grants over the next decade faces resistance from Republicans who are demanding more accountability for past funding. Rep. Rodney Davis (Ill.), the top Republican on the House Administration Committee, which oversees election issues, said it is important to back state and local election administrators. But he called for a "full accounting" of what happened to previously approved federal grant funding, noting that only around half of over $800 million in election security funds provided since 2018 was spent by the states. Kenneth P. Doyle has more.
Biden's Limited Voting To-Do List Unfinished as Primaries Near
The Education Department is set to ask colleges to help students vote, but it hasn't finished its promised lessons to teach kids about voting.
Department officials are asking nutrition assistance programs to tell their recipients about voting, but they aren't yet providing rural Americans with similar details when they look for housing or business loans.
And the administration announced ways to make it easier for people with disabilities to cast their ballots, but the national voting information website has yet to receive a promised update to make it more accessible.
Biden directed federal agencies in March 2021 to add voter access or registration assistance when they interact with the public. The directive has so far yielded mixed results more than a year later.
Even if federal agencies tick off every item on their voting to-do lists, the Biden administration can't do much to improve voter access nationwide without action from Congress. And, for the most part, U.S. election policy is made at the state level and election days are rapidly approaching nationwide. Read more from Courtney Rozen.
Around the Administration
BIDEN'S SCHEDULE:
The president will speak from the White House at 1:30 p.m. on efforts to reduce energy and gas prices.
White House Communications Director Kate Bedingfield holds a press conference at 3 p.m.
The U.S. is expected to soon lift a pandemic-related policy allowing authorities to expel most migrants crossing the border, according to a person familiar with the planning. The change is likely to be announced by the Centers for Disease Control and Prevention by the week's end and implemented by the end of May, the person said. As a result the number of people trying to cross into the U.S. from Mexico is expected to surge, posing both humanitarian and political concerns for Biden's White House before the November midterm elections. Read more from Jordan Fabian.
Labor Secretary Marty Walsh spent more than half of the first year of the Biden administration working from Boston, according to a review of the secretary's schedules from March to December 2021. The former Boston mayor was in Boston 162 days out of his first 284 days in office, and spent 68 days in Washington, his public calendars show. The Labor Department's press office released the records for November and December to Bloomberg Law. Walsh's absence from inside the Frances Perkins Building has prompted criticism from Republicans, who may be able to use their oversight power to probe the secretary's travel if either chamber of Congress flips in this year's midterm elections. Rebecca Rainey has more.
The White House on Wednesday downplayed signals in the Treasury market that some interpret as a sign of a looming recession, arguing that many U.S. economic indicators have strengthened. Two-year Treasury yields surpassed 10-year ones Tuesday, marking an "inversion" of the yield curve, in the first such instance since 2019. Inverted yield curves have preceded most recessions in the past, and the latest move has ignited a debate among investors and economists on whether a slump now is in the offing. Read more from Saleha Mohsin and Jordan Fabian.
The U.S. is set to give the mining industry a key tool to boost domestic production of metals behind the energy transition—but nothing that speeds up efforts to dig ore out of the ground. Biden is set to add battery metals to the list of items covered by the 1950 Defense Production Act that may help mining firms access $750 million to fund production at existing operations, productivity and safety upgrades and feasibility studies, people familiar with the matter said. However, the changes to the act do nothing to streamline the permitting process. Read more from Joe Deaux.
Securities and Exchange Commission Chair Gary Gensler tamped down speculation that a deal is brewing to keep about 200 Chinese stocks from losing their listings, signaling that only total compliance with American audit inspections will permit the companies to continue trading on U.S. markets. "There have been thoughtful, respectful, productive conversations, but I don't know where this is going to end up," Gensler said, referring to ongoing discussions. "It's up to the Chinese authorities, and it could be frankly a hard set of choices for them." Robert Schmidt and Ben Bain have more.
The U.S. is debating whether to ease some sanctions on Venezuela to let Chevron speak directly with the regime of Nicolas Maduro, as the U.S. looks for ways to jump-start stalled talks with the political opposition, people familiar with the matter said. Lifting a ban on communication with top members of the Caracas government would allow Chevron to prepare for a day when punishing sanctions on Venezuela's oil industry are lifted. It would also permit Chevron to negotiate more control over its joint ventures with state-run oil company PDVSA, according to the people. Read more from Nick Wadhams and Fabiola Zerpa.
Editor's Note: Bloomberg Government's Wednesday What to Know in Washington corrected the title of House Majority Leader Steny Hoyer (D-Md.).
To contact the reporters on this story: Giuseppe Macri in Washington at gmacri@bgov.com; Brandon Lee in Washington at blee@bgov.com
To contact the editors responsible for this story: Loren Duggan at lduggan@bgov.com; Michaela Ross at mross@bgov.com