What to Know in Washington: Biden Team Eyes Fresh Economic Plan
Biden team eyes revival of BBB amid economic woes
Alabama, Georgia to offer fresh tests of Trump's grip
The White House and congressional Democrats are in advanced talks on legislation that aims to fight inflation, rein in the deficit and revive parts of President Joe Biden's stalled economic agenda.
The contours of a potential deal remain under negotiation, but the package would likely include capping the price of insulin and federal investments in both clean energy and fossil fuels, according to sources briefed on the talks. It would also further reduce the budget deficit and boost taxes on the wealthy, corporations or both, they said.
An agreement could come together as soon as this week, two people said. Still, others were more cautious, noting many details remain to be resolved. Climate provisions are a particularly tricky area, and differences could still scotch a deal, one person said. The people familiar with the talks asked not to be identified due to the sensitivity of the negotiations, in which Sen. Joe Manchin (D-W.Va.) plays a central role.
The president has hinted at a coming agreement, framing the legislation primarily as a move to cool consumer-price increases, which unexpectedly accelerated to an annual 8.6% in May.
"I believe I have the votes to do a number of things," Biden told the Associated Press last week, citing capping insulin costs as an example. "We can reduce it to 35 bucks a month and get it done. We have the votes to do it. We're going to get that done. I can't get it all done." Read more from Jennifer Jacobs and Josh Wingrove.
A top economic adviser to Biden said he's hopeful Congress will pass measures the administration claims will help curtail inflation in the coming weeks. "Prices are unacceptably high right now," US National Economic Council Director Brian Deese told CBS. "That's why the president has said we need to make this our top economic focus and do everything that we can to get them down." Read more from Tony Czuczka.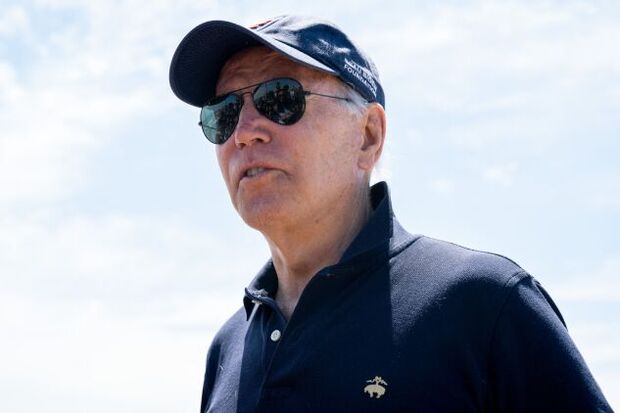 Biden may decide this week on suspending the US gasoline tax in a push to ease the impacts of soaring prices at the pump. "Yes, I'm considering it," Biden told reporters in Delaware. "I hope I have a decision, based on data I'm looking for, by the end of the week." The move likely would require sign-off by Congress. A White House official said the president is open to exploring all options that would help ease gas prices and that conversations are ongoing. Read more from Josh Wingrove and Jenny Leonard.
Biden reiterated that a US recession isn't "inevitable" following conversations with former Treasury Secretary Lawrence Summers, who sees a significant chance the country will find itself battling stagflation. "I was talking to Larry Summers this morning, and there's nothing inevitable about a recession," Biden told reporters. Read more from Leonard and Wingrove.
Energy Secretary Jennifer Granholm warned drivers against expecting quick relief on gas prices. Though the US Energy Information Administration projected in its June short-term outlook that US prices at the pump will average about $4.27 a gallon in the third quarter, the forecast could be "completely upended" by world events, she told CNN. Cavaliere has more.
Treasury Secretary Janet Yellen said talks are continuing on how the US and its allies might cap Russian oil export prices, possibly with exceptions to a European ban on insuring Russian oil shipments. Allies are having productive talks on limiting oil revenues to Russia "while preventing spillover effects," Yellen said. Christopher Condon and Danielle Bochove have more.
Also Happening on the Hill
CONGRESSIONAL SCHEDULE:
The Senate is in at 3 p.m., no votes have been scheduled.
The House meets at noon with votes at 2 p.m. under expedited floor procedure, including on a shooter alerts measure.
The US is uniquely positioned to achieve self-sufficiency in the packaging of the fastest, smallest, and most energy-efficient semiconductors if Congress acts fast, industry officials say. Legislation being negotiated now would spend around $50 billion in the research, development, and manufacturing of semiconductors. Although policymakers have focused on the creation of the chips themselves, industry officials say the bill could bolster the US's production of back-end hardware to put the chips to use. Read more from Maria Curi.
Meanwhile, China's chipmaking industry is growing faster than anywhere else in the world, after US sanctions on local champions from Huawei to Hikvision spurred an appetite for home-grown components. Nineteen of the world's 20 fastest-growing chipmaking firms in the past four quarters on average hail from China—compared with eight last year. Read more.
The Environmental Protection Agency and Interior Department would each receive roughly $2 billion more for fiscal 2023 than they did in fiscal 2022 under draft legislation House appropriators released Monday. The Interior-Environment spending legislation would give the EPA a total of $11.5 billion for fiscal 2023, $2 billion more than the enacted fiscal 2022 level but $400 million less than Biden's request, according to a summary from the House Appropriations Committee. Kellie Lunney has more.
House appropriators proposed to increase funding for clean energy development and power grid resilience, nuclear energy and radioactive waste cleanup, and water infrastructure projects amid an historic drought under a draft spending bill published Monday. Energy and water programs would receive about $56.3 billion—an increase of 6.4%, or $3.4 billion, compared with the fiscal 2022 enacted levels for those programs. Read more from Daniel Moore.
Procurement-related highlights in the latest House version of the annual defense policy bill displayed lawmakers' interest in modernizing the Pentagon's IT systems and fortifying the country's cyberdefenses. More than $8 billion worth of projects would be authorized by the House Armed Services Committee under the bill (H.R. 7900). They include initiatives for cyber-specific officers across departments, increased communication capabilities, and enterprise IT upgrades. Josh Axelrod has more.
The Senate Finance Committee released details of the retirement reform legislation it is scheduled to mark up Wednesday. The bill includes tweaks to 401(k) and individual retirement accounts meant to increase the ability of late-career workers to catch up on savings. "Americans deserve dignified retirements after decades of hard work," said Senate Finance Chairman Ron Wyden (D-Ore.) in a statement. "Our bill is an important step forward." Read more from Colin Wilhelm.
Tech antitrust bills in Congress won't be considered until at least mid-July as senators continue to negotiate over whether to add a provision protecting the ability of platforms to moderate content, people familiar with the discussions said. The bipartisan bill would bar major online platforms like Google, Apple, Meta, and Amazon from favoring their own products over those of rivals who use the platforms. The week of July 11 is now the earliest the bill could reach the floor, the people said. Leah Nylen has more.
Elections, Politics & Probes
GOP primary runoffs in Alabama and Georgia on Tuesday will provide new tests of whether Donald Trump's candidates can advance in strongly conservative areas. In a Senate election in Alabama, Trump was an eleventh-hour endorser of Katie Britt, a former chief of staff to retiring Sen. Richard Shelby (R)—after rescinding his initial endorsement of Rep. Mo Brooks. The congressman is a staunch Trump ally who finished a distant second to Britt in the first-round primary last month.
Trump also endorsed candidates in two heavily Republican districts in Georgia, where he's looking for a face-saving win after resoundingly unsuccessful efforts to oust Gov. Brian Kemp, Secretary of State Brad Raffensperger, and Attorney General Chris Carr in Georgia's first-round primary last month. Trump repeatedly attacked them for not overturning Biden's legitimate victory in Georgia in the 2020 presidential election.
In Virginia, Republican voters will pick nominees against Reps. Elaine Luria and Abigail Spanberger in highly competitive districts that'll help determine which party wins a majority of House seats on Nov. 8. The nonpartisan Cook Political Report with Amy Walter rates both districts as tossups. Luria and Spanberger helped Democrats win a majority in the 2018 race. BGOV's Greg Giroux offers a look into the key races to watch.
Former Vice President Mike Pence could be subpoenaed to testify to the House select committee investigating the Jan. 6, 2021 insurrection of the US Capitol, Rep. Adam Schiff (D-Calif.) said Sunday. "We're not taking anything off the table in terms of witnesses who have not yet testified," Schiff, a panel member, told CNN. "There are still key people we haven't interviewed that we would like to," he added, saying Pence is "certainly a possibility." Read more from Victoria Cavaliere.
The panel said it's working to get the Justice Department access to transcripts of witness interviews, a day after the riot prosecution of two Proud Boys was delayed due to lack of access. The committee "is engaged in a cooperative process" to address the needs of the DOJ, its spokesman said in a statement on Friday. Read more from Chris Strohm and Billy House.
Liz Cheney's starring role in making the case against Trump in nationally televised hearings has made this stalwart conservative a pariah among Republicans and won

her

few friends in her home state of Wyoming, where her family is considered almost royalty. Billy House has more.
Longtime Trump adviser Steve Bannon asked a federal judge to exclude evidence relating to the Jan. 6 storming of the Capitol from his criminal contempt trial. Bannon was indicted last November on two counts of contempt of Congress for refusing to comply with subpoenas from the House Jan. 6 panel seeking his testimony. Read more from Sabrina Willmer.
Sen. John Cornyn was booed at the Texas GOP convention amid his push for tighter gun laws. During his speech at the Texas Republican Party event in Houston on Friday, Cornyn (R-Texas) was met with boos from the audience. Delegates at the convention blasted Cornyn for helping lead efforts in Congress to impose stricter gun laws after the Uvalde school shooting last month that killed 19 children and two teachers. Texas has some of the loosest gun statutes in the US. Shelly Hagan has more.
Around the Administration
BIDEN'S AGENDA:
At 3:45 p.m., Biden will deliver remarks on the authorization of Covid vaccines for young children.
Biden applauded Apple store workers near Baltimore after they voted for a union on Saturday, becoming the first organized outlet in the US. "I'm proud of them," Biden said on Monday. "Workers have a right to determine under what conditions they are gonna work or not work." The successful effort by workers at Apple's Towson, Md., store to unionize may change the face of the tech giant's retail operation. It may also spark a wider movement among all Apple workers, Leonard and Wingrove report.
Biden officials vowed to fully enforce a new ban on imported goods from China's Xinjiang region beginning Tuesday, warning of close scrutiny for any companies requesting exceptions for goods ranging from solar panels to tomato products. "We will not allow goods made with forced labor to enter this country," and "our timely and strong implementation of this law is proof of our commitment to that," the Homeland Security Department's Robert Silvers told reporters. Read more from Jennifer Dlouhy.
Biden administration officials have decided to reject a vague new assertion by China that the Taiwan Strait is not "international waters" and are increasingly concerned the stance could result in more frequent challenges at sea for the democratically governed island, people familiar with the matter said. Read more from Peter Martin and Jennifer Jacobs.
US health officials approved Covid vaccines for infants and toddlers, the last remaining age group that hadn't been eligible for inoculation. The CDC Advisory Committee on Immunization Practices voted unanimously to recommend Pfizer's three-dose shot for youngsters ages six months through 4 years. They also voted 12-0 to recommend Moderna's two-dose vaccine for kids six months through 5 years. Director Rochelle Walensky signed off on its recommendations. Read more from Fiona Rutherford.
The Energy Department is proposing changes requested by California Gov. Gavin Newsom (D) that will allow the state's last nuclear power plant to qualify for federal financial assistance. The department proposed removing a requirement that would have prevented PG&E's Diablo Canyon nuclear power facility from getting a portion of $6 billion in funding the White House is making available to rescue reactors at risk of closing early because they are losing money. Read more from Mark Chediak.
To contact the reporter on this story: Brandon Lee in Washington at blee@bgov.com
To contact the editors responsible for this story: Giuseppe Macri at gmacri@bgov.com; Michaela Ross at mross@bgov.com