What to Know in Washington: Biden Team Awaits Inflation Data
President Joe Biden's administration is already managing expectations ahead of today's consumer prices report, cautioning that the November data won't reflect the latest shifts. Lawmakers took a giant step this week toward resolving the approaching debt limit deadline, and in the process have ignited a discussion about the future of the Senate filibuster rule.
Here's what Bloomberg Government is tracking for Friday.
Biden's Schedule:
Biden, First Lady Jill Biden, Vice President Kamala Harris, and Second Gentleman Douglas Emhoff attend the memorial service at 11 a.m. of the late Sen. Bob Dole (R-Kan.) at the Washington National Cathedral.
Biden delivers closing remarks to the virtual Summit for Democracy.
Biden will depart Washington for Wilmington, Del., at 5:45 p.m.
Congress Agenda:
The House and Senate are out today. The Senate returns Monday, the House on Tuesday.
Biden Team Seeks to Downplay Inflation Data
White House economic adviser Brian Deese said November's inflation report won't account for recent declines in the cost of energy and commodities, an effort by the Biden administration to downplay data that is sure to show a surge in consumer prices.
Deese said that the Consumer Price Index report to be released today is "backward looking" and won't capture "recent price movements" in gasoline and natural gas prices, as well as declines in shipping costs and commodities. "These declines are delivering most importantly some benefit to consumers on a go-forward basis that won't be reflected in that data," Deese told reporters at the White House yesterday.
His comments ahead of the report underscored concern within the administration that consumer costs are weighing heavily on the president's approval rating, and pose a significant political risk for Democrats in next year's midterm elections.
The widely followed CPI gauge probably increased 6.7% from November 2020, according to the median projection in a Bloomberg survey of economists. Compared with a month earlier, prices are seen rising 0.7%. That would be the highest rate since the early 1980s, under President Ronald Reagan and in the lifetimes of many Americans. Read more from Justin Sink and Josh Wingrove.
Earlier: Inflation Near 40-Year High Shocks Americans, Spooks Washington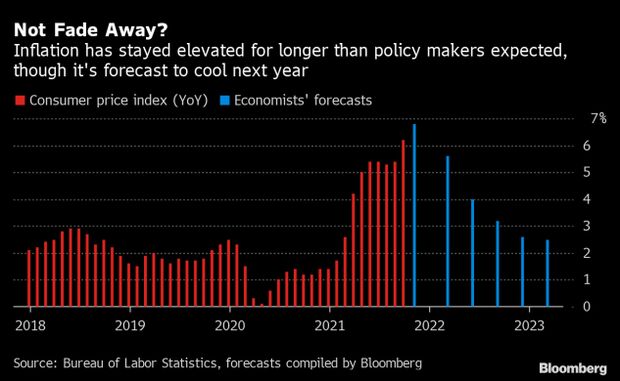 Treasury Secretary Janet Yellen in a memo last night urged lawmakers not to worry too much about the inflation data and the separate Congressional Budget Office scoring of Biden's tax and spending bill, which is also set for a release today, Politico reports.
In the memo, titled "Fiscal Responsibility and the Build Back Better Act," Yellen said that because Biden has promised to pay for any prospective extension of programs under the current version of the tax and spending bill, "it is inappropriate to judge this legislation based on an assumption that future acts of Congress won't be paid for." Republicans have requested that specific CBO score as a means of producing an alternate, higher cost associated with the social spending plan, which would extend the enhanced child tax credit but only for a year, in addition to expanding health care coverage and combating climate change, Politico's Laura Barron-Lopez reports.
Democrats Fighting to Save Paid Leave: Senate Majority Leader Chuck Schumer (D-N.Y.) said yesterday that he's fighting "tooth and nail" for a paid family and medical leave program to remain in Democrats' roughly $2 trillion tax and social spending package.
The paid leave proposal, estimated to cost $205 billion over 10 years, would create four weeks of paid time off for nearly all U.S. workers to care for a newborn child, or their own or a family member's serious medical problem. The House passed the measure last month as part of the package known as the Build Back Better Act.
Its fate in the Senate is uncertain because Sen. Joe Manchin (D-W.Va.) has said he opposes the paid leave measure, and every Senate Democrat must vote in favor of the package to ensure its final passage. Read more from Paige Smith.
A proposal to federally tax e-cigarettes and other vaping products on par with traditional nicotine has been dropped from the tax-and-social spending bill, according to Senate Finance Chairman

Ron Wyden

(D-Ore.). The vape tax, part of the House-passed reconciliation package, was projected by the nonpartisan Joint Committee on Taxation to raise roughly $8.6 billion over 10 years. Wyden told reporters yesterday that the proposal had been dropped from discussions, shortly after the Wall Street Journal reported it was out, Colin Wilhelm reports.
Debt Limit Deal Fuels Filibuster Debate
The Senate passed a bill yesterday to preemptively block Republicans from filibustering a debt limit bill, with GOP leadership's support, prompting lawmakers to consider future potential exceptions to the chamber's 60-vote threshold.
The bill only creates a one-time exception to the Senate's 60-vote requirement to end debate. But conservatives complained the move was a mistake by Senate Minority Leader Mitch McConnell (R-Ky.), and Democrats say it opens the door to future exceptions to the 60-vote threshold.
If Republicans are willing to waive the 60-vote threshold for a debt limit measure, there's no reason they can't do the same for other pieces of legislation, House Budget Chair John Yarmuth (D-Ky.) said in a Wednesday interview. "They've certainly opened themselves up to a legitimate argument about why there might not be other things that are as important as the debt limit," Yarmuth said. Jack Fitzpatrick has more.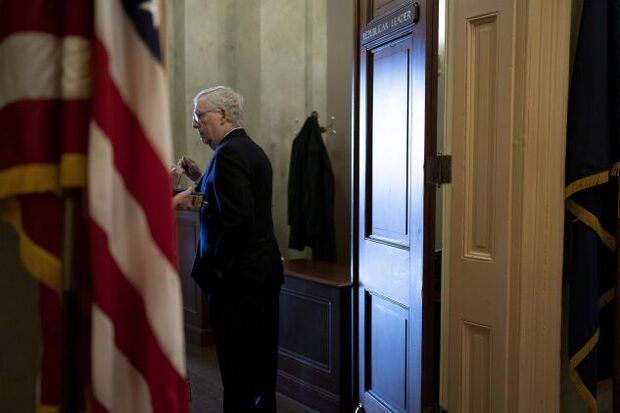 The Senate passed the legislation last night by a vote of 59-34. The measure now heads to Biden's desk for his signature, while lawmakers refine their plan to pass a separate measure to raise the country's borrowing limit without threat of a GOP filibuster.
The amount of the increase hasn't been announced, but is likely to cover borrowing into January 2023. Timing for a vote on the debt limit hike, which can be passed by a simple majority, hasn't been set. It will then go to the House, which has scheduled a vote on final passage for Tuesday. Read more from Laura Litvan and Erik Wasson.
ALSO HAPPENING ON THE HILL:
The House panel investigating the Jan. 6 attack on the Capitol will vote on Monday night to recommend holding former President Donald Trump's last chief of staff, Mark Meadows, in criminal contempt of Congress for refusing to testify and produce requested documents. The panel, of seven Democrats and two Republicans, appears prepared to make Meadows the third Trump confidante they've targeted with contempt after he refused to appear for questioning Wednesday. The House then plans to vote Tuesday on sending the matter to the Justice Department. Read more from Billy House.
The Biden administration can hand over some of Trump's White House records to a House committee investigating the Jan. 6 Capital riot, an appeals court decided. The U.S. Court of Appeals in Washington said Trump had provided "no basis" for overriding Biden's decision to waive executive privilege over the documents and cooperate with the probe by a House select committee. Trump is vowing to take the case to the Supreme Court. Read more from Erik Larson.
Several House and Senate committee leaders have announced their retirements ahead of next year's midterm elections, which has ramped up the jockeying for leadership roles in the 118th Congress that will meet in 2023. This presentation reviews the current congressional committee chairs and ranking members. Read the BGOV OnPoint here.
Politics & Influence
BGOV Redistricting Webinar: Redistricting will have a major impact on the political landscape heading into 2022 and on the balance of power in the House for the next decade. Bloomberg Government's Greg Giroux, Kyle Trygstad, and Brenna Goth will be joined on Dec. 14 at 1 p.m. by Wendy Underhill, the director for elections and redistricting at the National Conference of State Legislatures, for a conversation on redistricting. Find more information on the virtual event and register here.
Florida Gov. Ron DeSantis (R) saw a slight decline in fundraising last month, but he remained well ahead of the Democrats vying to oust him next year. DeSantis raised $4.5 million in November, a drop from $4.7 million in October, according to the latest update from the Florida Department of State Division of Elections. Bill Allison and Jonathan Levin have more.
A judge denied Georgia Secretary of State Brad Raffensperger's motion to dismiss lawsuits filed by civil rights groups seeking to overturn the state's new voting law, which was widely criticized by Democrats as an attempt to restrict access to the ballot. The lawsuits by groups including the Georgia State Conference of the NAACP, the Georgia Muslim Voter Project and the state's chapter of the League of Women Voters correctly alleges the new law may violate the Voting Rights Act, U.S. District Judge J.P. Boulee in Atlanta ruled yesterday, Erik Larson reports.
Around the Administration
Biden underscored U.S. support for Ukraine in its standoff with Russian during a call with the country's president, Volodymyr Zelenskiy, yesterday, the White House press secretary said. Biden spoke with Zelenskiy and NATO allies in eastern Europe in separate calls yesterday afternoon, after his two-hour virtual meeting with Russian President Vladimir Putin on Tuesday. Biden was set to "discuss his deep concerns with Russia's buildup on Ukraine's borders" with Zelenskiy, his press secretary Jen Psaki said. Read more from Justin Sink and Daryna Krasnolutska.
Meanwhile, the Pentagon is looking into new ways to deter U.S. adversaries including Russia and China as it grapples with with "increasingly acute" challenges from Beijing and Moscow, a defense official said. Read more from Peter Martin.
As Biden hosts leaders of democratic nations this week for a summit that includes Taiwan, China has gone into overdrive seeking to convince the world the Communist Party actually operates a superior democracy. And recent trends show it may be working. Read more.
ALSO IN FOREIGN POLICY:
British judges granted a U.S. request to extradite Julian Assange, in a remarkable legal blow to the man who has spent almost a decade fighting attempts to remove him from Britain. The decision reverses a lower court's ruling that had blocked the WikiLeaks founder from being sent to the U.S. to face criminal charges, for fear that prison conditions there would result in his suicide. Jonathan Browning and Katharine Gemmell have more.
The Biden administration aims to sign what could be a "very powerful" economic framework agreement with the continent's economies, focusing on areas including coordination on supply chains, export controls and standards for artificial intelligence, Commerce Secretary Gina Raimondo said. Jenny Leonard and Eric Martin have more.
After months of warnings that vaccinations would ward off a Covid-19 disaster, the U.S. is sailing toward a holiday crisis. Cases and hospital admissions are rising amid a season of family gatherings. Most victims have shunned inoculations. The situation is especially dire in the chilly Northeastern states, but doctors in many places report a grimly repetitive cycle of admission, intensive care and death. Read more from Jonathan Levin, David Welch and John Tozzi.
The Federal Deposit Insurance Corp. issued an unusual statement yesterday that revealed an emerging rift between financial regulators, refuting a review of bank-merger policies announced on the Consumer Financial Protection Bureau website by FDIC directors. FDIC board member Martin Gruenberg and CFPB Director Rohit Chopra, whose board seat at FDIC is automatically granted to the head of his agency, posted a statement that the FDIC's board voted to launch a public comment period on overhauling bank-merger regulations. The FDIC—led by Chairman Jelena McWilliams, a Republican appointee of Trump's—answered back that the board didn't make that decision. Read more from Jesse Hamilton.
Two-thirds of U.S. attorney slots aren't filled with presidential appointees, potentially limiting the Biden administration's ability to recast Justice Department priorities for prosecuting corporate crime and revamping criminal justice policies. New administrations routinely start their second year still needing to install many of the 93 chief federal prosecutors, after the prior president's appointees are asked to resign, and routine prosecutions continue unencumbered. Read more from Ben Penn.
To contact the reporters on this story: Zachary Sherwood in Washington at zsherwood@bgov.com; Brandon Lee in Washington at blee@bgov.com
To contact the editors responsible for this story: Giuseppe Macri at gmacri@bgov.com; Loren Duggan at lduggan@bgov.com; Michaela Ross at mross@bgov.com