What to Know in Washington: Biden Taxes Collide With SALT Rebels
President Joe Biden is poised to unveil a plan that would raise taxes on the income, investments and estates of the wealthiest Americans to levels not seen in more than four decades, a move that will trigger intense debate in Congress about whether and how to address income inequality.
Biden's "American Families Plan," itself featuring the biggest expansion of federal support for lower-income and middle-class Americans in decades, will be offset by a series of tax increases on the wealthy, administration officials say. The president will unveil his program in a Wednesday night speech to Congress.
To pay for a bill that could top $1 trillion, Americans earning over $400,000 will face higher marginal income tax rates. Those taking in $1 million or more will get hit with a levy of up to 43.4% on their capital gains. The last time rates got close to that, Jimmy Carter was president.
Biden is also likely to propose increases on the number of Americans subjected to the estate tax. He campaigned on closing popular tax breaks including a provision that lets appreciated assets go untaxed when they are inherited, along with eliminating the carried-interest tax break, which lets private equity managers cut their Internal Revenue Service bills.
Republicans are likely to oppose the tax increases en masse, but the White House is also risking a struggle with Democratic lawmakers. Some of those from New York, New Jersey and other high-tax states in particular were already mobilizing to demand relief for their constituencies even before Biden's official announcements. With the 50-50 Senate and a narrow margin in the House, monthslong negotiations loom. Read more from Laura Davison.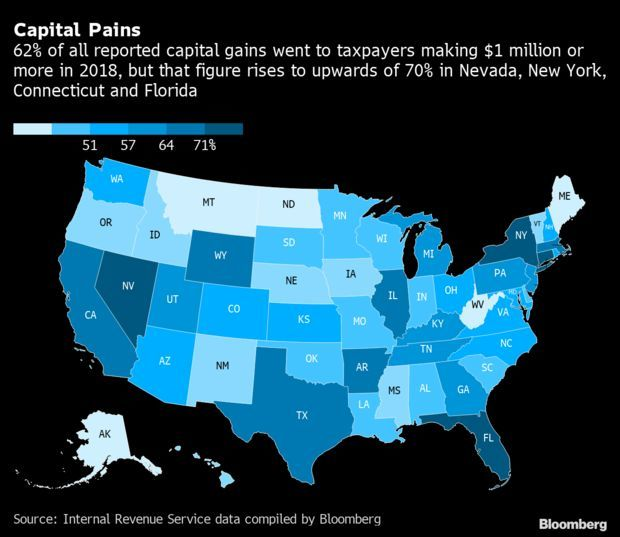 More on Biden's Economic Plans
GOP Senator Floats $900 Billion for Infrastructure: Republicans may be ready to back as much as $900 billion in infrastructure spending, according to a senior senator, though that would still be less than half of Biden's proposal. "There's a deal to be done on infrastructure," Sen. Lindsey Graham (R-S.C) said on "Fox News Sunday." Graham suggested "to not pay for some of the infrastructure spending, because I think it over time pays for itself," rather than an increase in the corporate tax rate to 28% Republicans reject. Read more from Tony Czuczka and Yueqi Yang.
Broadband Plan Is Bold but Economic Payoff Unclear: Biden is betting $100 billion he can deliver a lifeline to rural America, and a boost to the economy overall, by making high-speed internet available to all Americans. The plan could help millions, especially in agrarian states where the Democratic party's support is weakest. Estimating the precise impact, however, is seen as virtually impossible because no one truly knows how many Americans lack access to the internet. Read more from Christopher Condon and Todd Shields.
Biden's Judicial Nominees
Twitter Spaces on Biden's Nominees – Join the Conversation: The Biden administration's aggressive timeline for vetting potential judges while seeking nominees who would bring experiential, racial, and gender diversity to the federal bench is proving difficult for several Democratic senators to meet.
Join reporters Madi Alder and Courtney Rozen today at noon on Twitter as they talk about vacant district court seats, the White House's deadlines, and an upcoming hearing this week for Biden's first judicial nominations.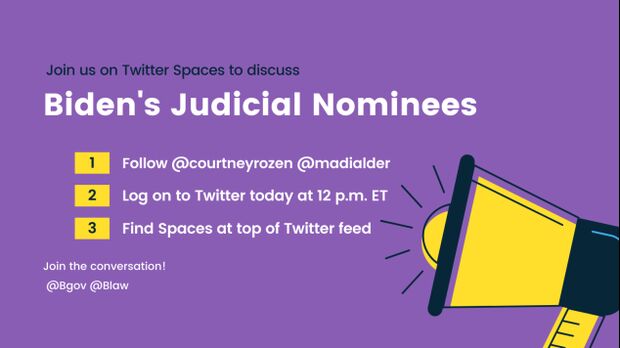 Politics & Influence
Census Numbers to Redraw U.S. Political Landscape: The once-a-decade battle to redraw the U.S. political map promises to be one of the most contentious ever when it kicks off this week, shadowed by the coronavirus pandemic and hindered by partisan divisions stoked during Donald Trump's presidency. The process starts with the release from last year's constitutionally mandated count of every person living in the U.S., which happens every 10 years. That'll determine which states gain seats in the U.S. House of Representatives and which ones lose. Gregory Korte has the latest.
Florida GOP Says Voting Bill Is 'Not Georgia 2.0′: Florida Republicans have slightly scaled back Gov. Ron DeSantis's (R) voting-law wish list following corporate backlash against neighboring Georgia and opposition from local elections supervisors. A measure up for state Senate action as soon as today would require voters to show additional identification when registering to vote in person or by mail, and vote-by-mail requests would need to be renewed after each general election. It doesn't include the restrictions on absentee voting or ballot drop boxes sought by DeSantis, and wouldn't outlaw giving a drink to people waiting in line to vote, which is part of Georgia's new law. Read more from Jennifer Kay.
Arizona GOP-Led Election Audit Gets Probe: An Arizona judge demanded more information about an audit of Maricopa County's 2020 general election results by a group called the Cyber Ninjas after the state's Democratic Party argued it was being conducted by "unqualified and completely unhinged actors." Superior Court Judge Christopher Coury in Phoenix ordered the auditors to release documents explaining their internal procedures. Joel Rosenblatt has more.
Louisiana Special Election to Fill Richmond Seat: Voters in Louisiana's 2nd district Saturday elected Democratic state Sen. Troy Carter to fill the seat vacated by Cedric Richmond (D-La.), who resigned in January to join the White House, the Associated Press reports. He defeated fellow state Sen. Karen Carter Peterson. His supporters include Richmond, Majority Whip Jim Clyburn (S.C.), and House Democratic Caucus Chair Hakeem Jeffries (N.Y.). Read BGOV's Lawmaker Profile of the congressman-elect by Greg Giroux.
NAACP-Conservative Alliance Fights Donor Disclosure at Top Court: Seven decades after the U.S. Supreme Court said the NAACP didn't have to give Alabama its membership list, prominent liberal groups are in the unlikely position of supporting two conservative charities in a challenge to California's requirement that they disclose their top donors. In a Supreme Court argument set for today, the Americans for Prosperity Foundation and the Thomas More Law Center will contend that California can't be trusted to keep the information private — and that it's opening up the groups' supporters to threats and harassment, much like Alabama once did to the NAACP. Read more from Greg Stohr.
Also Around the Administration
Vaccine Polling Seen as Critical: More extensive polling on people's perception of coronavirus vaccines will be crucial to tailoring public health officials' messaging after federal agencies lifted a pause on the Johnson & Johnson shot, researchers say. The FDA and CDC on Friday said health providers should resume administering the J&J vaccine after it was paused 10 days earlier. Current survey data makes it hard to say whether people will be willing to get the J&J vaccine—and if they aren't, whether that hesitancy will be permanent.
"One thing we have seen throughout our research is people have a lot of questions," said Liz Hamel, vice president and director of public opinion and survey research at the Kaiser Family Foundation. "It's important to understand how this is affecting people's attitudes so you can arm the messengers with answers to those questions." Jacquie Lee has more.
Biden Approval at 52% as 100-Day Mark Nears: Biden holds above 50% approval as his first 100 days in office comes to an end, according to two polls published yesterday, and gets high marks for his handling of the pandemic. Biden earned a 52% approval rating against 42% who disapprove, according to a Washington Post-ABC News poll. An NBC News survey put Biden's approval at 53% against 39% who disapprove. Some 64% of adults gave him positive marks for handling Covid-19 in the ABC poll. In the NBC poll, 69% approved. Max Zimmerman has more.
Biden Exploring Border Adjustment Tax: Biden is exploring the idea of a border adjustment tax that would slap a levy on imports from nations with weaker climate policies, according to John Kerry, the administration's special climate envoy. "President Biden, I know, is particularly interested in evaluating the border adjustment mechanism," Kerry said on Bloomberg TV. "He wants to look at that and see whether that's something that we need to deploy." Read more from Ari Natter, Jennifer Dlouhy, and David Westin.
Turkey Summons U.S. Envoy After Genocide Statement: Biden commemorated the 106th anniversary of the mass killing of Armenians by twice calling it a "genocide"—a word no U.S. leader since Ronald Reagan has used to describe the event for fear of alienating a key NATO ally. Turkey in response summoned U.S. Ambassador David Satterfield to Ankara, and said it rejected Biden's characterization of the 1915 massacres. Read more from Onur Ant, Jennifer Jacobs, and Gregory Korte.
Pentagon Sending B-52s to Guard Afghanistan Withdrawal: Two B-52 long-range bombers arrived in the region around Afghanistan on Friday to ramp up security as the U.S. prepares to withdraw all 2,500 troops by Sept. 11, a Pentagon spokesperson said. The bomber deployment was approved by Defense Secretary Lloyd Austin along with an extension of the USS Eisenhower's current tour in the Middle East as the military anticipates possible attacks by the Taliban, the spokesperson said. Read more from Travis Tritten.
Trump Asylum Work Rules Under Review: Trump-era regulations aimed at lengthening the length of time an asylum seeker had to wait to apply for work authorization are under review, with potential changes coming, according to a new government filing in a federal lawsuit over the rules. The U.S. Justice Department said Friday that the work permit rules in question were under review by the Department of Homeland Security. Read more from Genevieve Douglas.
Iran Says U.S. Must Lift Sanctions: The U.S. must remove sanctions designations for some 1,500 individuals as part of efforts to revive the 2015 nuclear accord, Iran's lead negotiator in talks involving world powers, Abbas Araghchi, said in an interview with the state-run ICANA news agency. Araghchi said the sequencing of the U.S.'s return to the accord and Iran's return to full compliance with its terms, won't involve a "step by step" format and will be in line with the Islamic Republic's demands, Arsalan Shahla reports.
No Date, Venue Fixed Yet in Talks on Putin-Biden Summit: Biden proposed Putin to meet on June 15-16 in one of the European countries, according to Kommersant newspaper, citing unidentified people, Olga Tanas reports. "There are no agreements on dates yet" though the focus is on summer months for the planned summit between Putin and Biden, Kremlin spokesman Dmitry Peskov told reporters on conference call, Ilya Arkhipov and Andrey Biryukov report.
Beijing Hopes U.S. Firms Will Push to Scrap Tariffs: China hopes U.S. companies will press their government to cancel tariffs on China, cease "decoupling" and supply suspension, and stop suppressing Chinese companies, according to Xie Feng, a vice minister of foreign affairs. He said that American companies are stakeholders in Chinese-U.S. cooperation, according to a statement posted on the ministry's website. Read more.
To contact the reporters on this story: Zachary Sherwood in Washington at zsherwood@bgov.com; Brandon Lee in Washington at blee@bgov.com
To contact the editors responsible for this story: Giuseppe Macri at gmacri@bgov.com; Michaela Ross at mross@bgov.com