What to Know in Washington: Biden Tariff Cut Won't Dent Prices
A move by President Joe Biden to remove tariffs on Chinese consumer goods will do little to dent inflation, economists say, and risks further hamstringing Democratic candidates in political battlegrounds.
Biden is weighing a decision to remove some of the tariffs on more than $300 billion in Chinese imports imposed by his predecessor, Donald Trump, according to people familiar with the deliberations, as his administration desperately tries to curb fast-rising US prices.
The removals could come as soon as this week, according to people familiar with the deliberations, who asked not to be identified without permission to discuss private conversations. As of Tuesday, Biden hadn't yet made a final decision on what to do with the duties, and the timing could slip, they said.
The timing is significant because Wednesday marks the four-year anniversary of the first wave of Trump-era tariffs, and the administration's review is required to keep them from starting to automatically expire. Read more from Jenny Leonard, Eric Martin and Jordan Fabian.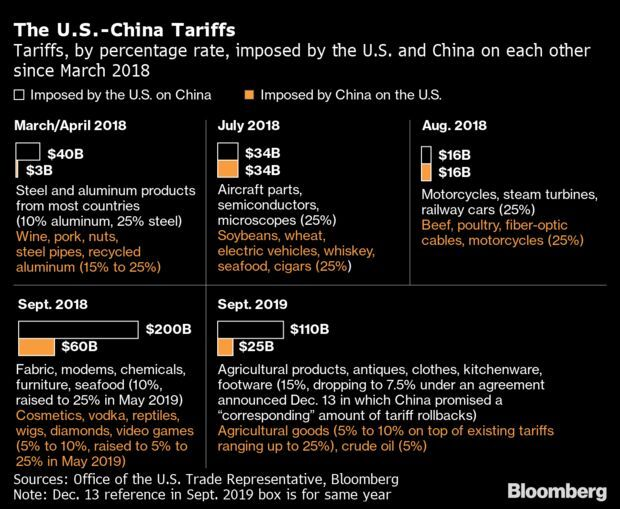 Happening on the Hill
The House Committee investigating last year's attack on the US Capitol has scheduled its next hearing for July 12, the panel's seventh in a series. Panel members previously have said it would focus on extremist groups that took part in the planning and execution of the insurrection, and potential connections with the White House under then-President Donald Trump. Billy House has more.
The self-proclaimed "QAnon Shaman," who became infamous for appearing in the US Senate chamber shirtless with a horned headdress during the Capitol riot, dropped the appeal of his guilty plea and 41-month sentence. The request by Jacob Chansley to dismiss his appeal was granted, according to a Tuesday filing in the US Court of Appeals for the DC Circuit. Chansley was sentenced to three years in prison for his role on Jan. 6, 2021, Sabrina Willmer reports.
Advocates for streamlined green cards for immigrants with advanced degrees are pinning their hopes on an annual defense authorization package (H.R. 7900), after facing resistance to including a measure in a separate competition deal (H.R. 4521). A bipartisan group of House lawmakers on Tuesday unveiled a proposal to speed green cards for immigrants who have doctoral degrees in science, technology, engineering, or math from US research institutions or comparable schools abroad. Ellen M. Gilmer has the story.
TikTok Reports Stoke Fresh Concerns With FCC Member, Lawmakers: TikTok's admission that some China-based workers have access to data on US users provided fresh ammunition to a Republican member of the Federal Communications Commission who is trying to get the video-sharing service dropped from major app stores. "TikTok certainly isn't what it appears to be," Commissioner Brendan Carr said Tuesday. "It really does operate as a sophisticated surveillance tool," Todd Shields reports.
The reports spurred Senate Intelligence Committee leaders Sen. Mark Warner (D-Va.) and Marco Rubio (R-Fla.) in a letter to call on the FTC to "immediately initiate a Section 5 investigation on the basis of apparent deception by TikTok," and coordinate with any potential DOJ investigation. Warner and Rubio added that the reports suggest TikTok also misrepresented its corporate practices when it testified to Congressional panels, including theirs.
Elections, Politics & Probes
The Justice Department filed a lawsuit against Arizona over a recent law that requires proof of citizenship for residents to vote in federal elections. "Arizona has passed a law that turns the clock back" and "constitutes a text-book violation" of the 1993 National Voter Registration Act that would block eligible voters from participating in elections, Kristen Clarke, head of the Justice Department's civil rights division, told reporters during a conference call, Chris Strohm reports.
If Texas is a test for how socially conservative US states will fare economically in the post-Roe world, then they'll hold up just fine. More than a year after passing the country's most restrictive abortion law, Texas boasts the largest number of Fortune 500 company headquarters of any state. In the latest sign of the Lone Star State's enduring allure, Chevron Corp. announced plans to relocate workers to Houston just hours after the US Supreme Court struck down Roe v. Wade. Catarina Saraiva and Katia Dmitrieva have the details.
Dobbs v. Jackson Women's Health Organization, which overturned Roe v. Wade, is expected to have ripple effects for women in the workforce. More workers who might otherwise have had abortions are likely to experience pregnancy-related health impacts that could lead to more leave or disability accommodation requests. The decision also sets the stage for more challenges from employers that disagree with employees' reproductive health-care decisions on religious grounds. J. Edward Moreno explains.
Around the Administration
PRESIDENT'S SCHEDULE:
Biden will travel to Cleveland, Ohio and meet union workers and retirees to announce the final rule implementing the American Rescue Plan's Special Financial Assistance program, which aims to protect workers in multiemployer pension plans faced with significant cuts to benefits.
Secretary of State Antony Blinken will have a candid discussion about the war in Ukraine with his Chinese counterpart Wang Yi during a summit in Indonesia that's set to be dominated by the fallout from Russia's invasion, a top official said. Blinken leaves for Bali on Wednesday to attend the G20 foreign ministers meeting before continuing on to Thailand. He will meet Wang on Saturday. Read more from Iain Marlow.
Biden has read a letter from WNBA star Brittney Griner urging him to negotiate her release—along with other Americans detained in Russia—Press Secretary Karine Jean-Pierre said Tuesday, adding that the matter is a priority for the White House. Read more from Akayla Gardner and Jordan Fabian.
The competition between the US and China to explore outer space turned prickly after China's Ministry of Foreign Affairs spokesman Zhao Lijian on Monday accused former senator and NASA Administrator Bill Nelson of lying "through his teeth" in response to reported comments in a German tabloid about the space competition between the two countries, Bloomberg News reports.
Iran's rejection of a plan to return to the 2015 international nuclear accord, even as it continues to raise "extraneous demands," indicates it's not serious about negotiations, the US State Department's spokesman said Tuesday. "We are at a point where the lack of forward momentum, the lack of progress, is tantamount to backtracking," Ned Price told reporters, saying that terms of a proposal have been largely complete for months. Read more from Golnar Motevalli and Courtney McBride.
The Biden administration is free to act on a memo outlining its immigration enforcement priorities and policies, after the Sixth Circuit Tuesday found Arizona, Montana and Ohio are not entitled to an injunction barring its implementation. The states are challenging guidance issued in 2021 that established new factors Immigration and Customs Enforcement must consider during the "apprehension and removal process" of people who violate the law. Read more from Peter Hayes.
The FDA's decision ordering Juul's vaping products off the US market is just one aspect of the agency's ongoing, multi-pronged approach to limit negative health outcomes from tobacco use. The agency still has to determine the fate of hundreds of other e-cigarette applications while also carrying out its new authority to regulate synthetic nicotine. Read more from Celine Castronuovo.
A "de facto moratorium" on offshore oil and gas leasing is taking hold over the next several months while the Biden administration considers its options for a proposed five-year leasing plan for the Gulf of Mexico, an oil and gas industry attorney said. But the industry has little legal recourse because the remedy would be for a court to order the Interior Department to do what it's already doing—take steps to finalize the new five-year plan, said Jason Hill, counsel at Hunton Andrews Kurth LLP in Houston, who represents industry clients. Read more from Bobby Magill.
Construction of a new Hudson River rail tunnel, connecting New York City and New Jersey, took another step forward in the planning phase. Both states' governors on Tuesday announced a memorandum of understanding with the Port Authority of New York & New Jersey on financing terms for the $12.3 billion Gateway tunnel and the $1.6 billion Portal Bridge replacement. he agreement is necessary for a federal review while the states seek assistance from the infrastructure bill. Read more from Elise Young.
Vice President Kamala Harris will visit Highland Park, Ill., the site of a July 4 mass shooting, accompanied by Rep. Brad Schneider (D), according to a statement from the White House, which didn't list a specific date, Tim Smith reports.
To contact the reporter on this story: Giuseppe Macri in Washington at gmacri@bgov.com
To contact the editor responsible for this story: Michaela Ross at mross@bgov.com