What to Know in Washington: Biden Targets States With Aid Appeal
Joe Biden's White House is targeting key states in an appeal for public support for his $1.9 trillion pandemic-relief bill, an effort aimed at both solidifying crucial votes and test-running what's set to be an even tougher sales job on his next stimulus package.
Biden and his lieutenants are pitching the giant bill to mayors, governors, state treasurers and tribal leaders, along with workers and the business community. The administration is focusing on roughly 13 key states — including Ohio, Pennsylvania, West Virginia, Arizona and Georgia.
The White House has already put senior administration officials on-air with more than 70 local news stations. Biden himself has visited Wisconsin and Michigan — states he flipped from Donald Trump to win the presidency — to directly make the case, and he's headed tomorrow to Texas, which proved much more competitive last November than in previous elections.
Part of the idea is to ensure such broad support for the measure, which spans vaccine funding, unemployment aid, relief checks and money for schools, that all Democrats in the closely divided Senate vote in favor. That will be crucial, as no Republicans have offered support for a bill second only in size to the Cares Act passed in the initial depths of the Covid-19 crisis last March. Read more from Nancy Cook and Justin Sink.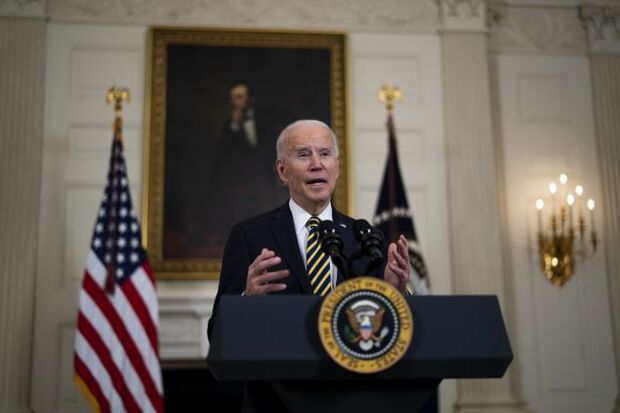 Happening on the Hill
Earmarks Resistance Puts Pressure on GOP Caucus: Conservatives are pushing back on the expected revival of earmarks, as Republican leaders dither over whether to join Democrats in setting aside funding for local pet projects. The House Freedom Caucus and Republican Study Committee, both conservative GOP groups, issued statements yesterday against any renewed use of earmarks. The move puts pressure on key Republicans who have yet to decide whether their members should submit earmark requests when Democrats reinstate the practice.
House and Senate Democrats have said they intend to institute a limited system of earmarks with transparency requirements. Republican lawmakers are split over whether to participate, and currently have conference rules against earmarks, though they could change those rules. "The House Freedom Caucus opposes the use of earmarks, whether in the 117th Congress or any future Congress," the group said in a statement, Emily Wilkins and Jack Fitzpatrick report.
Infrastructure Push Stirs Worries Over Cost, Bipartisanship: Members of both parties are aiming for a bipartisan infrastructure package, even as some Democrats discuss a scope that could lose Republican support. House Transportation and Infrastructure Chair Peter DeFazio (D-Ore.) said that Democrats are working on a "transformative bill" that will include policy changes, but didn't elaborate. "I don't think you're going to see a status quo bill out of either the House or the Senate," he said yesterday. Lillianna Byington has more.
USPS Stirs Ire by Buying Gas Trucks, Few EVs: The U.S. Postal Service currently plans for just 10% of its new truck fleet to be electric, Postmaster General Louis DeJoy said yesterday, irking environmentalists who say the move flies in the face of a White House executive order to electrify the government's vehicles. DeJoy's revelation in a hearing before a House committee comes the day after the service announced that Wisconsin-based maker of military trucks had won a delayed contract to switch out the USPS's fleet. Ari Natter and Todd Shields have more.
Cotton Leads GOP Warning to Biden on Iran: Sen. Tom Cotton (R-Ark.) and more than 40 other Republican lawmakers introduced a resolution yesterday opposing any move to lift sanctions on Iran, underscoring the resistance the Biden administration will face in trying to get back into the 2015 nuclear deal. The resolution "rejects and opposes the reapplication of sanctions relief" for Iran and any move to reverse a ban that keeps Iran from accessing the U.S. financial system, according to a copy obtained by Bloomberg. Nick Wadhams has more.
Fallout from the Capitol Riot
Trump's Legal Fallout From Riot Takes Shape: While Congress has moved on from impeachment to probing the security failings leading up to the Jan. 6 riot at the U.S. Capitol, the legal threats to former President Donald Trump may be only just beginning. Senate Republican leader Mitch McConnell (R-Ky.) laid out the alternatives to impeachment after Trump was acquitted in his Senate trial. Those legal threats to Trump are quickly taking shape. Read more from David Yaffe-Bellany.
Officials Blame 'Muddled' Intelligence in Capitol Riot: Two top U.S. Capitol security officials are set to blame faulty intelligence for the failure to anticipate the violent assault on Congress, saying assessments from the FBI and others leading up to the insurrection were "muddled or contradictory." The scheduled appearances at a House subcommittee hearing today by acting House Sergeant at Arms Timothy Blodgett and acting Capitol Police Chief Yogananda Pittman follows Tuesday's testimony from their predecessors. Read more from Billy House.
The razor wire-topped fences and National Guard patrols in place around the U.S. Capitol grounds since the Jan. 6 attack will remain for now despite annoyance among lawmakers for the complex to be opened to the public. Capitol officials who briefed senators offered no timetable for when the extra security measures, including National Guard troops, will be eased, lawmakers said. Read more from Daniel Flatley and Laura Litvan.
Around the Administration
Biden to Put Tanden in Another Post Should Her Nomination Fail: The Biden administration will find another role for Neera Tanden, the president's pick for budget director, should her controversial nomination fail in the Senate, White House Chief of Staff Ron Klain said yesterday. Klain said Biden is continuing to support Tanden as head of the Office of Management and Budget but his comments marked the first time a senior administration official described contingency plans if her nomination collapses. Read more from Nancy Cook, Erik Wasson and Laura Litvan.
Trade Pick Says China Both Rival and Partner: Biden's nominee for trade chief is pledging to work with allies to take on China while also embarking on a pragmatic approach to the No. 2 economy, saying it's both a rival and partner whose cooperation the U.S. needs to address global challenges. Without going into specifics of how she would address tariffs, export bans and other key issues, Katherine Tai, the pick for U.S. trade representative, said she knows the "opportunities and limitations in our existing toolbox."
"We must recommit to working relentlessly with others to promote and defend our shared values of freedom, democracy, truth, and opportunity in a just society," Tai said in the text of remarks seen by Bloomberg ahead of her confirmation hearing today before the Senate Finance Committee. Read more from Eric Martin.
Biden Taps Obama Economic Official for Education Post: The Biden administration named Jordan Matsudaira, an academic at Columbia University and an Obama-era chief economist at the Council of Economic Advisers, as deputy undersecretary for the Department of Education. The announcement, shared in an email seen by Bloomberg Government, adds to a number of officials in Biden's administration who helped shape the college accountability regime under President Barack Obama. Read more from Andrew Kreighbaum.
Biden Revokes Trump-Era Orders: Biden revoked a series of executive orders and memos issued by Trump, affecting policies on financial regulation, immigration, funding for "anarchist" cities and architecture. The actions were Biden's latest to erase Trump's legacy and reset the nation's course, without any involvement by Congress. In Biden's first week in office alone, he issued 39 executive actions, many of which overturned Trump orders.
The orders revoked by Biden include a 2017 measure signed by Trump directing the government to streamline regulations affecting the financial services industry, part of an effort to roll back the impact of the Dodd-Frank Act. Read more from Justin Sink.
Biden Directs Staff to Address Chip Shortages: Biden said he's directing his administration to address shortfalls in production of semiconductors that have idled production at some car plants as he signed an order to review U.S. supply chains. "We need to make sure that supply chains are secure and reliable," Biden said. "I'm directing senior officials in my administration to work with industrial leaders to identify solutions to this semiconductor shortfall." He added that the issue wouldn't be solved immediately. Jenny Leonard and Jennifer Jacobs have more.
Biden-Trudeau Talk Climate Plan: Canada and the U.S. are working on joint environment plans that could include singling out countries with weaker climate laws, Prime Minister Justin Trudeau said. The Canadian leader said in an interview with Bloomberg News that his country's plans to deepen climate cooperation with the U.S. will include complementary policies that take "into account the emissions profiles of industrial competitors around the world." Read more from Theophilos Argitis, Kait Bolongaro and Derek Decloet.
To contact the reporters on this story: Zachary Sherwood in Washington at zsherwood@bgov.com; Brandon Lee in Washington at blee@bgov.com
To contact the editors responsible for this story: Giuseppe Macri at gmacri@bgov.com; Loren Duggan at lduggan@bgov.com; Michaela Ross at mross@bgov.com