What to Know in Washington: Biden Taps Democrats' Abortion Anger
Biden officials look to tap abortion fury ahead of midterms
Pelosi expresses urgency in passing $33 billion for Ukraine
Biden administration officials are seizing the political opportunity in Democrats' doomsday scenario, the end of nationwide abortion rights, to try to salvage a midterm election thought to be all but lost for the president's party.
An expected Supreme Court decision overturning the landmark Roe v. Wade ruling next month will give President Joe Biden the chance to convince abortion-rights supporters that voting is the best way to channel their frustration, one key adviser said. It's a message the White House believes will resonate with suburban women, minorities and young voters, the adviser said.
Senior Biden advisers say that since the leak of the court's draft Roe decision, they have seen a spike in engagement, anger and enthusiasm from their base voters. Polls have previously shown Republicans more eager to vote in November, following attacks on Biden and his party on inflation, immigration, crime and the pandemic. But with new surveys showing broad support among women and young people for abortion rights, the draft ruling could "be a jolt out of complacency and malaise" for key segments of the electorate, said Democratic pollster Anna Greenberg.
Democrats raised $12 million the day after news broke about the draft opinion, according to ActBlue, which processes donations for Democratic-aligned candidates. "I think it's going to be a huge turnout push," not just among Democrats, Sen. Chris Murphy (D-Conn.) said on "Fox News Sunday." But Sen. Lindsey Graham (R-S.C.) argued on the same show that "single-issue voters seldom decide the outcome of an election." Read more from Jordan Fabian.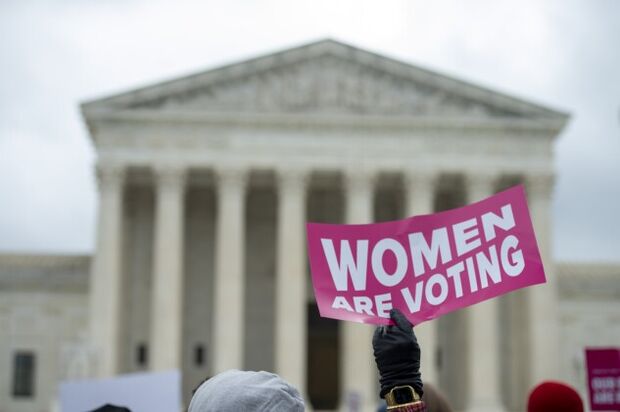 About 100 protesters took the battle over abortion rights to the homes of two conservative U.S. Supreme Court justices—Justice Brett Kavanaugh's residence in Chevy Chase, Md., and Chief Justice John Roberts' home a half mile away—on Saturday night. Police later ordered them to disperse. Read more from Greg Stohr.
Meanwhile, Justice Samuel Alito canceled plans to attend a judicial conference in Tennessee just days after his draft opinion was leaked to the public, according to a law professor at the event. In brief remarks recorded on video, Alito told attendees at the Nashville conference on Friday that it had become impractical to attend, according to Josh Blackman, a professor at South Texas College of Law. Stohr and Brett Pully have more.
The leak of the bombshell draft abortion opinion has left the Supreme Court confronting whether to make radical changes to its tradition-laced work habits. The uniquely small and secretive court has, until now, been able to keep drafts from real-time public scrutiny without a vast array of high-tech tools. Read more from Sam Skolnik, Andrea Vittorio, and Madison Alder.
Happening on the Hill
CONGRESS' SCHEDULE:
The Senate meets at 3 p.m. to consider a maritime nominee.
The House returns tomorrow with votes on workers' measures.
Speaker Nancy Pelosi said U.S. lawmakers are aware of the urgency of approving a proposed $33 billion aid package for Ukraine—but she stopped short of predicting when Congress might pass it. "I think we will be able to do it as quickly as possible," Pelosi (D-Calif.) told CBS Sunday. "We're very current on the needs and the urgency and, again, we'll have bipartisanship as we go forward with it." Asked if lawmakers would pass the package this month, she said, "I think we have to." Biden last month requested $33 billion in aid for Ukraine and other countries affected by Russia's invasion.
Separately, Pelosi's call for the U.S. to designate Russia as a state sponsor of terror for actions related to its war of Ukraine drew a rebuff from U.S. Ambassador to the U.N. Linda Thomas-Greenfield. "Well, I think Russia has put itself on that list of state sponsors of terror," she told CNN. "It's not necessary for us to put them on." Tony Czuczka has more.
Republicans are lining up to lead the House Budget Committee in the next Congress, expecting not only a GOP majority after the midterms but also a game of musical chairs as more committee leadership spots open up. Republican Reps. Lloyd Smucker (Pa.) and Jodey Arrington (Texas) are both vying for the House Budget Committee chairmanship in the 118th Congress, and Rep. Buddy Carter (R-Ga.) is considering a run. Read more from Jack Fitzpatrick.
The surge in individual stock trading by Americans last year contributed to a record tax haul for the federal government this spring — shrinking the budget deficit and surprising Wall Street, but likely leaving Biden in no stronger shape as he battles for his fiscal agenda in Congress. A shift could offer Biden ammunition to persuade Sen. Joe Manchin (D-W.Va.), who's held up the president's longer-term economic agenda over concerns that a big package will further stoke inflation and add to debt. Read more from Laura Davison.
Facing a crackdown from regulators in Washington, the crypto industry is turning to Sen. Kirsten Gillibrand (D-N.Y.). Gillibrand announced in March that she's working on legislation to overhaul U.S. rules for the market, and industry executives sought to woo Gillibrand during a recent trip to San Francisco. Allyson Versprille has more.
Congressional Democrats should press ahead and rein in tech giants as the companies seek to stall antitrust laws by arguing Americans care more about privacy than competition, advocacy groups said. "The truth is that people want true accountability, which requires action across the digital economy," according to the letter released by Public Citizen and obtained by Bloomberg News. Read more from Alicia Diaz and Leah Nylen.
Elections, Politics & Probes
A Republican primary on Tuesday in West Virginia will test whether Donald Trump's sway over voters can help an ally oust a fellow sitting congressman. Trump is helping Rep. Alex Mooney unseat Rep. David McKinley after the latter antagonized the former president by voting for the 2021 infrastructure law and for a bipartisan commission to investigate the Jan. 6, 2021, attack on the Capitol. The McKinley-Mooney contest is the first of five primaries between sitting House lawmakers pushed together by redistricting. Read more from Greg Giroux.
Trump said ex-Bridgewater CEO David McCormick represents "globalists and the Washington establishment" while praising celebrity physician Mehmet Oz in the Senate primary race in Pennsylvania, as Oz struggles to break out from a crowded field in spite of the former president's endorsement. Trump staged a rally in the rain on Friday to encourage his base to turn out for Oz. Read more from Mark Niquette.
McCormick downplayed Trump's attacks in the increasingly acrimonious primary, saying Trump is "at a position where he's doubling down on trying to help his endorsed candidate be successful, and I'm doubling down on making my case to the people of Pennsylvania." Read more from Niquette.
McCormick and the super PAC backing him outspent Oz and his super PAC by more than 2 to 1 last month, according to fundraising reports filed ahead of the May 17 Republican primary. McCormick, and his super PAC spent $10.6 million to the $4.5 million spent by Oz and his super PAC. Read more from Kenneth P. Doyle.
Georgia Secretary of State Brad Raffensperger said his Trump-backed opponent is lying about how he handled Biden's 2020 win, and that there was no systemic fraud in the state's elections that year. Raffensperger, who rebuffed Trump's queries about overturning Biden's win shortly after the election, also defended his decision to tape a call with Trump about the election, a call now central to a grand jury probe. Read more from Brett Pulley, Margaret Newkirk, and Greg Farrell.
Trump's claim that Twitter violated his free-speech rights by bumping him off its platform failed to win over a federal judge. U.S. District Judge James Donato on Friday threw out the former president's challenge to his permanent ban from Twitter in the days after the Jan. 6 attack. The San Francisco judge gave Trump's lawyers a chance to revise the suit and try again, but warned they'll have to show Twitter was acting as a government censor. Malathi Nayak has more.
One of the most powerful people in American politics for the next two weeks is a professor whose professional life has been devoted to studying demographics and political behavior. Jonathan Cervas has until May 20 to remap New York's congressional and state Senate districts, translating complex data into maps that will pass constitutional muster and stand for a decade. Read more from Keshia Clukey.
Around the Administration
BIDEN'S SCHEDULE:
At 1:30 p.m., Biden plans to deliver remarks on expanding internet access in the U.S.
At 2:45 p.m., he's set to sign

S. 3522

to aid Ukraine. Read a BGOV Bill Summary.
At 6 p.m., Biden plans to attend a Democratic National Committee event in Maryland.
Twenty U.S. internet providers have agreed to offer high-speed connections at essentially no cost to millions of low-income households, as part of a program funded by the infrastructure law (Public Law 117-58) passed last year. Biden and Vice President Kamala Harris will announce Monday that 20 companies, including AT&T, Comcast and Verizon, have agreed to offer high-speed plans that are essentially free to eligible recipients, U.S. administration officials said, speaking on condition of anonymity ahead of the announcement. Read more from Josh Wingrove.
Biden demanded Congress pass legislation to make the U.S. more competitive with China during a speech in Ohio that wasn't attended by the Democratic nominee for the state's pivotal open Senate seat. "Pass the damn bill and send it to me," Biden said Friday after touring a manufacturing facility in a suburb of Cincinnati. Read more from Josh Wingrove and Jenny Leonard.
Formerly incarcerated people, as well as criminal justice advocates, cheered the Biden administration's plans to make it easier to re-enter the workforce, but now worry the actual proposals may fall short of expectations for those who served long sentences. They say the proposals fail to address the real-world challenges faced when seeking jobs, and human resources professionals say the administration must commit more resources and work with employers to properly implement the changes, Ayanna Alexander reports.
Mexico President Andres Manuel Lopez Obrador said he'll ask Biden to include Cuba in the upcoming Summit of the Americas. "No country in the Americas should be excluded," Lopez Obrador said, referring to the Organization of American States' meeting to be held in Los Angeles June 8-10. The Mexican president said he'll also prod the U.S. to lift economic sanctions on Cuba as it hampers development. Read more from Andrea Navarro.
Paul Munter has been acting chief accountant to the SEC for the past year, but that temporary post hasn't stopped him from pursuing arguably the most aggressive agenda in decades of U.S. corporate accounting and auditing oversight—leaving an enduring mark on financial reporting. Read more from Amanda Iacone.
Much of the country may be returning to normal this year, but international travel to the U.S. won't return to its pre-pandemic levels until 2024 at the earliest. Those industry projections are in large part because of long visa wait times in some of the biggest markets for international travel to the U.S. Andrew Kreighbaum has more.
To contact the reporter on this story: Brandon Lee in Washington at blee@bgov.com
To contact the editors responsible for this story: Michaela Ross at mross@bgov.com; Giuseppe Macri at gmacri@bgov.com; Loren Duggan at lduggan@bgov.com