What to Know in Washington: Biden Taps ATF Chief, Ghost Gun Regs
Biden to nominate Steve Dettelbach as the next ATF director Monday
President will press India's Modi on Russia's invasion of Ukraine
President Joe Biden will nominate Steve Dettelbach, a former U.S. attorney in Ohio, as the next director of the Bureau of Alcohol, Tobacco, Firearms and Explosives on Monday, after the White House was unable to rally enough votes to confirm his previous pick for the job.
Biden is also expected to announce the finalization of new federal rules restricting so-called "ghost guns" — which allow purchasers to assemble potentially untraceable weapons from kits — according to two senior administration officials who requested anonymity to preview the event. Biden is expected to speak Monday afternoon from the White House, alongside Vice President Kamala Harris and Deputy Attorney General Lisa Monaco.
The moves come as the White House has faced criticism over increasing gun violence during the coronavirus pandemic. There were more than 45,000 gun-related deaths in the U.S. in 2020, the last full year for which data is available, according to the Centers for Disease Control and Prevention.
The White House hopes that Dettelbach, who was unanimously confirmed to his job leading federal prosecutions in the Northern District of Ohio, will fare better than David Chipman, a former ATF agent whose nomination was opposed by Republicans as well as Sen. Angus King (I-Maine), who caucuses with Democrats.
Chipman was the latest in a series of failed nominees to lead the bureau, which has had only one Senate-confirmed director in its history. Gun control activists have said a Senate-confirmed leader could help implement stronger regulations on firearms. Read more from Justin Sink.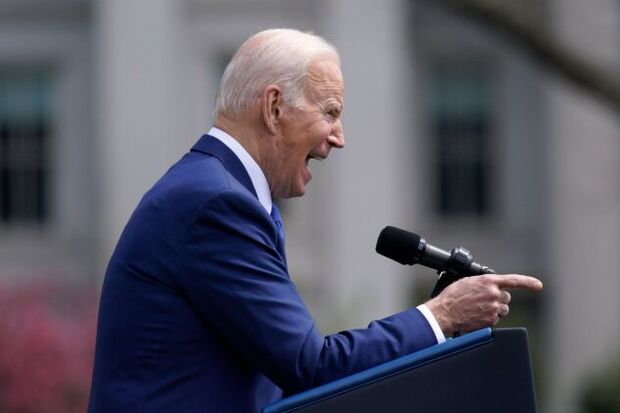 Biden to Press India's Modi on Russia Ahead of Defense Meeting
Biden will again press India to take a harder stand on Russia's war in Ukraine during a virtual meeting on Monday with Prime Minister Narendra Modi ahead of a dialog between the foreign and defense ministers from both sides.
Biden will continue "consultations on the consequences of Russia's brutal war against Ukraine and mitigating its destabilizing impact on global food supply and commodity markets," the White House Press Secretary said in a press statement Sunday.
Tensions between the U.S. and India have risen in recent weeks over Modi's reluctance to criticize Vladimir Putin's aggression in Ukraine, which has complicated a budding security partnership between the democracies in countering China's influence.
Top Biden administration officials have publicly expressed alarm and disappointment with New Delhi's reaction to the Russian invasion of Ukraine and its purchases of weapons and discounted oil from Moscow. However, people familiar with the matter have told Bloomberg News that the public position is contrary to private discussions between the two sides.
They cited conversations in New Delhi last month with U.S. Assistant Secretary of State Victoria Nuland, who offered help in finding alternative sources of weapons that could be used to counter India's neighbors Pakistan and China. Read more from Sudhi Ranjan Sen.
MORE ON THE WAR IN UKRAINE:
Policy, Politics & Elections
Biden Extends Student Loan Payments Pause—OnPoint: Biden extended the pause on federal student loans until September, pushing back the deadline to restart payments for the fourth time during his administration. The student loan relief began at the start of the pandemic under the CARES Act (Public Law 116-136), and was initially extended by Donald Trump. Roughly 42.3 million borrowers with federal student debt don't have to make payments during the moratorium and interest doesn't accrue on their loans. Andrew Small breaks down the extension in an OnPoint here.
Donald Trump endorsed celebrity physician Mehmet Oz over former Bridgewater Associates executive David McCormick in the GOP primary for a Pennsylvania Senate seat, providing crucial support that could swing a close race. The choice of Oz over the former Wall Street executive is arguably the former president's most consequential nod of the 2022 elections. Addressing a rally Saturday, Trump called Oz a "good man" with a "tremendous career" who's proved his popularity with his long-running Dr. Oz television show. Mark Niquette has more.
Justice Clarence Thomas spent time with GOP Senate candidate Herschel Walker, posing for a photo tweeted out by the former football star's campaign spokesperson. The photo comes amid scrutiny of the conservative justice stemming from the political activities of his wife Ginni Thomas, including text messages she sent demanding Trump's chief of staff Mark Meadows to do more to overturn Biden's election victory. Read more from Greg Stohr.
The Democratic National Committee can challenge an Arizona law that mandates which candidates are listed first on ballots, a feature it claims has favored Republicans in recent years, the Ninth Circuit said Friday. A 1979 law requires that in each county, the candidates affiliated with the political party of the person who received the most votes in that county in the last gubernatorial race be listed first on the general election ballot. The DNC, two other organizations, and three voters sued Arizona's Secretary of State, Katie Hobbs (D). Read more from Julie Steinberg.
New York's newly drawn congressional and state legislative districts will remain in place at least while the court battle over their constitutionality continues, a state appellate justice ruled Friday. State Appellate Division Justice Stephen K. Lindley granted a stay of a lower court's decision to toss out the maps. The stay lasts until April 20, when he'll hear oral arguments on the appeal. The temporary order allows state and local boards of elections to accept the candidacy petitions of those running for Congress, state Senate, and Assembly seats, Lindley wrote. Read more from Keshia Clukey and Jennifer Kay.
Around the Administration
BIDEN'S SCHEDULE:
The president meets virtually with Modi at 11 a.m.
Biden, Harris and Monaco will discuss actions to fight gun crime shortly after 2 p.m.
Press Secretary Jen Psaki holds a press briefing at 1 p.m.
Harris will announce new steps designed to reduce the cost of federal home loans for Americans saddled with medical debt and make it easier for veterans to have loans forgiven, as part of a White House push to help the millions facing unpaid health care bills. The efforts will include a push within the federal government to stop considering medical debt when determining eligibility for grants and loans, including in programs like the Department of Agriculture's $20 billion rural housing program. Because the government won't consider how much applicants owe in medical expenses, those in debt should receive more favorable terms on loans to buy or build new homes. Justin Sink and Nancy Cook have more.
The nation's Covid vaccine effort might have to shift from a model of free shots for all to one in which the federal government only subsidizes boosters for targeted populations, public health analysts say. Annual Covid boosters for all Americans, tailored to the prevalent virus variant, would cost billions of dollars every year, and it might not be the most sustainable and effective path in responding to future strains. Instead, analysts say reserving booster recommendations to those most at risk would be more cost-effective. Read more from Celine Castronuovo.
The government told a federal appeals court on Friday that the president has the power to mandate the Covid vaccine for federal contractors to help businesses run more efficiently as they deal with the virus and its impact on workers. The Department of Justice pushed the U.S. Court of Appeals for the 11th Circuit to reverse a national injunction imposed against Biden's order that would mandate federal contractors to get the vaccine. Erin Mulvaney has more.
A rise of Covid cases in some regions of the U.S., just as testing efforts wane, has raised the specter that the next big wave of the virus may be difficult to detect. In fact, the country might be in the midst of a surge right now, and we may not even know it. Testing and viral sequencing are critical to responding quickly to new outbreaks of Covid, and yet, as the nation tries to move on from the pandemic, demand for lab-based testing has fallen, while federal funding priorities have shifted. That has forced some testing centers to close. Read more from Madison Muller.
Agriculture Secretary Tom Vilsack said he tested positive for Covid-19, adding to the list of Biden administration officials infected with the virus. Vilsack, 71, experienced mild symptoms on Friday, his office said in a statement, Tony Czuczka reports.
Biden's chief medical adviser said Americans now need to make their own risk assessments as Covid cases accelerate in the U.S. "This is not going to be eradicated and it's not going to be eliminated," Anthony Fauci said on ABC's "This Week" on Sunday. "What's going to happen is that we're going to see that each individual is going to have to make their calculation of the amount of risk that they want to take." Read more from Ian Fisher.
The State Department asked Americans to reconsider travel to China and avoid visiting virus hot-spots including Shanghai due to what it calls an "arbitrary enforcement" of Covid restrictions amid the nation's worst outbreak. In a travel advisory issued Friday, Washington highlighted Hong Kong and Jilin province in addition to Shanghai as places Americans should avoid "due to Covid-19-related restrictions, including the risk of parents and children being separated." Read more from Bloomberg News.
A federal judge permanently blocked the U.S. Treasury from trying to recover any pandemic relief funds from Texas, Louisiana or Mississippi if those states use the aid to offset state tax revenue shortfalls. Those states challenged a provision in the American Rescue Plan Act they claimed bars using the funds to fill budget gaps—if Treasury believes state lawmakers intentionally lowered certain state taxes during the pandemic. U.S. District Judge Matthew Kacsmaryk, a Trump appointee, said these strings created a "gun to the head" choice for states. Read more from Laurel Brubaker Calkins.
Iran said the 2015 nuclear deal is alive but lingering in the "emergency room," with its fate resting on a decision by the U.S. that could lift sanctions on Tehran's economy and oil exports. Saeed Khatibzadeh, Iran's foreign ministry spokesman, told reporters the Islamic Republic had finalized all the details needed to revive the landmark accord with other world powers involved in stalled negotiations in Vienna. But he said the U.S. had yet to make a decision on the latest Iranian proposal for how to resolve the standoff over remaining issues between the two countries, which include a Trump-era terrorism designation for Iran's elite Islamic Revolutionary Guard Corps. Read more from Arsalan Shahla.
To contact the reporters on this story: Giuseppe Macri in Washington at gmacri@bgov.com; Brandon Lee in Washington at blee@bgov.com
To contact the editors responsible for this story: Loren Duggan at lduggan@bgov.com; Michaela Ross at mross@bgov.com