What to Know in Washington: Biden Talks Economy, Fed Pick Looms
President Joe Biden will discuss the economy and inflation this week ahead of an expected decision naming his next Federal Reserve chair nominee.
Congress is on recess this week and Democrats will get a chance to tout the House's successful passage last week of their social spending and tax passage, as they try to allay voters' concerns about inflation and shortages of goods.
Here's what Bloomberg Government is tracking today:
Biden's Agenda:
Biden and First Lady Jill Biden are scheduled to leave the White House at 4 p.m. and head to Fort Bragg, N.C.
The Bidens will share a Thanksgiving meal with service members and their families at 6 p.m. They're scheduled to return to Washington by 9 p.m.
Biden to Speak on Economy Tomorrow
Biden will give a speech on the economy and combating inflation tomorrow as markets await his decision on the next Federal Reserve chair and possible moves to bring down U.S. energy prices.
For the U.S. central bank, Biden is choosing between Chair Jerome Powell and Fed Governor Lael Brainard, who is viewed as more liberal on climate change and bank regulation. The White House has said Biden will announce his choice before the Thanksgiving holiday on Nov. 25.
The president will "deliver remarks on the economy and lowering prices for the American people" on Tuesday and travel later in the day to Nantucket, Massachusetts, where he and first lady Jill Biden will remain for the Thanksgiving holiday, the White House said in a statement on Sunday. It gave no details on the expected content.
White House economic adviser Brian Deese, interviewed earlier on "Fox News Sunday," declined to comment on the timing and substance of Biden's Fed announcement.
White House spokeswoman Jennifer Psaki said Friday that Biden "expects to make a decision" on the Fed chair and, "I expect we'll have more to share in advance of his departure" for Thanksgiving. Read more from Tony Czuczka.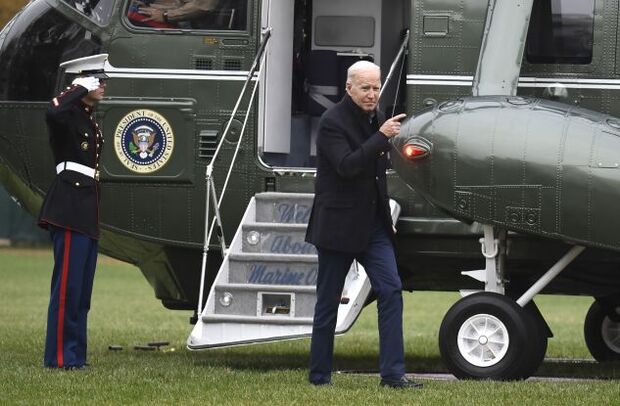 Sen. Jon Tester (D-Mont.) suggested that uncertainty over who will run the Federal Reserve has limited action to rein in U.S. inflation and urged Biden to renominate Powell for another term. "I think we've got issues revolving around inflation that he can't do much about as long as he's not confirmed," Tester said on NBC's "Meet the Press" yesterday. White House economic aide Brian Deese said on "Fox News Sunday" that Biden "has been spending a lot of time" on the Fed and cited multiple openings at the central bank that need to be filled, but said he would leave it to Biden to announce. Read more from Steven T. Dennis.
Regardless of whether it's Powell or Brainard running the Federal Reserve in February, the bank risks finding itself in a bind of its own making. The fastest consumer inflation since 1990 and strongest price expectations among households in eight years are eroding the confidence of many policy makers that inflation will cool in coming months as they once assumed. That may force them to pivot faster toward tighter monetary policy as soon as December. Read more from Craig Torres.
Democrats Confront Worries Heading Toward 2022
The vast majority of Americans are vaccinated against the coronavirus, a generational infrastructure bill is now law, the House passed a $2 trillion social spending plan and the jobless rate is dropping. That should spell good fortune for President Joe Biden and Democrats in next year's midterm elections.
But they don't. Americans say they are worried about inflation, shortages in goods and are frustrated with the public schools. They think Democrats aren't doing enough to fix it, according to polling data, the results of the 2021 elections and interviews with strategists.
Together, it all points to a bleak picture for the party that defeated President Donald Trump and won thin but complete control of Washington just one year ago.
The president's party usually loses seats at the halfway mark of his first term. And Republican-led redistricting in a dozen or more states stands to eat into Democrats' House majority by drawing new districts favoring GOP voters.
Governor's races in Virginia and New Jersey this month showed that Democrats are losing ground among independents and suburban voters who had been turned off by Trump.
Mario Parker gives a rundown of the challenges facing Democrats.
Biden Faces Tougher Sell to Manchin as Coal Rises: Central Appalachia coal prices at a 12-year high could give West Virginia a boost just as the president has to persuade its Sen. Joe Manchin (D-W.Va.) to support a $2 trillion tax-and-spending package that includes climate-change measures. Manchin is at the center of negotiations for the proposal, but also initiatives to cut down dependence on coal by investing in clean-energy technologies. Progressives are seeking ambitious spending and environmental regulations to meet climate goals.
But a recovery-driven surge in global demand for electricity could put Biden's flagship legislation in a double vise, validating the importance of coal and natural gas as baseload fuels, but also contributing to the rising inflation that Manchin has said is a primary concern in passing another big government spending package. Read more from Gregory Korte and Will Wade.
Small family farms and ranches are likely out of danger from proposed tax increases in Democrats' massive spending bill, the top Agriculture Department official said Friday, reassuring American producers worried about their livelihoods. Agriculture Secretary Tom Vilsack was responding to concerns recently expressed by the American Farm Bureau Federation, which came out in opposition to the bill earlier in the week. Read more from Megan U. Boyanton.
As senators debate the bill's future, transit companies see a major boost from Biden's other legislative victory this month. Futuristic transit modes vowing to cut travel times between major cities down to minutes may be a step closer to reality under the recently enacted infrastructure law. Companies supporting a magnetic levitation train that would offer one-hour rides between New York and D.C., as well as a hyperloop connecting Cleveland, Chicago, and Pittsburgh, plan to seek funding from the $1.2 trillion law. Lillianna Byington has more.
And on the West Coast, Los Angeles Mayor Eric Garcetti is optimistic infrastructure projects in America's second-biggest city will be big beneficiaries of the sweeping federal infrastructure bill—potentially receiving tens of billions of dollars. "We're going to be in a really good place to benefit from it," Garcetti said in an interview on Friday. "We disproportionately have things like the port, the airport that move the nation's infrastructure." Read more from Brian Eckhouse.
MORE HEADLINES:
A commission to examine the 20-year war in Afghanistan, a global war on terrorism memorial, spending boosts for underwater warfare, and a U.S.-Israel artificial intelligence center are among provisions tucked into the Senate's annual defense authorization bill. The Senate will vote to cut off debate on the NDAA after next week's Thanksgiving break, likely setting up final passage in early December. Out of almost 1,000 amendments filed, only about 58 provisions made it onto the bill. Read more from Roxana Tiron and Shaun Courtney.
Former President Donald Trump told his former White House trade adviser to defy a House committee that subpoenaed him in a probe into the Trump administration's response to the Covid-19 pandemic. "I'm telling Peter Navarro to protect executive privilege and not let these unhinged Democrats discredit our great accomplishments," Trump said on Saturday. Navarro, director of Trump's manufacturing policy, was subpoenaed on Thursday by the House Select Coronavirus Subcommittee. Read more from Billy House.
Rep. Eddie Bernice Johnson (D-Texas) announced on Saturday she won't run for re-election to her Dallas-region House seat and plans to recommend a candidate she believes is best suited to fill her shoes. Johnson, 85, first elected in 1992 and the longest-serving House member from Texas, leads the House Committee on Science Space and Technology. Her announcement marks the 16th House Democrat to say they won't seek re-election in 2022. Read more from Billy House.
Also Around the Administration
Vaccine Mandate Opponents Aim for Right Court: The second and third challenges from GOP-led states to the Biden administration's vaccine mandate for health-care workers are strategic plays to maximize the chances that a federal appeals court blocks the rule, legal observers said. Republican-led states are pushing back against Biden's sweeping vaccine mandates, with an Occupational Safety and Health Administration vaccine-or-test rule for large employers being the main target. Read more from Allie Reed.
Millions more Americans can now receive Covid-19 booster doses from Pfizer and Moderna, after U.S. officials broadened what many state and local leaders and health-care providers had argued were confusing initial eligibility guidelines. Centers for Disease Control and Prevention Director Rochelle Walensky on Friday approved guidance that makes boosters available to all adults 18 and up who received a second dose of one of the mRNA vaccines six months earlier. Read more from Fiona Rutherford.
Transportation Secretary Pete Buttigieg said he doesn't expect a vaccine requirement that includes airport security screeners to disrupt U.S. holiday-season travel, Ian Fisher reports. Today is the deadline for any U.S. federal employees, including Transportation Security Administration workers, to document full vaccination or apply for an exemption, though any discipline for workers who don't comply isn't immediate. "People aren't getting immediately pulled off their posts. It's part of a process to make sure that everyone in the federal workforce is safe," Buttigieg said on NBC's "Meet the Press" yesterday.
White House Vaccinations Coordinator Bechara Choucair is leaving the administration to return to the private sector, he said in a message Sunday to Bloomberg News. Choucair's last day will be Monday. He joined Biden's team during the transition last year and was charged with accelerating the nascent Covid-19 vaccination effort Biden inherited upon taking office in January. Read more from John Tozzi.
U.S. Intel Shows Russian Plans for Potential Ukraine Invasion: The U.S. has shared intelligence including maps with European allies that shows a buildup of Russian troops and artillery to prepare for a rapid, large-scale push into Ukraine from multiple locations if President Vladimir Putin decided to invade, according to people familiar with the conversations. Read more from Alberto Nardelli and Jennifer Jacobs.
Kremlin spokesman Dmitry Peskov said on a conference call today that movements of Russia's troops on its own soil are a domestic matter and "don't present a threat to anyone and shouldn't raise any concerns." U.S. allegations of Russian buildup for possible invasion are part of a "targeted information campaign," which is aimed at building up tensions. Read more from Andrey Biryukov.
MORE HEADLINES:
Defense Secretary Lloyd Austin cautioned that talks with Tehran about complying with obligations agreed to under a 2015 deal to limit its nuclear program may not lead to a positive solution. "We will return to those talks in good faith, but Iran's recent actions are not encouraging, especially because of the expansion of their nuclear program," Austin said in Bahrain on Saturday. Negotiating teams return to Vienna later this month to discuss lifting U.S. sanctions on Iran. Read more from Matthew Martin.
The president is "healthy" and remains "fit to successfully execute the duties of the presidency," his doctors said on Friday after he underwent his routine physical exam and colonoscopy just a day before his 79th birthday. But Biden is suffering from a "perceptibly stiffer and less fluid" gait following a series of injuries and is experiencing a more frequent need to clear his throat or cough during public engagements, his physician found. Jennifer Epstein and Justin Sink have more.
To contact the reporters on this story: Zachary Sherwood in Washington at zsherwood@bgov.com; Brandon Lee in Washington at blee@bgov.com
To contact the editors responsible for this story: Giuseppe Macri at gmacri@bgov.com; Loren Duggan at lduggan@bgov.com; Michaela Ross at mross@bgov.com