What to Know in Washington: Biden Takes Agenda to Rural U.S.
American agriculture is on track for one of its best years this century as soaring exports to China boost corn, soybean and wheat prices.
Yet President Joe Biden and the Democratic Party are facing major political challenges in farming regions like the rolling pasture land of southwest Wisconsin, where he travels today to promote a bipartisan deal on infrastructure that would have benefits for agriculture and rural America.
Farm country has been a stronghold for former President Donald Trump and will play an out-sized role in the 2022 contest for control of the 50-50 Senate, in which disproportionately rural states such as North Carolina, Georgia, Ohio and Wisconsin will be pivotal.
"People are generally happy, optimistic and in a better place than in some time," said Derek Orth, 35, who with his father has 250 Jersey cows on their farm in the hills outside Lancaster, Wisconsin, about 90 miles south of La Crosse, where Biden is set to visit today. Orth said the price he received for milk during May was about 20% higher than average over the past five years.
The fourth-generation dairy farmer, who backed Trump in 2020, said among his neighbors there is not much talk, positive or negative, about Biden, and his own view is "pretty neutral." "I have no reason to vote against him — yet," Orth said.
Rural America has become ground zero for some of Biden's signature initiatives. His infrastructure plans feature a hefty investment in building out broadband connections in rural areas, and improvements to the transportation network would help speed crops to market. Agriculture Secretary Tom Vilsack has promoted farming as an early front for climate-change efforts, stressing voluntary incentives designed to appeal to farmers and the potential for additional income streams through sales of carbon credits. But parts of Biden's agenda are already generating a backlash. Read more from Mike Dorning.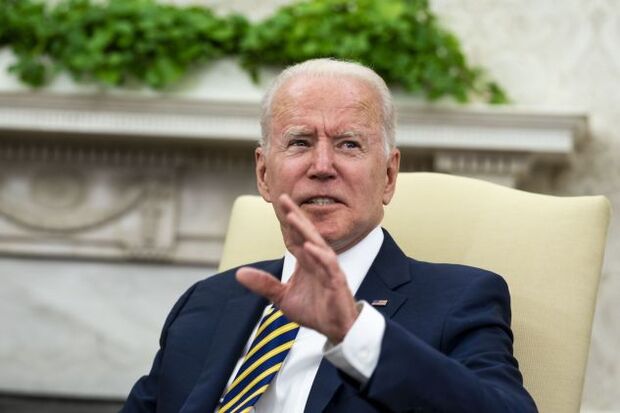 Happening on the Hill
Today's Agenda:
Democratic States Reap Gains in Highway Bill: Congressional districts in Democratic states would get almost double the funding for surface transportation projects compared to those in Republican states under the House highway bill. The $547 billion surface transportation measure set for consideration this week would send an average of $16.6 million per congressional district to states and territories with majority Democratic House delegations, while states with majority Republican delegations would receive an average of $8.9 million per district, according to a Bloomberg Government analysis of the earmarks in the latest version of the bill. Read more from Lillianna Byington.
Pelosi Moves on 13-Member Panel to Probe Riot: Speaker Nancy Pelosi (D-Calif.) yesterday unveiled her bill to create a select committee to investigate the Jan. 6 insurrection at the Capitol, and is considering choosing a Republican as one of her eight appointees to the 13-member panel. While Republican leaders have resisted setting up such a panel, several GOP lawmakers such as Reps. Liz Cheney (R-Wyo.) have backed an inquiry. Among the lawmakers being mentioned as Pelosi's potential chairman is Homeland Security Chair Bennie Thompson (D-Miss.). Read more from Billy House.
House Passes U.S.-China Competitiveness Bills: The House passed two bills yesterday that are expected to form the core of legislation in the chamber designed to boost U.S. research and development in response to China's challenge to U.S. economic supremacy. By wide bipartisan margins, the House authorized more funding for the National Science Foundation and additional money for the Department of Energy, following a similar effort in the Senate that saw the passage of a comprehensive $250 billion measure that included more than $52 billion in incentives and grants for domestic semiconductor manufacturing. Read more from Daniel Flatley.
BGOV Bill Summaries:
Politics & Influence
Toyota Was Lead Donor to Anti-Election Republicans: Toyota's political action committee has donated to about a quarter of the 147 Republican members of Congress who opposed certifying the 2020 election results for Biden, spreading $55,000 among them. The automaker gave more money to more of the Republican lawmakers in the group—37—than any other company, according to Citizens for Responsibility and Ethics in Washington, a nonprofit watchdog group. Read more from Bill Allison.
Broadcasters Eager to Advertise Pot Tap Lobbyists: A coalition of state broadcaster associations seeking to cash in on TV and radio ads for marijuana products hired a team of lobbyists with ties to senior lawmakers to secure congressional approval to air spots for pot. Broadcasters, which are federally licensed, can't take cannabis funds because the drug is still illegal at the federal level. Thirty-six states allow medical marijuana, and 18 allow recreational use. Megan R. Wilson has more.
New York GOP Candidates Dash No-Drama Dreams: Republicans who see themselves as New York Gov. Andrew Cuomo's (D) replacement told party leaders it's far too early to talk about avoiding a primary. Five would-be candidates have put themselves forward, and they all said they're in the race to stay. "A primary in a state where we're down so much in enrollment is only going to put us in a position to expend resources we absolutely should not waste them on," said state Chairman Nick Langworthy, whose party has lost every gubernatorial election since 2006. Read more from Keshia Clukey.
California Changes Its Election Rules: California lawmakers passed a bill yesterday to shorten the timeline for recall elections just months before an election to remove Gov. Gavin Newsom (D) from office. The state Senate voted 31 to 9 in favor of the measure after the Assembly approved it 53 to 18. It now heads to Newsom for his consideration. If signed, the bill would take effect immediately. Read more from Tiffany Stecker.
Around the Administration
Biden to Celebrate 'Independence' from Covid-19: Biden and his White House are planning a slate of travel and events over the weekend to celebrate his administration's progress combating the pandemic, though the nation fell short of his July 4 vaccination goal. He will visit Traverse City, Mich., Saturday, part of what the White House calls the "America's Back Together" celebration. The next day, July 4, Biden will host essential workers on the South Lawn of the White House. Jennifer Epstein has more.
Perna Retiring From Covid-19 Task Force: U.S. Army General Gustave Perna, a top official in the Covid-19 vaccine rollout in both the Trump and Biden administrations, is set to depart July 2. Robert Johnson, an official at the Biomedical Advanced Research and Development Authority, will serve as interim chief operating officer for the pandemic effort, according to Jeffrey Zients, President Joe Biden's Covid-19 coordinator. Read more from Riley Griffin and Josh Wingrove.
Top Pentagon Cyber Official Probed: The Pentagon official who has been overseeing its new cybersecurity initiative for defense contractors has been placed on leave in connection with a suspected unauthorized disclosure of classified information from a military intelligence agency, according to an official document. Katie Arrington, chief information security officer for the Pentagon's acquisition and sustainment office, was informed May 11 that "her security clearance for access to classified information is being suspended" as "a result of a reported Unauthorized Disclosure of Classified Information and subsequent removal of access by the National Security Agency," according to a memo made available to Bloomberg News. Read more from Tony Capaccio.
Biden Race Equity Loan Relief at Risk: Biden administration initiatives designed to mitigate racial inequities risk being derailed after a court slammed the brakes on an Agriculture Department program aimed at helping disadvantaged farmers alleviate their debts. One conservative group is eyeing several federal programs for potential lawsuits after a preliminary injunction on June 24 from a Florida federal judge. Read more from Megan U. Boyanton.
Biden's Health Research Lab Eyed for 2022: Biden's proposed medical research agency could have projects up and running as early as fiscal 2022 to accelerate biomedical breakthroughs—even if Congress doesn't appropriate the entire $6.5 billion request. The Advanced Research Projects Agency for Health would be housed in the NIH and aims to bring game-changing discoveries to patients in record time with new public-private partnerships for short-term, riskier projects. Jeannie Baumann has more.
Biden Proposal Reverses Trump Waiver of HealthCare.gov: An HHS proposed rule released yesterday would do away with a Trump-era policy allowing states to bypass HealthCare.gov when seeking enrollees for Obamacare plans. The Department of Health and Human Services is also proposing to extend the annual regular open enrollment period for Affordable Care Act plans by an additional month, from Nov. 1 to Jan. 15 as compared with the current end date of Dec. 15. Read more from Fawn Johnson.
Saving Facebook Case Falls to Khan: Just two weeks into her tenure as chair of the Federal Trade Commission, Lina Khan has been handed her first crisis: how to rescue the agency's near-dead monopoly lawsuit against Facebook and keep antitrust enforcement against the biggest technology companies on track. A federal judge in Washington yesterday dismissed the FTC's landmark antitrust complaint against Facebook and a parallel complaint by a coalition of states, both of which sought to break up the company. Now, getting the case back on track rests with Khan. Read more from David McLaughlin.
To contact the reporters on this story: Zachary Sherwood in Washington at zsherwood@bgov.com; Brandon Lee in Washington at blee@bgov.com
To contact the editors responsible for this story: Giuseppe Macri at gmacri@bgov.com; Loren Duggan at lduggan@bgov.com; Michaela Ross at mross@bgov.com