What to Know in Washington: Biden Tackles Fuel Cost, Rural Funds
President making first stop on rural infrastructure tour
Biden will announce sale of higher-ethanol gas
President Joe Biden is in Menlo, Iowa kicking off his administration's rural infrastructure tour and discussing investments in rural communities.
"I am proud today that my Administration is launching a rural infrastructure tour to double down on our unwavering commitment to building a better America where rural communities thrive. In the coming weeks and beyond, Cabinet members and senior administration officials will crisscross the country to meet with, listen to, and deliver infrastructure investments to rural communities," Biden said in a statement ahead of the tour.
Cleaning up abandoned oil wells, upgrading drinking water systems, and preventing wildfires are among the highlights of a "rural playbook" the White House unveiled Monday for helping communities implement the Bipartisan Infrastructure Law.
The playbook points to over 100 federal programs supported by the law. The infrastructure measure provides more than $14 billion for efforts aimed at benefiting rural areas nationwide, Mitch Landrieu, who's coordinating the rollout of the law for the Biden administration, said on a call with reporters.
The playbook highlights $44 billion dedicated to upgrading drinking water and wastewater systems, and remediating emerging contaminants such as per- and polyfluoroalkyl substances (PFAS) through the Environmental Protection Agency's state revolving fund programs. Also, $1 billion is tagged for a Forest Service program designed to help rural areas plan for catastrophic wildfires, and $50 million on an Interior Department program to help communities buy air tankers to help fight fires.
Throughout the month, the Biden "administration will announce billions for rural areas including rural water projects, flood mitigation, transportation, healthcare, and tribal community grants, along with new technical assistance programs for rural and tribal communities," according to a White House press release. Interior Secretary Deb Haaland and several other Cabinet secretaries will tour rural areas to promote the playbook in the coming weeks. Read more from Bobby Magill.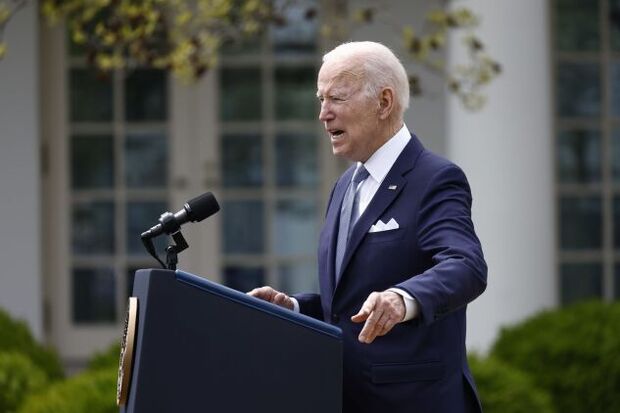 Biden plans to allow expanded sales of higher-ethanol gasoline in an effort to lower fuel prices and counter the political blowback from them.
Biden is set to unveil the initiative during a Tuesday visit to a Poet ethanol mill in Iowa — the top U.S. corn state. The change, which would apply on a temporary basis over the summer months, would waive anti-pollution restrictions that effectively block warm-weather sales of E15 gasoline in areas where smog is a problem.
The shift could yield a modest effect on pump prices given that in areas where it's already available, E15 sells at a 5- to 10-cent per gallon discount to regular gasoline, said Patrick DeHaan, head of petroleum analysis at retail tracker Gas Buddy. E15 is gasoline comprised of 15% ethanol. Jennifer A. Dlouhy and Nancy Cook have more.
The administration yesterday also launched the "America the Beautiful Challenge," an effort aimed at leveraging $1 billion to conserve and restore lands and waters across the country with a combination of federal, private, and philanthropic investments, Kellie Lunney reports.
The public-private grant program, administered by the National Fish and Wildlife Foundation, is designed to support locally-led conservation projects over the next five years. The federal government, through the departments of Interior, Agriculture, and Defense, is kick-starting the effort with an initial $440 million federal investment. The government will issue request for proposals in May, which are due in July, and will award funding in November.
Also on Lawmakers' Radars
Former Treasury official and current University of Michigan dean of public policy Michael Barr is the Biden administration's front-runner to be the Federal Reserve's vice chair of supervision, Politico reports, citing people familiar with the matter. Politico reports it's not clear if Barr can get 50 Democrats to support him, although one source told Politico that Barr played a key role in the establishment of the Consumer Financial Protection Bureau through the 2010 Dodd-Frank Act, fostering a good relationship with Sen. Elizabeth Warren (D-Mass.). Read more from Politico.
Toomey Says Kashkari's Advocacy Shows Need for Fed Overhaul: Sen. Pat Toomey (Pa.), the top Republican on the Banking Committee, criticized Minneapolis Fed President Neel Kashkari's advocacy on a state education issue, citing it as an example of why Congress should overhaul or even eliminate the Federal Reserve's regional banks. At issue is a two-year effort by Kashkari to amend the Minnesota state Constitution to make access to a quality public education a civil right. Toomey argues such lobbying is political "mission creep" well outside the Fed's purview. Kashkari has said it's intended to help close achievement gaps to achieve maximum employment. Read more from Steven T. Dennis.
The question of whether companies can be held liable for even indirectly doing business with terrorists has been answered differently from court to court, despite Congress' efforts to spell out terror victims' right to sue. Two cases making a bid for the U.S. Supreme Court could change that. The high court could decide as early as May whether to hear Strauss v. Credit Lyonnais and Weiss v. National Westminster Bank in what would be its first test of the Justice Against Sponsors of Terror Act of 2016, the only law passed over a presidential veto by President Barack Obama. Read more from Valerie Bauman.
Unions are blaming freight railroad operators for cutting employees to streamline operations, contributing to rail delays and straining the nation's food and energy supply chains. Worker shortages caused by layoffs have hurt the U.S. economy by delaying freight rail shippers, the Transportation Trades Department of the AFL-CIO told the Surface Transportation Board rail regulator in a letter Tuesday. Lawmakers and the White House have tried to tackle supply chain bottlenecks through legislation and executive orders, while the Surface Transportation Board said it will hold a hearing on rail problems. Lillianna Byington has more.
Sen. Ted Cruz is writing a new book about the Justice Department. Cruz (R-Texas), a Judiciary Committee member, said he'll publish in September "Justice Corrupted," billed as a broadside against the politicization of the DOJ by Democrats. It's being released by Regnery Publishing, which published his last bestselling book that netted him a nearly $320,000 advance, his financial disclosures show. Cruz and others grilled Attorney General Merrick Garland at an October hearing about a DOJ memo on threats to school board members. They falsely framed it as targeting opponents of "critical race theory," Zach Cohen reports.
Around the Administration
BIDEN'S SCHEDULE:
Biden will visit a Poet ethanol mill in Menlo, Iowa shortly after 2 p.m. and speak on his administration's efforts to tackle inflation and deploy funding for rural communities from the bipartisan infrastructure law Congress passed last year.
Biden announced new rules restricting "ghost guns," which allow buyers to assemble potentially untraceable weapons from kits. "The gun lobby tried to tie up the regulators and paperwork for a long, long time," Biden said Monday afternoon at a Rose Garden event announcing the rule. The president described the new policy as "just basic common sense." He added: "It's gonna make a difference, I promise you." Biden also called urged Congress to pass universal background checks. He spoke beside Vice President Kamala Harris and Deputy Attorney General Lisa Monaco.
Biden announced at the same event that he's nominating Steve Dettelbach, a former U.S. attorney in Ohio, as the next director of the Bureau of Alcohol, Tobacco, Firearms and Explosives. The White House was unable to get enough Senate votes to confirm his previous pick for the job, David Chipman. Read more from Justin Sink and Jenny Leonard.
The Federal Trade Commission's leader called for a new approach to consumer data protection to replace the "overwhelming" privacy policies governing companies' collection and use of consumer data. FTC Chair Lina Khan suggested a shift away from the "outdated and insufficient" notice and consent framework in which companies ask consumers to agree to lengthy privacy policies heavy on legalese. "Going forward, I believe we should approach data privacy and security protections by considering substantive limits rather than just procedural protections," she said Monday. Read more from Andrea Vittorio.
U.S. immigration officials will impose new policies to monitor and protect detained noncitizens with mental health disorders under new policies from U.S. Immigration and Customs Enforcement. The new order, among other provisions, would require ICE to provide the Department of Justice with any mental health information that an immigration judge may need to decide whether individuals can represent themselves in deportation cases. Acting Director Tae Johnson said it's part of efforts to implement a fair and "humane immigration system," Ellen M. Gilmer reports.
The White House took its first step towards requiring minimum staffing levels in nursing homes. The Centers for Medicare and Medicaid Services asked for public feedback on the issue Monday and said it plans to publish a proposal within a year. CMS, which spends $35 billion a year on nursing home care for the elderly and disabled, said it's also looking at tying some payments to the level of staff turnover, which has been linked to quality of care. The proposal is part of Biden's wider agenda to bring more scrutiny to the nation's nursing-home sector, whose patients and workers have been devastated by Covid-19, John Tozzi reports.
Quashing decades of structural racism in the biomedical research space will require running a marathon, not a sprint. But it's a race Monica Webb Hooper and Marie Bernard say they plan to help win. "The change may be incremental, but we already are starting to see some change, even in the sense that the conversations that have never happened before are happening," Webb Hooper, the deputy leader of the National Institute on Minority Health and Health Disparities, said in a recent interview. "That's the first step of what will be a long process." Jeannie Baumann has more.
The U.S. ordered all non-emergency staff at its Shanghai consulate and their families to leave the Chinese city due to a spike in Covid cases and lockdown measures imposed on the financial hub. The State Department mandated the departures Monday, according to a post on its website, as most of Shanghai's 25 million residents were subjected to tight movement restrictions that keep them confined to their homes or compounds. The U.S. "has no higher priority" than the safety and security of U.S. citizens overseas, including personnel in China and their families, a U.S. embassy spokesperson said. Chelsea Mes has more.
Putin 'Confident,' Zelenskiy Wants Oil Sanctions: President Vladimir Putin said he remains confident the goals for what he called Russia's "special military operation" will be met, as the U.S. predicted "a more protracted and a very bloody phase" of the conflict. Ukraine expects Russia to widen its offensive this week in the Donbas region of eastern Ukraine, which has been partially occupied by self-proclaimed separatist republics. Putin described Russia's aims as protecting the people there. Follow the latest in the Bloomberg News Ukraine Update.
Major U.S. companies that scaled back their business in Russia have just a few weeks to assess how financial sanctions and the Ukraine invasion will cascade through their first-quarter financial statements and potentially erode their earnings. Corporate America's sudden retreat from Russia could render assets left behind worthless and wipe out investments. And the uncertainty over ever-tightening sanctions is applying heavy pressure on sensitive financial reporting decisions, as the deadline to file first-quarter results approaches. Read more from Amanda Iacone and Nicola M. White.
U.S. Carrier Group Arrives as North Korea Ramps Up Threats: A U.S. aircraft carrier group was in international waters east of the Korean Peninsula for the first time in nearly five years, reports said, as Pyongyang is poised for provocations that could include its first nuclear test since 2017. The USS Abraham Lincoln carrier group was sailing off the South Korean city of Ulsan, Yonhap News reported Tuesday citing informed sources, and will be in waters between the peninsula and Japan for three to five days on its first such maneuvers there in about five years. The U.S. Naval Institute also said the group was off the peninsula. Read more from Jon Herskovitz.
With assistance from Zach C. Cohen and Ellen M. Gilmer
To contact the reporters on this story: Giuseppe Macri in Washington at gmacri@bgov.com; Brandon Lee in Washington at blee@bgov.com
To contact the editors responsible for this story: Loren Duggan at lduggan@bgov.com; Michaela Ross at mross@bgov.com