What to Know in Washington: Biden Surges Ahead of Super Tuesday
Former Vice President Joe Biden did something in 24 hours he couldn't do for more than a year — coalesce the Democratic Party's establishment around him as he tries to thwart Sen Bernie Sanders (I-Vt.) on Super Tuesday.
And it still might not be enough.
Sanders holds the advantage in key contests – including delegate-rich states like Texas and California – and former New York Mayor Michael Bloomberg threatens to play spoiler. So the risk for moderate Democrats is that the exit of Pete Buttigieg and Sen. Amy Klobuchar (D-Minn.) is too little, too late.
(Bloomberg is the majority owner of Bloomberg Government's parent company.)
Today's contests – across 14 states, plus American Samoa, that will award more than a third of all delegates to the Democratic convention in July in Milwaukee – provide a key test for each of the remaining contenders.
Sanders – a self-described democratic socialist who many in the party fear would return President Donald Trump to the White House – seems certain to emerge with the most delegates. Biden's task is to win enough support to stand as a credible challenger to Sanders as the primary calendar moves to frequent contests that stretch through June, a task that would be made easier by the growing support he's received just since Saturday night.
Sanders will no longer benefit from a fractured field of moderates, and it will be up to Biden to harness the momentum from his South Carolina victory and turn Klobuchar's and Buttigieg's endorsements into actual votes. Yet Biden has repeatedly bungled advantages throughout the nominating contest, and the impact of the last-minute withdrawals might be muted with millions of early voting ballots already cast. As of yesterday, Biden was leading in polls in only a single state, North Carolina.
Further complicating the former vice president's efforts is Bloomberg, who has poured unprecedented personal resources into a late bid for the nomination. But that strategy faces its first electoral test today, providing a referendum on whether Bloomberg outsmarted the traditional primary process, or saw more than a half-billion dollars go for naught.
And Sen. Elizabeth Warren (D-Mass.), who remains popular among college-educated white voters, is eager to justify her continued presence in the race. She faces a key test in her home state, where a loss to Sanders could prove fatal to her campaign. Read more from Justin Sink.
What the Candidates Need to Win on Super Tuesday: Ryan Teague Beckwith takes a look at what each candidate needs to do to have a good night on the biggest voting day of the primary season so far.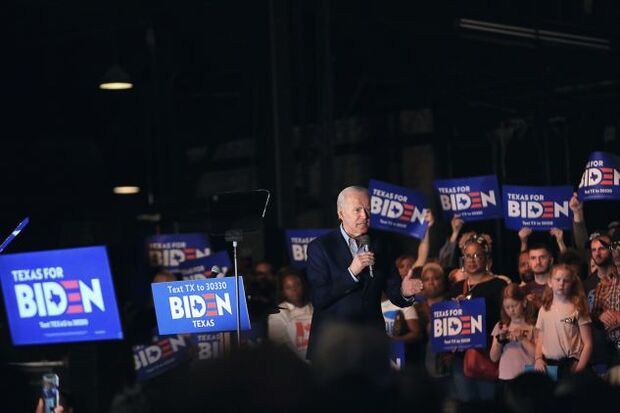 Happening on the Hill
$7.5 Billion Floated for Virus Bill: Sens. Patty Murray (D-Wash.) and Shelley Moore Capito (R-W.Va.) said yesterday a supplemental funding measure of about $7.5 billion to fight the coronavirus outbreak could come out today. Both are senior Senate Appropriations Committee members. Murray said she hasn't heard of any serious talks about including a reauthorization provision for Foreign Intelligence Surveillance Act powers in the supplemental, Jack Fitzpatrick report.
This afternoon is the most likely timing for the bill release, a House Democratic aide said late yesterday. Lawmakers were still negotiating a measure to ensure vaccine affordability, the aide said, but talks were on track to include a provision along those lines, as well as measures to reimburse state and local governments and provide Small Business Administration loans.
The House could take the bill up tomorrow under suspension of the rules—an expedited procedure that limits debate time and requires a two-thirds majority for passage—assuming there are no controversies that hold up progress, the aide said.
Senate Brings Big Energy Bill to Floor: The Senate yesterday voted 84-3 to advance a big energy package to boost everything from battery storage to advanced nuclear and renewable energy sources, the first comprehensive energy measure brought to the floor in four years. Yesterday's procedural vote to proceed essentially clears the way this week for floor debate and possible amendments on the American Energy Innovation Act, a bipartisan 555-page measure by Sens. Lisa Murkowski (R-Alaska) and Joe Manchin (D-W.Va.). It combines more than 50 energy bills that the Senate Energy and Natural Resources Committee advanced with bipartisan backing in 2019. The measure is expected to be on the floor for several days, although it is unclear what amendments will be brought to a vote. Senate Republican and Democratic leaders traditionally negotiate that decision. Read more from Dean Scott.
Pompeo Pressed Over Turkey Missiles: Senate Foreign Relations Committee ranking member Bob Menendez (D-N.J.) wants the State Department to reveal whether the U.S. will let Turkey's purchase of a Russian missile system—contrary to U.S. law—help it comply with Trump's earlier demands that NATO members meet defense spending targets set in 2014. "It would be highly ironic, and hugely problematic, if this S-400 purchase allows Turkey to finally meet its NATO spending pledges," Menendez wrote in a letter to Secretary of State Michael Pompeo. Daniel Flatley has more.
Oil-State Senators Push Trump on Biofuel Waivers: The oil industry and its Capitol Hill allies are pressing the Trump administration to defend its decision to exempt oil refineries from requirements they blend biofuels into gasoline and diesel. The administration has until the end of next Monday to request the full 10th Circuit U.S. Court of Appeals rehear a decision that threatens to curtail the use of waivers.
Republican senators from states with large oil-refining interests, including Ted Cruz (Texas), John Barrasso (Wyo.) and James Inhofe (Okla.) have made entreaties to the White House or the Environmental Protection Agency in recent days, warning that if the decision is applied nationwide, it could strain refineries, hike gasoline prices and jeopardize jobs. The senators' efforts were described by three people familiar with the matter who asked not to be named detailing private conversations. Read more from Jennifer A. Dlouhy.
Congress Urged to Ease Sales Taxes: Small businesses confront "nightmarishly complex" tax duties in the era of e-commerce and will ask Congress to impose a "straightforward taxing regime" across the 46 jurisdictions with statewide sales taxes. Testimony prepared for a House hearing today contains pleas for federal intervention leading to a harmonized system, from small retailers frustrated by the patchwork of rules and administrative tasks in state sales tax laws. The laws proliferated after the Supreme Court's 2018 decision in South Dakota v. Wayfair allowed states to impose taxes on sales by vendors without a physical presence in their states. Read more from Michael J. Bologna.
Movers & Shakeups
Trump officially announced a slate of nominees for the Equal Employment Opportunity Commission and the National Labor Relations Board, moving to fill some long-term vacancies and teeing up a potential fight with Senate Republicans over one nominee's stance on LGBT rights.
Trump plans to nominate Gibson Dunn lawyer Andrea Lucas for a Republican EEOC seat and civil rights attorney Jocelyn Samuels for a Democratic post on the commission, the White House said yesterday. The president will tap former NLRB member Lauren McFerran (D) and current member Marvin Kaplan (R) for five-year terms on the board. Read more on those picks from Jaclyn Diaz.
Trump also intends to nominate Nancy Beck to be chairman and commissioner of the Consumer Products Safety Commission, according to a statement from the White House. Beck is currently principal deputy assistant administrator for the Office of Chemical Safety and Pollution Prevention at the EPA.
The administration announced Trump intends to nominate Assistant Defense Secretary James Anderson to be deputy undersecretary of defense for policy, according to a statement. Anderson served as vice president of academic affairs at Marine Corps University and as the director of Middle East policy in the Office of the Secretary of Defense, according to the statement.
Meanwhile, the White House withdrew its nomination of Elaine McCusker to be the Pentagon's comptroller, according to an aide at the Senate Armed Services Committee. McCusker has been serving as the Defense Department's acting comptroller and was nominated to the permanent post last year. She was among the officials at the Trump administration who criticized the president's decision to withhold security aid to Ukraine, Roxana Tiron reports.
Around the Administration
Trump Tells Drug Companies 'Get It Done': Trump sought to show his personal engagement in the fight against coronavirus, meeting with drug company executives yesterday to elicit promises of new medicines and announcing he'll visit federal health agencies this week. At the White House meeting, executives from Gilead Sciences, Johnson & Johnson, GlaxoSmithKline, Sanofi, Pfizer and other manufacturers told Trump they were making rapid progress on vaccines and antivirals to combat the coronavirus, which has infected about 100 people in the country and killed six.
The manufacturers said they hope to have antiviral treatments ready within months and vaccines by next year. Gilead Chairman and Chief Executive Officer Daniel O'Day told Trump that his company may test a promising antiviral in Washington State, where all six deaths from the virus have occurred. "It's a very optimistic meeting. I didn't realize you were that far advanced," Trump said. "Get it done. We need it."
Trump will visit the National Institutes of Health in Bethesda today and the Centers for Disease Control and Prevention in Atlanta later this week. At a campaign rally in Charlotte, N.C., last night, Trump promised that "we're working hard on it and we're going to come up with some really great solutions." Read more from Jordan Fabian.
G-7 Set for Emergency Virus Call: Group of Seven finance chiefs will hold a rare conference call today under pressure from investors to match their pledges to shield the world economy from the coronavirus with action. The G-7 officials, including Treasury Secretary Steven Mnuchin and Federal Reserve Chairman Jerome Powell, will speak around 7 a.m. Washington time. A statement is expected to be released afterward.
The call will come after policy makers stepped up their response with Australia and Malaysia cutting interest rates. Bank of England Governor Mark Carney reiterated his institution will act to safeguard the U.K. economy if needed, after European Central Bank President Christine Lagarde belatedly followed counterparts yesterday to say officials are also "ready to take appropriate and targeted measures." Read more from Enda Curran and Michelle Jamrisko.
Another Obamacare Test Looms for Chief Justice Roberts: The U.S. Supreme Court's latest challenge to Obamacare is poised to be another test for Chief Justice John Roberts. The high court agreed yesterday to hear an appeal from a group of Democratic states fighting to keep the Affordable Care Act alive after a federal appeals court found one part of it was unconstitutional but left the fate of its remaining provisions uncertain. When the justices review the case, it will be the court's second time considering the constitutionality of the law. Roberts last rescued the ACA in 2015 when the statute was before the court on a non-constitutional question about subsidies for people below a certain income level.
"He voted to save the law once before," said Josh Blackman, referring to Roberts's tie-breaking vote when the act was first before the court. Blackman is an associate professor of law at the South Texas College of Law, who is an outspoken ACA critic, "The question is will he do it again?" Read more from Lydia Wheeler.
U.S. Adversaries Evolve to More Effectively Hack, Report Shows: Cyber-adversaries of the U.S. refined their techniques to become more effective at hacking in 2019, according to the cybersecurity firm Crowdstrike. Hackers in countries including China, North Korea, Iran and Russia have improved their techniques in the last year, finding ways to attack that yield "more bang for their buck," said Adam Meyers, vice president of intelligence at Crowdstrike, which released an annual review of cyberthreats today. For most of those countries, that included an increased focus on targets such as telecommunications, which have far-reaching uses, he said. Read more from Alyza Sebenius.
Majority of Promising AI Startups Are Still Based in the U.S.: The most promising startups using artificial intelligence are U.S.-based companies working in the fields of health care, retail and transportation, according to a study that looked at budding AI companies around the world. Of the top 100 startups in AI, 65% were based in the U.S., though some of those had dual headquarters in China or elsewhere, according to the analysis by CB Insights, a tech research group that analyzed data on close to 5,000 startups around the world. Read more from Susan Decker.
U.S. Agencies' Guidance Order Deadline: Three-quarters of the largest federal departments and agencies met a deadline for posting all their various guidance documents on one website as required by Trump last fall, when he signed a pair of executive orders aimed at reining in federal agency guidance. One executive order required federal agencies to post the guidance—like letters, adjudication decisions, or even press releases—on one easily accessible website by Feb. 28. Of the 16 largest federal departments, 12 had their guidance document portals up and running as of yesterday, Cheryl Bolen reports.
School Lunch Plan Faces Pushback: A food fight over the White House's plans to roll back Obama-era school nutrition rules is escalating as the industry insists the federal rules need to be simplified. The School Nutrition Association and its corporate members, including Perdue, Domino's Pizza and PepsiCo Foodservice, champion the Agriculture Department's proposed rules as "strong standards for students." Critics like the American Heart Association said the possible changes to President Barack Obama's Healthy, Hunger-Free Kids Act are "detrimental to children's health." Read more from Megan U. Boyanton.
To contact the reporters on this story: Zachary Sherwood in Washington at zsherwood@bgov.com; Brandon Lee in Washington at blee@bgov.com
To contact the editors responsible for this story: Giuseppe Macri at gmacri@bgov.com; Loren Duggan at lduggan@bgov.com