What to Know in Washington: Biden Supports States' Covid Efforts
The Biden administration is letting states lead the way in the nationwide response to a surge in Covid-19 cases brought on by the omicron variant, while the Centers for Disease Control and Prevention updated isolation guidance in an effort to get Americans back to work and mitigate economic disruptions.
Here's what Bloomberg Government is tracking for Tuesday.
Biden's Agenda:
The president will remain in Rehoboth Beach, Del. and has no public events scheduled.
Biden Pledges to Support State Testing Solutions in Covid Surge
President Joe Biden said yesterday in a conference call with U.S. state governors that the federal government would support state-led efforts to combat the current Covid surge, especially the spread of the omicron variant.
"There is no federal solution, this gets solved at a state level," Biden said in response to Arkansas Gov. Asa Hutchinson (R), who expressed concerns that federal plans to purchase and distribute 500,000 at-home tests might interfere with state-led efforts to procure and distribute tests as well, including Arkansas' test-to-stay pilot for students who have been exposed to someone who tested positive.
"Make sure that we do not let federal solutions stand in the way of state solutions," said Hutchinson, who is also the chair of the National Governors Association. Biden responded: "If you need something, say something. And we're going to have your back in any way we can."
A brief clip from Biden's response was posted to Twitter, with some calling him out for not doing more and others comparing his remarks to comments made by then-President Donald Trump in April 2020, when Covid-19 began surging nationwide.
During the call, Biden acknowledged the hours-long lines people endured as they sought Covid tests over the weekend of Dec. 25. "Seeing how tough it was for some folks to get a test this weekend shows that we have more work to do and we're doing it," he said, highlighting the Federal Emergency Management Agency's temporary testing sites. Read more from Ella Ceron.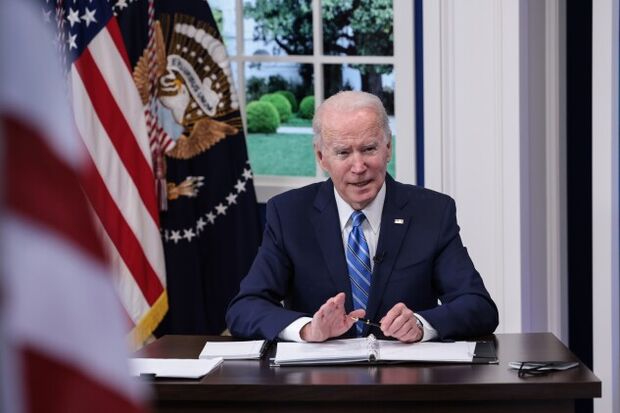 People who have Covid-19 can leave isolation after five days if they're no longer experiencing symptoms, U.S. health officials said, reducing the earlier recommended period in half as the omicron variant spurs a jump in infections. The Centers for Disease Control and Prevention said in a statement yesterday that following the initial five-day isolation period, people with Covid-19 still should wear a mask for five days when around others. The new guidance supplants previous recommendations that said people who have tested positive for the virus should isolate for 10 days.
Covid-19 cases are expected to rise across the U.S. following the holidays, threatening to upend the lives of workers and students who are infected or exposed to the virus. Shorter isolation and quarantine periods will allow people to return to work or to school sooner, potentially helping reduce widespread disruptions that could close schools or snarl supply chains. Timothy Annett and Angelica Peebles have more.
The omicron variant is leaving the administration without a coherent message on pandemic safety as new data rolls out and health officials issue broad proclamations on vaccine efficacy, policy analysts argue. The administration is struggling to persuade more Americans to get vaccinated, but those efforts are being complicated by evolving information on how much protection vaccines and boosters offer against omicron. Read more from Ian Lopez.
Biden's top health adviser said a domestic travel vaccination rule should be considered as the omicron variant fuels record Covid-19 case loads in some states. Anthony Fauci told MSNBC yesterday it would be "reasonable to consider" a requirement to be vaccinated for coronavirus before getting on a domestic flight. Later, in an interview on CNN, he said people should consider avoiding larger New Year's Eve parties. "When you make vaccination a requirement, that's another incentive to get more people vaccinated," Fauci said. Read more from Kasia Klimasinska.
Fauci's remarks came as flight cancellations that disrupted U.S. travel over the holiday weekend stretched into Monday, with winter storms further pressuring carriers that were already short-staffed due to spreading Covid-19 cases. About 1,160 U.S. flights were canceled as of 4:20 p.m. yesterday after over 2,800 were dropped over the weekend, according to data from FlightAware.com. Read more from Mary Schlangenstein and Catherine Larkin.
And the transport industry is bracing for another roller coaster year of supply-chain disruptions. As the omicron variant spreads and governments tighten restrictions, logistics firms around the world, from global giants to small businesses, are struggling to retain enough staff. According to the International Road Transport Union, around one-fifth of all professional truck driving jobs are unfilled. Read more from K. Oanh Ha and Ann Koh.
Policy, Politics & Probes
Biden has signed the $768.2 billion defense policy bill for fiscal 2022, the White House said in a statement yesterday. The legislation, which carried $25 billion more than what the president sought, also sidestepped on multiple controversial issues that threatened to derail the must-pass bill that authorizes pay for U.S. troops. It omits congressional action to add sanctions on Russia's Nord Stream 2 gas pipeline or penalize Saudi Arabia for the murder of a U.S.-based journalist, and it waters down more sweeping changes to the military's justice system.
Sen. Elizabeth Warren accused the financial services industry of being a large contributor to climate change and urged U.S. regulators to hold it to account. Warren (D-Mass.) referred to a report by the Sierra Club and the Center for American Progress, which shows that eight of the largest U.S. banks—and 10 of its largest asset managers—combined to finance about 2 billion tons of carbon dioxide emissions. That's about 1% less than what Russia produced. U.S. regulators "need to crack down," Warren said in a tweet yesterday. Read more from Kasia Klimasinska.
A wave of legal wrangling over the Equal Rights Amendment could ramp up next month, spurred by the two-year anniversary of Virginia's vote of approval, which arguably gave the amendment the 38 states necessary for ratification. ERA advocates say it's indeed part of the Constitution—the 28th Amendment—despite a lack of official recognition, since it's satisfied the Constitution's Article V requirements for amendments. The amendment's ban on sex-based discrimination under the law takes effect two years after ratification, per the language of the ERA. Supporters say that's Jan. 27. Read more from Chris Marr.
Criminal charges against a defendant who harassed Sen. Mitch McConnell (R-Ky.) were revived by the Ninth Circuit, which said a jury should decide whether they were true threats. Howard Weiss, who lives in California, sent McConnell a slew of profane emails through the senator's congressional website referring to McConnell as a turtle and a Russian asset, disparaged his wife's ethnicity, and said the resistance should have put a bullet in his head. The Northern District of California held that the statute under which Weiss was indicted violated his free speech. Bernie Pazanowski has more.
MORE HEADLINES:
To contact the reporters on this story: Giuseppe Macri in Washington at gmacri@bgov.com; Brandon Lee in Washington at blee@bgov.com
To contact the editor responsible for this story: Zachary Sherwood at zsherwood@bgov.com