What to Know in Washington: Biden, Suga Meeting All About China
President Joe Biden's effort to harness U.S. alliances in Asia to counter China will get a test run during his summit with Japanese Prime Minister Yoshihide Suga today — his first in-person meeting with a foreign leader since taking office.
China's shadow will loom large over almost every topic during Suga's visit, from human rights to Taiwan to supply chain resilience. The two leaders plan to issue statements on the situation in the Taiwan Strait — a move sure to draw China's attention — as well as announce a $2 billion initiative on 5G technology, according to a U.S. official who briefed reporters yesterday.
Yet how to strike a balance between deterring China while keeping Beijing, Japan's largest trade partner, from lashing out will be a crucial issue as the two leaders seek to project a unified voice.
The optics of a meeting with Japan's leader just days after Biden announced a withdrawal from Afghanistan provide the most visible sign yet that the American president is determined to shift the center of gravity of U.S. foreign policy to the Indo-Pacific. And for Japan, being first into the White House gives Suga a prime chance to set the tone for ties with Washington over a slew of issues for years to come. Read more from David Wainer and Isabel Reynolds.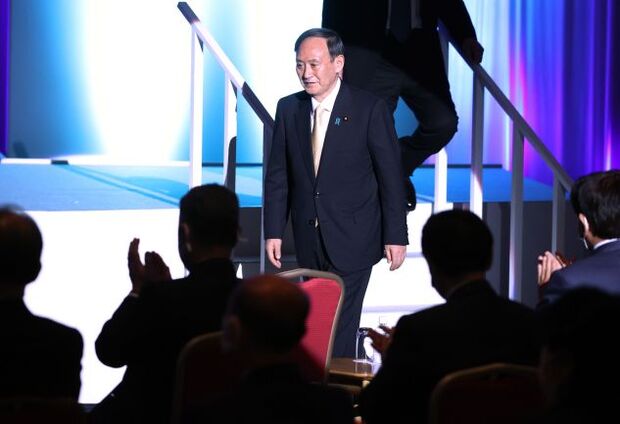 Biden's Day: The President will host Suga for a meeting in the Oval Office at 1:30 p.m. Then the pair will participate in an expanded bilateral meeting at 2:30 p.m. in the State Dining Room. That will be followed by a press conference at 4:15 p.m. in the Rose Garden. Biden will travel at 5:30 p.m. to Wilmington, Del., for the weekend.
Happening on the Hill
Today's Agenda: The House plans to vote on two measures before wrapping up work for the weekend. One measure aims to reduce violence against health-care workers, and the other would require the Small Business Administration to expand its oversight of 504 loans, which are low-interest loans for small businesses to acquire major fixed assets such as real estate and large equipment.
The Senate is not in session today.
Click here for a complete list of today's hearings and markups.
House Passes Gender Wage Gap Bill: House lawmakers passed legislation yesterday to close pay gaps for women by tackling loopholes in federal wage equity law, a priority for the Biden administration. The Paycheck Fairness Act would prohibit employers from using wage history to determine an employee's salary, and would ban retaliation against workers for discussing pay. It would also narrow the acceptable defenses companies can cite when there is disparity among workers' pay. Read more from Andrew Kreighbaum.
Divisions Threaten Highway Bill Bipartisanship: Transit is emerging as a key partisan split as lawmakers draft legislation to reauthorize surface transportation programs and respond to Biden's $2.25 trillion infrastructure effort. Sen. Pat Toomey (R-Pa.) said transit agencies have already received enough funding from the government. Congress provided agencies with more than $82 billion in regular annual funding and several Covid-19 relief packages over the past year, Toomey said during a Senate Banking Committee hearing. Read more from Lillianna Byington.
Ocasio-Cortez Criticizes SALT Repeal Push: Rep. Alexandria Ocasio-Cortez (D-N.Y.) said Biden's infrastructure plan shouldn't be held hostage to demands to repeal the limits on state and local tax deductions being made by some of her fellow New York Democrats as well as other representatives from high-tax states. She called abolishing the $10,000 limit on SALT deductions "a giveaway to the rich" and "a bit of an extreme position." Billy House has more.
GOP Tech Reform Plan Offers Bipartisan Opportunity: Legislative suggestions from House Republican staff to overhaul the regulation of technology companies such as Facebook and Google could draw bipartisan and industry support this Congress. Staff of Rep. Cathy McMorris Rodgers (R-Wash.), ranking member on the House Energy and Commerce Committee, sent a memo yesterday to Republican committee members and other stakeholders outlining broad areas to regulate tech companies with over $1 billion in annual revenue, including limits to their liability shield. The plan shows areas where compromise can be found, but disagreement over how to change the liability shield remain. Read more from Rebecca Kern.
Biden Talks Atlanta Probe With Asian Pacific Islander Caucus: In a meeting yesterday with Biden, members of the Congressional Asian Pacific Islander Caucus asked for his support in opening a Justice Department investigation into the Atlanta mass shooting that left eight people dead, Emily Wilkins reports. CAPAC Chair Rep. Judy Chu (D-Calif.) said she didn't trust the local officials would be able to do an adequate job. "I concluded that the Cherokee Country sheriffs had not had any experience working on hate crime," Chu said, adding she was "even more concerned" after officials in the sheriff's office said the shooting was the result of the alleged murderer having "a really bad day."
Biden encouraged the group to work directly with the DOJ, as he doesn't want to politicize the department's investigation, Chu said. She added Biden had "full confidence" in Attorney General Merrick Garland.
The group also discussed the hate crimes reporting bill being taken up in the Senate. Chu is watching how Republicans will try to amend the bill. Chu was excited by the prospect the Senate could combine the bill with a bipartisan provision to provide more funding to police departments to train officers to identify hate crimes – she is a co-sponsor of a similar bill in the House. "The important thing is to get improvement to how we prosecute hate crimes and how we track them," she said. "If the content of the two bills are there, then that's good."
Holistic Drug Reform Eyed to Fix Inequity: Lawmakers seeking to lower drug costs should take a comprehensive approach rather than focus solely on manufacturers' pricing practices—a strategy that's only created disparities in the marketplace, policy analysts say. Drug costs will inch back to the forefront of policy discussions in the coming months, but many of about two dozen bills floating around Congress mainly address the prices drug companies set and ignore other aspects of the supply chain, such as the pharmacy middlemen that control how insurance pays for medications. Read more from Jacquie Lee.
Wyden Expresses Support for CMS, HHS Deputy Picks: Two Biden administration nominees for key positions at HHS received strong support from Senate Finance Chairman Ron Wyden (D-Ore.) during a confirmation hearing yesterday. Andrea Palm is Biden's nominee to become the deputy secretary at the Department of Health and Human Services, and Chiquita Brooks-LaSure is his choice to head the Centers for Medicare & Medicaid Services. "These are two individuals who are extraordinarily qualified for these essential positions," Wyden said of both nominees. Read more from Tony Pugh.
Politics & Influence
Warnock, Kelly Report Record Money Haul: A pair of Democratic senators from competitive states who won special elections and are key to the party retaining its majority are keeping up record fundraising as they run for full terms in 2022. Sen. Raphael Warnock (D-Ga.) raised more than $5.7 million in campaign money for the first three months of 2021 and had $5.6 million in cash on hand. Mark Kelly (D-Ariz.) raised $4.4 million and had the same amount in cash. Read more from Kenneth P. Doyle.
Sarah Huckabee Sanders Raises $4.9 Million: Sarah Huckabee Sanders, once President Donald Trump's press secretary, reported raising more than $4.8 million in her race for Arkansas governor, which she said was the most money ever raised in a quarter by a campaign in the state. "Our message of limiting government and advancing education and opportunity is clearly resonating," Sanders said in a statement. Read more from Mark Niquette.
Pence Gets Pacemaker After Slow Heart Rate: Former Vice President Mike Pence said he had a pacemaker implanted after experiencing symptoms associated with a slow heart rate over the past two weeks and is expected to fully recover. Pence, 61, says he underwent the procedure to implant the pacemaker on Wednesday after consultation with his doctors. Read more from Mark Niquette.
What Else to Know Today
Biden Wants 'Predictable' Relations With Putin: Biden said he wants a "stable, predictable relationship" with Russia after imposing sanctions in response to allegations that the Kremlin was behind a hack on SolarWinds and meddled with last year's U.S. presidential election. "The United States is not looking to kick off a cycle of escalation," Biden said yesterday at the White House. But "if Russia continues to interfere with our democracy, I'm prepared to take further actions to respond," he said. Read more from Justin Sink.
Biden Considers Methane Vow Before Summit: The Biden administration is considering singling out methane for significant reductions as part of a pledge to cut greenhouse gases in advance of a climate summit next week, according to two people familiar with the matter. Biden is already expected to unveil an ambitious goal for slashing all greenhouse gases before the April 22 virtual event, which dozens of nations are slated to attend. But activists have pushed the administration to go further when it comes to methane, since it is so potent that reductions over just the next few years can be a major weapon in the fight against climate change. Read more from Jennifer A. Dlouhy.
Environmental Justice Seen Having Role in Grants: Environmental justice considerations will play a bigger part in EPA decisions on grant and loan programs, including those for city water infrastructure projects, Administrator Michael Regan said. EPA senior executives are examining "how our program performance adequately addresses equity and inclusion in all the decisions that we make," Regan said at his first in-person public event as administrator. Read more from Stephen Lee.
Vilsack Nixes Trump Food Program, Angering GOP: Partisan tensions between Democrats and Republicans have spilled over into debate over how to help hungry Americans during the coronavirus pandemic, following a recent Department of Agriculture decision to end a Trump-era food box program. Secretary Tom Vilsack confirmed the move to discontinue a 2020 department push to buy and distribute produce, meat, dairy, and seafood to food banks to help families and give agriculture producers an economic boost. Read more from Megan U. Boyanton.
J&J's Limbo Status Crimps U.S. Vaccine Drive: Communities across the U.S. are suddenly revamping their vaccination campaigns to adjust to an indefinite halt in Johnson & Johnson's doses, which has required officials to reschedule tens of thousands of appointments as they seek to reassure people that Covid-19 vaccines are safe. Health professionals are split on whether the delay should continue. On the one hand, the blood-clotting syndrome that led to the pause in J&J vaccinations is serious and can be deadly. Conversely, with J&J doses out of circulation, that means fewer people are getting immunized even as fast-spreading Covid variants are tightening their grip, and concern about the J&J shots risks expanding vaccine hesitancy. Read more from Angelica LaVito and Fiona Rutherford.
Iran Enriches Uranium Closer to Weapons Grade: Iran obtained its first quantity of uranium enriched close to levels needed to make a weapon, adding to obstacles facing diplomats as they try to revive the 2015 nuclear pact that curbed the Islamic Republic's nuclear program in exchange for sanctions relief. The unspecified amount of 60%-enriched uranium was produced at 12:40 a.m. local time today, the semi-official ISNA news agency reported, citing parliament speaker Mohammad Baqer Qalibaf. Read more from Patrick Sykes.
With assistance from Emily Wilkins
To contact the reporters on this story: Zachary Sherwood in Washington at zsherwood@bgov.com; Brandon Lee in Washington at blee@bgov.com
To contact the editors responsible for this story: Giuseppe Macri at gmacri@bgov.com; Loren Duggan at lduggan@bgov.com; Michaela Ross at mross@bgov.com