What to Know in Washington: Biden Stumps for Georgia Democrats
President-elect Joe Biden's visit to Georgia on behalf of two Democratic Senate candidates today underscores how much his first-term agenda depends on having both chambers of Congress on his side when he takes office next month.
That Biden is even welcome in Georgia reflects a change in the state's Democratic politics, which for years tried to distance itself from the national party. But with Biden's narrow victory there in November and Democrats aiming to turn out their base voters, candidates Jon Ossoff and Raphael Warnock are embracing him — and he's eagerly approaching his last shot to get the Senate on his side in January.
"Any downside, if I can even conjure one up, would be far outweighed by the upside," Atlanta-based Democratic strategist Howard Franklin said of Biden's trip.
Biden is planning to visit Atlanta one day after the Electoral College sealed his presidential victory even as some top Republicans, including President Donald Trump, refused to recognize it.
On Jan. 5, Georgia will settle its two Senate races from the Nov. 3 election, both of which went into runoffs. Sen. Kelly Loeffler is being challenged by Warnock and Ossoff is challenging Sen. David Perdue.
If either Perdue or Loeffler wins re-election, the GOP will hold on to its Senate majority. That gives leader Mitch McConnell (R-Ky.) the power to block Biden's cabinet nominees and his legislative agenda, setting Washington up for more years of drawn-out negotiations – or inaction.
Wins by Warnock and Ossoff would divide the Senate 50-50 and Vice President-elect Kamala Harris would cast any tie-breaking votes.
Biden's visit comes on the second day of early voting ahead of the Jan. 5 election. He could help boost Democrats' get-out-the-vote efforts and potentially persuade some swing voters, especially in the Atlanta suburbs, which supported him in November. His middle-of-the-road message, focused on public health and the economic recovery from the Covid-19 pandemic, could offer reassurance as Republicans warn against the "radical liberal" Democrats, a phrase Loeffler used 13 times against Warnock during a debate earlier this month. Read more from Jennifer Epstein.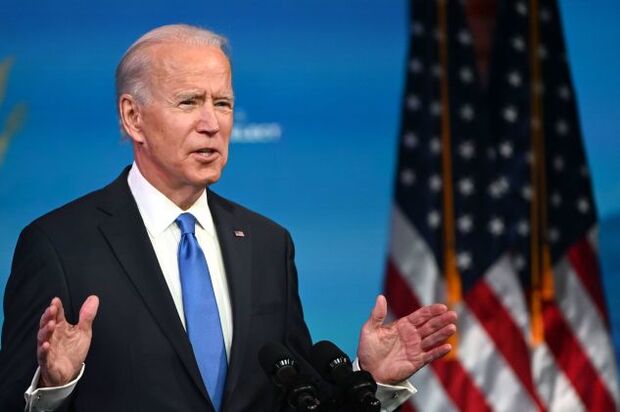 More on the Transition
Biden Says 'Time to Turn the Page': Biden sought to dispel any questions about the legitimacy of his victory and called on the American people to accept the outcome hours after the Electoral College sealed his win. Seeking to end an unusually long and contentious election, Biden urged the nation to "turn the page" on what he described as "an unprecedented assault on our democracy." He said he would be the president for all Americans, even those who don't agree with him. He urged people to focus instead on combating the coronavirus pandemic and its economic fallout.
Biden's Electoral College win over Trump was finalized after electors in each state voted yesterday. The only step that remains is for Congress to count those votes on Jan. 6. Trump and his allies are still protesting the result, but with more than 50 post-election lawsuits rejected, including by the U.S. Supreme Court, they have no viable path to overturn it. Biden noted his 306 Electoral College votes, the same number Trump earned in 2016. Read more from Mario Parker and Jennifer Epstein.
Now, senior Republicans are signaling to Trump that it's time to abandon his challenges to the election, but his campaign to dispute the results threatens to keep roiling the party for weeks to come. The dam holding back GOP recognition that Biden will be sworn in as 46th U.S. president on Jan. 20 began to crumble after the Electoral College certification..
Notably silent yesterday, however, were McConnell and House Minority Leader Kevin McCarthy (R-Calif.).
Sen. Lamar Alexander (R-Tenn.), who is retiring, delivered a blunt statement that also noted the coronavirus pandemic makes a smooth transition especially important. "The presidential election is over," Alexander said. "I hope that President Trump will put the country first, take pride in his considerable accomplishments, and help president-elect Biden get off to a good start." Read more from Steven T. Dennis, Daniel Flatley and Billy House.
Russian President Vladimir Putin sent Biden a congratulatory telegram after the Electoral College formalized his victory, making him among the last world leaders to recognize the U.S. president-elect, Jake Rudnitsky reports.
Barr's Departure Leaves Rosen Running DOJ: Attorney General William Barr's imminent departure will leave the Justice Department in the hands of his handpicked deputy, who could quickly find himself under pressure from Trump to sustain his false claims of election fraud and pursue his political enemies. When Barr steps down on Dec. 23 after increasingly sharp criticism by the president, Deputy Attorney General Jeffrey Rosen becomes the nation's top law enforcement officer for Trump's final month in office. He's seen in legal circles as an institutionalist, someone who's managed the department's internal operations while Barr focused on high-profile issues like the law-and-order response to racial justice protests and a review into the origins of the 2016 Russia probe. Read more from Chris Strohm.
Happening on the Hill
Lawmakers Rush to Complete Relief Before Break: Speaker Nancy Pelosi (D-Calif.) and Senate Minority Leader Chuck Schumer (D-N.Y.) face pressure to allow a vote on a Covid-19 assistance plan without the aid for states they've said is vital, after a bipartisan group split that and liability protections from other relief spending. With the congressional session winding down and a government funding package needed by Friday, time is running out for an agreement on the two most contentious and partisan pandemic-relief issues — Covid-19 liability protections for employers and aid for state and local governments.
That makes today a potentially crucial day for the congressional leadership to establish the contours of a possible deal as record numbers of Americans die from the coronavirus and the economic rebound falters. Follow updates from Capitol Hill throughout the day here.
A bipartisan group of lawmakers yesterday released a $908 billion pandemic relief package that may provide momentum for breaking the months-long impasse by separating out coronavirus liability protections and state relief, the two most contentious and partisan items.
After Republicans and Democrats failed to strike consensus on a liability shield for businesses, the group that's been working on a bipartisan compromise released two separate legislative proposals. One is for $748 billion and includes areas of accord like vaccine funding and small businesses relief, and the other wraps the two most contentious items, including $160 billion for regional authorities.
Senate Minority Whip Dick Durbin (D-Ill.), one of the negotiators, said state and local aid and liability are both "critically" important, but said Pelosi and McConnell should allow votes on the $748 consensus measure soon. He said the aid it carries is "desperately needed."
"This is our consensus bill. We all agree on it. It's ready to go. There's no excuse for either the speaker or the leader," Durbin added. "You've got to give us a vote. Don't let us go home for Christmas without a vote on this." Read more from Laura Litvan and Erik Wasson.
Pelosi Renews Special Climate Committee Two More Years: Pelosi is giving a special climate change committee another two years to convene, ensuring the panel will continue to highlight the challenge of planetary warming but also potential solutions, Dean Scott reports. The House Select Committee on the Climate Crisis, launched by Pelosi nearly two years ago after Democrats won control of the chamber, spent much of that time holding hearings and compiling a sort of legislative roadmap for future House climate legislation. Pelosi said Rep. Kathy Castor (D-Fla.), who has led the climate panel, will continue as chair in the 117th Congress. Formal renewal of the panel would come only after approval of a package of House rules that will outline broad procedures for the Democratic-controlled House beginning in 2021.
Wyden Urges Quick Confirmation of Biden Picks: Senate Finance Committee ranking member Ron Wyden (D-Ore.) asked Chairman Chuck Grassley (R-Iowa) to speed up processing Biden's pick of Janet Yellen to lead the Treasury Department by holding confirmation hearings in mid-January. Wyden also pushed for similar hearings for Biden's pick of Xavier Becerra to lead the Health and Human Services Department.
"A failure to promptly consider these nominees to the positions principally responsible for our economy and health care system would constitute legislative malpractice that jeopardizes lives and jobs," Wyden wrote yesterday, Laura Davison reports.
What Else to Know Today
CVS, Walgreens Gear Up for Nursing Home Vaccination: Residents and staff at nursing homes and other long-term care facilities can expect widespread Covid-19 vaccinations to begin in earnest next week as CVS and Walgreens ramp up efforts to provide the lifesaving immunizations inside facilities hit hardest by the pandemic. The first CVS nursing home clinics providing the Pfizer Covid-19 vaccine are expected to begin Dec. 21, said Derek Darling, vice president for strategy, marketing and internal operations at Omnicare, a CVS Health company. Read more from Tony Pugh.
Fauci Curious to See Secret of Vaccine's Success: Forthcoming data on Johnson & Johnson and AstraZeneca's vaccine candidates will shed light on the one question still unanswered by the Pfizer and Moderna vaccine frontrunners: what gives their candidates a 95% efficacy rate. The nation's top infectious diseases expert, Anthony Fauci, said in an interview he is eager to learn more about what makes it work. Jeannie Baumann has more.
DOL Gig-Worker Rule Designed to Tie Biden's Hands: The Labor Department plans to release by Christmas a final regulation to ease employers' use of independent contractors and then schedule it to take effect two months later, a timeline that could set up a clash between the Biden administration and the business lobby. The Trump administration has informed industry stakeholders about its plans, including the decision to allow for a 60-day window before the rule takes effect rather than accelerating the implementation date so that it would fall before Inauguration Day, four sources with knowledge of the matter told Bloomberg Law. Read more from Ben Penn.
White House Must Release Environmental Records: The Trump administration can't hide a trove of documents related to its rewrite of federal environmental review regulations, the U.S. District Court for the Western District of Virginia ruled yesterday in a verdict that requires the release of records that could be used in separate legal challenges to the controversial rewrite. Read more from Ellen M. Gilmer.
Supreme Court Chafes at Remote Arguments: Some of the Supreme Court's justices are starting to chafe at the jury-rigged system for oral arguments adopted back in May when Covid-19 prompted the court to go to remote arguments by telephone. Free-wheeling exchanges have yielded to a more rigid format where each justice gets just a few minutes to ask questions in order of seniority. Gone is the verbal sparring in which the justices often talk to each other as much as to the lawyers arguing before them. The format does make oral arguments less chaotic for the lawyers, and cases aren't often decided on the basis of those anyway. But lawyers say it's more difficult now to know if they are addressing the justices' concerns — the whole point of oral argument. Read more from Kimberly Strawbridge Robinson.
Defense Policy Board Additions: The Trump administration has announced another shakeup of Pentagon staffing during the lame-duck period with eight appointments to the Defense Policy Board, which advises department leaders, Travis Tritten reports.
Seats will be filled by former Republican House Speaker Newt Gingrich and Randy Forbes, a former Republican congressman and House Armed Services member from Virginia who lost his seat in a 2016 primary. Scott O'Grady, a former Air Force F-16 pilot shot down over Bosnia in 1995, was also appointed after promoting claims on Twitter that Trump won the election, according to CNN.
The appointments come less than two weeks after the Pentagon named new members of the Defense Business Board, another advisory body, that included Trump loyalists Corey Lewandowski and David Bossie.
Hackers Used IT Firm to Attack Agencies: At the epicenter of the most sprawling cyber-attack in recent memory — which hit a number of government agencies, including the Department of Homeland Security— is a two-decade-old, Austin, Texas-based software maker called SolarWinds. While barely known outside geeky tech circles, its customer list boasts of every branch of the U.S. military and four-fifths of the Fortune 500. Many of those customers found themselves ensnared in the attack because suspected Russian hackers inserted a vulnerability into a popular SolarWinds' software product. Read more from William Turton.
With assistance from Dean Scott
To contact the reporters on this story: Zachary Sherwood in Washington at zsherwood@bgov.com; Brandon Lee in Washington at blee@bgov.com
To contact the editors responsible for this story: Giuseppe Macri at gmacri@bgov.com; Loren Duggan at lduggan@bgov.com; Michaela Ross at mross@bgov.com