What to Know in Washington: Biden Stokes First Nomination Fight
President-elect Joe Biden is setting up his first confirmation fight with Senate Republicans by choosing Neera Tanden — a sometimes-acerbic Democratic policy wonk with an often-partisan Twitter feed — to serve as his White House budget chief.
Tanden, the tough-minded head of an influential Democratic think tank, is a veteran Hillary Clinton aide seasoned in Washington battles over Obamacare and Donald Trump's presidency. Her selection yesterday as Biden's nominee to lead the Office of Management and Budget drew swift objections from GOP senators who could block her confirmation, with Sen. John Cornyn (Texas) calling her selection "radioactive."
"Most Republicans are open to any reasonable nominee by the incoming administration," he told reporters on Capitol Hill. "We're prepared to try to work with the vice president once the vote's certified, but she certainly strikes me as his worst nominee so far."
Republicans have so far refrained from voicing outright opposition to Biden's other intended nominees, including former Federal Reserve Chair Janet Yellen to be Treasury secretary, or Antony Blinken for secretary of State. Yet they are drawing the line with Tanden, who will be formally introduced to the public along with other economic team nominees by Biden during an event today in Wilmington, Del.
Tanden was one of six nominees Biden announced yesterday for his economic team, including Yellen, Cecilia Rouse to be chair of the Council of Economic Advisers, Jared Bernstein and Heather Boushey to be members of the CEA, and Adewale Adeyemo for deputy Treasury secretary. He also picked Brian Deese to lead the National Economic Council in the White House, according to people familiar with his plans.
Tanden has been an outspoken backer of Democrats on Twitter and cable news channels, a role that is helping fuel the vehemence of Republican opposition. She tweeted "Love it," when Senate Majority Leader Mitch McConnell (R-Ky.) was tagged "Moscow Mitch" for blocking legislation to protect elections from foreign interference and criticized Sen. Susan Collins (R-Maine) for a "pathetically bad faith argument" in supporting confirmation of Supreme Court Justice Brett Kavanaugh.
The Biden transition team recommended Tanden knowing that she would provoke Republican lawmakers, said a person familiar with the matter, but didn't want to shrink from nominating someone they considered highly qualified. The team plans to promote her personal story as part of their pitch that Biden's economic advisers will understand the problems of working-class and poor people and work to reduce wealth inequality. The daughter of Indian immigrants, she was raised by a single mother who for part of Tanden's childhood depended on federal housing assistance and food stamps. Read more from Mike Dorning, Jennifer Epstein and Erik Wasson.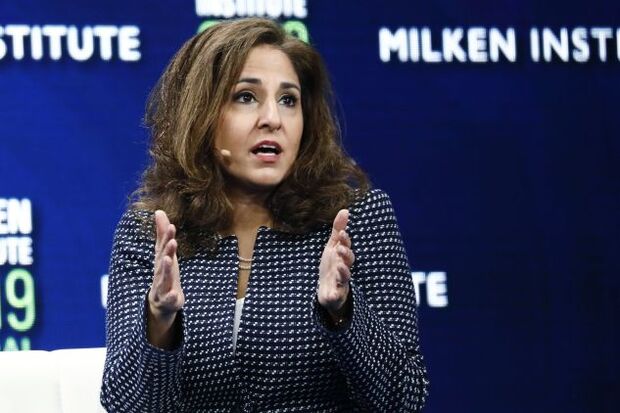 More on the Transition
List of Nominations: Biden will be naming 23 people in total to cabinet and cabinet-level positions. Emma Kinery and Christopher Cannon track the list so far.
Biden's Tools to Bolster ACA Include Enrollment: Reopening enrollment in the Obamacare marketplace is one of the first steps President-elect Joe Biden may take to fulfill his pledge to shore up the landmark health-care law, policy experts say. "He can just say, 'It's an emergency' and he can just do it" without going through a lengthy regulatory process, Karen Pollitz, a senior fellow with the Kaiser Family Foundation, said. Broadly reopening enrollment in the Affordable Care Act marketplace would make it easier for millions to obtain vital health care during the pandemic. Read more from Sara Hansard.
H-1B Employers Foresee Wins, Losses: Employers of H-1B workers with special skills have criticized the Trump administration's changes to the visa program, but they may not see an automatic reversal of those policies under Biden's administration. Biden has said he'd work with Congress to first reform temporary visas "to establish a wage-based allocation process and establish enforcement mechanisms to ensure they are aligned with the labor market and not used to undermine wages." "High skilled temporary visas should not be used to disincentivize recruiting workers already in the U.S. for in-demand occupations," according to Biden's immigration platform.
That pledge to create a wage-based process for H-1B visas echoes a proposed rule released by the Trump administration in October, which would prioritize the selection of H-1B registrations or petitions based on the highest corresponding wage levels, which are typically divided into four tiers representing entry-level to senior job positions. The current lottery system selects petitions for adjudication at random. Read more from Genevieve Douglas.
Biden Speaks With Argentine President: Biden spoke by phone yesterday for the first time with Argentine President Alberto Fernandez, according to Fernandez's spokesman. The two discussed the economic situation in Latin America, and Pope Francis, who is from Argentina and met Biden when he was vice president, according to a statement. Ongoing negotiations between Argentina and the International Monetary Fund, where Biden's administration will play a key role, weren't mentioned as part of the conversation in the statement. Read more from Patrick Gillespie and Scott Squires.
Arizona and Wisconsin Confirm Biden's Victories: Arizona and Wisconsin confirmed yesterday that Biden won in their states, dealing the latest blow to Trump's campaign to overturn his defeat.
Biden defeated Trump by 10,457 votes in Arizona, according to the official results certified by Secretary of State Katie Hobbs in Phoenix. The process was overseen by Gov. Doug Ducey (R), Attorney General Mark Brnovich and state Supreme Court Chief Justice Robert Brutinel. The certification confirms that Biden won the state and triggers the appointment of electors who will cast Arizona's 11 Electoral College votes for Biden when they meet on Dec. 14, unless a court intervenes.
Wisconsin Elections Commission Chairwoman Ann Jacobs also officially confirmed the result yesterday, and Gov. Tony Evers (D) announced he has signed the document appointing Biden electors for the state's 10 electoral votes. Jacobs's action also starts a five-day period for Trump to appeal the outcome of a recount. Read more from Mark Niquette and Amanda Albright.
Happening on the Hill
McConnell Sets Up Vote on Waller Fed Nomination: Senate Majority Leader Mitch McConnell (R-Ky.) set up a vote to advance the nomination of Christopher Waller to the Federal Reserve Board but took no action to open Judy Shelton's path to the Fed, dimming chances for the controversial nominee. That leaves McConnell a narrowing window of time for action on Shelton, given that Republicans will lose a vote if Arizona Democratic Senator-elect Mark Kelly is sworn as expected tomorrow. With three Republicans opposing Shelton, a vote by Kelly with his party would keep Shelton off the Fed, Laura Litvan reports.
Powell Sees Hope and Uncertainty in Vaccines: Federal Reserve Chairman Jerome Powell cautioned lawmakers that the U.S. economy remains in a damaged, uncertain state in spite of progress made in the development of Covid-19 vaccines. "Recent news on the vaccine front is very positive for the medium term," Powell said in remarks published yesterday ahead of a Senate Banking Committee hearing later today. "Significant challenges and uncertainties remain, including timing, production and distribution." Read more from Christopher Condon.
Senate Confirms Democratic, GOP FERC Nominees: The Senate by voice vote yesterday approved Trump's picks of Allison Clements and Mark Christie for the Federal Energy Regulatory Commission. The energy regulator now has a full five-member roster, with three Republicans and two Democrats. The White House formally nominated Clements and Christie in July after senators pressed the administration for months to send a Democratic nominee to Capitol Hill for consideration. Read more from Kellie Lunney.
Katko Wins Re-Election to House: Rep. John Katko (R-N.Y.) won a fourth term in the House, The Associated Press projects, beating Dana Balter (D) to continue representing New York's 24th Congressional District. The election was competitive, with Katko one of just two House Republicans seeking re-election from districts Trump lost in 2016. Katko also defeated Balter in 2018, Kathleen Miller reports.
Garcia Wins Re-Election to House: Rep. Mike Garcia (R) has won the race for California's 25th Congressional District, retaining the seat he won in a May special election. Garcia beat Democrat Christy Smith, who conceded the race, according to her statement posted on Twitter. Garcia beat Smith for the second time in six months, having flipped the seat previously held by former Rep. Katie Hill (D), who resigned amid a House Ethics Committee probe into allegations of an improper relationship with a congressional staffer, Sebastian Tong reports.
The Coronavirus Pandemic
Pence Pegs Mid-December for Vaccine Distribution: Vice President Mike Pence told governors yesterday that distribution of a coronavirus vaccine could begin the week of December 14, signaling that U.S. regulators will swiftly approve an emergency authorization for the first shots. Vaccines will be largely administered by pharmacies such as those owned by CVS Health and Walgreens, HHS Secretary Alex Azar, who was also on the call, said. Read more from Josh Wingrove and Dina Bass.
CDC Advisers Move Up Vaccine Meeting: A meeting to weigh who should get vaccinated first for Covid-19 was moved up to today because states need to lock in by Friday where they'll send the initial doses they get from the federal government. The Advisory Committee on Immunization Practices, or ACIP, is a group of medical and public health experts that advise the Centers for Disease Control and Prevention on the use of vaccines. The advisers decided to meet earlier to "make sure that we offered guidance to the states and other entities so they could make an informed decision about where to make that ask for an allocation," said Jose Romero, chairman of the advisory panel and the Arkansas Health Secretary.
Eventually, the decision on who gets the first inoculations will sit with the individual states, who will get a set number of doses from the federal government to distribute as they choose. Read more from Anna Edney.
Atlas Resigns as Top Trump Virus Adviser: White House coronavirus adviser Scott Atlas, who won Trump's favor by advocating the loosening of social distancing restrictions during the pandemic, resigned his post yesterday, according to a White House official. Atlas's approach drew widespread controversy, with longtime public health officials within the Trump administration questioning the scientific justification for his claims. Read more from Justin Sink and Josh Wingrove.
Moderna Seeks Clearance for Covid Shot: Moderna requested clearance for its coronavirus vaccine in the U.S. after a new analysis showed the vaccine was highly effective in preventing Covid-19, with no serious safety problems. A Moderna spokesman said in a text message late afternoon yesterday that its application for an emergency use authorization for its Covid shot had been delivered to the Food and Drug Administration. FDA advisers will scrutinize the data at a public meeting Dec. 17, the agency said in a statement. Read more from Robert Langreth.
Pfizer and partner BioNTech sought regulatory clearance for their Covid-19 vaccine in the European Union, putting the shot on track for potential approval there before the end of the year. The formal application submitted yesterday caps a rolling review process that started on Oct. 6 and allowed Europe's drugs regulator to examine data on the vaccine as it emerged. In November, a study of almost 44,000 people showed the shot prevented 95% of symptomatic coronavirus cases. Read more from Naomi Kresge.
DC Metro Plans Deep Cuts: The Washington Metropolitan Area Transit Authority is proposing closing 19 stations and eliminating weekend rail service as well as half of its bus routes in its upcoming fiscal year budget, The Washington Post reports. Metro is also proposing cutting 2,400 positions on top of the 1,400 planned for elimination this year, the outlet reported. The agency said drastic actions are necessary as it faces a $500 million deficit while Congress has not reached an agreement on coronavirus stimulus relief.
What Else to Know
Trump's Time Is Short to Redo Fannie-Freddie: Trump is running out of time to do what hedge funds and other investment firms with big ownership stakes in Fannie Mae and Freddie Mac have wanted since he took office: put the mortgage giants on a path to exiting government control. While Trump has long vowed an overhaul of the companies, he's made little progress in four years and now has less than two months to act. Fannie and Freddie's regulator, Federal Housing Finance Agency Director Mark Calabria, wants to make sweeping changes before Biden is sworn in — but Calabria can't pull the trigger without the blessing of Treasury Secretary Steven Mnuchin. Read more from Joe Light.
Ford Prods Shift to Cali Standards: Ford is prodding other automakers to embrace more stringent automotive clean air standards set by California in another blow to Trump's efforts to limit the state's ability to set tougher emissions rules as the industry prepares for the Biden administration.
A day before an industry trade group meeting, a top Ford executive encouraged his competitors to unify in supporting the California standards to prepare for more stringent rules expected from Biden. The plea comes a week after General Motors dropped its support for Trump's efforts to strip California of its authority on auto emissions. Read more from Keith Naughton.
Right to Fight Tax Regulations Set for High Court: The U.S. Supreme Court is set to hear a case involving an IRS reporting requirement that observers are closely monitoring for potential broader implications for regulation and enforcement. Tennessee consulting firm CIC Services wants the court to throw out an IRS reporting requirement that the firm says wasn't properly issued. But so far the firm has run up against a law known as the Anti-Injunction Act, which two lower courts have said requires the firm to violate the requirement and pay a penalty before it can bring its suit. Read more from Aysha Bagchi and Jeffery Leon.
SCOTUS Weights Access in Anti-Hacking Law: The Supreme Court yesterday probed whether the conviction of a police officer for accessing a database could lead to the criminalization of a range of similar actions. One question that came up during the argument was whether the anti-hacking law could apply to other, more everyday scenarios, like lying on a dating app. Read more from Andrea Vittorio.
Flynn Case Should Be Dismissed, U.S. Tells Judge: Michael Flynn's prosecution for lying to federal agents in the early days of the Russia investigation should be immediately dismissed because the former national security adviser accepted Trump's full pardon, the Justice Department told a judge. "The president's pardon, which General Flynn has accepted, moots this case," the Justice Department said in filing yesterday with U.S. District Judge Emmet Sullivan in Washington. Read more from Erik Larson.
Giuliani Associates' Electronic Devices Not Cracked by FBI: FBI agents have still not accessed the electronics devices of two Rudy Giuliani associates arrested more than a year ago, and some suspect they never will, a federal prosecutor said yesterday. Nicolas Roos, an assistant U.S. attorney in Manhattan, raised the issue during a hearing in the case of Lev Parnas and Igor Fruman, who are charged with channeling foreign funds into U.S. political campaigns and working to oust then-U.S. ambassador to Ukraine Marie Yovanovitch. Separately, Fruman and Parnas worked closely with Giuliani in trying to dig up dirt in Ukraine on Biden, an effort that contributed to Trump's impeachment. Read more from Christian Berthelsen.
To contact the reporters on this story: Zachary Sherwood in Washington at zsherwood@bgov.com; Brandon Lee in Washington at blee@bgov.com
To contact the editors responsible for this story: Giuseppe Macri at gmacri@bgov.com; Loren Duggan at lduggan@bgov.com; Michaela Ross at mross@bgov.com