What to Know in Washington: Biden Stimulus Nears Final Approval
The House is poised to send the $1.9 trillion Covid-19 relief plan to President Joe Biden for his signature, providing an economic boost that will last long after $1,400 stimulus checks start arriving in Americans' accounts this month.
With four days until supplemental unemployment benefits begin running out, House Democratic leaders expect passage this morning.
The bill provides a template for a potential longer-term expansion of an American social-safety net that has long been much smaller than its European counterparts. Democrats say the near-$110 billion temporary expansion of the child-tax credit will help cut child poverty in half, while tax forgiveness on jobless benefits and student-debt relief will give help to millions more.
Economists this week were upping their projections for growth to incorporate the impact. Morgan Stanley yesterday raised their 2021 forecast for U.S. economic growth to 7.3% from 6.5%, a pace unsurpassed since the Korean War boom in 1951. The OECD the same day more than doubled its own estimate.
White House Press Secretary Jen Psaki said yesterday that the government won't have the checks — in the amount of $1,400 for each individual, phasing down to zero for those earning $80,000 or more — printed with Biden's name on them, as the Treasury seeks to accelerate their distribution.
Treasury Secretary Janet Yellen said her department is preparing to send out aid as rapidly as possible. "In the coming days, our Treasury team is going to work to get this aid out as in the quickest way possible — and the one that produces the greatest impact," Yellen said yesterday in the text of a speech for a virtual conference organized by the National League of Cities, Christopher Condon reports.
The nonpartisan Congressional Budget Office estimated that $1.1 trillion of spending under the relief bill would go out this year, with a further $459 billion coming in 2022. Read more from Erik Wasson and Katia Dmitrieva.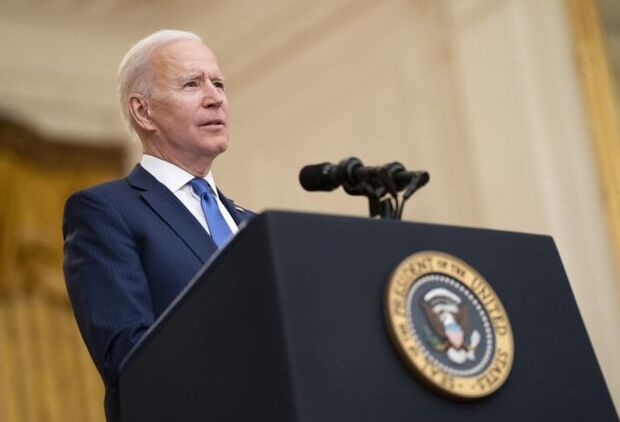 Also Happening on the Hill
GOP Leaders Support Legislation Stall in Protest: House Republican leaders defended rank-and-file members whose procedural tactics used against majority rule changes led Democrats to pull 13 bills from consideration Monday evening. The GOP members asked that bipartisan bills that usually sail through the chamber on voice votes instead be subject to lengthy roll call votes, including a bill commending Capitol police for efforts during the Jan. 6 riots and several Republican bills. Minority Whip Steve Scalise (R-La.) confirmed yesterday that party leaders weren't involved in the move, but he stood by it. Read more from Emily Wilkins.
Pentagon Approves Deployment of Guard at Capitol: The Pentagon has approved the continued deployment of the National Guard at the U.S. Capitol through at least May 23. Defense Secretary Lloyd Austin approved a request by the U.S. Capitol Police, according to a statement last night by John Kirby, a Pentagon spokesman. About 5,000 National Guard troops remain on duty in Washington. Read more from John Harney and Billy House.
Democrat Renews Consumer Privacy Effort: Rep. Suzan DelBene (D-Wash.) is introducing the first comprehensive federal privacy bill of the year today, after recent state efforts to protect consumer data underscored the need for a broad federal standard. The legislation would allow consumers to access and correct their data and opt-in to sharing sensitive personal information. DelBene's Information Transparency and Personal Data Control Act marks Congress' initial foray into privacy legislation this session, less than two weeks after Virginia joined California in the state-level push to advance broad consumer privacy laws. Read more from Rebecca Kern.
Tech's War With News Outlets Flares as U.S. Lawmakers Ready Bill: The battle between news publishers and Alphabet's Google and Facebook that flared up in Australia recently is coming to the U.S. Lawmakers plan to re-introduce legislation today to allow news organizations to band together to negotiate with the technology companies over payment for content and the data the companies have about readers. The legislation, which is being proposed in the Senate and House with bipartisan support, would make the U.S. the next front in the news industry's war against Facebook and Google. Read more from David McLaughlin and Sara Forden.
Landmark Labor Law Overhaul Passed by House: The House yesterday passed the most significant overhaul of federal labor law in decades. The Protecting the Right to Organize Act is the top legislative priority for organized labor groups and has the backing of Biden, but the business lobby is seeking to block the bill. Supporters also face a steep challenge overcoming a filibuster in the Senate. The bill was passed by the House on a 225-206 vote. The chamber previously passed the PRO Act last year along mostly party lines. Read more from Andrew Kreighbaum.
Regulators Urged on Bank Capital Rules: House Financial Services Chair Maxine Waters (D-Calif) urged U.S. regulators to maintain capital and leverage requirements for big banks while the economy is still recovering from the pandemic. She said it is "disappointing" to see banks being allowed to make capital distributions while agencies move toward weaker stress-testing requirements, Catherine Larkin reports.
Menendez Sees Additional Nord Stream 2 Sanctions: Senate Foreign Relations Chair Bob Menendez (D-N.J.) said he expects the U.S. to impose additional sanctions aimed at stopping construction of the Nord Stream 2 pipeline as Biden comes under increasing pressure to counter Russian influence in Europe. The White House "is working up their sanctions case that can stand up in court, but those take time, and they've been in office less than two months," Menendez said. Read more from Daniel Flatley.
Around the Administration
Biden Duo's Nudge Eased Merck-J&J Logjam: Biden will celebrate a Merck and Johnson & Johnson partnership today, which he has said his administration brokered to accelerate manufacturing of J&J's shot, the third vaccine the U.S. has authorized to prevent Covid-19. Biden has described the deal as one of several accomplishments that will lead to the U.S. having enough vaccines for every American adult by the end of May, two months earlier than he'd previously predicted. But it took a push from two of the president's advisers to reinvigorate simmering talks between the companies. Read more from Josh Wingrove and Riley Griffin.
EPA Staffers Want to See Biden's New Management Style: If he's confirmed by the Senate today, Michael Regan, Biden's pick to lead the EPA, will be walking into a beleaguered workplace full of tired, skeptical staffers, current employees say. For many—but by no means all—Environmental Protection Agency staffers, Biden's election signaled a return to bedrock environmental principles. But they also say they're not taking the new administration's promises at face value, and that Regan will have to prove to them that the EPA will follow through. Bloomberg Law spoke with a dozen current EPA employees, who said so far they've seen few signs of change in their day-to-day work lives. Read more from Stephen Lee.
HHS Sued in Attempt to Kill Trump-Era Rule: A California county sued the Department of Health and Human Services in an effort to safeguard regulations for food safety, public health and social services. A "Sunset Rule" proposed by the Trump administration was finalized the day before Biden's inauguration. It set automatic expiration dates for more than 18,000 Health and Human Services regulations, according Democracy Forward, which announced the lawsuit in a statement. "Unless it is immediately halted, millions of Americans, including more than 36 million children, will be hurt by the resulting regulatory chaos, uncertainty, and elimination of key protections," Democracy Forward said in the statement, referring to the rule. Read more from Joel Rosenblatt and Fawn Johnson.
U.S., Chinese Top Diplomats Weigh Meeting in Alaska: The U.S. and China are in talks for senior diplomats to meet in Alaska, The South China Morning Post reported, as the world's largest economies attempt to stabilize their strained relationship. The proposed meeting in Anchorage would include Secretary of State Antony Blinken and Chinese counterpart Yang Jiechi, the Hong Kong-based newspaper reported, citing a person briefed on the talks. Read more from Brendan Scott.
Biden Troop Deal With South Korea Calls for Modest Increases: The U.S. accepted a troop-funding increase from South Korea significantly less than demanded by the Trump administration, underscoring Biden's efforts to ease tensions with a key ally often criticized by his predecessor. South Korea agreed to pay 1.18 trillion won ($1.04 billion) to the U.S. for security this year, about a 14% increase from 2019, the Foreign Ministry said today in Seoul. The Asian nation would pay 5.4% more next year, with similar increases annually until 2025 under the six-year deal. Read more from Jeong-Ho Lee.
Iran Softens Stance With Offer of Phased Return to Nuclear Deal: Iran's President Hassan Rouhani held out the option of a gradual return to the 2015 nuclear deal for his country and the U.S., appearing to soften previous assertions that the Biden administration must lift all American sanctions at once for progress to be possible. Tehran was ready to fully recommit to the agreement's terms once the U.S. did so, Rouhani told a televised cabinet meeting today. But it would also consider a phased return by both parties, he said, while again stressing that it was up to Washington to make the initial move. Read more from Arsalan Shahla.
Kerry Sees New EU Ties Shifting Climate Push: A renewed alliance between the U.S. and the European Union on climate issues could shift the dynamics of major global talks, encouraging China and other top polluters to step up their efforts to reduce emissions, U.S. climate envoy John Kerry said. Read more from Ewa Krukowska.
Politics & Influence
Warren Builds Clout With Biden Through Staff Picks: Biden has shown little appetite for Sen. Elizabeth Warren (D-Mass.)'s trademark campaign proposal, a wealth tax, but she's won something else from the president, as nearly a dozen of her allies and former aides have joined his administration. Warren's associates hold top posts at the White House and at federal agencies handling issues ranging from financial regulation to national security and climate change. The hires have helped assuage progressives concerned Biden isn't sympathetic to their views, but have set off alarms in the banking and financial sector. Read more from Nancy Cook.
TV Newsman Roger Mudd Dies at 93: Roger Mudd, who covered politics and government from Washington for CBS and then NBC during a 45-year television career, has died. He was 93. He died Tuesday at his home in McLean, Va., according to the Washington Post, citing his son Jonathan Mudd. At both CBS and NBC, Mudd stopped just short of reaching the pinnacle of television news — serving as solo anchor of the evening newscast. Read more from Laurence Arnold.
To contact the reporters on this story: Zachary Sherwood in Washington at zsherwood@bgov.com; Brandon Lee in Washington at blee@bgov.com
To contact the editors responsible for this story: Giuseppe Macri at gmacri@bgov.com; Loren Duggan at lduggan@bgov.com; Michaela Ross at mross@bgov.com