What to Know in Washington: Biden Stimulus May Be Democrats Only
President Joe Biden and congressional Democrats signaled they're intent on a large pandemic relief bill, potentially without Republican support, even after a White House meeting with GOP senators yesterday that both sides described as productive.
While the 10 senators who participated described the meeting as "excellent" with "a very productive exchange of views," in a joint statement, White House Press Secretary Jen Psaki said Biden had emphasized that Congress had to act urgently and "boldly" and had pointed out many areas of disagreement with the Republicans.
House Speaker Nancy Pelosi (D-Calif.) and Senate Majority Leader Chuck Schumer (D-N.Y.) meanwhile introduced a budget resolution yesterday, the first step required to use a procedure called budget reconciliation that would allow much of Biden's $1.9 trillion stimulus to pass the Senate with only 51 votes.
Biden and the 10 Republicans agreed to have their aides continue to negotiate a bipartisan relief plan. The legislation is the president's top priority, and conceding to a GOP proposal that is one-third the size would be taken by his supporters on the left as a defeat. Read more from Justin Sink and Jordan Fabian.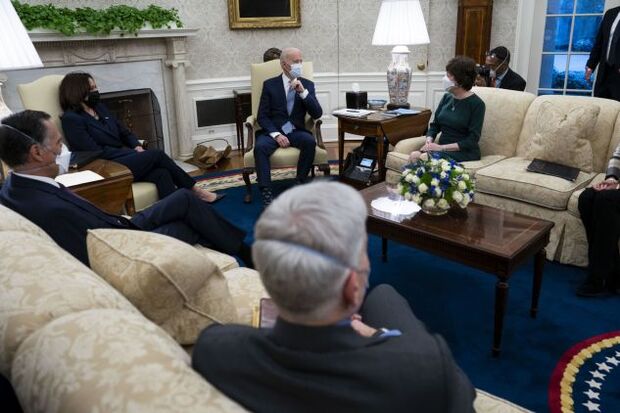 Also From the White House
Biden to Roll Back Refugee and Asylum Crackdowns: Biden will sign a trio of executive orders today to reverse Donald Trump's crackdown on asylum seekers and refugees, continuing his push to loosen his predecessor's strict immigration policies. Biden will direct the Department of Homeland Security to conduct a broad review of asylum programs that were targeted by the Trump administration, asking his administration to rescind proclamations, rules, and guidance documents intended to curb the entry of migrants seeking humanitarian protection in the U.S.
In a second executive order, Biden is ordering all federal agencies to conduct a review of policies and regulations that created barriers to legal immigration to the U.S. The order also re-establishes a White House task force dedicated to ensuring the legal immigration system works fairly and efficiently.
The president's third order will create a new task force charged with trying to reunite children who were forcibly separated from their guardians at the Mexico border under the Trump administration's zero-tolerance immigration enforcement policies. Read more from Jordan Fabian and Justin Sink.
Automakers Push Fuel-Economy Targets Modeled on California Pact: Automakers are lobbying Biden to accept a compromise approach for boosting fuel-economy standards that is less stringent than requirements he helped chart almost a decade ago. The push comes as the Biden administration rapidly develops a new plan for fuel-economy and tailpipe-emission standards for cars, trucks and sport utility vehicles through the 2026 model year. Hours after being sworn in, Biden gave the Environmental Protection Agency and Transportation Department a July 2021 deadline to decide whether to suspend, revise or rescind a Trump administration regulation that eased the standards he helped develop as vice president in 2012. Read more from Jennifer A. Dlouhy and Keith Laing.
Trudeau Raises Canada's Buy America Concerns: Canadian Prime Minister Justin Trudeau spoke to Vice President Kamala Harris yesterday over Canada's concerns over the Biden administration's Buy America measures in government contracting. Trudeau said he "looked forward to strengthening the bilateral trading relationship and Canada-U.S. supply chains, and avoiding the unintended consequences of Buy America policies," according to a readout of the call, Kait Bolongaro reports.
China Diplomat Offers 'Red Line' Warning: China's top diplomat warned the U.S. not to cross the country's "red line," in a pointed speech that pushed back against early moves by Biden to press Beijing on human rights. Yang Jiechi, who sits on the Communist Party's 25-member Politburo, said in a video address to a New York-based U.S.-China group that the two sides "stand at a key moment" to rebuild ties and cooperate after Biden's inauguration. But he placed the onus on the U.S. to repair the damage caused by the "misguided policies" of Trump. Read more from Bloomberg News.
Biden Overrules Trump on UAE Tariff: Biden said he would keep U.S. tariffs in place on aluminum imports from the United Arab Emirates — reversing a last-minute move by his predecessor to grant the Persian Gulf nation relief from the duties. The 10% tariff on the country's metal imports will remain in place for national security reasons, the White House announced last night. Aluminum ranks as the UAE's biggest exported good by value to the U.S. Read more from Jenny Leonard and Joe Deaux.
Wall Street Mania Poised to Spur SEC Focus: Smartphone apps, short-selling rules and steps to ensure broker solvency are all sure to get a closer look from Washington policy makers once the dust settles on the market turmoil that has buffeted GameStop and silver since the start of the year. Investigations into manipulation will keep the Securities and Exchange Commission busy for the foreseeable future. The House Financial Services Committee has scheduled a hearing for Feb. 18, likely putting government watchdogs and firms such as Robinhood Markets on the hotseat. Read more from Ben Bain, Claire Ballentine, Yalman Onaran and Sarah Ponczek.
Garland Lists Shares in Procter & Gamble, Pfizer: Biden's pick for attorney general, Merrick Garland, reported having shares in companies including Procter & Gamble and vaccine maker Pfizer. Garland, who hasn't been scheduled for a confirmation hearing, reported that he held between $250,001 and $500,000 in Procter & Gamble shares, up to $250,000 in cereal producer General Mills, and as much as $50,000 in Pfizer, documents given to the Office of Government Ethics. Read more from Bill Allison.
Top NLRB Lawyer Rolls Back Trump-Era Rules: The NLRB's new chief lawyer dumped a slew of Trump-era changes to the agency's enforcement of federal labor law, including several that had intensified union policing. Acting General Counsel Peter Sung Ohr rolled back 10 separate directives issued by former General Counsel Peter Robb. Read more from Robert Iafolla.
PPE Gaps Spur Post-Virus Production Goal: The Biden administration is working on getting a full picture of what the demand for personal protective equipment could be after the Covid-19 crisis subsides, and where there are still gaps in domestic manufacturing, Brig. Gen. David Sanford, director of the U.S. government's supply chain task force, told Bloomberg Law in an interview. The government is having an "honest discussion" of where domestic medical gear production gaps exist, Sanford said. Read more from Shira Stein.
Happening on the Hill
Trump Impeachment Defense to Dispute Process, Incitement Charge: Donald Trump's lawyers will mount a double-barreled defense of the former president in his impeachment trial next week, arguing that the process was rushed and partisan, and that his rhetoric to supporters who later stormed the U.S. Capitol was constitutionally protected.
A person familiar with Trump's still-evolving legal strategy said the defense would address head-on the allegation that Trump incited the violence at the Capitol on Jan. 6, which left five people dead. Part of that strategy might involve reports and other evidence that some people in the mob had planned the attack ahead of time.
Trump's unprecedented second Senate trial is set to begin next week, and today is the deadline for his newly reconstituted defense team to file his first response to the House of Representatives' single article of impeachment accusing him of incitement of insurrection. The House impeachment managers, who will prosecute the case, are to file their legal briefs on today as well, providing the first look at their strategy for the trial. Read more from Billy House, Mark Niquette and Gregory Korte.
McConnell Calls 'Loony Lies' a 'Cancer' for GOP: Senate Republican leader Mitch McConnell (R-Ky.) denounced the "loony lies and conspiracy theories" of controversial Rep. Marjorie Taylor Greene (R-Ga.). McConnell didn't specifically name Greene in a statement released yesterday but it was clear who he was referring to. "Somebody who's suggested that perhaps no airplane hit the Pentagon on 9/11, that horrifying school shootings were pre-staged, and that the Clintons crashed JFK Jr.'s airplane is not living in reality," McConnell said. He called such views a "cancer for the Republican Party and our country."
McConnell also weighed in on another internal House GOP conflict yesterday, praising Rep. Liz Cheney (R-Wyo.) for her "deep convictions" as she faces attacks from Trump loyalists over her vote to impeach the former president. Read more from Billy House.
Ocasio-Cortez Reveals Past Sexual Assault: Rep. Alexandria Ocasio-Cortez (D-N.Y.) detailed the moment she feared for her life during the Jan. 6 attack on the U.S. Capitol, disclosing that she's the survivor of a past sexual assault to drive home her accusation that some Republicans have been dismissive of her trauma. She described yesterday her growing fear in the days before the riot as supporters of Trump gathered in Washington while Congress prepared to certify the results of the Electoral College vote. Invoking her past experiences, she criticized conservatives who downplay the threats to lawmakers and say that she and other Democrats should move on. Read more from Jarrell Dillard.
Pingree Aims to Direct Biden Climate Agenda: The new head of the panel overseeing funds for the Interior Department and the Environmental Protection Agency is planning to use the annual spending process to advance Democrats' agenda on protecting the environment and addressing climate change. "I would hope we can use the appropriations bill as a mechanism both to fund some positive things, but also look for ways to maybe just direct some of the activities of the administration's policies in that direction," Rep. Chellie Pingree (D-Maine) said in an interview about her priorities in this Congress as head of the House Appropriations Interior-Environment Subcommittee. Read more from Kellie Lunney.
Pandemic Watchdog Scrutinizing Mnuchin, Cruz: A federal watchdog is looking into former Treasury Secretary Steven Mnuchin's decision to roll back the Federal Reserve's emergency lending programs at the end of 2020, an issue that has become a point of partisan tension in Congress. The Special Inspector General for Pandemic Recovery is also starting an inquiry into Sen. Ted Cruz's (R-Texas) role. Read more from Laura Davison.
GOP Committees Boast Money Edge: Senate Republicans and their allies started the 2022 election cycle with a fundraising advantage over Democrats and related groups, who ended the year in debt after investing in two Georgia seats that won them the majority. The Senate Leadership Fund, aligned with McConnell, had $5.2 million in net cash Jan. 1, while Senate Majority PAC, aligned with Schumer, started the year with net debts of $4.6 million. Read more from Kenneth P. Doyle.
To contact the reporters on this story: Zachary Sherwood in Washington at zsherwood@bgov.com; Brandon Lee in Washington at blee@bgov.com
To contact the editors responsible for this story: Giuseppe Macri at gmacri@bgov.com; Loren Duggan at lduggan@bgov.com; Michaela Ross at mross@bgov.com