What to Know in Washington: Biden Staffs Up for GOP Probes
Bloomberg Government subscribers get the stories like this first. Act now and gain unlimited access to everything you need to know. Learn more.
President Joe Biden faces an ugly new reality next year as Republicans threaten a torrent of investigations into his administration and family that could change his presidency and test his resolve.
The White House is bracing for the onslaught by ramping up the team that will handle the probes, including bringing on a key staffer from a powerful congressional committee: Russell Anello, the current House Oversight Committee staff director, who has experience dealing with GOP lawmakers eager to investigate Biden.
Republicans, who will control the House and be armed with subpoena powers, have floated investigations into the administration's handling of the southwest border, the chaotic withdrawal from Afghanistan, the origins of Covid-19 and the business dealings of the president's son, Hunter.
Georgia Representative Marjorie Taylor Greene, a Donald Trump loyalist, has already introduced articles of impeachment against Biden, and Homeland Security Secretary Alejandro Mayorkas and Attorney General Merrick Garland will be targets of probes.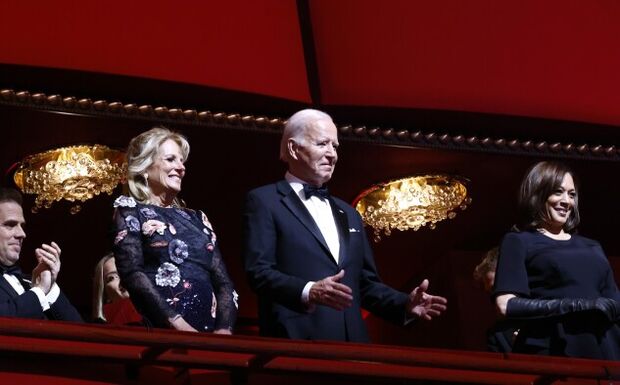 How Biden weathers the storm may determine his political standing heading into the 2024 election, in which he intends to run, as well as his ability to work with the divided Congress.
The White House argues any GOP inquiries or impeachment efforts will backfire on Republicans, who will hold only a razor-thin House majority. But that requires a disciplined response from Biden and his team, which has prepared for months to tackle the investigations.
Anello, who is expected to join the White House counsel's office to help respond to congressional inquiries, will be a crucial part of that effort. He served as chief counsel on the House committee on the coronavirus pandemic and worked in the White House counsel's office under President Barack Obama, who also faced Republican-led investigations.
More people are expected to join the White House team handling investigations, according to a person familiar with the matter. Read more from Jordan Fabian and Erik Wasson.
Lawmakers and the Biden administration are gearing up for a fracas on Capitol Hill as House Republicans escalate threats to impeach Homeland Security Secretary Alejandro Mayorkas. Read more
Separately, House Republicans Sunday announced a probe into reports of a failed "secret deal to boost oil production" between Biden administration officials and Saudi Arabia, as the party prepares to take majority control of the chamber next year. Read more
Happening on the Hill
CONGRESS' SCHEDULE
The House meets tomorrow at 9 a.m.
The Senate plans to return today at 3 p.m. and consider judicial nominations.
FTX's spectacular collapse should be a wake-up call for Congress to address risks posed by the largely unregulated crypto industry, Senate Banking Chairman Sherrod Brown (D-Ohio) said.
FTX founder Sam Bankman-Fried Sunday said he will testify before the House Financial Services Committee after he's finished "learning and reviewing" the events that led to the implosion of FTX. Read more
Max Miller, a former Trump aide who won an Ohio House seat in November, had cause for more celebration Friday. The incoming Republican lawmaker learned he would pick first in the House office lottery.
Prospects are dimming for Republican and Democratic lawmakers to find agreement on expanding business tax credits and reviving an expanded child tax credit—but the light isn't completely out.
Elections, Politics & Probes
With the Georgia runoff election just one day away, Republicans have been making an "us versus them" pitch that represents Herschel Walker's best shot at ousting incumbent Sen. Raphael Warnock (D-Ga.).
Biden sought to boost Warnock's campaign from afar on Friday, telling Democratic allies that his Republican opponent, Walker, did not "deserve to be in the United States Senate."
Democrats kept control of the Senate in November's midterm elections. So why is the political world so obsessed with who'll win Tuesday's Senate runoff election in Georgia?
Bloomberg's US politics editor Mario Parker, White House correspondent Nancy Cook and National editor Craig Gordon answer that question–and explain how this single seat will determine the outcome of political battles heading into the 2024 presidential election.
Democrats voted Friday to move the South Carolina primary to the front of their presidential nominating calendar, displacing Iowa in a bid to involve more minority voters and move away from caucuses that some say disadvantage working-class voters.
The move comes after James Clyburn (D-S.C.), the No. 3 House Democrat credited with boosting Biden's 2020 campaign, said the president called him to say he was recommending that South Carolina replace Iowa. Read more
Newly elected House Democratic leader Hakeem Jeffries (D-N.Y.) defended past remarks calling Donald Trump's 2016 election "illegitimate" against Republican criticism, noting that he voted to certify his presidency.
Republican John Duarte won the race for California's 13th Congressional District, the AP said. Duarte, a nursery owner and farmer, beat Democratic state assemblyman Adam Gray.
Doug Emhoff, the husband of Vice President Kamala Harris and the first Jewish spouse of a US leader, decried recent anti-Semitic comments by Ye and others saying, "it's painful, it hurts."
Meanwhile, Benjamin Netanyahu, who is set to return as Israel's prime minister, said Trump "probably understands that it crosses a line" after the former president dined with rapper Ye and white supremacist Nick Fuentes. Read more
Defense & Foreign Affairs
Biden met briefly on Friday with Prince William, who was in Boston. "We expect they will discuss their shared climate goals, prioritization of mental health issues, and decreasing the burden" of cancer, White House Press Secretary Karine Jean-Pierre told reporters aboard Air Force One ahead of the meeting.
FBI Director Christopher Wray said US officials are still discussing how to address national-security concerns posed by TikTok, in comments that suggested a deal to keep the video-sharing app operating in the US isn't a sure thing.
The US will concentrate on Iranian weapons supplies to Russia and on supporting protesters in the country, rather than on stalled talks to revive an international nuclear deal, the Biden administration's top Iran envoy said.
Biden administration officials are trying to reassure oil market participants that the newly agreed $60 price cap on Russian crude won't trigger supply disruptions and price volatility after it kicks in Monday.
Ukraine has lost at least $1 billion of wheat that was harvested in areas controlled by Russia, according to research using satellite imagery from NASA's food security and agriculture program. Read more
The US Air Force gave a first, carefully controlled glimpse at its B-21 bomber Friday, shedding a bit of the secrecy surrounding the $203 billion program to build a fleet of 100 stealthy warplanes.
The European Union should improve its state aid rules and consider more green-transition funding to offset possible distortions from the new US climate and tax law, said European Commission President Ursula von der Leyen.
Separately, French President Emmanuel Macron said he wants to resolve a dispute over industrial subsidies with the US "in the first quarter of 2023." Read more
A federal judge granted the Justice Department's request to drop charges against Meng, whose 2018 arrest in Canada on charges that the Chinese technology executive conspired to violate US sanctions on Iran set off a diplomatic standoff.
Mexico's Economy Minister Raquel Buenrostro met with US Commerce Secretary Gina Raimondo in Washington and discussed relocating companies and strengthening supply chains.
Around the Administration
PRESIDENT'S SCHEDULE
Biden at 6:30 p.m. hosts the Congressional Ball at the White House
At 2 p.m. White House Press Secretary Karine Jean-Pierre gives a briefing
The US government's finding that some Chinese solar manufacturers are evading decade-old tariffs threatens to undermine efforts to fight climate change in the world's biggest economy.
US health officials are preparing to end the emergency declaration for mpox, the virus known as monkeypox until recently, as cases dwindle to fewer than 10 cases per day on average.
A health messaging campaign aimed at rebuilding trust with members of the LGBT community must accompany eased FDA restrictions on blood donations, infectious disease doctors and policy analysts say.
The US Forest Service on Friday kicked off a 12-month test of the Ford F-150 Lightning electric pickup truck, part of its bid to green its entire fleet.
Biden hosted a reception at the White House on Sunday night for the annual Kennedy Center Honors, celebrating the work of artists including the band U2, actor George Clooney, singers Amy Grant and Gladys Knight, and composer Tania León.
To contact the reporters on this story: Brandon Lee in Washington at blee@bgov.com; Michaela Ross in Washington at mross@bgov.com
To contact the editors responsible for this story: Andrew Small at asmall@bgov.com; Giuseppe Macri at gmacri@bgov.com
Stay informed with more news like this – from the largest team of reporters on Capitol Hill – subscribe to Bloomberg Government today. Learn more.