What to Know in Washington: Biden Spending Bill Leaves Leftovers
President Joe Biden's acknowledgment that Democrats' massive tax and spending package will have to be pared back leaves an array of provisions that were expected to move with the legislation in limbo.
Some left-out pieces could be tackled by the administration—albeit in a lesser capacity—while others could find their way into bipartisan measures still on the agenda in Congress this year. Others, like paid family leave or farm aid will likely need to wait until next year.
Meanwhile, a path forward remains for Democrats in Congress on the Build Back Better Act that could include clean energy, child care, and health provisions, the White House signaled yesterday. Other pieces like an enhanced child tax credit are up in the air.
"I do see a smaller BBB package happening, but it's looking less like Christmas," said Yasmin Nelson, former tax policy adviser for then-Sen. Kamala Harris (D-Calif.), meaning that it's unlikely every Democratic priority in the earlier version would be included. Nelson is now senior principal at the law and lobbying firm Bracewell.
"If they've moved towards where it needs to go, and it's a few things done well, I think that bodes very well for BBB," said Ben Ritz, a policy director for the Progressive Policy Institute, referring to a scaled-back package that focuses on funding fewer programs for a longer amount of time. Bloomberg Government takes a look at what's still in play, what needs other vehicles, and what Biden's options are.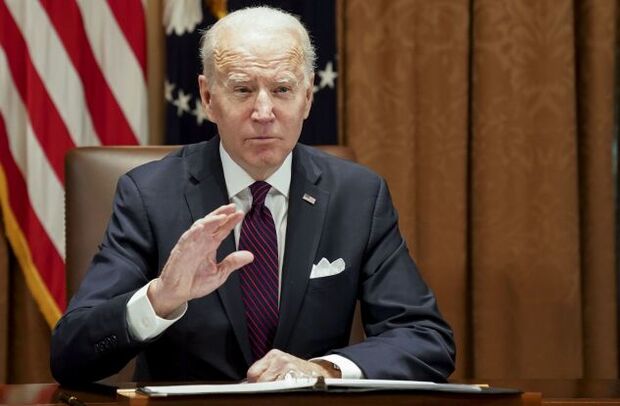 The White House's top infrastructure official today will lay out how the administration will aim to advance racial equity and respond to climate change in deciding how funds from the $1 trillion infrastructure law may be spent, even as Republican state officials push back on how Biden plans to distribute the funds. Mitch Landrieu, Biden's infrastructure coordinator, will outline a series of options for mayors to apply for billions in federal funds for roads, rail, transit, and clean water, according to the White House. Read more from Courtney Rozen.
States in coming months will begin receiving federal funds for electric vehicle chargers, but exact details of where and how the money will flow remain unclear. The infrastructure law set aside $7.5 billion for charging infrastructure, including $5 billion in formula funding to states, part of the Biden administration's push to deploy half a million chargers by 2030. But federal and state governments are still trying to figure out details of chargers and locations, including how to make them consistent and equitable. Read more from Lillianna Byington.
White House National Climate Advisor Gina McCarthy expressed confidence that tax credits for electric cars would survive in a reworked Build Back Better climate and social spending bill after Biden signaled willingness to accept "chunks" of the measure that's stalled on the Hill. "I'm not seeing any dispute about the need to continue to make sure these technologies are affordable and accessible to everyone," she said at a Q&A at the Washington Auto Show. Read more from Keith Laing.
Today's Agenda
Biden's Schedule:
The president will meet virtually at 8 a.m. with Japan Prime Minister Kishida Fumio.
At 11 a.m., Biden and Commerce Secretary Gina Raimondo will speak from the White House on the administration's efforts to increase the supply of semiconductors.
Biden at 1:50 will address the U.S. Conference of Mayor's winter meeting.
The president will depart Washington at 4 p.m. for Camp David.
Congress's Schedule
The House and Senate are out until Jan. 31.
Democrats Pursue Legislative Wins Ahead of November
Congressional Democrats are trying to salvage an election-year agenda after the defeat Wednesday of their voting rights legislation.
That deflating but expected outcome for the party came on the heels of the collapse of negotiations on the Build Back Better social spending package. Combined, it's left the party lacking some signature victories it would love to run on in what appears likely to be a difficult midterm election environment.
To beef up their accomplishments, House and Senate leaders are discussing ways to enact a scaled-back version of Build Back Better, as well as passing an omnibus spending measure and more pandemic economic aid. But they're cognizant of their political reality.
"Harder than hell," Senate Majority Whip Dick Durbin (D-Ill.) said in an interview about the outlook for this year. "Everybody is measuring every proposal against its impact in November. That doesn't mean we can't do anything, but it is more difficult to do."
The stakes are high for Democrats anxious to deliver on Biden's agenda before defending slim margins in both chambers. As the party in power, they face the historical trend of losing seats, and the president's approval rating may prove to be a drag. They've encountered numerous obstacles and distractions, including intraparty squabbles, Republican opposition, and the continuing Covid-19 threat, which has made governing particularly challenging. Read more from Nancy Ognanovich.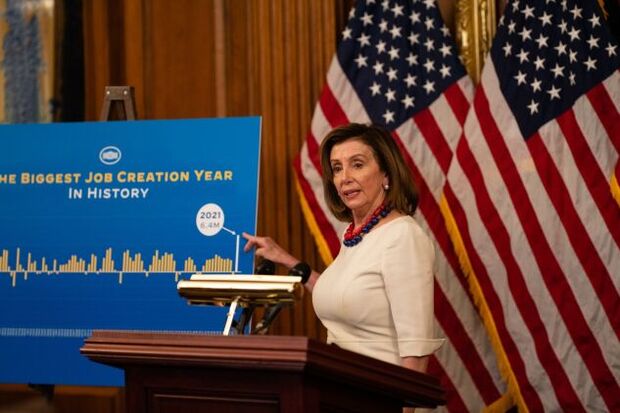 ALSO HAPPENING ON THE HILL:
Politics & Influence
The main influence firm for drugmakers spent a record amount on lobbying last year as Democrats attempted to pass legislation to allow the government to negotiate for better prices on medicines. The Pharmaceutical Research and Manufacturers of America spent almost $29.6 million on lobbying in 2021, the most the group has ever spent, according to federal disclosures filed yesterday. PhRMA wasn't alone: the Biotechnology Innovation Organization, which represents biotechnology companies, spent nearly $13.3 million in 2021, also a record for the group. The most PhRMA had spent on lobbying previously was $28.9 million in 2019, according to federal disclosures. BIO spent $12.5 million in 2020. Read more from Alex Ruoff.
Alphabet's Google escalated its spending on Washington lobbyists last year as the technology behemoth fought antitrust scrutiny from both federal enforcers and new legislation that would change the way some of its most popular products work together. Google's lobbying expenditures increased 27.5% in 2021 to $9.6 million, according to disclosure reports that were due yesterday. In addition to the specific antitrust bills, some of which could threaten Google's business model, the company's Washington team lobbied on a range of issues including cloud computing, the semiconductor supply chain, cybersecurity, global tax issues, pandemic contact tracing and the remote learning technologies that have become a central part of education. Read more from Anna Edgerton and Bill Allison.
The Atlanta prosecutor investigating former President Donald Trump's efforts to overturn Georgia's 2020 election results is seeking to convene a special-purpose grand jury to hear evidence in the case. Fulton County District Attorney Fani Willis asked a state judge in a letter yesterday to approve a panel that would begin meeting in May. Willis told Christopher Brasher, chief judge of Fulton County Superior Court, that a special-purpose grand jury was necessary because the investigation could endure longer than the term of a normal grand jury. Read more from Greg Farrell.
Another Republican is running for governor on the promise of creating a special squad of election-fraud police. Former Sen. David Perdue (R-Ga.) pledged yesterday to open an "Election Law Enforcement Division" in Georgia to investigate any claims of voting fraud, make arrests, and assure Georgians that "only legal votes will be counted." The pitch echoes one Florida Gov. Ron DeSantis (R) asked lawmakers to craft as he runs for his own re-election. Perdue is trying to oust incumbent Gov. Brian Kemp in the Republican primary. Read more from Jennifer Kay.
A congressional map designed to preserve a 5–1 Republican advantage in Kentucky's U.S. House delegation will become law after the GOP legislature yesterday easily overrode Gov. Andy Beshear's veto. The map most notably boosts Rep. Andy Barr (R), whose central 6th District in and around Lexington will become more Republican-friendly in part by transferring the state capital of Frankfort to the western 1st District of Rep. James Comer (R). Read more from Greg Giroux.
Around the Administration
Blinken Meets Lavrov as U.S. Strives for Clearer Line on Ukraine: U.S. Secretary of State Antony Blinken and Russian Foreign Minister Sergei Lavrov held security talks yesterday against the backdrop of increasingly urgent warnings by Biden that Russia could be planning an imminent intervention in Ukraine. "We don't expect to resolve our differences here today, but I do hope and expect that we can test whether the path of diplomacy and dialogue remains open," Blinken told Lavrov at the start of the meeting in Geneva. The crisis is at a "critical moment," he said. While a breakthrough is unlikely, Russia is "grateful" to the U.S. for taking part in the security talks, Lavrov said. "It will help you to come up with concrete answers to all our proposals and put forward your own counter-proposals if need be," he said. Read more from Henry Meyer and Peter Martin.
Yellen Hopes U.S. Inflation Gets Back to 2% by Year-end: U.S. Treasury Secretary Janet Yellen said she continues to forecast inflation falling close to 2% by the end of 2022. "I expect inflation throughout much of the year — 12-month changes — to remain above 2%," Yellen said yesterday in an interview with CNBC television. "But if we're successful in controlling the pandemic I expect inflation to diminish over the course of the year and hopefully to revert to normal levels by the end of the year, around 2%." Read more from Christopher Condon.
U.S. power grids need to boost their cyber defenses to find hackers faster to keep them from gaining control over operations, according to the country's top energy regulator. The Federal Energy Regulatory Commission is proposing to develop standards to monitor devices or equipment on bulk power systems, according to a notice issued yesterday. The proposed standards would seek to find hackers lurking within networks as opposed to current efforts that use a perimeter defense that focuses on trying to keep attackers out of sensitive networks. Read more from Naureen S. Malik.
The U.S. Supreme Court dealt a fresh rebuff to Texas abortion providers by refusing for a second time to return their suit challenging the state's sweeping ban to the trial judge who had once blocked the law. The justices without explanation dismissed the providers' request for an order directing a federal appeals court to return the case to U.S. District Judge Robert Pitman. The suit centers on the Texas ban on most abortions after about six weeks of pregnancy. The court's three liberal justices dissented. Read more from Greg Stohr.
Editor's Note: Friday's What to Know in Washington corrected the description of the Biotechnology Innovation Organization in the pharmaceutical lobbying story.
To contact the reporters on this story: Zachary Sherwood in Washington at zsherwood@bgov.com; Brandon Lee in Washington at blee@bgov.com
To contact the editors responsible for this story: Giuseppe Macri at gmacri@bgov.com; Loren Duggan at lduggan@bgov.com; Michaela Ross at mross@bgov.com