What to Know in Washington: Biden Slims Land for Oil, Gas Leases
Biden shrinks federal land for oil, gas leases despite pump prices
Treasury blames income audit imbalance on IRS underfunding
President Joe Biden is dramatically curtailing U.S. public land available for new oil and gas development as his administration restarts leasing with new environmental protections.
The shift is part of a Bureau of Land Management plan to continue selling gas and oil drilling rights on federal land concentrated in the western U.S. When the government holds those auctions, expected later this year, roughly 80% less land will be available for oil and gas, according to the Interior Department. Energy companies also will have to pay higher royalties for the oil and gas they extract from the newly leased lands.
Those changes, which would ultimately boost the cost of oil and gas development on federal lands, might clash with Biden's efforts to subdue persistently high gasoline prices by tapping crude from the country's emergency stockpiles and authorizing wider summer sales of a cheaper higher-ethanol fuel. Still, the leasing plan, which does not apply to U.S. coastal waters, falls far short of some climate groups' demands that the administration permanently halt oil and gas development on public land.
The administration's plan to sell new leases is "a reckless failure of climate leadership," said Randi Spivak, public lands director at the Center for Biological Diversity. Meanwhile, oil industry advocates argue the U.S. can't afford to restrict oil and gas development on federal lands and waters that provide nearly a quarter of the country's crude production. Anne Bradbury, head of the American Exploration and Production Council, called the decision "a step in the right direction."
The changes flow from a Biden administration assessment last year that said the federal government's oil and gas leasing program should be overhauled to better account for climate change and ensure a higher return to taxpayers. The shift seeks to target the highest-potential territories while avoiding wildlife habitats and sensitive cultural areas. Read more from Jennifer A. Dlouhy.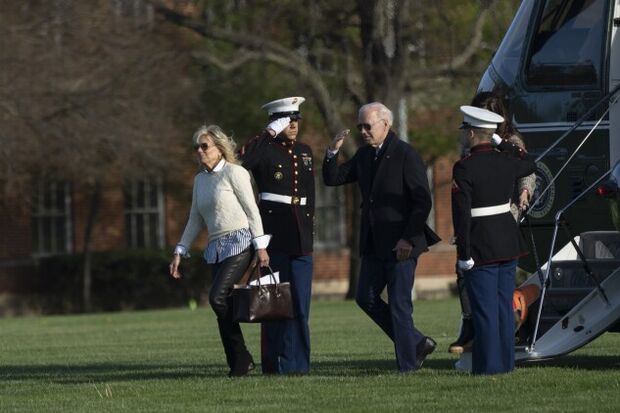 Biden also faces significant hurdles in his effort to reach net-zero emissions by 2050, including a daunting maze of environmental concerns and permitting requirements that stand in the way of thousands of carbon capture projects that may be needed to help reach that goal. The administration estimates over 1,000 carbon capture operations may be needed to trap up to 1.7 billion tons of carbon dioxide emissions each year. It would be an ambitious undertaking, requiring a ten-fold increase in current projects over the next decade.
Power plants and big-emitting industries like steel and cement also face big challenges to make carbon capture—a decades-old process that has traditionally been limited to oil recovery—cost-effective. They'd also need considerable technological leaps to divert significant emissions into underground reservoirs and other geological formations.
Congress has chipped away at some permitting hurdles and expanded tax credits, pilot projects, and research dollars for permanent storage of carbon, the most prevalent greenhouse gas. But without comprehensive climate legislation or carbon tax plans on the horizon, the wave of carbon capture projects seen as vital in combating a changing climate could amount to little more than a trickle. Read more from Dean Scott.
White House climate adviser Gina McCarthy pushed back against media reports that she plans to resign, saying they're inaccurate and "we have much more work to do." Key parts of the administration's climate agenda have been stymied in the Senate and the courts. Read more from Justin Sink.
IRS, Addicted to Paper, Falls More Behind as Its Mail Piles Up
Tax Day is here, bringing the end of another challenging filing season for tax professionals, IRS workers, and the taxpaying public. IRS Commissioner Chuck Rettig came to the agency in 2018 with decades of experience as a Beverly Hills-based tax attorney, billing himself during a Senate confirmation hearing as someone intimately familiar with the difficulties taxpayers face in dealing with the agency. The next year, Congress passed an IRS reform law that called for the agency to improve its customer service.
And yet, the IRS is still struggling. The last three filing seasons have been marred by a backlog of unprocessed paper returns, confusing tax code changes, and many times more phone calls to IRS help lines than the agency can handle. Further, the pandemic magnified longstanding structural deficiencies that hinder the agency's ability to fulfill its core mission of collecting revenue and enforcing tax laws—problems that money alone can't solve.
In a multi-part series, Bloomberg Tax takes a deep dive into the problems plaguing the IRS. Reporters asked current and former government officials, agency watchdogs, and tax professionals to break down how the agency landed in such a dire situation and offer their plan for how the agency can be fixed. Read more from David Hood, Naomi Jagoda and Jasmine Ye Han.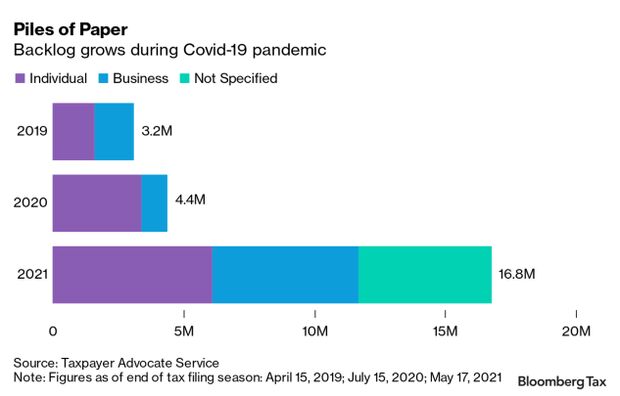 Still, for the first time in three years, the IRS's scheduled deadline of April 18 will be met, as the IRS largely was able to manage millions of individual returns despite continuing pandemic-related complications. Delayed dates for 2020 and 2021 filings had sown confusion for taxpayers and created a last-minute chaos at the IRS to update systems. The average refund so far for 2021 is $3,175, 9.9% higher than in 2020. Read more from Laura Davison.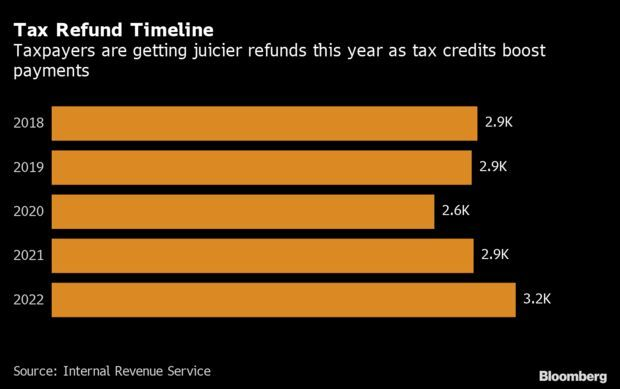 Meanwhile, Treasury officials blamed the IRS's outsized number of audits on low-income households on severe underfunding of the agency by Congress.
Audits on filers with higher net worth require more time and expertise, and the agency's underfunding has led to a significant loss of personnel capable of performing those, senior Treasury officials told reporters in a telephone conference Friday.
They were responding to a study from Syracuse University showing households making less than $25,000 were almost three times as likely to get audited in tax year 2021 than those making $200,000 to $1 million. The numbers prompted two Democratic lawmakers to write a letter to Rettig demanding an explanation. Read more from Christopher Condon.
Policy, Politics & Probes
Donald Trump's fundraising committee that targets small donors raised $19 million in the first quarter, according to its latest filing, while the Republican Party's heaviest donors are pouring millions into groups tied to the House and Senate leadership. The Save America Joint Fundraising Committee, which raises funds for Trump's political operations, pulled $9 million from donors who gave less than $200. Continued financial support by his base has allowed Save America to amass $110 million through February—not counting $5 million it received from the joint fundraising committee last month. Even so, that support dipped as the primary season ahead of the mid-term elections heats up. Read more from Bill Allison.
Trump endorsed venture capitalist and "Hillbilly Elegy" author JD Vance in the crowded May 3 Republican primary for Senate in Ohio, offering support that could decide a very close race in a key election for determining control of the chamber in November. Trump endorsed Vance despite the candidate's prior comments criticizing the former president and a last-minute effort by GOP officials in Ohio urging Trump to stay out of the race. Vance "may have said some not so great things about me in the past, but he gets it now," Trump said in a statement. Mark Niquette has more.
A Trump-era EPA chief has filed to run in the coming special election to replace the outgoing Oklahoma Sen. James Inhofe (R). If Scott Pruitt wins, Republicans will have essentially replaced one high-profile proponent of environmental deregulation with another. Although Pruitt's 17-month tenure at the Environmental Protection Agency was plagued by a slew of public scandals—many regarding his personal conduct in office—he remains popular in Oklahoma, where he served as attorney general, one Oklahoma City-based political consultant said. Read more from Stephen Lee.
Join our webinar for insights on the key policy items Congress plans to tackle as it returns from its spring recess. Bloomberg Government's analysts April 27 will discuss what House and Senate leaders plan to prioritize for the remainder of 2022, with an eye on what can be accomplished before the midterm elections or possibly left to a lame-duck session. They'll talk about the latest on bills to boost U.S. manufacturing to compete with China, proposals to reauthorize key programs that committees are exploring, and whether there's any chance for a budget reconciliation. Register here .
Defense & Foreign Affairs
Ukrainian President Volodymyr Zelenskiy said he hopes Biden will visit to survey the devastation from Russia's invasion. "I think he will," Zelenskiy told CNN in an interview that aired Sunday. "It's his decision, of course, and the safety situation depends. But I think he's the leader of the United States and that's why he should come here to see." White House aides said after U.K. Prime Minister Boris Johnson and Zelenskiy met in Kyiv on April 9 that they hope a senior U.S. official will visit Ukraine in the coming weeks. Read more.
Mariupol's military defenders and a civilians in the southern port city are resisting while "basically encircled by Russian forces," Ukrainian Foreign Minister Dmytro Kuleba said. "The city doesn't exist anymore," Kuleba said on CBS. "It seems from the way the Russian army behaves in Mariupol, they decided to raze the city to the ground at any cost." Mariupol's mayor has estimated that more than 10,000 civilians were killed. Read more.
Ukraine is running a budget deficit of about $5 billion a month, Prime Minister Denys Shmyhal said ahead of a visit by Ukrainian finance officials to Washington for the spring meetings of the International Monetary Fund and the World Bank. "We need more money for executing our humanitarian and social obligations," he said on ABC. "Now only half of our economy is working. So we ask for financial support." Read more.
Biden will host leaders of ASEAN countries on May 12-13 in Washington, signaling U.S. efforts to engage with the group in the competition with China for regional influence. A White House statement announcing the special summit with the 10-country Association of Southeast Asian Nations said that the U.S. administration shares a "commitment to advance an Indo-Pacific that is free and open, secure, connected, and resilient." Read more from Susanne Barton.
The Treasury is searching for tech to help ward off cyberattacks, following the 2020 SolarWinds breach by Russian hackers. Sector leaders are excited about the agency's interest in leveraging cybersecurity and fintech products from a small business innovation program that the Treasury doesn't itself participate in. Read more from Josh Axelrod.
The Department of State approved a request by Nigeria to buy a dozen attack helicopters to tackle rising insecurity across Africa's most populous nation. The Defense Security Cooperation Agency, an office of the Defense Department, has "delivered the required certification notifying Congress of this possible sale," it said in a statement. If finalized, the order would comprise 12 AH-IZ attack helicopters, 28 engines, and 2,000 precision weapon systems, for a total cost of $997 million, the statement said. Read more from William Clowes.
Meanwhile, some nationals from neighboring Cameroon were given Temporary Protected Status by the U.S. for 18 months. Cameroonians living in the U.S. as of April 14 who face threats of violence in their home country will be eligible for the status. The designation by the Homeland Security Department is the first time individuals from the African nation have been allowed to stay in the U.S. under TPS. Read more from Andrew Kreighbaum.
Around the Administration
BIDEN'S SCHEDULE:
The president delivers remarks at 10:15 a.m. at the 2022 White House Easter Egg Roll.
Press secretary Jen Psaki is scheduled to speak to reporters at 4 p.m.
Biden will take action to extend the moratorium on student loan payments or decide whether he plans to cancel student debt through executive action in the coming months, White House Press Secretary Jen Psaki said. The freeze on student loan payments "is either going to be extended, or we're going to make a decision" about canceling debt, Psaki said during a taping of the "Pod Save America" podcast. As a presidential candidate, Biden said he supported canceling $10,000 in federal student debt. Since he took office, the White House has said that Congress needs to pass legislation to do so. Read more from Justin Sink.
Free birth control, colonoscopies, and vaccines have helped convince millions to enroll in Obamacare coverage. But now conservatives are vying to revive an arcane legal principle, one not entertained by the U.S. Supreme Court in 80 years, to argue the government has no right to require insurers to fully cover preventive services. They may have a slate of judges lined up who agree. The spat is before U.S. District Judge Reed O'Connor, the same judge in Texas who ruled the Affordable Care Act was unconstitutional in 2018. Read more from Lydia Wheeler.
The U.S. announced $226.5 million in American Rescue Plan funds to begin the Community Health Worker Training Program, the Health and Human Services Department announcement Friday. The multiyear program will increase the number of community health workers who connect people to care, focusing on education and on-the-job training, the HHS said. The Health Resources and Services Administration plans to train 13,000 community health workers through the program to increase care access, the department said. Read more.
To contact the reporter on this story: Brandon Lee in Washington at blee@bgov.com
To contact the editors responsible for this story: Michaela Ross at mross@bgov.com; Giuseppe Macri at gmacri@bgov.com