What to Know in Washington: Biden Signs Juneteenth Holiday Bill
President Joe Biden plans to sign legislation today that would make June 19 a federal holiday commemorating the end of slavery in the U.S., after the House and Senate passed the bill in votes earlier this week.
The measure to establish the Juneteenth National Independence Day passed 415-14 yesterday, a day after it cleared the Senate by unanimous consent.
"With this step Congress is ensuring that one of the most momentous events in our history, particularly Black Americans, for 150 years now is officially recognized and it is enshrined in our history books and it takes its place of honor in our nation," Speaker Nancy Pelosi (D-Calif.) said on the House floor before the vote.
Biden will put his signature on the legislation and deliver remarks with Vice President Kamala Harris at the White House this afternoon, according to a statement released shortly after his return late yesterday from nearly a week of travel to summits in Europe.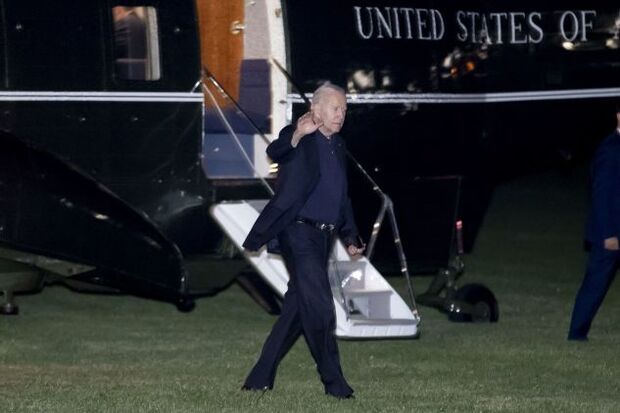 Happening on the Hill
Today's Agenda:
Bipartisan Infrastructure Plan Gains Support: Prospects for a bipartisan deal on the biggest infrastructure package in decades improved yesterday as 21 senators, including 11 Republicans, signed onto a bipartisan framework for a $579 billion package. Such legislation would still need support from nearly all 50 Democrats in the chamber unless more Republicans sign on, and it includes a funding mechanism — indexing the national gasoline tax to inflation — that the White House has opposed.
There are a "lot of preconditions" from Republicans and Democrats both, so getting an overall deal "will be a challenge," Sen. Mark Warner (D-Va.), a member of the negotiating group, said after a meeting with White House officials to discuss the latest outline of a compromise. Even so, the developments showcased a turnaround from the start of last week, when Biden ended direct talks with a Republican group of senators without agreement. Read more from Erik Wasson and Laura Litvan.
Manchin Lists Demands for Voting Rights Bill: Manchin delivered a list of changes he wants to see in voting rights legislation in a bid to strike a compromise on an issue that's put him at odds with the rest of his party. Manchin is the only Democrat in the chamber who hasn't signed onto a Senate version of the sweeping overhaul of election laws that Schumer will try to bring to the floor next week. Read more from Laura Litvan and Steven Dennis.
Schumer has put voting rights legislation in the legislative calendar, setting up procedural votes on the measure, according to his spokesman, Laura Curtis and Laura Litvan report. "This legislation could act as the vehicle for the voting rights legislation being discussed with Senator Manchin, which could be added as a substitute amendment," Spokesman Justin Goodman said in an emailed statement.
Democrats Weigh Plan to Push Immigration Changes: Senate Democrats are weighing plans to speed some components of a stalled immigration overhaul through the Senate later this year as part of a broad Democrat-only measure with much of Biden's economic agenda. The idea was discussed yesterday at a meeting between Senate leadership and all 11 Democrats on the Senate Budget Committee, said Sen. Tim Kaine (D-Va.), one of the participants. Read more from Litvan and Dennis.
Bill to Mandate Disclosure of Climate Risks Passes: Publicly traded companies would be required to disclose financial risks related to climate change under a bill passed by the House yesterday and sent to the Senate where it faces an uncertain future. The bill would also require disclosure of other so-called environmental, social, and governance information such as that related to political spending, tax jurisdictions and executive pay raises. Read more from Ari Natter and Michael Smallberg.
Bipartisan Bill Would Boost Coastal Restoration: Senators from Louisiana and Rhode Island are unveiling a bipartisan effort to increase funds for coastal conservation to their states, an area they say the federal government has neglected. Sens. Sheldon Whitehouse (D-R.I.) and Bill Cassidy (R-La.) will announce legislation today that would boost to 50% the share of revenue from oil and gas production that Gulf Coast states receive. The measure also would help Rhode Island and other coastal states involved in offshore wind production by securing the same revenue split for them. Read more from Kellie Lunney.
Puerto Rico's Path to Statehood Divides Democrats: Internal Democratic Party divisions over two separate bills that aim to give Puerto Rico the option to become a state have stalled progress on both. Some lawmakers are hoping that impasse may come to an end soon after the release of a Department of Justice report that assessed the bills' constitutionality. It was requested by Rep. Raúl Grijalva (D-Ariz.), chair of the House Natural Resources Committee. Read more from Emily Wilkins.
IRS Asked for Answers on ProPublica Billionaire Leak: The top Republican on the House Ways and Means Committee oversight panel asked the Internal Revenue Service for details about how it is handling a story in ProPublica that disclosed the tax details of several wealthy Americans. Rep. Mike Kelly (R-Pa.) questioned if the agency had asked ProPublica to stop further releases of taxpayer data and if the U.S. was taking action to stop the release of confidential information, Laura Davison reports.
Lawmakers Urge SBA to Speed Up Grants to Shuttered Venues: Over 200 members of Congress are demanding the Small Business Administration provide faster relief payments to shuttered venues. The Shuttered Venue Operations Grant was established by a December 2020 law to support venue operators as the pandemic continued to take its toll on small businesses. But the program's rollout has hit several obstacles, adding to uncertainty for venue operators. Read more from Isabelle Sharraf.
Politics & Influence
Earmark Return Boosts Lobbyists for Localities: Van Scoyoc Associates, the lobbying firm that once reigned as a leader in nabbing local earmarks, was eager to get back into the game this year when Congress revived the practice of designating funding for lawmaker projects. When the House released its latest round of spending requests, the firm was among the leaders on K Street in clinching projects, according to a Bloomberg Government review of data from the House Appropriations Committee and the Senate's lobbying disclosures.
Its winners include a $1.5 million request for a water treatment system for the city of Thousand Oaks, Calif., $833,000 for Dallas Area Rapid Transit smart bus technology, and $142,500 for the Regional Transportation Commission of Southern Nevada to add additional bikeshare stations and e-bikes to the system. Read more from Megan R. Wilson and Jack Fitzpatrick.
Former Democratic Aide Heads to Capitol Counsel: Jonathan Kott, a longtime aide to Sens. Chris Coons (D-Del.) and Manchin, has joined the top lobbying firm Capitol Counsel as a partner. Kott's final day with Coons, whom he served most recently as communications director and strategic adviser, was last Friday. Before that, he served as executive director of a 501(c)(4) group called the Big Tent Project and worked as communications director and strategic adviser to Manchin. Read more from Megan R. Wilson.
Republicans Fall Short in Voting-Rights Crackdown: A nationwide move by Republicans to tighten voting rules in the wake of Donald Trump's defeat has largely fizzled into a few additional hassles for voters in the next elections, far short of the sweeping changes described by both the GOP and Democratic critics. In the name of election security, Republican lawmakers passed dozens of new voting restrictions this year, adding hurdles to mail-in voting, reducing local control over elections and targeting innovations used by large urban counties during the coronavirus pandemic, even as Democratic-led states focused on making voting easier. Read more from Ryan Teague Beckwith, Allison McCartney and Mira Rojanasakul.
FEC Says Democratic, Ukraine Ties Didn't Break Law: No campaign finance laws were violated by contacts between a Ukrainian-U.S. consultant and Democrats connected to Hillary Clinton's 2016 presidential campaign, federal election regulators determined. The Federal Election Commission voted 4-2 to dismiss allegations that Ukraine's links to the Clinton campaign violated laws against foreign influence in U.S. elections, according to an FEC document released yesterday. Kenneth P. Doyle has more.
Around the Administration
Biden, Putin Paper Over Divisions: Biden said he wanted to meet Russia's Vladimir Putin in Geneva to set some "rules of the road" in a relationship that's been eroding for years. After roughly three hours together, the two leaders showed how differently they interpreted that goal. Putin got one thing he craved—legitimacy on the international stage. Biden said he confronted Putin over cyberattacks, human rights, and nuclear weapons. But concrete accomplishments were hard to define. Nick Wadhams and Henry Meyer have more.
Khan to Bring Scrutiny to Big Tech's Data Dominance: The Federal Trade Commission's new chairwoman, Lina Khan, is expected to examine how consumer data collection contributes to the dominance of U.S. tech giants as the head of the agency. Khan takes the helm at the commission as privacy advocates, including Consumer Reports and the Electronic Privacy Information Center, push for the agency to flex its enforcement powers and tap into its rulemaking abilities to safeguard consumer data. Read more from Andrea Vittorio.
More Time Needed on FDA Pick, Becerra Says: Manufacturers of prescription drugs and medical devices are on pins and needles as they await news of who will lead the Food and Drug Administration, and HHS Secretary Xavier Becerra said the decision will come once Biden finds time to make that crucial decision. "This is one of those positions where obviously the president is very interested because FDA is just not another agency—it's a critical agency," Becerra said. Read more from Shira Stein.
EPA Water Office Wins Senate Confirmation: The Senate voted yesterday to confirm Radhika Fox, the Biden administration's nominee to head up the EPA's Office of Water. Fox was confirmed by a 55-43 vote, making her the first woman of color and the first person of Asian American descent to lead the Environmental Protection Agency's water office. One of her trickiest tasks will be ironing out a new definition of what qualifies as a federal waterway. Read more from Stephen Lee.
Pentagon to Consider Hundreds of Malpractice Claims: The Pentagon will be able to begin considering hundreds of medical malpractice claims next month, after military victims of botched procedures and misdiagnoses have waited for over a year. The Biden administration yesterday was set to unveil its interim final rule to process at least $2 billion in claims that have already been filed, a Federal Register notice said yesterday. Roxana Tiron has more.
U.S. Sues to Block Aon's $30 Billion Willis Towers Deal: The Justice Department sued to stop Aon's proposed $30 billion acquisition of Willis Towers Watson, saying the deal to create the world's largest insurance brokerage is anticompetitive. The department's antitrust office filed a lawsuit in federal court in Washington yesterday, asking a judge to block the deal because it would create too much concentration in the market and harm businesses, employees, and retirees. David McLaughlin and Max Reyes have more.
Chinese Surveillance Cameras Targeted by FCC on Security Worries: U.S. regulators are poised to ban products from Huawei and four other Chinese electronics companies, including surveillance cameras widely used by American schools but linked to oppression in western China, stepping up pressure on tech suppliers alleged to be security risks. Read more from Todd Shields.
U.S., U.K. Reach Boeing-Airbus Truce Following EU Agreement: The U.S. and U.K. reached a truce in a trade dispute involving Airbus and Boeing, agreeing to a five-year suspension on tariffs affecting various goods. Products such as Scotch whiskey, biscuits and clotted cream had been hit by additional duties of 25% because of the spat, and the agreement between the U.S. and Britain suspends the tariffs until 2026 while talks take place, U.S. Trade Representative Katherine Tai's office said in a statement today. Read more from Eric Martin and Joe Mayes.
To contact the reporters on this story: Zachary Sherwood in Washington at zsherwood@bgov.com; Brandon Lee in Washington at blee@bgov.com
To contact the editors responsible for this story: Giuseppe Macri at gmacri@bgov.com; Loren Duggan at lduggan@bgov.com; Michaela Ross at mross@bgov.com