What to Know in Washington: Biden Signals Move From Iowa Caucus
Bloomberg Government subscribers get the stories like this first. Act now and gain unlimited access to everything you need to know. Learn more.
President Joe Biden offered the strongest indication yet that Democrats will ditch Iowa as the kick-off to their presidential nominating process, saying the party should favor more diverse states and abandon time-intensive caucuses that he says freeze out working class voters.
Biden, in a letter to the Democratic National Committee's Rules and Bylaws panel released on Thursday night, did not name individual states, but said: "We must ensure that voters of color have a voice in choosing our nominee much earlier in the process and throughout the entire early window."
For more than a generation, the Iowa caucuses and the New Hampshire primaries have been the first forums where voters can begin selecting both the Republican and Democratic nominee, giving the two small, predominately White states enormous political influence.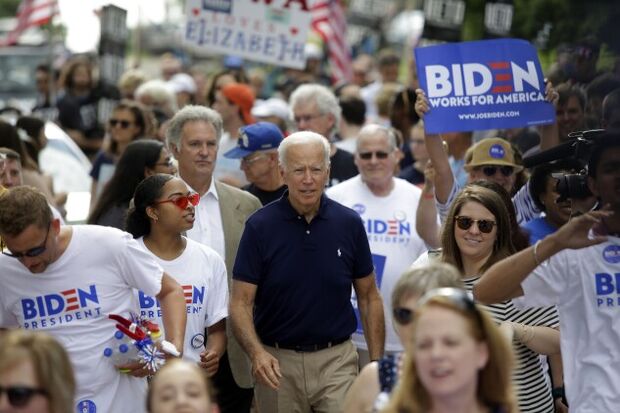 The president's letter spells out that he wants a process that would not only include a more diverse voting public but abandon caucuses altogether.
"Our party should no longer allow caucuses as part of our nominating process. We are a party dedicated to ensuring participation by all voters and for removing barriers to political participation," Biden said.
"Caucuses — requiring voters to choose in public, to spend significant amounts of time to caucus, disadvantaging hourly workers and anyone who does not have the flexibility to go to a set location at a set time – are inherently anti-participatory."
The DNC committee this weekend will consider a proposal that would place South Carolina first in the nominating process, followed by New Hampshire and then Nevada. Georgia and Michigan would follow, according to a person familiar with the proposal, who asked for anonymity to discuss private matters.
Happening on the Hill
CONGRESS' SCHEDULE
The House meets at 9 a.m. to vote on legislation to renew federal funding for maternal and infant home health visits
The Senate has adjourned until Monday at 3 p.m.
Negotiators of the annual defense authorization bill scrapped a provision that would have expanded the selective service registration, used for the military draft, to women, says Rep. Mike Rogers (Ala.), the top Republican on the House Armed Services Committee.
Next week the House plans to take up combined reauthorizations of the Water Resources Development Act (H.R. 7776) and the National Defense Authorization Act (H.R. 7900). Armed services committee leaders in both chambers finished brokering a compromise defense policy bill this week to boost national security spending by about $45 billion more than Biden proposed, Roxana Tiron reports.
House Democrats are keeping Rep. Jim Clyburn (D-S.C.) at the leadership table next year in a nod to an older generation as the caucus undergoes a transition with younger members poised to fill more leadership roles.
Senate Majority Leader Chuck Schumer (D-N.Y.) and immigration advocates urged the Biden administration to continue and expand removal protections and work authorization for roughly 100,000 Haitians in the US.
Financial-technology companies that distributed Paycheck Protection Program loans often employed lax oversight that allowed fraudsters or ineligible individuals to receive relief funded by taxpayers, a congressional report found.
The top senator on a Senate science panel wants more integration between the government's satellite earth observation capabilities and the private sector's to respond to climate threats and coordinate tech innovations.
Momentum is building in Congress to increase the business transaction threshold as lawmakers from both parties and e-commerce platforms clamor for changes to new tax reporting requirements.
Elections & Politics
Barack Obama returned to Atlanta Thursday night to help Democrat Raphael Warnock energize Black voters, while his Republican opponent, Herschel Walker, spent the day swooping through Georgia's rural hamlets and smaller cities, putting on display how crucial turnout is for their Dec. 6 Senate runoff election.
Former president Donald Trump "knew exactly what was going on" at two of his companies accused of tax fraud, a New York prosecutor told jurors at the close of a monthlong trial.
The Justice Department's criminal investigation into Donald Trump's handling of White House documents got a major boost Thursday, as a federal appeals court ruled a judge was wrong to interfere with the probe by appointing a special master to review material seized from the former president's Mar-a-Lago home.
Writer E. Jean Carroll urged the District of Columbia's highest local court to reject what her lawyers described as a "troubling" position by Donald Trump and the Justice Department that elected officials are immune against defamation claims whenever they speak about matters of public concern.
Around the Administration
PRESIDENT'S SCHEDULE
Biden at 2:50 p.m. meets the Prince of Wales at the John F. Kennedy Library and Museum in Boston, Massachusetts
At 4:10 p.m. the president participates in an International Brotherhood of Electrical Workers (IBEW) phone bank in Boston
Biden will participate in a Democratic Senatorial Campaign Committee reception at 5:45 p.m. in Boston
A top European Union commissioner pulled out of a key meeting with US officials, saying the summit dedicates too little time to addressing EU leaders' concerns about a new US climate and tax law.
Apple Chief Executive Officer Tim Cook, Bank of America CEO Brian Moynihan, KKR and Co. co-founder Henry Kravis and film producer Jeffrey Katzenberg were among the guests Thursday at President Joe Biden's first state dinner honoring French President Emmanuel Macron.
The fate of grocery store workers is emerging as a pivotal factor in the Federal Trade Commission's impending decision on whether to sue to block The Kroger Co. 's $24.6 billion acquisition of Albertsons Cos.
The Biden administration proposed a ban on waste disposal that would thwart a long-planned gold and copper mine in Alaska, citing the potential harm to the area's thriving sockeye salmon industry.
The Biden administration's new onshore oil and gas leasing strategy is expected to concentrate new drilling in existing oil fields even as it gives companies reasons to flee federal land—a situation that dismays both environmentalists and industry.
US authorities are asking crypto investors and trading firms that worked closely with FTX to hand over information on the company and its key figures, including founder Sam Bankman-Fried and the former head of his Alameda Research investment arm, Caroline Ellison.
The US Justice Department's bankruptcy watchdog is calling for an independent probe into the collapse of FTX Group, saying a neutral party should investigate the cryptocurrency empire's downfall. Read more.
Gary Gensler has positioned himself as one of the most consequential policymakers in American finance. In his less than two years as chair of the US Securities and Exchange Commission, Gensler has already set about making rules that would affect broker-dealers, retail traders, digital assets, private funds, corporate boards and the very plumbing of the Treasury and equities markets.
A Treasury Department watchdog said in a report released Thursday it didn't find misconduct during a review conducted in the wake of revelations of IRS audits of former FBI Director James Comey and former acting and deputy FBI Director Andrew McCabe.
US Trade Representative Katherine Tai stressed importance of avoiding any disruption in US corn exports to Mexico, including for both feed and human consumption, according to a statement from her office on Dec. 1.
The US, Japan and South Korea revealed new sanctions to punish North Korea for an unprecedented series of missile tests, as they struggle to pressure Pyongyang to return to the negotiating table.
US regulators partially approved plans by Elon Musk's SpaceX to operate another massive fleet of Starlink satellites, giving the company the go-ahead to launch 7,500 of a proposed constellation of nearly 30,000 satellites.
With assistance from Roxana Tiron
To contact the reporters on this story: Brandon Lee in Washington at blee@bgov.com; Michaela Ross in Washington at mross@bgov.com
To contact the editor responsible for this story: Katrice Eborn at keborn@bgov.com
Stay informed with more news like this – from the largest team of reporters on Capitol Hill – subscribe to Bloomberg Government today. Learn more.