What to Know in Washington: Biden Sets Debt-Limit Meeting
Bloomberg Government subscribers get the stories like this first. Act now and gain unlimited access to everything you need to know. Learn more.
President Joe Biden invited top congressional leaders to a May 9 meeting on the debt limit as the US barrels closer to a potential default that the Treasury Department warned yesterday could come sooner than anticipated.
The proposed meeting is the first sign of progress in what has become a high-stakes game of chicken in Washington, with nothing short of the full faith and credit of the US hanging in the balance. The White House has said it would not negotiate with Republicans over extending the debt ceiling, while Speaker Kevin McCarthy (R-Calif.) has vowed not to extend the limit without corresponding cuts to the federal budget.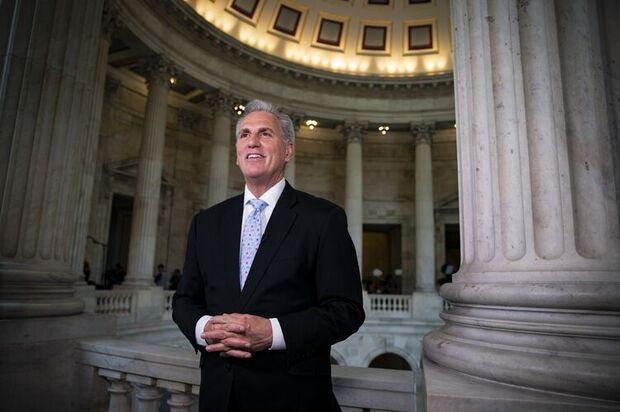 McCarthy agreed to attend the May 9 meeting after a speaking with Biden, a GOP aide said today. Senate Minority Leader Mitch McConnell (R-Ky.) has yet to confirm his plans. A White House official emphasized that the invitation shouldn't be interpreted as Biden relenting from his refusal to negotiate over the debt ceiling.
The drama played out against a dire warning from Treasury Secretary Janet Yellen, who told told lawmakers yesterday that her department's ability to use special accounting maneuvers to stay within the federal debt limit could be exhausted as soon as the start of June.
Read More: Yellen Warns Congress Treasury May Run Out of Cash Soon as June
Biden plans to use the high-profile White House meeting to press Republicans to raise the debt limit without conditions and express willingness to discuss spending cuts separately in negotiations on the federal budget, the White House official said.
McCarthy, whose calls for a meeting with Biden escalated after House Republicans passed their debt plan last week, has said his party would not increase the spending limit without cuts to the federal budget.
The House is on break until next week and both chambers are scheduled to take a different week-long recess later this month. Additionally, Biden is scheduled to travel to Japan and Australia later this month. That leaves very few days when all parties are scheduled to be in Washington before June 1, adding to the urgency of next week's meeting.
The House could push a deal through relatively quickly, if lawmakers had the political will and the votes to do so. Yet the Senate still must overcome filibuster threats and it can take several days to pass any legislation.
The tight deadline increases the chances that Congress passes a short-term increase to buy time while budget talks continue, although several Republicans scoffed at the idea yesterday.
Schumer started the process yesterday for the Senate to consider a two-year debt limit suspension as well as the House-passed Republican debt bill. The House bill, which Democrats oppose, would be available to be amended with a future bipartisan deal on the budget after a clean debt limit passes, a Schumer spokesperson said. Read more from Steven T. Dennis and Erik Wasson.
BIDEN'S AGENDA
The president has no public events scheduled.
White House Press Secretary Karine Jean-Pierre holds a briefing at 1 p.m.
CONGRESS' SCHEDULE
The Senate meets at 10 a.m. to vote on three judicial nominees.
More From Congress
IRA Repeal: Sen. Joe Manchin (D-W.Va.) said he would push to repeal parts of the Inflation Reduction Act that he claims could raise the national debt—even though the centrist senator played a key role in the IRA being signed into law by Biden last year. Read more
Permitting Push: Manchin, meanwhile, is attempting to accelerate federal permitting for energy projects, including one in his home state of West Virginia, renewing the effort he failed to shepherd through the Senate last year. Read more
Drug Middlemen: Lawmakers are ramping up their fight to lower drug costs by focusing on a handful of bills likely to secure strong, bipartisan support, including limits on fees from the entities that manage pharmaceutical coverage and legislation to encourage generic drug approvals. Read more
Rural Hospitals: House Republicans are looking to lower Medicare and Medicaid payments to hospitals for certain services to what doctor's offices and outpatient laboratories are usually paid—proposals with some bipartisan support. But lawmakers from rural areas are worried. Read more
Housing Nonprofits: Recent high-profile court decisions favoring nonprofits in disputes over who can buy Low-Income Housing Tax Credit properties after all the tax credits have been collected aren't enough to fix the issue, affordable housing advocates are telling Congress. Read more
Judicial Confirmation: Anthony Johnstone, a Montana law professor and one of Biden's few judicial nominees from a conservative-led state, was confirmed to the nation's largest appeals court. Read more
Politics, Probes and 2024
Virginia Gov. Glenn Youngkin (R) said the Republican Party has a future beyond Donald Trump if it focuses on common-sense solutions to problems that Biden and Democrats aren't solving.
Trump's lawyers fired back at Manhattan District Attorney Alvin Bragg's request to bar the former president from discussing evidence in his criminal case on social media as well as viewing it outside of the presence of his legal team.
The New York author who claims Trump raped her in the 1990s testified at the trial of her civil lawsuit that one of the former president's most outspoken critics played a key role in her decision to sue.
Republican lawmakers in Ohio, faced with the possibility that voters could enshrine abortion access in the state constitution, are trying to prevent that from happening by beating the reproductive rights activists to the polls.
Two hospitals that don't allow abortions to be performed are under investigation by the Department of Health and Human Services over possible violations of federal law after they allegedly failed to provide stabilizing care to a pregnant woman whose medical emergency may have required treatment that could be considered an abortion. Read more.
Rep. Colin Allred (D-Texas) is planning to announce a run for Senate as soon as this week, Politico reports, citing two people familiar with his plans.
What Else We're Reading
Biden, following a meeting with Philippines leader Ferdinand Marcos Jr., said any attack on Philippine armed forces or vessels would trigger American defense commitments, a message intended to reassure a key ally in the face of heightened tensions with China.
The US will stop requiring most foreign air travelers to be vaccinated against Covid-19, amid complaints from travel companies that the rule depressed tourism revenue.
A half-mile underground beneath a windswept field in the southeast corner of New Mexico, hundreds of workers haul drums of radioactive waste into a salt mine that will entomb them for at least 10,000 years.
It's lonely at the top for women economists on Wall Street. Among the nearly two dozen financial institutions designated by the Federal Reserve as primary dealers and that employ a chief US economist or equivalent, only Morgan Stanley currently has a woman in that job. Eighteen months ago, at least three women held such roles.
To contact the reporters on this story: Michaela Ross in Washington at mross@bgov.com; Brandon Lee in Washington at blee@bgov.com
To contact the editor responsible for this story: Kayla Sharpe at ksharpe@bloombergindustry.com
Stay informed with more news like this – from the largest team of reporters on Capitol Hill – subscribe to Bloomberg Government today. Learn more.