What to Know in Washington: Biden Set to Name Economic Team
President-elect Joe Biden will take a significant step this week toward addressing the damage to the U.S. economy inflicted by the coronavirus pandemic, as he names an economic team led by his choice for Treasury secretary, former Federal Reserve Chair Janet Yellen.
In Yellen, Biden will have a battle-tested policy maker who can draw on her nearly two decades at the Fed to help rebuild an economy in dire need of government cash and confidence. Biden has called for trillions of dollars in new stimulus to aid the small and mid-size businesses that are the nation's jobs engine.
Yellen's expected to champion what she's called "extraordinary fiscal support" to support the pandemic-ridden economy — deficit spending that she says is affordable given extraordinarily low interest rates.
Others in Biden's economic policy team are also expected to be unveiled this week. People familiar with the process said longtime Democratic policy staffer Neera Tanden had been picked to lead the Office of Management and Budget. Cecilia Rouse, formerly of the Obama administration and currently dean of Princeton University's School of Public and International Affairs, would head the Council of Economic Advisers. Both roles require Senate confirmation.
Biden will also nominate Adewale Adeyemo, a former senior adviser at BlackRock, to be deputy Treasury secretary as part of a slate of economic-team nominations, the people said. Adeyemo is a Nigerian-born attorney and president of the Obama Foundation. Brian Deese, another Blackrock executive who served in the Obama administration, is likely to be offered the job of National Economic Council director, according to people familiar with the matter. Biden has also tapped two economic advisers from his presidential campaign, Jared Bernstein and Heather Boushey, to be members of the CEA.
At the top of their to-do list will be to break a deadlock in Congress over additional relief spending, an effort that would be far easier if Democrats win two Georgia Senate seats in runoff elections next month to wrest control of the chamber from Majority Leader Mitch McConnell's Republicans.
Yellen is seen winning easy confirmation in the Senate. While she occasionally sparred with Republican lawmakers as Fed chair, she's widely respected, and some GOP senators publicly complimented her selection, which Biden has yet to make official.
At 74, she will be the oldest Treasury secretary in recent memory, and the first woman to lead the agency.
She would be the second person in the modern era to serve as both Fed chair and Treasury chief, after Jimmy Carter appointee William Miller, and the only one to also have led the White House Council of Economic Advisers, which she did in the Clinton administration.
Saleha Mohsin takes a look at her challenges ahead.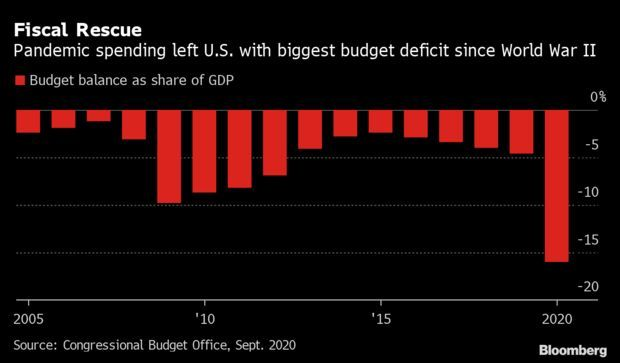 Choice of Tanden to Rile GOP: Biden is turning to longtime Democratic policy staffer Neera Tanden to lead his Office of Management and Budget, people familiar with the process said. Tanden's nomination already appeared to be in trouble with Senate Republican aides expressing opposition before it was formally announced.
Drew Brandewie, an aide to Sen. John Cornyn (R-Texas) said on Twitter that she "stands zero chance of being confirmed." Another aide said Republicans in the Senate would certainly block Tanden, who's viewed as too progressive even though she's also had squabbles with some on the left. Read more from Jennifer Epstein and Saleha Mohsin.
Picks Signal a Priority to Lift Black, Low-Income Workers: Biden's picks for his economic team suggest he will make it a priority to lift the fortunes of Black and lower-income Americans, whose gains in recent years have been endangered by the coronavirus pandemic. Cecilia Rouse will be named the head of the Council of Economic Advisers, and would become the first Black American in the position. Bernstein and Boushey, two progressive economists who have argued for the Federal Reserve to target the Black unemployment rate and for increasing the minimum wage, are expected to join Rouse as members of the CEA.
The three prospective appointees would add an extra reserve of intellectual firepower behind the new administration's objectives. Rouse, Bernstein and Boushey — along with Yellen — have all pushed for more fiscal stimulus as the surging virus threatens a fledgling recovery. Read more from Catarina Saraiva.
Biden Has Ally in Powell for Labor Fight: Biden wants to reverse a decades-long trend that's seen workers get an ever smaller piece of the economic pie. And no matter which party winds up controlling the Senate, Biden's best bet for achieving that could rest with a Republican: the chairman of the Federal Reserve, Jerome Powell. From a higher minimum wage and increased power for unions to bigger taxes on capital gains and the rich, Biden has pitched an ambitious agenda to lift labor's share of the revenue that the economy generates. And Powell has committed to returning the labor market to its pre-coronavirus high. Rich Miller has more.
Biden Administration Takes Shape
Biden and Harris to Receive Intelligence Briefings: Biden and Vice President-elect Kamala Harris will receive the same daily intelligence briefing that President Donald Trump gets today, belatedly beginning the transition between leaders of some of the nation's most sensitive secrets. The President's Daily Briefing has been offered to every president-elect since Richard Nixon in 1968, often the morning after Election Day. But that courtesy is extended by custom and is not required by law, and Trump's refusal to concede defeat has put Biden nearly a month behind.
Biden received the President's Daily Briefing for eight years as vice president, and received some intelligence briefings as the Democratic presidential nominee but will likely see an intelligence product unlike the one he's used to. Biden could be surprised by what he sees, because the style and substance of the briefing is tailored to the current president. While President Barack Obama and Biden often received dense, analytical briefing books, Trump likes to see shorter bullet points and more graphics. Read more from Gregory Korte.
Regulatory Job to Play Critical Role: Biden is poised to make regulation a centerpiece of his administration, and his success will depend on who he picks from a slim pool of bureaucrats willing to accept one of the least-glamorous jobs in Washington. Without strong backing in Congress to carry out his campaign promises, Biden will need expert leadership over the little-known White House Office of Information and Regulatory Affairs; someone with the technical expertise to ensure regulations survive judicial review, and the political acumen to navigate competing agency interests.
There are few people with the economics and policy expertise to take on the role. The likely candidates mentioned by academics and congressional staff for Biden's OIRA administrator are familiar faces in the regulatory community and have a long history of public service, including Richard Revesz at New York University; Michael Fitzpatrick, who served in OIRA under Obama and Clinton; Cary Coglianese at the University of Pennsylvania; and Michael Greenstone at the University of Chicago. Read more from Cheryl Bolen and Courtney Rozen.
Progressives Press Biden on Left-Leaning Policies: Progressive Democratic groups issued a call to Biden to embrace what they called his mandate to govern with a populist message and defy the Senate Republican majority. In a memo released yesterday by Justice Democrats, the Sunrise Movement, New Deal Strategies, and Data for Progress, the left-wing groups said the Democratic Party has to embrace a populist economic agenda and support progressive candidates, and Biden should use his "convincing" win to shape his governing decisions. Read more from Emma Kinery.
Biden Builds All-Female Senior Comms Team: Biden has built a senior communications team composed entirely of women, including Jen Psaki to be the face of the administration as White House press secretary, his transition said yesterday, Jennifer Epstein reports. Psaki, a former Obama White House communications director and State Department spokeswoman, has been an on-camera spokeswoman for Biden's transition office. Kate Bedingfield, deputy campaign manager and communications director during the 2020 campaign, will be Biden's White House communications director.
Environmental Justice Crusader Eyed for White House Council: Biden's transition team is considering recommending environmental justice champion Mustafa Santiago Ali to lead the White House Council on Environmental Quality, as the incoming administration seeks to prioritize the damage pollution takes on poor and minority communities. The deliberations, part of an effort to refocus the obscure White House agency into a hub for promoting environmental justice, was described by two people familiar with the matter who asked not to be named discussing personnel recommendations. The CEQ serves as a kind of mission control coordinating environmental policy decisions and reviews across the federal government. It also oversees implementation of the National Environmental Policy Act. Read more from Jennifer A. Dlouhy and Ari Natter.
Happening on the Hill
Congress Returns to Confront Deadlines: Congress faces a rapidly approaching deadline to pass a new round of funding for the U.S. government, with dimming odds both of confirming Judy Shelton to the Federal Reserve Board and hashing out another coronavirus relief package. Lawmakers have only a few weeks to wrap up work before the year-end holidays. That doesn't bode well for either a retry of a vote on Trump's nomination of his controversial economic adviser Shelton, or for breaking the months-long stalemate on a stimulus bill.
The Senate is set to return this afternoon, though McConnell hasn't outlined a full agenda of votes beyond confirming a roster of Trump nominees. He's also suspending the regular in-person lunch meetings of Republican senators because of the nationwide spike in coronavirus cases.
The House doesn't return for votes until Wednesday. Majority Leader Steny Hoyer (D-Md.) told lawmakers to prepare to stay in Washington through the weekend as talks continue on government funding, coronavirus relief and the annual defense authorization. Those bills "will be considered by the House as soon as they are ready," he said in a notice to members. Billy House and Erik Wasson have more on what's ahead for lawmakers.
Trump Taps Bank Regulator Ahead of Transition: Trump formally nominated Brian Brooks to take over a key banking regulator, potentially forcing Biden to fire him after the president-elect is sworn in. In a brief Friday statement, the White House said it had sent the nomination to the Senate, where Banking Chairman Mike Crapo (R-Idaho) has already signaled Brooks will get a confirmation hearing for a five-year term at the Office of the Comptroller of the Currency. Brooks has been OCC's acting chief since May. Read more from Jesse Hamilton.
Democrats Look to Young Voters to Win Georgia: Democrats' chances to win Georgia's two Senate seats—and control of the Senate—may hinge on motivating voters under 30 years old to beat their record turnout in the November election. While Republicans are more focused on overall turnout in this usually conservative state, Democrats are systematically reaching out to young people who helped Biden flip Georgia. This demographic, 56% of which went for Biden, will be key to helping Democrats Jon Ossoff and Raphael Warnock beat Republican incumbent Sens. David Perdue and Kelly Loeffler. Read more from Josyana Joshua.
Contesting the Election
Trump Says It'll Be Hard For Suits to Reach Top Court: Trump acknowledged that the fight to overturn his re-election defeat "probably" won't reach the Supreme Court, which had been the goal of his legal team. "It's very hard to get a case to the Supreme Court," Trump said in a Fox News interview yesterday conducted by telephone from the presidential retreat at Camp David, Md. "I probably can't get a case."
On "Sunday Morning Futures" the president rehashed a litany of largely unfounded allegations about the Nov. 3 election without offering new evidence for his claim that millions of votes across several battleground states were fraudulent. He signaled that his legal options may be running out, but suggested there was no "drop-dead" date for his challenges to finally come to an end.
Trump's legal team has suffered a series of setbacks in a longshot bid to help him cling to power. The strategy has relied on recounts in several states that so far haven't helped him, legal cases that have nearly all been dismissed, and appeals to state lawmakers to overrule the popular vote. Read more from Josh Wingrove.
Trump's Pennsylvania Suit Rejected: A federal appeals court rejected the president's attempt to revive a suit in which his campaign was seeking to undo Pennsylvania's certification of Biden's victory there. In yet another blow to Trump's last-ditch effort to flip the election results, a three-judge panel resoundingly dismissed the campaign's hopes of striking out tens of thousands of ballots, saying there were no claims of fraud in the lawsuit, or proof. Erik Larson has more.
Trump Promises to Press On in Wisconsin: Trump isn't abandoning his drive to overturn the election results in Wisconsin, despite state officials announcing a recount in Milwaukee county had only added to Biden's victory. "The Wisconsin recount is not about finding mistakes in the count, it is about finding people who have voted illegally," Trump said on Twitter on Saturday. Twitter flagged the post for making a disputed claim about voter fraud. Billy House has more.
The Coronavirus Pandemic
Moderna Plans to Seek Clearance for Vaccine: Moderna plans to request clearance for its coronavirus vaccine in the U.S. and Europe today, after a new analysis showed the vaccine was highly effective in preventing Covid-19, with no serious safety problems. The primary analysis, which included 196 cases, found the vaccine was 94.1% effective, in line with preliminary findings released earlier this month. None of the participants in the trial who'd received the vaccine developed severe Covid-19. All 30 severe cases observed in the study occurred in participants who received placebo shots, according to a company statement. Read more from Robert Langreth.
Task Force Promises Fast December Rollout of Vaccines: Members of Trump's coronavirus task force fanned out across Sunday talk shows to promise a fast rollout of Covid-19 vaccines to millions of Americans by year-end. U.S. Surgeon General Jerome Adams said yesterday the federal government hopes to quickly review and approve requests from two drugmakers for emergency approval of their Covid-19 vaccines.
Pfizer is scheduled to submit an Emergency Use Authorization request Dec. 10 for the vaccine it developed with Germany's BioNTech, followed by Moderna eight days later, Adams said on Fox News yesterday. He said he expects 40 million vaccine doses to be produced by the end of the year and for the general public to have access by early in the second quarter of 2021. And on NBC's "Meet the Press," top U.S. infectious-diseases specialist Anthony Fauci said the U.S. "almost certainly" will be vaccinating portions in the first priority of the population by the end of December. Read more from Christopher Condon and Yueqi Yang.
Hospitals Weigh How to Prioritize Vaccines: Large hospital systems are grappling with how best to decide which health-care workers will be vaccinated first for Covid-19, a daunting task when it's unclear which shots they'll receive, how many they'll have, and when they'll arrive. The first vaccine may be cleared for U.S. use in a matter of weeks, with Pfizer and BioNTech's candidate already under review and Moderna's vaccine not far behind. Federal officials have signaled health-care workers and older people at high risk should be vaccinated as the first step in what could set off months of fraught decisions involving other key groups.
But following those initial guidelines could prove difficult. With 21 million health-care workers in the U.S., there almost certainly won't be enough shots to reach them at once. That's forcing hospitals to categorize their workers based on best-guess distribution estimates, a task made even harder for some by a patchwork of state-by-state approaches. Angelica LaVito has more.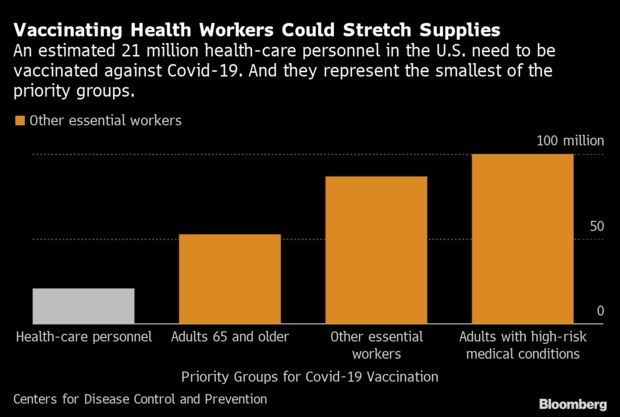 Thanksgiving Testing Crunch Foreshadows a Strain: Americans flocked to Covid-19 testing sites in the week leading up to Thanksgiving in search of a clean bill of health for travel, which drove up wait times and strained capacity. Nationally, Saturday saw a record with 1.98 million tests performed, according to Covid Tracking Project data. Cases have climbed through all of November, and gatherings over the holiday could expedite the spread, pushing cases to new heights and requiring thousands of added tests. The constraints also foreshadow yet another slew of difficulties in December, when Americans will travel again for the holidays. Read more from Nic Querolo.
Italy, U.S. Open Quarantine-Free Flights: Italy will open its borders to flights from the U.S. without a quarantine mandate for the first time since the imposition of Covid-19 travel curbs. The waiver, backed by rigorous testing before departure and on arrival, is the first on a trans-Atlantic route, according to Delta Air Lines, whose flights from Atlanta to Rome Fiumicino will trial the new rules. Read more from Danielle Lepido, Richard Weiss, and Christopher Jasper.
Barrett Fortifies Court on Religious Rights: The U.S. Supreme Court's sharply-divided ruling blocking New York's Covid-19 restrictions on in-person worship has bolstered the prospects of already-successful religious legal advocates while making their opponents fear for their future at the high court. In its most significant public action since Justice Amy Coney Barrett replaced Ruth Bader Ginsburg, the court late Wednesday signaled it will side with religious claims—not only in a coronavirus-context but in other religious fronts, too. Read more from Jordan Rubin.
What Else to Know Today
High Court December Calendar Full of Sequels: From the 2020 census, to human rights, to robocalls, the Supreme Court will confront familiar issues addressed in previous cases during the December sitting that starts today. The entire 2020 term is full of repeat cases that tackle issues—and in one instance even the same case—that were addressed in previous terms. But "December is really the apex when it comes to the theme of déjà vu," said Pacific Legal Foundation attorney Anastasia P. Boden, who titled her preview of the 2020 term, "Looking Ahead: Déjà Vu at the Supreme Court." Read more from Kimberly Strawbridge Robinson.
Iran Says It Won't 'Fall in Trap' of Scuttling U.S. Talks: Tehran pledged it won't "fall into the trap" of scuttling any future talks with the Biden administration following the assassination of a top nuclear scientist last week. "Iran's scientific and defense policies won't change because of the assassination of one scientist or general," said Ali Rabiei, a government spokesman. The country "shouldn't fall into the trap of linking the assassination to past nuclear negotiations," he said. Read more from Arsalan Shahla and Golnar Motevalli.
Kushner to Lead U.S. Delegation to Middle East: Jared Kushner, senior adviser to Trump, will travel to Saudi Arabia and Qatar this week in a bid to ease tensions in the region, including the ongoing rift between Qatar and its neighbors. Kushner, who's also Trump's 39-year-old son-in-law, will first go to Noem, Saudi Arabia, according to two people familiar with the matter. Read more from Sophia Cai and Jennifer Jacobs.
U.S. Pushes Final Rule Before Biden: Companies whose wastewater pits, oil spills, and other operations accidentally kill more than 1 billion migratory birds a year could avoid fines under regulations the Interior Department is moving to finalize. The U.S. Fish and Wildlife Service on Friday published its final environmental review for a proposed rule that would codify a 2017 interpretation of the century-old Migratory Bird Treaty Act so that only intentional migratory bird killings would result in fines. Read more from Bobby Magill.
TikTok Granted Extension of Forced-Sale Deadline: The Trump administration gave TikTok's Chinese owner more time to complete a sale of its popular video-sharing app to resolve U.S. national security concerns. The new deadline, which was already extended by 15 days, is Dec. 4, TikTok's parent ByteDance said in a court filing last week. Ongoing legal disputes between the U.S. and TikTok cases could lapse when Biden takes office Jan. 20. Read more from David Yaffe-Bellany and Shelly Banjo.
To contact the reporters on this story: Zachary Sherwood in Washington at zsherwood@bgov.com; Brandon Lee in Washington at blee@bgov.com
To contact the editors responsible for this story: Giuseppe Macri at gmacri@bgov.com; Loren Duggan at lduggan@bgov.com; Michaela Ross at mross@bgov.com