What to Know in Washington: Biden Sees Finish Line, Urges Unity
Joe Biden said late yesterday he was certain of a resounding victory over President Donald Trump as he inched closer to claiming the White House with an expanding lead in several battleground states though the final outcome remained stalled by the painstaking work of counting ballots.
"We're going to win this race," he said last night in Wilmington, Del. "I want people to know we're not waiting to get the work done."
He stopped short of declaring victory and drew a contrast with Trump by urging patience with the slow vote count. He expressed confidence that he would prevail in Pennsylvania, Nevada and Georgia, where he leads.
"We have to remain calm, patient. Let the process work out as we count all the votes. Democracy works. Your vote will be counted," he said.
Earlier in the day, the Democratic nominee overtook Trump to claim a slim advantage in Pennsylvania, where a victory would push him past the 270 Electoral College votes needed to win the presidency. He currently leads by nearly 29,000 votes there, according to Associated Press, and the late-counted ballots are overwhelmingly in his favor.
Trump vowed to contest the results and questioned the integrity of the process, without providing evidence of voter fraud.
"We will pursue this process through every aspect of the law to guarantee the American people have confidence in our government," the president said in a statement issued by his campaign.
As the nation awaited the final outcome, Biden also held close leads in Nevada and Georgia. The former vice president has also won Arizona, according to the Associated Press and Fox News, although his lead there is narrowing as counting continues and other television networks see that race as too close to call.
John Lapinski, who manages race calls for NBC News, made clear that his network was taking a cautious approach to declaring who will win the White House. "This particular year, there are just so many curveballs that have been thrown our way that we really are taking a little bit more time to make sure that we understand exactly what we're seeing and analyzing it," he said. Read more from Jennifer Epstein and Jordan Fabian.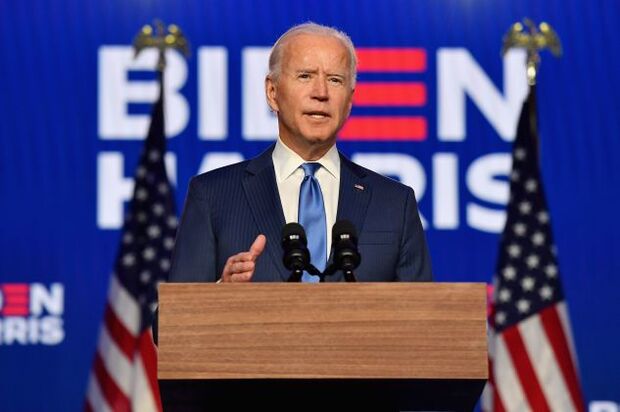 Preparing for a Transition
Gensler and Graves Advising Biden on Wall Street: Former Commodity Futures Trading Commission Chairman Gary Gensler and KeyBank executive Don Graves have been tapped to examine financial regulators as part of Biden's presidential transition, should he win, according to a person familiar with the matter.
Gensler's presence is likely to please progressive Democrats, as he gained a reputation for standing up to Wall Street during the Obama administration. He also implemented a new regulatory regime for swaps — products that played a key role in the 2008 financial crisis. Gensler is a former Goldman Sachs partner, giving him insight into how the industry works and how it tries to dodge oversight. Gensler is close to Biden transition co-chair Ted Kaufman, as the two worked together to push for tougher Wall Street rules during Kaufman's two years as a Delaware senator, and to Sen. Elizabeth Warren (D-Mass.). Gensler didn't immediately respond to an email requesting comment.
Graves is a longtime Biden adviser. His involvement in reviewing bank regulators might give comfort to banks that moderates will win posts in a Biden administration. Read more from Jennifer Epstein.
U.S. Nuclear Bomb Overseer Out: The U.S. official overseeing the nation's nuclear weapons stockpile resigned yesterday after clashing with Energy Secretary Dan Brouillette. Lisa E. Gordon-Hagerty, administrator of the National Nuclear Security Administration and undersecretary of Energy for nuclear security, resigned after being told by Brouillette's office that the president has lost faith in her ability to do her job, according to two people familiar with the matter.
Some administration officials were disappointed that she'd been pushed out, saying that she was widely viewed by those in her field as capable, the people said. Her resignation came after a budget dispute between the NNSA and Brouillette and other officials spilled into the open earlier this year. Ari Natter and Jennifer Jacobs have more.
Supreme Court Justice Temporarily Grants GOP Ballot Request
A U.S. Supreme Court justice issued a temporary order requiring Pennsylvania officials to segregate ballots that arrived after Election Day, granting for now a request by the state's Republican Party.
Justice Samuel Alito's Friday night order came as part of a fight over ballots received during a three-day extension issued before the election by Pennsylvania's Supreme Court. It's far from clear the skirmish will affect the election struggle between Trump and Biden, who's leading in the pivotal state.
The commonwealth's top elections official, Kathy Boockvar, said on Thursday the number of late-arriving ballots would be a mere "tiny fraction" of the 60,000 received in the three days after the primary in June. Although Pennsylvania officials have already told county officials to separate out the late-arriving votes, Republicans said that step didn't go far enough to make sure they can be invalidated later.
Alito also ordered Pennsylvania counties to count late-arriving ballots separately, though he stopped short of halting those counts altogether, as Republicans are seeking.
The order marks the first time the country's highest court has intervened in the post-election wrangling. Alito, a Republican appointee who handles emergency matters from Pennsylvania, said he'd refer the matter to the full Supreme Court for next steps. He ordered Democrats to respond by 2 p.m. today. Read more from Greg Stohr.
Vote Disputes
GOP Challenge to Nevada Ballot Count Plan Fails: Two Republican candidates for Congress failed to produce evidence of wrongdoing in a lawsuit over Nevada's procedure for tallying up mail-in ballots, a federal judge said. U.S. District Judge Andrew Gordon in Las Vegas yesterday evening denied the candidates' request for an injunction barring Clark County, the biggest in Nevada, from using a machine equipped with advanced signature-matching technology they said wasn't catching mismatches. Read more from Erik Larson.
Trump Legal Blitz Won't Impact Pennsylvania Vote: Pennsylvania's attorney general said he's confident that a litigation blitz by Trump's campaign won't affect the vote in his state, while the Republican National Committee signaled a drawn-out battle by bolstering its legal team in the closest swing states. Trump's legal claims challenging large numbers of votes as fraudulent are based on falsehoods that "fit a pattern of behavior from this president," Josh Shapiro, the state's chief law enforcement officer, said in an interview. Erik Larson has more.
RNC Alleges Detroit Counting Irregularities: The Republican National Committee referred allegations of vote-counting irregularities in Detroit to the U.S. Attorney in Michigan after the key swing state was called for Biden. RNC Chairwoman Ronna McDaniel said at a conference yesterday that the main counting site at Detroit's TCF Center didn't have enough Republican poll watchers monitoring the tally and that some weren't let back inside after taking a break. Michigan Secretary of State Jocelyn Benson's office rejected McDaniel's claims. David Welch and Gabrielle Coppola have more.
International Observers Fault U.S. Democracy: As the election unfolded this week, a cadre of foreign observers sponsored by Latin American nations like Bolivia, Brazil, Chile, Colombia, and Panama fanned out to monitor the U.S. vote. What the Organization of American States mission found was a "complex" political landscape, where intimidation, disinformation, and unrest simmered in a country that's held itself up as exemplar. The U.S.-based group, which usually provides insight into Latin America's often chaotic elections, issued a 20-page report about what it saw in the U.S., a nation both envied and resented. Read more from Jim Wyss.
More on the Election
Cash Advantage Insufficient for Democrats: Nearly three dozen Republicans in competitive races defeated better-funded Democratic opponents who in some cases had outraised them by millions of dollars. Democrats hoped their fundraising advantage would help protect their most vulnerable seats and even strengthen their majority. Seats they won in traditionally red areas in New Mexico, Oklahoma, and South Carolina flipped back to the GOP. Their majority is intact, but their hold on the House has thinned. Read more from Samantha Handler.
Twitter Flags Tweets Claiming Presidential Victory: Twitter is warning users about tweets claiming victory for either candidate in the presidential election, until more of the sources it considers official have called the race. Twitter labeled a recent tweet celebrating a Biden win by Tommy Vietor, the co-host of Pod Save America and former Obama administration official. "Official sources may not have called the race when this was tweeted," Twitter's warning said. It put the same warning on a post by Rep. Paul Gosar (R-Ariz.), who claimed Trump "won this election." Read more from Sarah Frier.
The Impact of Stacey Abrams's Ground Game: As Biden took the lead in Georgia, Stacey Abrams, the former minority leader of the Georgia House of Representatives and once a candidate for governor, received a torrent of congratulatory messages on social media. They were thanking her for years of grassroots efforts to turn the state's disenfranchised population into the powerful bloc of voters proving critical in delivering Georgia to Biden, and in changing the outcome in races across the state. Read more from Brett Pulley, Jordyn Holman and Margaret Newkirk.
What Else to Know Today
Mark Meadows Infected By Coronavirus: Trump's chief of staff, Mark Meadows, has told associates he has coronavirus, according to people familiar with the matter, adding to the outbreaks connected to the White House. It wasn't immediately clear when Meadows learned that he had contracted the illness or whether he had developed symptoms of Covid-19. He informed a close circle of advisers after Tuesday's election, one person said. Meadows didn't respond to multiple requests for comment. White House spokespeople didn't respond to numerous e-mails and phone messages requesting comment.
A Trump campaign aide, Nick Trainer, is also infected, according to two people familiar with the matter. He and campaign spokespeople declined to comment. Meadows has remained involved in Trump's post-election effort to challenge votes in several states where he trails Biden, one person familiar with the matter said. Read more from Jennifer Jacobs, Tyler Pager, and Mario Parker.
Hospitalizations Rocket as New Cases Top 100,000: Covid patients are filling hospital beds across the U.S. Midwest, with Illinois and Michigan hospitalizing about 100 Covid-19 cases a day, and North Dakota and South Dakota reporting almost a fifth of its inpatients having the pandemic disease. Illinois admitted an average of 131 Covid-19 cases a day to hospitals over the past week, while admissions to Michigan hospitals averaged 95 cases. Elsewhere, Florida topped the country after hospitalizing an average of 136 Covid-19 patients a day in the same span, according to Health and Human Services Department data. Read more from Jason Gale.
New Antibody Test Will Boost Research, FDA Says: The FDA authorized a new type of Covid-19 serology test yesterday that will help with research on treatments and what past infections mean for patients down the line. Serology tests help determine if someone already had Covid-19. Some research shows past infections may offer some immunity to future ones. But there's still a lot unknown about immunity. There have been multiple documented cases of someone getting Covid twice, but so far experts believe that is a rare occurrence. Jacquie Lee has more.
Six Countries, Including U.S., Saw Virus in Minks,: Six countries, including Denmark, Spain, the Netherlands, Sweden, Italy and the U.S., have reported SARS-CoV-2 in farmed minks, the World Health Organization said. Some minks were infected with the virus following exposure from infected humans. The minks can act as a reservoir of the virus, passing it among them, and pose a risk for transmission to humans, the WHO said. Read more from Linly Lin.
To contact the reporter on this story: Brandon Lee in Washington at blee@bgov.com
To contact the editors responsible for this story: Zachary Sherwood at zsherwood@bgov.com; Loren Duggan at lduggan@bgov.com