What to Know in Washington: Biden Seeks to Reverse Disparities
More than a half century after Lyndon Johnson's war on poverty, President Joe Biden is planning to take on the nation's enduring challenge of inequality with a mass expansion of government spending and a revamp of the tax code.
The effort, which Biden will start to detail in a speech tomorrow in Pittsburgh, is already proving just as divisive among economists as it is among lawmakers. While right-leaning economists warn about damage to overall growth from higher taxes on companies and the wealthiest Americans, liberals say the "trickle-down" approach of recent decades has failed and it's time for a new strategy.
The president's remarks will lay out the infrastructure portion of an overall package expected to total more than $3 trillion. While social-spending programs will be outlined later in April, the administration's drive to expand help for the poor will be visible even in infrastructure, through proposals such as the provision of safe drinking water.
"It's important to acknowledge that we've seen decades of this rising economic inequality," Heather Boushey, a member of the White House Council of Economic Advisers, said last week in an interview with Bloomberg Radio. "The ultimate measure of success of the economy is how well it's working for people all across these United States."
For many, it's not working well. The gaps between the richest Americans and the middle class, along with the lowest-income households, widened in the years before the pandemic struck — even amid the longest U.S. expansion on record. Read more from Christopher Condon and Payne Lubbers.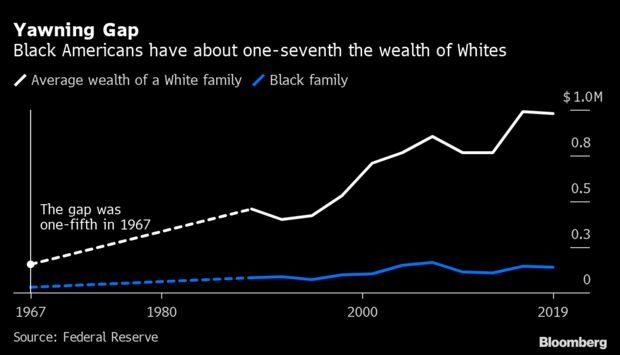 More on Infrastructure & Taxes
Buttigieg Says No Gas Tax to Fund Infrastructure: Transportation Secretary Pete Buttigieg yesterday ruled out plans to increase in the federal gas tax or charge drivers a fee based on miles driven to pay for the White House's $3 trillion infrastructure proposal. "That's not part of the conversation about this infrastructure bill," Buttigieg told CNN when asked about the vehicle-miles-traveled fee in lieu of taxes paid at the gas pump. Read more from Keith Laing.
Democrats Push Capital Gains Tax Hike: Senate Democrats are circulating a plan that would trigger tax bills on the assets of the wealthy after they die as the lawmakers seek new sources of revenue to fund trillions of dollars in infrastructure spending and social programs. Their bill would seek to end a long-standing feature of the tax code that permits many assets, including property, stocks, bonds and businesses to be passed to heirs without immediately generating tax bills. Read more from Laura Davison.
Suozzi Says He'll Oppose SALT-Less Biden Tax Plan: Rep. Tom Suozzi (D-N.Y.) said he will not vote for any tax increases that Biden proposes to fund his infrastructure legislation unless there is also a repeal of the $10,000 cap on state and local tax deductions. "No SALT, no deal," Suozzi said in a statement yesterday. "I am not going to support any change in the tax code unless there is a restoration of the SALT deduction." Read more from Laura Davison.
In the Courts
Biden Announces Intent to Nominate 11 Judicial Candidates: Biden announced a slate of 11 federal judge nominees today that placed a heavy emphasis on his stated goal of promoting diversity. The picks — Biden's first to the federal bench since taking office Jan. 20 — included Zahid Quraishi, who would be the first Muslim-American federal judge in U.S. history, and Ketanji Brown Jackson, one of three Black women selected to fill appeals court vacancies. See the full list here
Biden starts off behind his predecessors in terms of total current vacancies he has available to fill, according to a recent Brookings Institution report. Of the past six presidents, only Ronald Reagan in 1981 had fewer already vacant seats by this time in his presidency. Read more from Kathleen Hunter and Jennifer Jacobs.
Congressional Action, Rulemaking Weigh on DACA Litigation: The House's approval of legislation that would provide a path to citizenship for undocumented immigrants who came to the country as children could alter the course of a Texas federal court lawsuit that seeks to terminate the Deferred Action for Childhood Arrivals program.
Judge Andrew S. Hanen in Houston will hear from attorneys for the government and intervenor groups today on how House lawmakers signing off on the American Dream and Promise Act "will impact the substantive and procedural aspects of this litigation," according to a notice filed March 26. Read more from Genevieve Douglas.
NCAA Risks Losing Grip on Sports as High Court Weighs Amateurism: Even with March Madness in full swing, the NCAA's real competition this month will take place at the U.S. Supreme Court in a case that could loosen its grip over college athletics. In an antitrust clash set for argument tomorrow, the National Collegiate Athletic Association will ask the justices to overturn a ruling that would let member schools offer student-athletes more in the way of education-related compensation.
The case promises to produce the biggest Supreme Court ruling in decades for the NCAA, which is seeking to shield its rules from tough antitrust scrutiny and preserve what it sees as the amateur nature of college sports. Read more from Greg Stohr.
What Else to Know Today
Biden to Sign Small Business Loan Extension: Biden is scheduled to sign legislation into law this afternoon at the White House that would give small businesses two additional months to seek loans through the Paycheck Protection Program. The measure was passed by the House and Senate earlier this month. For more, read the BGOV Bill Summary by Michael Smallberg.
Special Race to Fill Haaland's Seat: Democratic officials in New Mexico's 1st congressional district will vote on their nominee for a June 1 special election. Eight Democrats are seeking the Democratic-leaning, Albuquerque-based district vacated when former Rep. Deb Haaland (D) resigned earlier this month to become Biden's interior secretary. Six candidates are women, including four legislators. Members of the Democratic state central committee in the 1st district will vote between 9 a.m. and 9 p.m. Eastern time, Greg Giroux reports.
Biden Taps Gonzales for USDA: Biden yesterday appointed former Obama administration official Oscar Gonzales to the Agriculture Department post of assistant secretary for administration. Gonzales previously filled several department roles, including deputy assistant secretary for administration and deputy chief of staff for operations for Secretary Tom Vilsack. He also worked for the United Farm Workers Foundation, and his wife is the granddaughter of civil rights activist Cesar Chavez, Megan Boyanton reports.
U.S. Weighs 'Seen and Unseen' Responses to Hacking: The White House is in "the closing stages" of deciding how to respond to a hack that compromised popular software by Texas-based SolarWinds, according to Jake Sullivan, Biden's national security adviser. Sullivan said the U.S. is considering "seen and unseen" responses to the attack, largely suspected of being carried out by Russian hackers. Read more from Jennifer Jacobs.
Guatemala Declares State of Emergency to Halt Migrant Caravan: Guatemala declared a state of emergency in swathes of the country to halt a caravan of Honduran migrants expected to depart toward the border between both countries today, with the eventual aim of reaching the U.S., Michael McDonald reports. The decree restricts outdoor gatherings and authorizes the use of force to break up any unauthorized groups. It is binding for 15 days. Biden's administration is in talks with Mexico over measures to curb the flow of migrants.
With assistance from Megan U. Boyanton
To contact the reporters on this story: Zachary Sherwood in Washington at zsherwood@bgov.com; Brandon Lee in Washington at blee@bgov.com
To contact the editors responsible for this story: Giuseppe Macri at gmacri@bgov.com; Loren Duggan at lduggan@bgov.com; Michaela Ross at mross@bgov.com