What to Know in Washington: Biden Seeks Fast Help for Millions
President Joe Biden will mark his third day in office with executive actions to boost food assistance for impoverished Americans and use federal contracts as a step toward his proposed nationwide minimum-wage hike, seeking immediate help for an economy struggling to cope with Covid-19.
The executive actions Biden is set to sign today at the White House also include a restoration of rights for federal workers that were stripped by his predecessor Donald Trump.
While consequential for those affected, the measures offer a shadow of the relief included in Biden's $1.9 trillion Covid-19 aid plan. That package faces challenges in Congress after moderate Republicans this week said they saw no need to rush on another big spending bill after last month's $900 billion effort.
"These actions are not a substitute for comprehensive legislative relief of the form that is in the American rescue plan," said Brian Deese, director of the White House National Economic Council. "But they will provide a critical lifeline to millions of American families and that is why the president is going to act quickly on these steps."
Deese is planning to discuss Biden's proposed $1.9 trillion package with a 16-member bipartisan group of senators in coming days, according to aides familiar with the matter.
First, Biden today will expand eligibility for enhanced food stamp programs, assist veterans who are behind on their bills and create new tools to help Americans who have not received their stimulus checks get paid. The president will also look to clarify that unemployment insurance should cover workers refusing positions with unsafe working conditions. And he will direct agencies to examine how they can ensure federal workers and contractors are paid a $15 minimum wage. Read more from Justin Sink and Katia Dmitrieva.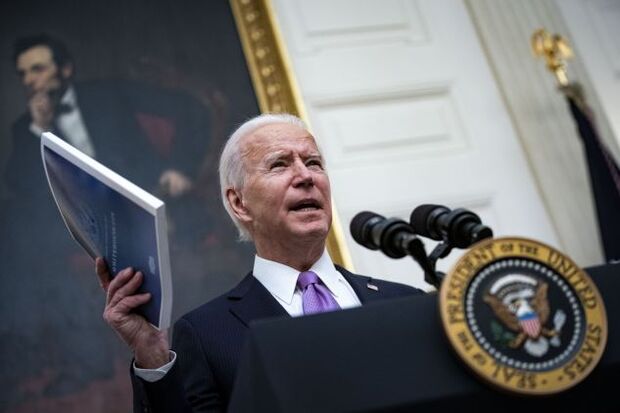 GOP Stimulus Skepticism Grows: Biden's plan to build bipartisan support for his $1.9 trillion Covid-19 relief plan continues to draw skepticism from GOP moderates.
Sen. Susan Collins (R-Maine) last night became the latest to refrain from endorsing the idea of a big new package. "It's hard for me to see when we just passed $900 billion of assistance why we would have a package that big" now, Collins told reporters. "I'm happy to listen" to the argument she said, adding that "maybe" the need for more help will be evident in a couple of months. Read more from Josh Wingrove, Jenny Leonard and Erik Wasson.
Biden Administration Actions
The agendas for Biden's White House and individual agencies are beginning to take shape. Here's a roundup of yesterday's developments.
Biden Calls for 'Wartime' Virus Fight as GOP Lawmakers Balk: Biden warned the nation to prepare for its darkest days in the yearlong pandemic, predicting that as many as 100,000 more Americans will die over the next month as he overhauls the federal coronavirus response and presses Congress for more aid.
Highlighting the enormous stakes for his presidency, Biden unveiled the new administration's 200-page blueprint for battling the pandemic yesterday. He emphasized that scientists and doctors would lead the effort — a rebuke of his predecessor, who sidelined many of the government's medical experts and instead surrounded himself with advisers who encouraged his disregard for public health precautions. Read more from Josh Wingrove.
Bid to Reopen Schools Risks Union Tension: More federal help is coming for schools attempting to reopen campuses or teach students remotely amid the coronavirus pandemic. Biden signed an executive order yesterday directing federal agencies to get schools resources for Covid-19 testing, contact tracing, and vaccination for teachers. Andrew Kreighbaum has more.
Biden Racial Equity Order is Step One: Civil rights groups praised Biden's racial equity executive order but said it was only a start toward leveling the playing field for minority communities. Biden ordered federal agencies to sift through policies to identify if they created systemic barriers against "underserved communities." Ayanna Alexander has more.
Farm Workers Pin Hopes on Immigration Plan: One of Biden's first priorities, legislation to carve a path to citizenship for farm workers and other undocumented immigrants, is stirring quick criticism from Republicans, but unions representing farm workers say that citizenship is "the very least we can do." Read more from Megan U. Boyanton and Shaun Courtney.
DOL, Independent Agency Regulations Frozen: Biden's move to freeze pending Trump-era regulations halted a high-stakes Labor Department rule that would make it easier for businesses to designate their workers as independent contractors. The DOL's independent contractor rule previously slated to take effect March 8 would have far-reaching effects in the gig economy and other industry sectors. Read more from Paige Smith, Ben Penn, Genevieve Douglas and Robert Iafolla.
Pending Benefits Rules Face Freeze: Some basic retirement tax changes and a controversial investing curb qualify for more scrutiny as the Biden White House moves to scrub unfinished guidance projects. Read more from Austin Ramsey and Warren Rojas.
Rosenworcel to Focus on Online Connectivity: Disbursing billions in funding to help lower-income households pay their internet bills and subsidize telehealth services during the Covid-19 pandemic is likely among the Federal Communications Commission's early agenda items under acting Chairwoman Jessica Rosenworcel. Read more from Jon Reid.
Anti-Terror Chemical Safety Needs Agency Coordination: Overlap, duplication, and gaps in federal oversight mar certain chemical production facilities' anti-terrorism programs, a report from the Government Accountability Office says. American water and wastewater plants could be at particular risk dues to these issues, the report says. Fatima Hussein has more.
New Administration Takes Shape
Union Ally, Named to Regulatory Post: Biden has installed Obama-era labor official Sharon Block as interim political leader of the White House regulatory review office—an agency she's recently said needs a worker-oriented overhaul—several sources briefed on the appointment told Bloomberg Law. Read more from Ben Penn and Courtney Rozen.
Warner Aide to Be Raimondo's Chief of Staff: Mike Harney, a top aide to Sen. Mark Warner (D-Va.) and Obama administration veteran, has been chosen to be chief of staff to the president's Commerce Secretary-designate, Gina Raimondo, according to people familiar with the matter. Read more from Jenny Leonard and Nancy Cook.
Return of Obama Staffers to Biden HHS: Senior staffers from the Obama administration are returning to the Department of Health and Human Services, as the Biden administration takes the reins of an federal agency fighting a pandemic without any confirmed officials. Those new appointees include Anne Reid as deputy chief of staff and AJ Pearlman as chief of staff for the Covid-19 response. Read more from Shira Stein.
Obama Veteran Named EPA Chief of Staff: The White House named Dan Utech, who worked on climate change and energy issues during the Obama years, as the Environmental Protection Agency's chief of staff. He's the founder of Climate Strategies, a consulting firm that advises non-governmental organizations on climate change policy and advocacy, according to his LinkedIn page. Utech was President Barack Obama's deputy assistant for energy and climate change. Read more from Ari Natter and Jennifer A. Dlouhy.
Education Department Adds Political Appointees: The Biden administration announced 12 political appointees for the Education Department. They include Sheila Nix to be chief of staff after leading Tusk Philanthropies and Suzanne Goldberg as acting assistant secretary for civil rights, Andrew Kreighbaum reports. Read the full list here.
Katzmann Goes Senior, Giving Biden 2nd Circuit Vacancy: Judge Robert A. Katzmann took senior status on the U.S. Court of Appeals for the Second Circuit, creating a vacancy that Biden will be able to fill on the New York-based court. Katzmann, an appointee of President Bill Clinton, spent 22 years as a judge on the Second Circuit. Read more from Madison Alder.
Biden Fires NLRB's No. 2 Lawyer: Biden ousted the second-highest-ranking attorney at the National Labor Relations Board a day after firing her own superior, leaving leadership of the agency's legal arm in limbo as the new administration seeks to reorient the board away from the Trump administration's business-centric focus. Read more from Ian Kullgren.
Labor Panel to Be Led by DuBester: Ernest DuBester, who's issued dissenting opinions on a regular basis as the sole Democrat on the Federal Labor Relations Authority during the Trump administration, has been designated by Biden as chair of the three-member panel. DuBester has been an FLRA member since August 2009. Read more from Louis C. LaBrecque.
Behnam Named Acting Derivatives Regulator Chief: Democrat Rostin Behnam, a member of the Commodity Futures Trading Commission, will be the acting chairman of the derivatives regulator until the Senate confirms Biden's permanent pick. But Benham will be slowed from major policy changes as Republicans outnumber Democrats at the agency, Ben Bain reports.
Happening on the Hill
Congress Approves Waiver for Defense Pick: Congress approved the waiver that's required for Lloyd Austin to serve as Biden's secretary of defense, a key step toward making the retired Army general the first Black leader of the Department of Defense. The House voted 326-78 to pass the waiver, with the Senate swtifly following with a vote of 69-27. A full confirmation vote is set for this morning, along with possible votes on other nominees. Read more from Roxana Tiron and Daniel Flatley.
McConnell Pitches February for Impeachment Trial: Senate Minority Leader Mitch McConnell (R-Ky.) said the start of Trump's impeachment trial should be put off until next month to give the former president time to mount a defense. McConnell said he has sent his proposed timeline to Majority Leader Chuck Schumer (D-N.Y.) and will "discuss it with him." Read more from Steven T. Dennis, Laura Litvan and Billy House.
Democrats File Ethics Complaint on Cruz, Hawley: A group of Senate Democrats called on the chamber's Ethics Committee to investigate actions by Sens. Ted Cruz (R-Texas) and Josh Hawley (R-Mo.) in opposing the counting of state certified electors on the day a violent mob breached the U.S. Capitol. Read more from Peyton Forte.
To contact the reporters on this story: Zachary Sherwood in Washington at zsherwood@bgov.com; Brandon Lee in Washington at blee@bgov.com
To contact the editors responsible for this story: Giuseppe Macri at gmacri@bgov.com; Loren Duggan at lduggan@bgov.com; Michaela Ross at mross@bgov.com