What to Know in Washington: Biden Seeks China Calm Over Pelosi
Speaker expected to land in Taiwan today
GOP impeachers, 'squad' members targeted in primaries
The White House sought to dial back rising tensions with China over Speaker Nancy Pelosi's (D-Calif.) expected visit to Taiwan, insisting the trip doesn't signal a change in US posture toward the island and urging Beijing to refrain from an aggressive response.
Pelosi is expected to arrive Tuesday at 10:20 p.m. local time via private plane at Songshan Airport, the Liberty Times reported, without specifying how it got the information. The landmark visit would make her the highest-ranking US official to set foot on the island in 25 years. China regards Taiwan as part of its territory and has promised "grave consequences" for Pelosi's visit.
"Put simply, there is no reason for Beijing to turn a potential visit consistent with long-standing US policy into some sort of crisis or conflict or use it as a pretext to increase aggressive military activity," National Security Council spokesman John Kirby said at a Monday press briefing.
Pelosi is expected to visit Taiwan on Tuesday, according to people familiar with her plans. A meeting with Taiwan's president, Tsai Ing-Wen, is on Pelosi's schedule for Wednesday, according to one of the people, although another person said such a meeting is still in flux. Read more from Jenny Leonard, Jordan Fabian and Nancy Cook.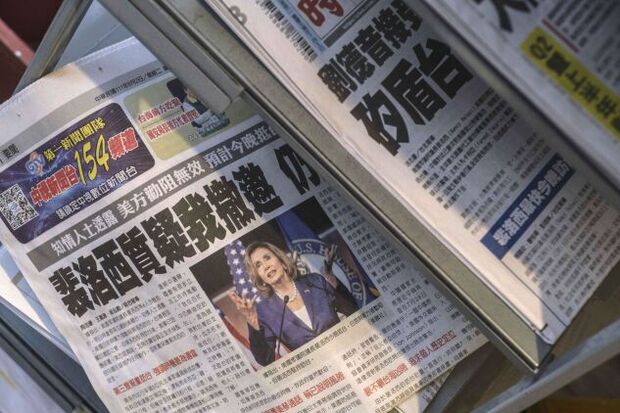 Happening on the Hill
CONGRESS' SCHEDULE
The Senate will vote on a judicial nomination. More votes may be scheduled.
Republicans are using an obscure rule named for the Senate's longest-serving member—Robert Byrd—to challenge provisions of the Democrats' deal in the hopes of whittling down the legislation. They're planning to challenge many of the provisions in the 725-page bill using the so-called Byrd Rule, which sharply limits the ability to pass legislation with a simple majority through reconciliation. Senator Bill Cassidy, a Louisiana Republican, said measures related to lowering prescription drug prices was "going to be Byrd-able."
One advantage Democrats might have this time around however, is that the centerpiece of the legislation, hundreds of billions in new and expanded tax credits for renewable energy, nuclear power, hydrogen, electric vehicles, along with other climate-related priorities were retained from previous versions of the bill and have been reviewed by Senate Parliamentarian Elizabeth MacDonough, said Senator Ben Cardin, a Maryland Democrat who serves on the Senate's tax writing committee. Read more from Ari Natter.
MORE ON THE LEGISLATION
Sinema Still Silent: Sen.

Kyrsten Sinema's

position on the deal still stands unclear. The 46-year-old ignored questions from reporters at the Capitol Monday evening, and her staff gave no signal that anything had changed. Read the latest from Erik Wasson, Laura Davison and Dawn Lim.
Mountain Valley Pipeline: The long-delayed Mountain Valley Pipeline may get fast-track approval under a side-deal struck between Schumer and Manchin, according to a summary of the accord obtained by Bloomberg. The deal to move forward on permitting reform would require action to permit construction of the project. Ari Natter and Erik Wasson have more.
Leaders of two House panels want the Homeland Security Inspector General office to answer questions about what they say are possible attempts to cover up the loss of Secret Service texts tied to the attack on the Capitol. In a letter Monday, Oversight Chair Carolyn Maloney (D-N.Y.) and Homeland Security Chair Bennie Thompson (D-Miss.) also renewed their request to DHS Inspector General Joseph Cuffari to recuse himself from investigating those missing texts. Billy House has more.
Rioter's Long Sentence: Guy Reffitt, a Texas member of the Three Percenters militia group and the first Capitol rioter to go on trial, was ordered to spend over seven years in prison for obstructing Congress and threatening his two children, among other crimes. That's the longest sentence yet in a case surrounding the Jan. 6. Read more from Erik Larson.
As the US Congress passed an historic $52 billion federal program to boost domestic chipmaking capabilities, it included one significant caveat: Companies that receive the funding have to promise not to increase their production of advanced chips in China. Read more from Debby Wu, Daniel Flatley and Jenny Leonard.
Elections, Politics & Probes
Three House Republicans who voted to impeach Donald Trump, two vocal progressive Democrats in a bloc called The Squad, and two Democratic incumbents seeking the same Michigan district all face the voters today—a busy day of primaries spanning five states. Trump supports candidates challenging Reps. Peter Meijer (Mich.) and Jaime Herrera Beutler and Dan Newhouse (Wash.). They are among the 10 Republicans who voted to impeach him after the Jan. 6 insurrection.
Just three others from the group sought re-election: Rep. David Valadao (Calif.) narrowly advanced in his June primary after Trump declined to intervene; Rep. Tom Rice (S.C.) was decisively defeated by a Trump-endorsed challenger; and Rep. Liz Cheney (Wyo.) faces a Trump-backed primary opponent Aug. 16.
Other marquee contests Tuesday include Republican Senate primaries in Arizona, where the winner will face Sen. Mark Kelly (D) in a race that'll help decide control of the Senate, and Missouri, where the victor will be favored to succeed retiring Sen. Roy Blunt (R). And either Reps. Haley Stevens or Andy Levin will be ousted in Michigan's Democratic primary because they're competing for the same district drawn by a redistricting panel. Read more from Greg Giroux.
Former White House counsel Don McGahn has been retained by Sen. Lindsey Graham (R-S.C.) to fight off a subpoena in a Georgia probe of former President Donald Trump's effort to overturn the 2020 election. Graham has been trying to avoid testifying before a special purpose grand jury in Fulton County investigating Trump's attempts to overturn Georgia's 2020 election results. Zach C. Cohen and Billy House have more.
Alphabet's Google, Meta, and Apple are among nearly 70 companies filing a brief with the Supreme Court in support of affirmative action programs being challenged at Harvard and the University of North Carolina. The brief filed Monday argues corporate diversity, equity, and inclusion efforts "depend on university admissions programs that lead to graduates educated in racially and ethnically diverse environments." Read more from Maia Spoto and Kimberly Robinson.
Around the Administration
PRESIDENT'S SCHEDULE
At 2:45 p.m. Biden will virtually attend the signing of Michigan Governor Gretchen Whitmer's executive directive implementing the bill to boost US semiconductor manufacturing Congress cleared last week.
White House Press Secretary Karine Jean-Pierre holds a briefing at 3:30 p.m.
Biden said a US strike in Afghanistan over the weekend killed the leader of al-Qaeda, Ayman al-Zawahiri, calling him a longtime terrorist commander who helped plan the 9/11 attacks.
The US withdrew hastily from Afghanistan a year ago as the victorious Taliban marched on Kabul. Thirteen American military personnel and scores of Afghans were killed in a terrorist bombing as the withdrawal was underway. The strike allows the Biden administration to claim vindication in its disputed pledge that the US would still be able to strike terrorist targets even after pulling US troops out of Afghanistan. Read more from Nancy Cook, Jenny Leonard and Akayla Gardner.
A requirement that companies track the end location of their customers—something critics have described as "impossible"—has been softened in an updated draft of OECD rules, but only slightly. Companies may still encounter administrative headaches and disputes with tax authorities, practitioners said—but the detailed approach might be necessary, as easing the requirements any further could lead to inaccuracy, possibly making them unacceptable to governments. Isabel Gottlieb has more.
Biden named FEMA's Robert Fenton as the White House national Monkeypox response coordinator, according to a statement, Sarah Jacob reports. Dr. Demetre Daskalakis was named deputy coordinator. Fenton and Daskalakis will lead the administration's strategy and operations to combat the current monkeypox outbreak, including equitably increasing the availability of tests, vaccinations and treatments.
With assistance from Brandon Lee
To contact the reporter on this story: Michaela Ross in Washington at mross@bgov.com
To contact the editors responsible for this story: Giuseppe Macri at gmacri@bgov.com; Loren Duggan at lduggan@bgov.com