What to Know in Washington: Biden Says Plan Will Slow Inflation
President Joe Biden will mark the Veterans Day holiday today with events at the White House and Arlington National Cemetery, where he will participate in a wreath laying ceremony on the 100th anniversary of the Tomb of the Unknown Soldier. Biden last night defended his economic agenda, after a report earlier in the day showed rising consumer prices and signs of inflation.
Here's what Bloomberg Government is tracking so far today.
Biden's Schedule:
Biden will host veterans and members of the military community at 9 a.m. at the White House.
The group then heads to Arlington National Cemetery in Virginia to commemorate Veterans Day by participating at 11 a.m. in the Presidential Armed Forces Full Honor Wreath-Laying Ceremony on the 100th anniversary of the Tomb of the Unknown Soldier.
The president will then speak at 11:15 a.m. at the National Veterans Day Observance at the Memorial Amphitheater.
Biden Says Agenda Will Slow Inflation
President Joe Biden acknowledged that Americans are feeling the pressures of inflation and goods shortages, promising that his soon-to-be-signed infrastructure legislation is part of his plan to overcome the extended effects of the coronavirus pandemic.
"Many people remain unsettled about the economy and we all know why," he said yesterday as he visited the Port of Baltimore to promote the infrastructure investments that would ease supply chain bottlenecks. Consumers "see higher prices" and when "they go to the store or go online, they can't always find what they want and when they want it," Biden said. "Everything from a gallon of gas to a loaf of bread costs more," he conceded, pointing to a report released earlier in the day showing a surge in consumer prices in October.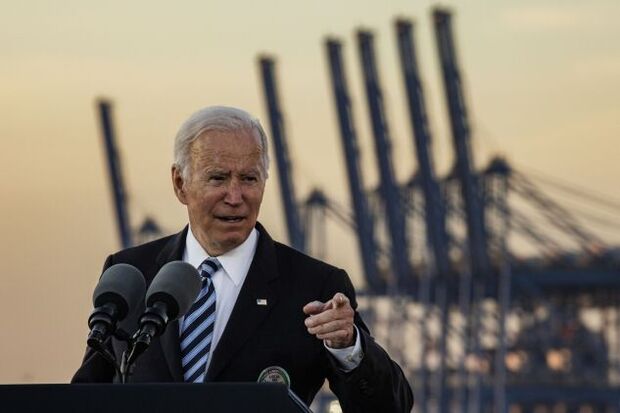 Though inflation is "real" and "one of the most pressing economic concerns of the American people," there are also plenty of good signs in the economy, he said. "Jobs are up, wages are up, values are up and savings are up."
The infrastructure bill, which Biden plans to sign into law on Monday at a bipartisan White House ceremony, is part of "a plan to finish the job of getting us back to normal from the pandemic and having a stronger economy than we ever had before," he said. Read more from Josh Wingrove.
While Biden argues that inflation will be pulled down by his social-spending bill and infrastructure plan, Republicans are hammering exactly the opposite argument—cash drops by the government are driving up prices. Even some Democrats are echoing the GOP's concerns, complicating the outlook for the pending legislation. At stake in how quickly the inflation recedes, and in the debate over the cause and remedy of the escalation in prices, is control of Congress. In next November's midterm elections, congressional Democrats' razor-thin majorities of both chambers will be up for grabs. It's effectively the first national election where inflation will be a prime issue since Ronald Reagan's win over then-President Jimmy Carter. Read more from Mike Dorning.
Republicans, for example, are accusing Biden of compromising Thanksgiving. It's not quite the war on Christmas, but several Republicans in the House have complained about rising food prices using the hashtag #ThanksgivingTax on Twitter and Facebook, tying Biden to the latest economic data. It's not clear who coined the phrase, but it's been used by Reps.

Elise Stefanik

(N.Y.) and

Lisa McClain

(Mich.) and the official House Republicans' account, which has more than a million followers. Read more from Amelia Pollard.
After U.S. prices climbed by the most in three decades, there's even worse news ahead for households and policy makers: Inflation likely has further to grow before it peaks. October's annual rate was 6.2%, the highest since 1990, as price increases spread well beyond parts of the economy most disrupted by pandemic closures. Key drivers, like hot housing markets and a global energy crunch, show few signs of quelling soon. Read more from Reade Pickert, Steve Matthews, and Katia Dmitrieva.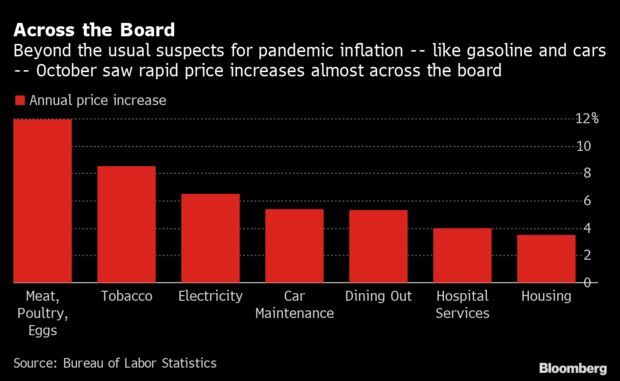 Pleas for Oil Export Ban Would Upend Markets: Biden is facing growing pressure even from fellow Democrats to address rising gasoline prices with measures such as a ban on oil exports, a move that could upend global markets, discourage shale drilling and end up not helping American drivers that much. It was only six years ago that Congress lifted a 40-year-old ban on U.S. oil exports, reshaping global crude oil flows, shifting geopolitical power and disrupting entire economies. The U.S. has emerged as the world's largest oil producer and its crude has reached over 50 countries.
Backtracking now would almost certainly make the country's flagship West Texas Intermediate crude cheaper, but it would also hurt shale drillers as they recover from last year's unprecedented market crash. Meanwhile, refiners on the U.S. Gulf Coast that depend on imported oil might end up paying more for those foreign barrels in a global market deprived from U.S. supplies. Ari Natter and Julia Fanzeres have more.
Likewise, if Biden decides to tap U.S. emergency crude reserves to push down domestic energy prices, it may not help all that much. The supplies may just be exported away like last month. Roughly 1.6 million barrels of oil from the U.S. Strategic Petroleum Reserve—a monthly record—was shipped out in October, according to data from market intelligence firm Kpler. Three cargoes were loaded onto a supertanker in the Gulf Coast and are off to Asia. Read more from Devika Krishna Kumar.
Judge Denies Trump on Riot Records
Donald Trump's presidential diaries, call logs and other records must be given to the House panel investigating the Capitol riot, a federal judge ruled, rejecting the former president's latest request to block their release pending his appeal.
U.S. District Judge Tanya Chutkan yesterday denied Trump's request that she put on hold an order she issued Tuesday night releasing the documents while the appeals court in Washington weighs the dispute. "Plaintiff has not advanced any new facts or arguments that persuade the court to reconsider its November 9, 2021, order," the judge wrote. "This court will not effectively ignore its own reasoning in denying injunctive relief in the first place to grant injunctive relief now."
Trump filed a lawsuit in October to stop the National Archives from handing the documents over to Congress, invoking executive privilege. He filed his appeal of Chutkan's Tuesday ruling in favor of Congress shortly after the judge issued it. The National Archives is set to release the documents Friday, unless a court orders it not to. Read more from David Yaffe-Bellany and Mark Niquette.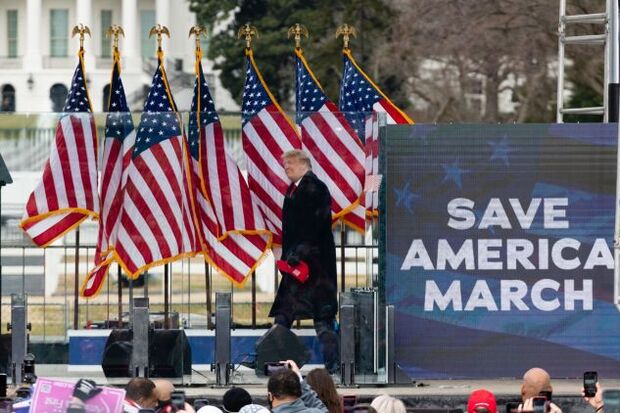 ALSO ON LAWMAKERS RADAR:
Around the Administration
Vice President Kamala Harris announced U.S. efforts to work more closely with France to combat cyber threats and to cooperate on space exploration and commercial development. The initiatives followed Harris's meeting with French President Emmanuel Macron on the second day of a visit to Paris that's aimed at raising the vice president's international profile. Read more from Jennifer Jacobs.
The U.S's new defense pact with Australia that's strained ties with France in recent months wasn't discussed during Harris's meeting with Macron, an administration official said yesterday, Jennifer Jacobs reports.
The U.S. is raising concerns with China that go beyond Beijing's purchasing commitments under their existing trade deal, including China's state-centered industrial policy, Biden's top trade negotiator said. U.S. Trade Representative Katherine Tai said that the administration "sooner rather than later" will move beyond its current first step of engagement with China, which includes discussion of the so-called phase-one deal from January 2020. China is far behind its purchasing targets. Read more from Eric Martin.
The U.S. and China's climate pact late yesterday changed the dynamics at high-stakes COP26 talks in Scotland. It was a surprise statement for two powers that have been at odds throughout the meetings and locked for years in geopolitical rivalry. Eric Roston explains the significance.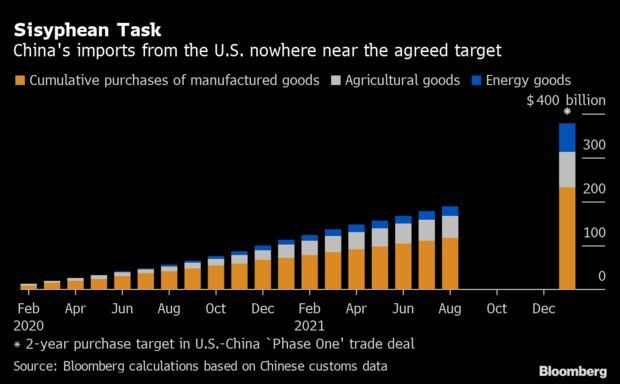 The Biden administration will strengthen its proposed limits on auto and truck emissions, EPA chief Michael Regan said Wednesday, addressing complaints that the plan unveiled last summer is too weak. "What we finalize will be much more aggressive and much more comprehensive," he said in an interview while he was attending the COP26 climate summit in Glasgow. That shift would likely be welcomed by environmentalists who have pressed the administration toughen the greenhouse gas emissions standards, Jennifer A. Dlouhy reports.
Secretary of State Antony Blinken voiced alarm over Russian troop movements near its border with Ukraine, saying that the American commitment to Kyiv is "ironclad." The U.S. still doesn't "have clarity into Moscow's intentions," Blinken said at a news conference in Washington alongside his Ukrainian counterpart, Dmytro Kuleba, after Russia moved military forces to a training ground near Voronezh. Read more from Nick Wadhams and Daryna Krasnolutska.
To contact the reporters on this story: Zachary Sherwood in Washington at zsherwood@bgov.com; Brandon Lee in Washington at blee@bgov.com
To contact the editors responsible for this story: Giuseppe Macri at gmacri@bgov.com; Michaela Ross at mross@bgov.com