What to Know in Washington: Biden Says He's Open to Means-Tests
President Joe Biden told a group of progressives and members of House leadership yesterday he is open to setting income limits for some of the programs in his social-spending bill, to lower the price tag, according to a person familiar with the discussion.
During the virtual meeting, Biden also reiterated that he expects the legislation would eventual fall in the range of $1.9 trillion to $2.2 trillion—from the $3.5 trillion originally proposed, the person, who asked for anonymity to discuss the private talks, said.
That's the amount the White House expects could win agreement from two centrist Democrats, Sens. Joe Manchin (W.Va.) and Kyrsten Sinema (Ariz.), whose votes will be pivotal to passage, according to the person. Manchin also has advocated for the means-testing of some programs designed to benefit middle- and lower-income Americans.
Rep. Pramila Jayapal (D-Wash.), head of the Congressional Progressive Caucus, said in a statement that the discussion with Biden was "productive and necessary," but gave no details.
Last night, Speaker Nancy Pelosi (D-Calif.) and Senate Majority Leader Chuck Schumer (D-N.Y.) met on Capitol Hill with White House officials, including Biden's economic adviser Brian Deese, domestic policy adviser Susan Rice and legislative liaison Louisa Terrell. They discussed the economic package, a person familiar with the session said, and Schumer said afterward that "progress" had been made.
Biden is diving directly into the negotiations to bridge differences between progressive and moderate Democrats over the size and scope of his plans. He is scheduled to meet virtually with House Democrats at 10:15 a.m. to discuss their plans. The president then travels to Michigan, where he will deliver remarks at a International Union of Operating Engineers training facility at 3:30 p.m. on his economic agenda. Read more from Emily Wilkins.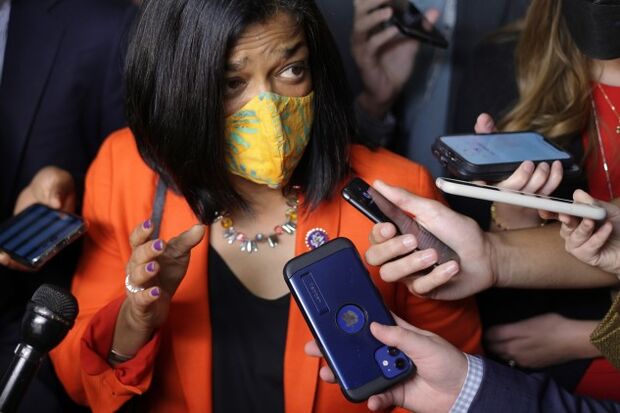 Happening on the Hill
Today's Schedule:
Lawmakers' Face Daunting Agenda: Lawmakers face an imminent deadline to address the debt limit. Meanwhile, House leaders scrapped a vote on the Senate-passed bipartisan infrastructure package as progressives called for action on the Democrats-only social spending package. Pelosi has called for a deal by Oct. 31, the new expiration date for surface transportation programs. Lawmakers also extended government funding and key programs such as flood insurance through Dec. 3, averting a potential shutdown and teeing up action on a year-end spending package. This BGOV OnPoint highlights deadlines that will help drive the congressional agenda in the months ahead.
Schumer Plans to Seek Debt-Limit Vote: Schumer set up a procedural vote this week on legislation to suspend the debt ceiling that Republicans have vowed to block. "Before the end of this week, the Senate must — must — get a bill to the president's desk to address the acute crisis of the debt limit," Schumer said yesterday on the Senate floor. The bill, already passed by the House, would suspend the debt limit until December 2022. Schumer yesterday set in motion plans for a vote to move forward with the legislation, even though Senate Minority Leader Mitch McConnell (R-Ky.) has said repeatedly that Republicans won't let it proceed. Read more from Laura Litvan and Erik Wasson.
Facebook Insider Promises 'Frightening Truth': The Facebook whistle-blower who turned over a trove of internal company documents to U.S. securities regulators will tell senators that the company misled the public and shareholders about the harmful effects of its platforms, according to her testimony. "Facebook became a $1 trillion company by paying for its profits with our safety, including the safety of our children," Frances Haugen will tell a Senate subcommittee today. "I came forward because I recognized a frightening truth: almost no one outside of Facebook knows what happens inside Facebook." Read more from Anna Edgerton and David McLaughlin.
Politics & Influence
BGOV PODCAST — Republican Redistricting Head on His Party's Strategy: Adam Kincaid, head of the National Republican Redistricting Trust, joined Bloomberg Government's Kyle Trygstad and Greg Giroux on the latest episode of Downballot Counts to discuss his party's strategy for shaping congressional districts for the next decade. Listen to the latest episode of Downballot Counts
Trump Could Be Deposed About Zervos Assault Claims: Former President Donald Trump could be questioned under oath before Christmas about claims that he sexually assaulted former "Apprentice" contestant Summer Zervos. A New York judge yesterday ordered lawyers for Trump and Zervos to complete their depositions by Dec. 23. The order didn't include any names of witnesses, but Zervos has long said she would seek to depose Trump. Read more from Erik Larson.
Parnas Says He's Broke as Trial Nears: Lev Parnas, the Rudy Giuliani associate who helped him try to dig up dirt on Joe Biden in Ukraine, said in a court filing he can no longer afford to pay for his legal defense in his upcoming trial on campaign finance charges. Parnas did not request the appointment of new counsel, and his lawyer, Joseph Bondy, confirmed yesterday that he would continue in that role despite his client's financial troubles. Read more from Christian Berthelsen.
Andrew Yang Leaves Democratic Party: Andrew Yang, who ran as a Democrat for both New York City mayor and in the party's 2020 presidential primaries, said that he's changed his voting registration to independent. "I've been a Democrat my entire adult life," Yang wrote in a statement posted on his website. "And yet, I'm confident that no longer being a Democrat is the right thing." Read more from Emma Kinery.
Around the Administration
Top Homeland Lawyer Confirmed: The Department of Homeland Security will get a new top lawyer, with the Senate confirmation yesterday of Jonathan Meyer as general counsel. Meyer, who was confirmed in a 51-47 vote, will play a pivotal role in shaping and defending the Biden administration's immigration, cybersecurity, and counterterrorism policies as the department's chief legal official. He was deputy general counsel and senior counselor at DHS during the Obama administration and most recently worked in private practice at Sheppard, Mullin, Richter & Hampton. Read more from Ellen M. Gilmer.
NIH Director Francis Collins Nears Retirement Announcement: Francis Collins, the doctor and geneticist who has led the U.S. National Institutes of Health through three presidential administrations, is expected to soon announce plans to retire, people familiar with the matter said. The move would leave a key position to fill in the government's pandemic response team. An announcement is expected as soon as today, said two of the people, Riley Griffin, Josh Wingrove, and Jeannie Baumann report.
Scrutiny Mounting on Fed After Trades Revealed: The Federal Reserve is coming under greater scrutiny from inside and outside its walls following revelations about market trading by senior officials in 2020 as the coronavirus forced the central bank to leap to the rescue of the U.S. economy. Days after Bloomberg News first reported trades made last year by Vice Chair Richard Clarida, the Fed said yesterday its internal watchdog will review whether actions by "certain senior officials was in compliance with both the relevant ethics rules and the law." Craig Torres has more.
Kerry Targets Jet Fuel, Truck Emissions: Some of the world's biggest companies are signing up for a coalition created by John Kerry, U.S. special presidential envoy for climate, to scrub notoriously dirty industries, according to a list seen by Bloomberg Green. Shipping behemoth A.P. Moller – Maersk, commodity giant Trafigura Group and leading global cement maker Holcim are among those in the First Movers Coalition set to launch in the coming weeks at the COP26 climate summit in Glasgow. The full list of coalition members will be announced at COP26. Read more from Akshat Rathi.
Taiwan Risks Mount Amid U.S., China Drills: Taiwan is the focus of rival displays of might by the world's major military powers this week, with record sorties by Chinese military planes off one coast and flotillas of U.S. and allied warships off another. The 56 People's Liberation Army aircraft that entered Taiwan's air-defense-identification zone yesterday represented the largest such incursion to date, and followed a similar record over the weekend. The flights drew a rebuke from the Biden administration and followed an unusually large exercise by U.S. allies in the nearby East Philippine Sea. Read more from Samson Ellis.
J&J Submits Booster Data to FDA: Johnson & Johnson submitted data to the Food and Drug Administration to support use of a booster shot of its Covid-19 vaccine in individuals 18 years of age and older, according to a statement. The firm also plans to submit the data—which it says showed the booster dose increased protection to 94% efficacy—to other regulators, the World Health Organization and National Immunization Technical Advisory Groups worldwide, Luzi Ann Javier reports.
U.S. Has Half-Million Excess Deaths in 2020: Racial and ethnic minorities accounted for a disproportionate number of the half million excess deaths last year, according to a new U.S. study that examines mortality both directly and indirectly related to Covid-19. Researchers compared the number of people who died from March to December 2020 with the number of deaths that had been projected to occur before the pandemic. They found 477,200 excess deaths, with twice as many occurring among Blacks, Latinos, American Indians and Alaskan Natives compared with Whites and Asians of similar age, Anushree Dave reports.
To contact the reporters on this story: Brandon Lee in Washington at blee@bgov.com; Zachary Sherwood in Washington at zsherwood@bgov.com
To contact the editors responsible for this story: Zachary Sherwood at zsherwood@bgov.com; Loren Duggan at lduggan@bgov.com