What to Know in Washington: Biden Risks Drawn-Out DOJ Probe
Bloomberg Government subscribers get the stories like this first. Act now and gain unlimited access to everything you need to know. Learn more.
President Joe Biden's expectations for a quick resolution of a probe into his mishandling of classified documents have been dashed, as a steady drip of new developments has tied it into political knots.
Although it appears to be a relatively straightforward investigation, the case has become politically entangled with separate questions about the mishandling of classified material by former President Donald Trump and now former Vice President Mike Pence.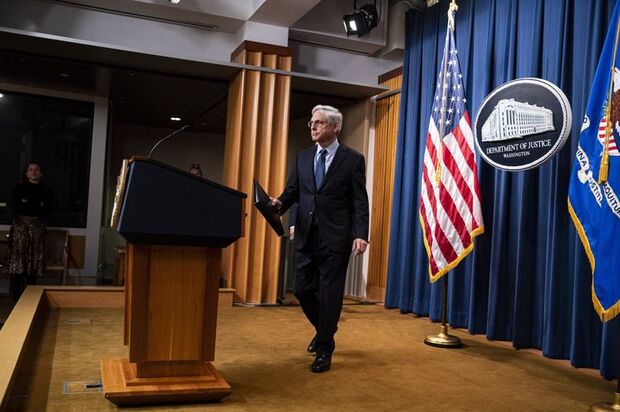 The situation has raised questions inside and outside the Justice Department about whether Attorney General Merrick Garland or senior officials should coordinate the investigations to give the public greater confidence about how they're being handled, according to current and former government officials.
That could be seen as interfering in the probes by two special counsels and goes against the department's usual practice, some of the people said. There's no indication that Justice Department leaders are discussing those options.
Failing to coordinate the cases could end up hurting them, if it leaves the public with the impression that they weren't treated equally, especially as Biden is expected to run for reelection and Trump remains the only announced GOP candidate for 2024. Read more.
Happening on the Hill
CONGRESS' SCHEDULE
The House meets at 9 a.m. to continue consideration of a strategic oil reserve bill.
The Senate returns Monday.
Biden lashed out at Republicans and said they were looking to use the nation's credit as leverage in economic negotiations.
There are signs that the can will be kicked further down the road, in spite of all the tough talk in Washington around the debt ceiling. Read more.
The US Treasury's quarterly financing estimates due next week will be closely watched to gauge the department's view on how the debt-ceiling drama will unfold. Read more.
Senate Republicans' inability to cement committee rosters for the new Congress continues to stymie the chamber from getting to work.
House and Senate Democratic committee rosters were announced yesterday by Democratic Leaders Hakeem Jeffries (D-N.Y.) and Chuck Schumer (D-N.Y.).
Read the House Democratic panel rosters for new members here.
Read the Senate Democratic full panel rosters here.
Republican members of the Ways and Means Committee took their subcommittee gavels at a meeting Thursday. Rep. David Schweikert (R-Ariz.) will chair the Subcommittee on Oversight and Rep. Mike Kelly (R-Pa.) will chair the Subcommittee on Tax, per an aide familiar with the committee's plans.
The Republican-led House is starting to ramp up its attacks on environmental, social and governance investing, putting the Democratic-led SEC and ESG backers on notice.
House Transportation and Infrastructure Chairman Sam Graves (R-Mo.) is setting an "aggressive goal" to craft a major aviation bill in the next few months, pledging to move faster than the Senate.
Sen. Joe Manchin (D-W.Va.) is pushing back against efforts to apply broad interpretations to a tax credit for electric vehicles that he largely wrote.
A bipartisan House duo will revive a pair of health bills that failed to cross the finish line last year, including diagnostics reform legislation.
Elon Musk made a surprise visit to Capitol Hill on Thursday and met with Speaker Kevin McCarthy (R-Calif.).
Their kids may have gone home after a week on the floor of Congress, but a group of House representatives are keeping their status as fathers front and center with a new caucus to advance issues crucial to working families.
Elections, Politics & Probes
Is it reasonable to retire at age 77? How about age 68?
Florida Governor Ron DeSantis, a potential 2024 presidential contender, is calling for a change in GOP leadership ahead of a bitterly contested election on Friday for Republican National Committee chair.
Trump failed to persuade a judge to throw out a civil lawsuit brought by Capitol Police officers over injuries they suffered during the Jan. 6 Capitol riot.
John Eastman, the conservative lawyer who helped lead Trump's legal efforts to undermine the results of the 2020 presidential election, is facing disciplinary action in California, where state bar regulators say they will seek to strip his license.
US Supreme Court Justice Brett Kavanaugh said relations among his colleagues are "quite good," even as the court grapples with deeply divisive issues including abortion, voting rights and affirmation action.
Around the Administration
BIDEN'S AGENDA
Biden departs the White House for Camp David at 5:30 p.m.
At 1:30 p.m., White House Press Secretary Karine Jean-Pierre gives a briefing.
The Environmental Protection Agency is preparing to move ahead with a slate of major air and climate rules this year to make gains on the Biden administration's long-promised climate goals.
Texas, leading a coalition of 24 states, sued the Biden Administration Thursday to stop a new US Department of Labor rule that allegedly prioritizes "ill-defined" environmental, social, and governance concepts into ERISA regulations.
The recent decline in temporary jobs — often a harbinger of recession — is actually raising hopes among Federal Reserve policymakers that their bid for a soft landing is working.
Agriculture Deputy Secretary Jewel Bronaugh, the first Black official to serve in the role, is stepping down after about a year and a half on the job in order to spend more time with her family, she announced Thursday.
Determining which health-care payment disputes are eligible for arbitration under the No Surprises Act has turned out to be the hardest part of the process, a Treasury official said Thursday.
Antitrust enforcers should be willing to challenge mergers that decrease competition, without trusting corporations to stick to promised remedies, a top Justice Department official said Thursday, two days after the department sued Alphabet Inc.'s Google to break up its online advertising business.
Bivalent Covid-19 shots should become the standard form of the vaccine, US advisers said, part of a plan to offer a single booster to the public each year that gives protection against the most recent, dominant strains.
Biden called for a full investigation into the death of Tyre Nichols, a Black driver in Memphis, Tennessee, who died after injuries suffered during a traffic stop earlier this month, and urged demonstrators to protest peacefully.
Biden said the Asian-American community had experienced profound "pain and violence" as he marked the Lunar New Year at a White House event just days after a deadly mass shooting at a celebration in California left 11 people dead.
Five people killed in shootings at two farms in Northern California this week were Chinese citizens, according to the Chinese consulate in San Francisco. Read more.
Biden sharply dismissed criticism that his signature legislative accomplishments are too protectionist, even as US allies complain the policies could cut them out of valuable trade deals.
MORE ON FOREIGN POLICY
Japan and the Netherlands are poised to join the US in limiting China's access to advanced semiconductor machinery, forging a powerful alliance that will undercut Beijing's ambitions to build its own domestic chip capabilities, according to people familiar with the negotiations.
Bilal al-Sudani, an Islamic State leader, was killed Wednesday night in a US counter-terrorism operation in a remote area of northern Somalia, according to senior administration officials.
US Treasury Secretary Janet Yellen said she's confident that discussions aimed at extending restrictions on the sale of Russian petroleum products will be concluded within an approaching deadline that coincides with new European Union sanctions against Moscow.
Nearly a year into an invasion that was supposed to take weeks, Vladimir Putin is preparing a new offensive in Ukraine, at the same time steeling his country for a conflict with the US and its allies that he expects to last for years. Read more.
To contact the reporters on this story: Brandon Lee in Washington at blee@bgov.com; Michaela Ross in Washington at mross@bgov.com
To contact the editor responsible for this story: Katrice Eborn at keborn@bgov.com
Stay informed with more news like this – from the largest team of reporters on Capitol Hill – subscribe to Bloomberg Government today. Learn more.