What to Know in Washington: Biden Rips Trump on Transition, Vote
Bloomberg Government subscribers get the stories like this first. Act now and gain unlimited access to everything you need to know. Learn more.
President-elect Joe Biden yesterday assailed the Trump administration's lack of cooperation on the presidential transition, which he says hinders his team's ability to get up-to-date information on the coronavirus pandemic.
Biden said he couldn't "fathom" President Donald Trump's refusal to concede the election, saying he would "go down in history as being one of the most irresponsible presidents."
"Far from me to question his motives, it's just outrageous what he's doing," Biden said, referring to Trump's legal maneuvers to overturn the election result.
Biden called on the administration to allow his team to get details on a coronavirus vaccine and plans for distribution. "I would like to know exactly what this administration has in mind in terms of their Operation Warp Speed and how they plan it," he said.
Biden said he has not ruled out legal action to force the hand of the General Services Administration, which has so far declined to sign an ascertainment that Biden likely won the election and freeing up money and access to government officials. Until the paperwork is signed, Biden cannot get national security briefings or real-time data on the coronavirus.
Biden's team is working to find the information and guidance it needs while Trump continues to block Biden's efforts to build an administration. Transition officials have begun to contact staff of the congressional appropriations committees for information about federal agencies, people familiar with the meetings said. The president, meanwhile, is standing by his unfounded claims that widespread fraud invalidate the election and insisting he will prevail. Read more from Justin Sink, Erik Wasson, and Tyler Pager.
Biden's Budget Complicated by Transition Delay: Biden faces an uphill battle to prepare his first budget proposal, with his transition team blocked from coordinating with White House staff and lawmakers negotiating legislation that could upend expectations of the fiscal outlook. Incoming presidents are often unable to submit a full budget proposal by the statutory deadline on the first Monday of February, but Biden faces more challenges than previous newcomers. His transition team can't coordinate on budget priorities with White House Office of Management and Budget staff or officials from other agencies until the GSA ascertains an apparent winner. Biden will also have to navigate an uncertain fiscal outlook with lawmakers currently negotiating separate stimulus and omnibus spending packages.
The delay in calling a winner may not affect the fiscal 2022 budget proposal "if we're only talking about a week or two," Steve Redburn, a lecturer at George Washington University and former OMB official, said in an interview. "But it could become a complicating factor if it drags on and on." Career staff at agencies may have as much interest in talking to Biden's team as Biden has in talking to them. When GSA ascertains a winner, agency staff can prepare information for the transition team about "the lay of the land in terms of policy and management, and any crises," said Redburn, who helped write and edit an e-book on OMB's role at the start of a presidential term. Read more from Jack Fitzpatrick.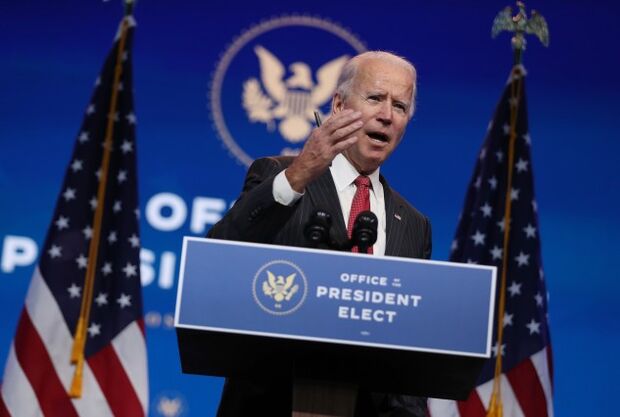 Democrats Demand Briefing on GSA Transition: Four top House Democrats yesterday demanded that the chief of the GSA give a first-person briefing by Monday on the continuing refusal of the Trump administration to allow Biden's transition team access to government services and facilities. "Your actions in blocking transition activities required under the law are having grave effects, including undermining the orderly transfer of power," the lawmakers said in a letter sent to GSA Administrator Emily Murphy. They added that those actions are "impairing the incoming administration's ability to respond to the coronavirus pandemic, hampering its ability to address our nation's dire economic crisis, and endangering our national security." Read more from Billy House.
Romney Blasts Trump's 'Undemocratic' Moves: Meanwhile, Sen. Mitt Romney (R-Utah) yesterday denounced Trump over his continuing campaign to reverse his loss to Biden. "Having failed to make even a plausible case of widespread fraud or conspiracy before any court of law, the president has now resorted to overt pressure on state and local officials to subvert the will of the people and overturn the election," Romney said in a statement posted on Twitter. "It is difficult to imagine a worse, more undemocratic action by a sitting president."
The blunt criticism by Romney, the 2012 Republican presidential nominee who has often been at odds with Trump, stands in stark contrast to most congressional Republicans who have remained silent as the president continues to issue unsubstantiated accusations about voting fraud on Twitter. Read more from John Harney.
The Presidential Transition
Biden to Host First Pelosi-Schumer Meeting: Biden and Vice President-elect Kamala Harris will meet in person today with Speaker Nancy Pelosi (D-Calif.) and Senate Democratic Leader Chuck Schumer (D-N.Y.) in Wilmington, the transition team announced. The meeting will be the first in-person conversation between the Democratic leaders since Biden won the election. They last saw Biden in person at a memorial for the late Justice Ruth Bader Ginsberg in September, Tyler Pager and Jennifer Epstein report.
Biden Says He's Picked Treasury Secretary: Biden said yesterday he has chosen a Treasury Department secretary, promising an announcement either next week or the week after. "You'll soon hear my choice for Treasury," Biden said at a press conference yesterday. "I've made that decision, we've made that decision, and you'll hear that either just before, or just after, Thanksgiving." Biden added, "You'll find it is someone who I think is, will be accepted by all elements of the Democratic Party, from the progressive to the moderate coalitions." Justin Sink has more.
Manufacturing Focus Offers Hope for Tax Perk: Biden's interest in boosting domestic manufacturing is a good sign for companies that want to see a temporary tax policy known as full expensing extended or made permanent. Businesses have long been allowed to deduct investment costs, but the 2017 tax law temporarily allows the immediate write-off of costs associated with the purchase of capital goods, including manufacturing equipment. The provision is set to start phasing out after 2022 and expire at the end of 2026. Read more from Kaustuv Basu and David Hood.
Space Force Set Up to Outlast Trump: Biden will inherit his predecessor's signature military Space Force, yet the pace of its development hinges on lawmakers resolving a fundamental dispute: how the new service can spend money. For six months, the Space Force has been locked in a dispute with the White House over how much autonomy it should have to speed up buying and fielding space hardware and software. Michele Flournoy, seen as a top candidate for defense secretary under Biden, indicated she would support the Space Force and oppose some progressive groups' efforts to eliminate it. About three dozen such groups sent a memo to Biden this week proposing the elimination of the Space Force, a nuclear warhead, and the new Ford-class aircraft carriers, Politico reported. Read more from Travis J. Tritten.
Diversity Lacking Amid Labor Secretary Picks: The country's largest labor federation has told its member unions that four possible contenders for labor secretary are drawing support within the ranks, an emerging political fault line for Biden to navigate. The four names on the AFL-CIO's preliminary list all have important qualifications for the post, and all are White men. They are Seth Harris, a deputy labor secretary during the Obama era, two members of Congress—Reps. Donald Norcross (D-N.J.) and Andy Levin (D-Mich.)—and Boston Mayor Marty Walsh, according to five sources familiar with discussions that produced the list. Read more from Ben Penn.
Ocasio-Cortez Rallying Left to Push Biden: The newly expanded group of young progressive House Democrats led by Rep. Alexandria Ocasio-Cortez (D-N.Y.) is moving quickly to pressure Biden for bold action on climate, race, and other issues despite caution among some in the party's establishment of moving too quickly. "We have champions, like Mondaire Jones, like Jamaal Bowman and Cori Bush, that are now being ushered into this new wave," Ocasio-Cortez said yesterday outside the headquarters of the Democratic National Committee. Read more from Josyana Joshua.
Federal Water Rule Expected to Stay Murky Under Biden Without Congress: A Biden administration won't be able to untangle the legal and regulatory "mess" under part of the Clean Water Act that determines which streams, wetlands and other waters get federal protection, legal scholars and litigators say. A recent U.S. Supreme Court ruling failed to define WOTUS fully. And a bitterly divided Congress in 2021 is unlikely to make headway on the issue, particularly when congressional efforts to address Clean Water Act jurisdiction have failed in the past. Read more from Bobby Magill.
The Outgoing White House
Georgia Ruling Adds to Trump Losing Streak: A federal judge in Atlanta denied a bid to halt Georgia's certification of its election results, handing Trump another setback despite his lawyers' increasingly improbable claims and bluster that they can overturn Biden's victory. U.S. District Judge Steven Grimberg last night rejected a suit by conservative lawyer and Trump ally L. Lin Wood, who had sought to prevent Georgia Secretary of State Brad Raffensperger from certifying the vote tally today. According to the state's hand recount completed Wednesday, Biden won Georgia and its 16 electoral votes by more than 12,000 votes. Read more from David Voreacos, Erik Larson and Josh Wingrove.
Trump to Meet With Michigan Republicans: Trump quietly invited the Republican leaders of Michigan's legislature to the White House later today, according to a person familiar with the matter, as he seeks to erase his defeat in the election. Some of the president's allies have said he should seek to persuade Republican legislatures in several states he's contesting, including Michigan and Pennsylvania, to overrule voters and hand the states' electoral college votes to Trump instead of Biden. It's legally questionable whether legislatures could even consider the idea after the election has already taken place. Read more from Mario Parker.
Trump to Make APEC Appearance Today: Trump will join in today's virtual summit of leaders in the Asia-Pacific region making a rare appearance since Biden was projected as the winner of the 2020 election. Trump will not be making a formal address and will deliver comments in a slot not open to the public where leaders get about three minutes to speak to each other, according to the secretariat for the Asia-Pacific Economic Cooperation summit. Read more from Jordan Fabian and Anisah Shukry.
Happening on the Hill
Leadership Staff Met on Omnibus, Discussed Virus Aid: Meanwhile, staff from the offices of Speaker Pelosi, Senate Majority Leader Mitch McConnell (R-Ky.), Senate Minority Leader Schumer and House Minority Leader Kevin McCarthy (R-Calif.) met yesterday to discuss an omnibus spending package. The talks on the spending plan are on a separate track from stalled negotiations on a Covid-19 relief bill, but during the meeting, the staff members discussed assistance measures tied to coronavirus relief, a senior Democratic aide said without giving details. A House Republican aide said that expiring programs related to the pandemic such as extended unemployment insurance and the Paycheck Protection Program were on the agenda, along with other expiring government programs, Erik Wasson and Billy House report.
Tech-Shield-for-Base-Name Deal Rejected: The Trump administration is weighing using the annual national defense authorization bill to make sweeping changes to legal protections for social media companies. Such a move, suggested in exchange for dropping a veto threat over removing Confederate generals' names from military bases, is facing opposition from one of the top negotiators on the measure, House Armed Services Chairman Adam Smith (D-Wash.). Read more from Roxana Tiron and Ben Brody.
IRS Blasted for PPP Loans Tax Break Caps: The top Republican and Democrat on the Senate Finance Committee said the Treasury Department "missed the mark" in its new guidance that limits tax breaks for businesses that get their Paycheck Protection Program loans forgiven. In a joint statement yesterday, Senate Finance Chairman Chuck Grassley (R-Iowa) and ranking member Ron Wyden (D-Ore.) said Treasury is depriving small businesses of much-needed economic relief by forcing them to choose between getting their loans forgiven or claiming write-offs on expenses they covered with the loan. Read more from Laura Davison and David Hood.
Rift in Pandemic Insurance Eyed at Hearing: House lawmakers aired differences over the scope of proposals for covering insurance claims during future pandemics, part of an ongoing legislative discussion to undergird struggling small businesses. A House Financial Services subcommittee hearing yesterday offered a venue for lawmakers and insurers to pitch ideas about how best to structure—or find alternatives to— one such program, outlined in a bill introduced by House Oversight and Reform Chairwoman Carolyn Maloney (D-N.Y.). They also debated whether insurance is the right avenue for rescuing businesses from the next pandemic. Read more from Jacob Rund.
BGOV OnPoint —Leaders in the 117th Congress: Democrats and Republicans selected their leaders for the 117th Congress, with many top lawmakers returning to their posts. Bloomberg Government reviews members resuming leadership positions and the new faces joining them in the next Congress. Find the report here.
The Coronavirus Pandemic
Biden Says Trump Antagonizing Virus Effort: Biden yesterday said his administration would not impose a national shutdown in response to the coronavirus pandemic. "I am not going to shut down the economy, period," he said. He said he also discussed mandates for mask-wearing in a meeting with the executive committee of the National Governors Association. It "shouldn't be a partisan issue," Biden said. "It's not a political statement. It's a patriotic duty." Read more from Justin Sink.
The White House coronavirus task force yesterday held its first press briefing since April, where coordinator Deborah Birx urged Americans to be vigilant as the pandemic surges nationwide. "Every American needs to be vigilant in this moment because we know when you are, we can stop this spread together," she said. She also recommended Americans restrict in-person gatherings to the people they live with ahead of the Thanksgiving holiday. Mario Parker, Jordan Fabian, and Josh Wingrove have more.
Mnuchin Seeks Billions in Unused Fed Funds: Treasury Secretary Steven Mnuchin said lawmakers should redirect unspent stimulus funding, including money he's pulling back from the Federal Reserve, to buoy the economy as the U.S. waits for a coronavirus vaccine. "I hope that Congress will seriously consider reallocating $580 billion of funds that have already been appropriated that wouldn't cost taxpayers an additional penny," he said in a phone interview yesterday.
The Fed programs were launched this spring to stabilize markets and extend credit to U.S. companies as the Covid-19 pandemic took hold. They helped quell the panic but take-up has been relatively low — which the Fed says is a sign that they've worked. Republicans in Congress have used that to argue they are no longer needed and the billions of dollars sent to the central bank to set them up can be deployed better elsewhere. Democrats, as well as the central bank, say that removing the safety net of these programs as the virus surges again through the country is not a good idea.
The Fed said in a statement that it "would prefer that the full suite of emergency facilities established during the coronavirus pandemic continue to serve their important role as a backstop for our still-strained and vulnerable economy." Saleha Mohsin has more.
Covid Hospitalizations Near 80,000: American hospitals are reeling as another spike in cases threatens to overwhelm capacity and drive up deaths. Almost 80,000 patients are hospitalized with Covid-19 in the U.S., another high in a week that's pushed up the record every day since Nov. 10. California, Texas, and Illinois have made up nearly a quarter of all hospital stays. The Midwest saw immense pressure on its health system, while North and South Dakota hospitals saw the highest number of inpatients on Wednesday when scaled for population, roughly one of every 1,685 people, the Covid Tracking Project says, Nic Querolo and Timothy Annett report.
Pfizer to File to Use Vaccine in December: Pfizer and BioNTech said they plan to file today for an emergency use authorization that could allow their Covid-19 vaccine to be used in the U.S. next month. The filing with the Food and Drug Administration could permit the vaccine to be administered to high-risk populations in the U.S. by the middle to the end of December, the companies said in a statement. Read more from Eric Pfanner.
WHO Advises Doctors Not to Use Remdesivir: The World Health Organization recommended against using Gilead Sciences's remdesivir to treat hospitalized Covid-19 patients less than a month after U.S. regulators granted the drug a speedy approval. "There is currently no evidence that it improves survival or the need for ventilation," a panel of WHO-convened experts developing Covid-19 treatment guidelines said in The BMJ medical journal. Read more from Anna Edney.
What Else to Know Today
Tata Tests Positive for Coronavirus after Lithuanian Visit: A top Pentagon official, retired Brigadier General Anthony Tata, has tested positive for coronavirus, the second time in recent weeks that the Covid-19 outbreak has impacted the senior ranks of the U.S. military. Tata, 61, was tested along with other top U.S. defense officials after Lithuanian diplomats yesterday informed the Pentagon that Defense Minister Raimundas Karoblis tested positive for the virus after visiting the building on Nov. 13 and Nov. 16, Pentagon spokesman Jonathan Hoffman said in a statement. Read more from Jennifer Jacobs.
Saudi Arabia May Find Biden Is Not So Bad: Under Trump, Saudi Arabia got all the attention it could have wanted from the U.S. — and more. While a Biden presidency looks certain to end the love-fest, the kingdom's leaders may not mind as much as one might think. King Salman bin Abdulaziz and his son, Crown Prince Mohammed, are set to lose much of what they gained during Trump's four years in office, including hastily approved weapons sales, the easing of pressure over human rights abuses, and not least a back-channel via the president's son-in-law, Jared Kushner. Read more from Nick Wadhams and Vivian Nereim.
G20 Meeting: The Group of 20 Leaders' Summit is being hosted by Saudi Arabia and held virtually this weekend. The focus at this annual gathering is on steering the global economy through the remainder of the pandemic.
US, Mexico, Canada Extend Border Closures: Department of Homeland Security acting Secretary Chad Wolf yesterday announced the U.S., Mexico, and Canada have agreed to extend the closure of their borders to non-essential travel until December 21.
OMB Says Agencies Should Review Use of Temporary Foreign Workers: Federal agencies by the end of next month must submit reports to the White House Office of Management and Budget on their use of foreign contract workers under temporary visas. Read more from Louis C. LaBrecque.
To contact the reporters on this story: Zachary Sherwood in Washington at zsherwood@bgov.com; Brandon Lee in Washington at blee@bgov.com
To contact the editors responsible for this story: Giuseppe Macri at gmacri@bgov.com; Loren Duggan at lduggan@bgov.com; Michaela Ross at mross@bgov.com
Stay informed with more news like this – from the largest team of reporters on Capitol Hill – subscribe to Bloomberg Government today. Learn more.