What to Know in Washington: Biden Retools Economic To-Do List
The president shifts messaging to focus on wage, job growth
Biden to meet with German chancellor amid Russian buildup near Ukraine
President Joe Biden's top advisers are repackaging his economic message to the American public as his approval ratings sink and his legislative agenda stalls in Congress, just months before crucial midterm elections.
Within the last week, Biden has taken pains to put more emphasis on growth in wages, union jobs and domestic manufacturing, according to a senior administration official. At the same time, he's given less weight to areas that remain sore points with voters, like inflation and the legislative machinations of his stalled Build Back Better plan, as well as the partisan strife over Covid-19 vaccinations, masks and testing.
In the wake of surging consumer prices, continuing supply-chain bottlenecks and a renewed jump in Covid-19 cases, Biden's economic advisers decided over the U.S. winter holidays his approach could use a reset, according to a senior administration official.
At stake: the president's standing with voters who will decide in November whether Democrats retain their slender House and Senate majorities. Read more from Nancy Cook.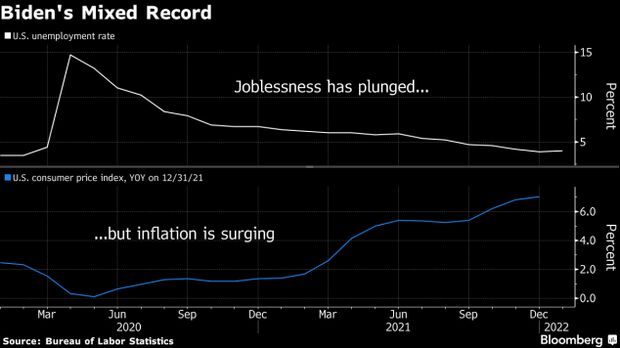 BIDEN'S SCHEDULE:
Olaf Scholz succeeded Angela Merkel as German chancellor nearly two months ago, but the West is still waiting for him to put his stamp on Europe's biggest economy. Scholz is under increasing pressure to take a stand on Russia over its military buildup near Ukraine, as well as face up to domestic difficulties including a rampant coronavirus outbreak and criticism of its spending plans.
He has an opportunity to respond to critics when he embarks on his first trip to Washington as chancellor. His meeting with Biden at the White House today kicks off a period of more intense international activity. Arne Delfs and Birgit Jennen preview the visit.
Scholz defended his country's stance on Russia ahead of the meeting in an interview with the Washington Post, Max Zimmerman reports. When asked about criticism that Germany hasn't been a strong enough ally to Ukraine and within NATO, Scholz said Germany has been and will continue to be the strongest economic supporter of Ukraine. Asked if Germany would halt the process to open the Nord Stream 2 pipeline were Russia to invade Ukraine, Scholz said he would "fight for the gas transit via Ukraine intensely and that we will be very strong if this gas transit would be endangered."
Congress & Politics
TODAY IN CONGRESS:
Democratic lawmakers are pushing their party to step up outreach efforts to Asian American voters ahead of the midterms, arguing the broad, diverse group could make or break races in districts that will decide the majority. Their efforts come as both parties take a newer look at their approach to wooing Asian American and Pacific Islander voters, particularly after turnout among these voters jumped 47 percentage points between 2016 and 2020, according to TargetSmart, a Democratic political data services firm. Read more from Emily Wilkins.
Sen. Joe Manchin predicted passage for a bill to address U.S. election procedures, including Congress's role in certifying an election. "I think absolutely it'll pass," Manchin (D-W.Va.) said in an appearance with another moderate, Lisa Murkowski (R-Alaska) on CNN's State of the Union yesterday. "Will it be a step ahead, will it be important for the country? Yeah," Murkowski said. Both senators described a bipartisan group working on reforms. Manchin tied the Jan. 6 assault on the Capitol to flaws in the 1887 Electoral Count Act that senators are considering changing. Read more from Todd Shields.
Also on the joint CNN appearance, Manchin endorsed Murkowski for re-election. "I'm endorsing my dear friend Lisa Murkowski. Alaska could only be so lucky to have her continue to serve," Manchin said. After the insurrection, Murkowski voted to convict Donald Trump. Trump endorsed GOP rival Kelly Tshibaka, making the race a proxy fight over the direction of the GOP. Murkowski endorsed Manchin, who would be up for re-election in 2024. "If he's running, I'm endorsing him," she said. Read more from Shields.
Democratic and Republican state legislatures have put the competitive congressional district on the endangered species list, bolstering the GOP advantage in this year's midterms but also setting up an even more polarized Congress next year. There are just 13 toss-up seats out of the 269 districts in redistricting completed so far, according to ratings from the Cook Political Report. The U.S. has 435 districts and not all state maps are yet finalized, with some facing legal challenges. But unexpectedly, Cook last week said that Democrats could win up to three seats due to redistricting. Ryan Teague Beckwith and Mark Niquette have more.
Facebook owner Meta Platforms is rethinking its policy of banning new political ads in the final days before an election, part of its preparation for the midterms, according to a person familiar with the matter. Meta employees in recent days have been re-evaluating how that policy was executed during the 2020 election, and whether there were potential unintended consequences, said the person, who wasn't authorized to speak on the record. No final decisions have been made about whether the policy will change, the person said. Read more from Naomi Nix and Anna Edgerton.
Longtime Trump adviser Steve Bannon must be barred from claiming at trial that he was relying on legal advice from the former president's lawyer when he balked at lawmakers' subpoenas, prosecutors told a judge. Bannon, who goes on trial in July on charges that he obstructed a House probe into the Jan. 6 attack, shouldn't be permitted to distract jurors with a defense that has no merit, the Justice Department said in a filing last Friday in Washington. Read more from Erik Larson.
Around the Administration
Janet Yellen said there's too much unfinished business to think about departing her role as Treasury secretary after just over a year on the job. The biggest win of her tenure—a historic global corporate tax agreement that Yellen engineered through careful international diplomacy—remains incomplete, with Congress yet to endorse it. The administration's "Build Back Better" package of social investments is also in legislative limbo. Meantime, high inflation is marring assessments of the $1.9 trillion pandemic aid bill enacted last March. Read more from Christopher Condon.
The Federal Reserve named Jerome Powell chair pro-tempore effective Saturday, pending his confirmation by the Senate to a second term at the helm of the U.S. central bank. "The action, effective Feb. 5, enables him to continue to carry out his duties as chair after the expiration of his term on the same day, and while the confirmation process is underway," the Fed said. The Senate Banking Committee plans a vote on his confirmation on Feb. 15, together with Biden's four other nominees to the bank, prior to consideration of them by the full Senate. Read more from Alister Bull.
A White House task force created to promote union organizing is recommending more transparency for employers' anti-union spending and expanding access for organizers on federal property. The 43-page report from the Task Force on Worker Organizing and Empowerment, released today, largely centers on expanding both federal and private-sector workers' access to information about their protections under U.S. labor law and how to form unions, as well as strengthening disclosure requirements around businesses' spending on anti-union consultants, or "persuaders." Biden has vowed to be the most pro-union president in modern history. Read more from Rebecca Rainey.
Biden's unprecedented Inauguration Day firing of the federal labor board's top lawyer during the Trump administration is teed up for judicial review at a Republican-dominated U.S. appeals court in New Orleans. The Fifth Circuit is set to be the first court to rule directly on the legality of former National Labor Relations Board General Counsel Peter Robb's ouster, an issue with long-term implications for future presidents' sway over the NLRB and the agency's independence from the White House. Read more from Robert Iafolla.
Biden's goal of cutting the cancer death rate in half will require strides in population-level research and weeding out disparities in care, the head of the National Cancer Institute said. "That's a bold, but achievable goal," NCI Director Ned Sharpless said in an interview. "But if we're going to reduce mortality by 50% in 25 years, we're going to have to invest in the science and technologies that will do that." Read more from Jeannie Baumann.
The U.S. Postal Service said it could buy more electric vehicles if more funding were available, following Biden administration criticism of the agency's plan to replace its fleet mainly with gas-powered delivery trucks. The Postal Service plan includes an initial order for 5,000 electric vehicles and flexibility for more "should additional funding become available," Postmaster General Louis DeJoy said in a news release yesterday. "Absent such funding, we must make fiscally responsible decisions," Todd Shields reports.
Private equity firms would be required to provide expansive disclosures about the fees shouldered by investors under rules set to be considered by the U.S. Securities and Exchange Commission, according to people familiar with the matter. The changes, which the regulator plans to propose this week, would force the companies to disclose specific expenses they pass on to clients. The rule would also tackle how frequently firms are required to provide the information, one person said. SEC Chair Gary Gensler has complained that the industry's fees are opaque and too high. Read more from Dawn Lim and Ben Bain.
Biden told Israeli Prime Minister Naftali Bennett he looks forward to visiting Israel in 2022 during a call that included discussion of the threat posed by Iran and its proxies, the White House said in a statement. Biden underscored his commitment to promoting stability in the Middle East, including "Israelis and Palestinians enjoying equal measures of security, freedom, and prosperity," according to the statement. He told Bennett yesterday he "looks forward to a visit later this year." Read more from Tony Czuczka.
Confidence-building gestures by the U.S. and Iran have generated new optimism that the sides are inching toward the resuscitation of a nuclear deal that could enable the Persian Gulf nation's return to world energy markets. Talks will resume tomorrow in Vienna, a week later than planned. Read more from Jonathan Tirone, Patrick Sykes and Golnar Motevalli.
To contact the reporters on this story: Zachary Sherwood in Washington at zsherwood@bgov.com; Brandon Lee in Washington at blee@bgov.com
To contact the editors responsible for this story: Giuseppe Macri at gmacri@bgov.com; Loren Duggan at lduggan@bgov.com; Michaela Ross at mross@bgov.com