What to Know in Washington: Biden Resists Afghanistan Pressure
Bloomberg Government subscribers get the stories like this first. Act now and gain unlimited access to everything you need to know. Learn more.
President Joe Biden resisted mounting pressure to keep U.S. troops in Afghanistan beyond his Aug. 31 deadline but ordered his national security team to draft contingency plans if he determines that a delay is necessary.
"The completion by Aug. 31 depends on the Taliban continuing to cooperate, allowing access to the airport for those who we're transporting out, and no disruption to our operations," Biden said in an address from the White House yesterday.
The president has come under withering criticism from lawmakers who say his administration is going to leave behind American citizens and Afghan allies who aided U.S. forces over the past 20 years if the military evacuation mission isn't extended. Biden promised his administration would spell out on later today how many Americans remain in Afghanistan.
Senate Republican leader Mitch McConnell (R-Ky.) said yesterday that Biden should "forget about August 31" and send troops out beyond the Kabul airport's perimeter to ensure that more people are evacuated. Democrats also questioned Biden's decision. House Armed Services Chair Adam Smith (D-Wash.) said "it would be malpractice" to not have a contingency plan if the evacuation must continue past Aug. 31.
But Biden said the risks to U.S. troops are growing. He and top White House officials expressed confidence the U.S. could evacuate a large—but unspecified—number of Americans and Afghan allies from the country in the coming days. Biden said Secretary of State Antony Blinken will provide a "detailed report" on evacuations later today. Read more from Jennifer Jacobs and Justin Sink.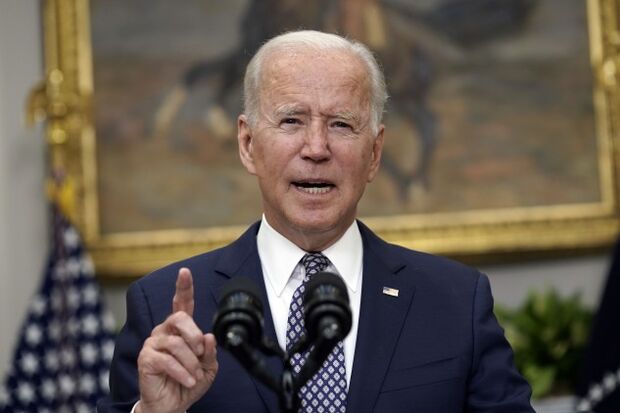 Two House Lawmakers Flew to Afghanistan: Reps. Seth Moulton (D-Mass.) and Peter Meijer (R-Mich.) flew to Kabul to "conduct oversight" of evacuation operations for American citizens and allies in Afghanistan, they said in a statement. "We came into this visit wanting, like most veterans, to push the president to extend the August 31st deadline," they wrote. "It is obvious that because we started the evacuation so late, that no matter what we do, we won't get everyone out on time."
The representatives said they conducted the visit in secret to minimize risk and disruption to people on the ground. They said they left on a plane with empty seats and were seated in crew-only seats to ensure that nobody who needed a seat would lose one due to their trip. Speaker Nancy Pelosi (D-Calif.) said in a letter to members last night that travel to Afghanistan would "unnecessarily divert needed resources" from the ongoing evacuation operations, Se Young Lee reports.
Officials at the White House and State and Defense departments were furious because the visit was not coordinated with diplomats or military commanders directing the evacuation, two officials familiar with the matter told the AP, Max Zimmerman reports.
Refugee Aid Groups Told to Prepare for 50,000 Afghans: The Biden administration notified refugee aid organizations to prepare to receive and resettle up to 50,000 Afghans evacuated under a stopgap program as the U.S. accelerates flights out of Kabul ahead of an end-of-August deadline, three people familiar with the discussions said. The program, known as humanitarian parole, would target high-risk Afghans who haven't already sought or wouldn't qualify for a Special Immigrant Visa. Read more from Sophia Cai.
Happening on the Hill
House Adopts $3.5 Trillion Budget Blueprint: The House adopted a $3.5 trillion budget resolution yesterday after a White House pressure campaign and assurances from Pelosi helped unite a divided caucus to push ahead on the core of Biden's economic agenda. The 220-212 vote for now puts to rest an intra-party rift between liberals and centrists that loomed over Democrats' budget framework and the Senate's $550 billion bipartisan infrastructure deal.
Pelosi released a statement committing to passing the infrastructure legislation by Sept. 27 and vowed to ensure that any Biden agenda bill the House takes up has sufficient support to pass the Senate. The latter agreement was demanded by moderates—some from swing districts—who do not want to head into the 2022 mid-term election year having to vote on a historically costly bill that has no chance of becoming law. Read more from Billy House and Erik Wasson.
Biden praised the vote and credited Pelosi's "masterful" leadership. "The House of Representatives is taking a significant step toward making a historic investment that is going to transform America—cut taxes for working families, and position the American economy for long term, long term growth," Biden said yesterday. Jennifer Jacobs and Justin Sink have more.
The House Transportation and Infrastructure Committee is currently expecting to mark up its portion of the budget resolution the week of Sept. 12, according to an aide. Read more from Lillianna Byington.
Meanwhile, the House Ways and Means Committee will start marking up a package of health care and tax legislation the week of Sept. 6, Chair

Richard Neal

(D-Mass.) said yesterday. Read more from Alex Ruoff.
Drug-Price Allies See Fight With Centrists: Despite Pelosi's victory, House Democrats who want to empower the government to negotiate lower prices from drugmakers are worried moderates in their party are now emboldened to blunt their ambitious drug-pricing agenda. Progressives worry the same 10 centrist Democrats who threatened to derail the procedural vote could again join together to block drug-pricing efforts, such as Medicare negotiating power, from the reconciliation package. Alex Ruoff has more.
Senate Tax Plan Boosts Penalty on Sending Profit Abroad: Companies would face steeper penalties for shifting profits abroad in a plan from Senate Democrats that offers the clearest picture yet of the higher levies that big firms could be paying from next year. In draft legislation released today, Senate Finance Chairman Ron Wyden (D-Ore.) is outlining his vision for how to reform the global tax system for multinationals, which Democrats argue have been subject to lax rules. Laura Davison has more.
Pig Haulers Woo Appropriators: A pork industry group will turn to congressional spending panels in a campaign for money for truck washing stations after the window for additions to the infrastructure bill closed yesterday. The National Pork Producers Council is asking Congress for money to boost the number of truck washing stations nationwide, aiming to boost biosecurity and sanitation by making them available to livestock haulers, a spokesman said. Megan U. Boyanton has more.
House Passes Voting Rights Legislation: House Democrats, moving to counter a wave of GOP-led state-level initiatives to restrict ballot access, passed legislation yesterday to restore portions of the landmark 1965 Voting Rights Act, adding pressure on the Senate to break a logjam on the issue. The 219-212 party-line House vote heightens the stakes as the Senate prepares to weigh voting rights legislation after it returns in September from its summer break.
Civil rights leaders and progressive groups are demanding the Senate eliminate or carve out a new exception to its filibuster rule if the Republican minority uses the provision to block protection of what they consider fundamental constitutional rights. "I think all of us know our country has a history of voter suppression and voter denial" House Majority Whip James Clyburn (D-S.C.) said during the debate. Read more from Jarrell Dillard.
Around the Administration
Today's Agenda: Biden plans to meet with his security team at 10 a.m. to discuss Afghanistan. Biden, members of his Cabinet, and corporate chief executives will meet at 2 p.m. to discuss cybersecurity. The president will sign legislation, the Puppies Assisting Wounded Servicemembers (PAWS) for Veterans Therapy Act (BGOV Bill Summary), at 4:30 p.m. At 5 p.m., Biden will sign the Harlem Hellfighters Congressional Gold Medal Act.
Biden to Meet CEOs After Cyberattacks: Chief executives from across the business world—including from Microsoft, JPMorgan Chase and Duke Energy—are set to join Biden for a discussion today on how industry and the federal government can partner to improve cybersecurity in the face of debilitating ransomware and cyberattacks. The White House will meet with the industry leaders to announce new public-private initiatives as well as cybersecurity workforce training efforts to fill the approximately 500,000 open jobs in the industry, according to a senior administration official. The White House's meeting comes after massive cyber and ransomware attacks over the last year on critical infrastructure, including against Colonial Pipeline and JBS, as well as software and cloud providers such as Microsoft. Read more from Rebecca Kern.
Harris Calls for More Pressure on China: Vice President Kamala Harris urged countries in the region to apply more pressure on China in a meeting with Vietnam's president, stepping up her criticism of Beijing on a visit to Asia. "We need to find ways to pressure and raise the pressure, frankly, on Beijing to abide by the United Nations Convention on the Law of the Sea, and to challenge its bullying and excessive maritime claims," Harris said at the start of a meeting in Hanoi with Vietnamese President Nguyen Xuan Phuc. Read more from Jenny Leonard and Derek Wallbank.
SCOTUS Allows Revival of Trump Asylum Rule: The Supreme Court rebuffed Biden on a contentious immigration issue, clearing the way for resumption of a Trump-era policy requiring asylum seekers at the southern border to wait in Mexico for their cases to be processed. Greg Stohr has more.
U.S. Warned EPA Its Auto Emission Plan Might Be Too Weak: White House and other officials told the Environmental Protection Agency that its industry-supported plan for tightening auto emissions limits was too lax, but the agency ignored the warnings and released the proposal with provisions that may lessen its bite. The discord was revealed in thousands of pages of correspondence and analysis released from an interagency review of the proposal the EPA pitched earlier this month. Jennifer A. Dlouhy has more.
Interior Moves to Hold Gulf Oil Lease Sale After Judge's Order: The Biden administration moved yesterday to resume selling oil and gas drilling rights in the Gulf of Mexico and across the western U.S., after a judge ruled the president's pause on leasing was unlawful. Read more from Jennifer Dlouhy.
Defrauded Borrowers to Get Full Relief From U.S.: The Department of Education will offer full loan relief to student borrowers with valid claims they were defrauded or misled by their colleges, the latest reversal of policies from former Education Secretary Betsy DeVos. Read more from Andrew Kreighbaum.
White House Targets Building Emissions: The White House is developing a plan—reminiscent of its approach to electric vehicles—to make its own massive stock of buildings more energy-efficient, hoping to set an example for states and cities to follow. The first-ever federal building performance standards will establish metrics, targets, and tracking methods to achieve federal goals on carbon emissions, a top White House Council on Environmental Quality official told Bloomberg Law. Read more from Stephen Lee.
Gensler Warns 'Clock Is Ticking' on Delisting Chinese Stocks: Securities and Exchange Commission Chair Gary Gensler is warning hundreds of Chinese companies that have raised billions of dollars in U.S. markets to submit to more scrutiny soon or get kicked out. In an interview yesterday, he vowed to strictly enforce a three-year deadline that requires Chinese firms to permit inspections of their financial audits. Robert Schmidt and Ben Bain have more.
U.S. Agrees to Pay Over $200 Million to FIFA, Affiliates: The Justice Department has agreed to provide FIFA, soccer's governing body, and two FIFA affiliates about $200 million for being victims in a long-running international investigation and prosecution of corruption. Chris Strohm has more.
Elections, Politics & Influence
FCC Floats $5 Million Fine for Pro-Trump Activists: Two pro-Trump activists who orchestrated a campaign to discourage voting in large cities face a record $5.13 million fine under a tougher law governing robocalls, the Federal Communications Commission said yesterday. Jacob Wohl, John Burkman and J.M. Burkman & Associates LLC made more than 1,100 prerecorded robocalls to wireless numbers in August and September before the 2020 presidential election, according to the FCC, Susan Decker reports.
Trump Ally to Challenge Warnock in Georgia: Former University of Georgia and National Football League star Herschel Walker is running for the Senate seat in Georgia held by Raphael Warnock (D) at the urging of former President Donald Trump. Walker, 59, filed his paperwork to seek the seat yesterday. Trump called for Walker to run earlier this year, but some Republicans have expressed concern that they need a candidate with more politics experience to oust an incumbent. Mark Niquette has more.
With assistance from Alex Ruoff and Lillianna Byington
To contact the reporter on this story: Brandon Lee in Washington at blee@bgov.com
To contact the editors responsible for this story: Giuseppe Macri at gmacri@bgov.com; Loren Duggan at lduggan@bgov.com; Michaela Ross at mross@bgov.com
Stay informed with more news like this – from the largest team of reporters on Capitol Hill – subscribe to Bloomberg Government today. Learn more.