What to Know in Washington: Biden Reaches Certification Deadline
Joe Biden will be one formal step closer to the presidency after today's deadline for states to certify their slates of electors to the Electoral College — locking in the names of the people who will formally vote to make Biden the president.
Once that happens, there's little turning back. Congress must by law accept those electors if there's no outstanding litigation, and President Donald Trump's legal challenges have even less hope of changing the outcome. Electors meet in each state on Dec. 14 to officially cast their votes.
All of the battleground states where Trump tried to contest the results have certified their presidential election tallies and appointed their electors for Biden, and he has more than the 270 Electoral College votes needed. Only Colorado and Hawaii are left to certify their results among the states Biden won but even they cannot change the outcome.
Federal law says that if a state appoints its electors and all litigation is resolved by Dec. 8 — the so-called safe harbor deadline — Congress must consider them "conclusive" when it meets in a joint session on Jan. 6 to tally the votes.
Normally, the deadline passes without much notice. But this year, Trump has refused to concede despite Biden's clear victory with 306 Electoral College votes, the same as Trump had in 2016. Trump and his allies have claimed, without evidence, that the election was "rigged" and that he actually won.
There is still pending litigation in Wisconsin and some other states, but the Biden electors are valid even if the lawsuits aren't resolved until after the safe harbor deadline, said Edward Foley, a professor and director of an election-law program at Ohio State University, who has studied disputed elections. As long as there is only one submission of electoral votes from a state, Congress must accept it unless it's rejected by both chambers — which isn't going to happen, Foley said. Congress can still accept a submission that lacks safe harbor status, he said. "They won't jeopardize Biden's inauguration, and they're not going to jeopardize the ability of the electors to meet and cast their vote," Foley said of the outstanding suits. Read more from Mark Niquette and Erik Larson.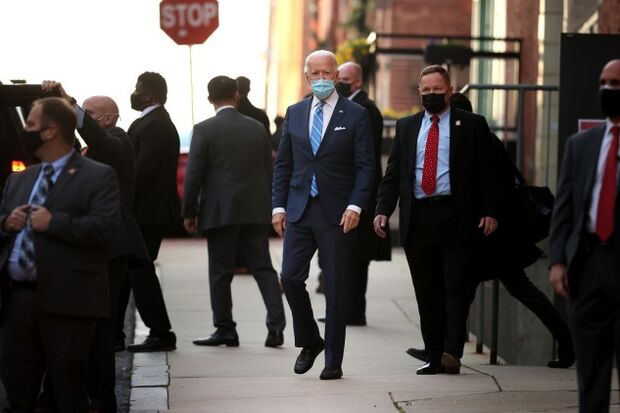 More on the Presidential Transition
HHS Pick Faces Senate Fight: Biden's pick of California Attorney General Xavier Becerra to lead the Health and Human Services department gives him a fierce defender of Democratic causes but one without hands-on experience leading a massive federal agency in the middle of an unprecedented public health crisis.
Biden satisfied calls for him to name the first Latino to head HHS in keeping with his promise for the most diverse cabinet ever. Unions and Democrats applauded his choice of Becerra, who led challenges to many of Trump's efforts to loosen environmental and other regulations and limit immigration and access to health care. But that may not be enough direct experience to satisfy the GOP-led Senate, which must confirm his nomination.
"I'm not sure what his Health and Human Services credentials are," said Sen. John Cornyn (R-Texas). "It's not like Alex Azar who used to work for pharma and have a health-care background," he said referring to the current HHS secretary. Sen. Tom Cotton (R-Ark.) called Becerra a "disaster" who was unqualified to lead the agency, but focused his complaint on Becerra's support for abortion rights.
While he may not have worked in the health industry, Biden found in Becerra someone who does have experience in his other key health-care ambition — to expand the Affordable Care Act. Becerra is an ardent backer of it, having helped write the law and then defended it in court, despite his personal preference for the Medicare for All plan that Biden rejected as a candidate. Read more from Jeffrey Taylor and Billy House.
Becerra may leave his post for Biden's Cabinet just as the state's new privacy regulator and enforcement of its landmark consumer privacy law are taking shape. Becerra's office is tasked with loaning staffers to the new privacy agency established under the California Privacy Rights Act approved by voters last month as it gets off the ground. Under the measure, which amended the California Consumer Privacy Act, the state attorney general names one member to the regulator's five-person board. Read more from Jake Holland.
Vivek Murthy is unlikely to be added to Biden's cabinet, senior members of the Biden transition team told leaders of the Congressional Asian Pacific American Caucus, two people familiar with the talks said. Caucus leader

Judy Chu

(D-Calif.) had pushed to get Murthy, who Biden has tapped to be surgeon general, onto the cabinet. But she and others were told Biden is unlikely to make that move in a conference call with Steve Ricchetti, a counselor to the president-elect, Jeffrey Zients, who will coordinate Biden's coronavirus response, and Ted Kaufman, a transition team leader, Alex Ruoff reports.
Biden to Name Austin First Black Defense Chief: Biden plans to nominate retired Army Gen. Lloyd Austin as defense secretary, according to three people familiar with the decision, making him the first African American to lead the Pentagon. Austin has already had a career punctuated by firsts — including as the first Black general to command U.S. forces in the Middle East. The choice of Austin came as Biden was under pressure from African American lawmakers and organizations to deliver on his pledge to produce the most diverse cabinet in U.S. history.
In addition to winning Senate confirmation, Austin would need Congress to waive a law requiring military officers to be retired for seven years before serving as defense secretary. Lawmakers have said they would be reluctant to provide another exemption after having done one for retired Marine Corps Gen. Jim Mattis, Trump's first defense secretary. Read more from Jennifer Epstein, Saleha Mohsin and Roxana Tiron.
Biden to Face Space Force Buying-Powers Debate: Trump's push for one of his military priorities — creating a Space Force to head off threats from Russia and China — will leave Biden to resolve disputes over the service's purchasing powers. The Pentagon must give congressional defense committees an acquisition strategy by May 15, according to the annual defense authorization bill, which the House will consider today. Lawmakers want to see how the new military service plans to be more innovative and efficient when developing software and hardware such as satellites.
The measure would give the next administration a crack at creating a pillar of the nascent Space Force, which is about to reach its first anniversary. The Biden team must also find a way to satisfy lawmakers who want to see new technology deployed quickly but also want to retain oversight. Biden has also indicated his initial focus after taking office Jan. 20 will be fighting the coronavirus pandemic, generating jobs, and shoring up health care. Read more from Travis J. Tritten.
Wall Street Frets Over a Revival of CFPB: The Trump administration has done its best to neuter the Consumer Financial Protection Bureau, giving large banks a reprieve from aggressive enforcement and new rules. With Biden ascending to the White House, Wall Street is worried it will be quickly resurrected. Thanks to a U.S. Supreme Court decision earlier this year, Biden will be able to fire Kathy Kraninger, the watchdog's Republican director, even though her term isn't complete — a move likely to happen in the weeks after the inauguration. The banking industry has reason to fear that a new chief will return the agency to its days of meting out stiff sanctions on lenders and credit card companies. Read more from Robert Schmidt and Jesse Hamilton.
Schumer Says Biden Targeting Student Debt: Biden is weighing a proposal to cancel federal student debt through executive action, Senate Minority Leader Chuck Schumer (D-N.Y.) said in a press conference yesterday. Schumer and Sen. Elizabeth Warren (D-Mass.) have urged the president-elect to administratively cancel up to $50,000 in debt for borrowers of federally held student loans. "I have told him how important it is. He is considering it," Schumer said. He also said he backs a $125,000 income limit for borrowers to receive loan forgiveness, Andrew Kreighbaum reports.
Biden to Create Position to Reach Conservatives: The Biden administration plans to create a position to find common ground with conservatives, said Rep. Cedric Richmond (D-La.), a senior adviser and director of the Office of Public Engagement for the president-elect. "Right now I'm trying to set up the office and I'm actually looking at establishing a position that reaches out to conservatives — because it's about moving forward. We cannot stay where we are," Richmond said during the Wall Street Journal's CEO Council last night. Read more from Jennifer Jacobs.
Biden's NatSec Chief Sees Chance for Iran Deal: Jake Sullivan, Biden's nominee for national security adviser, expressed guarded optimism for restoring the nuclear accord with Iran even as the country has moved closer to developing nuclear weapons. Sullivan, who spoke yesterday at the Wall Street Journal CEO Summit, emphasized that any progress toward preserving or even enhancing the deal forged during the Obama administration would depend on international cooperation. Read more from John Harney.
Happening on the Hill
McConnell Refuses to Endorse Stimulus Plan: Almost a week after Democratic congressional leaders climbed down from their demand for a multi-trillion dollar stimulus package, Senate Majority Leader Mitch McConnell (R-Ky.) continued to tout his own plan, endangering prospects for a compromise. McConnell's top priority — federal limits on Covid-19 related lawsuits against businesses — has emerged as the key potential deal-breaker. Republicans have balked at the six-month moratorium proposed in a bipartisan stimulus package, saying it's too limited, and talks have stalled.
McConnell's continued use of rhetoric that pre-dates the shift by Speaker Nancy Pelosi (D-Calif.) and Senate Minority Leader Chuck Schumer (D-N.Y.) on the overall dollar amount of aid underscored the risk of no further Covid-19 help by year-end. "Drop the all-or nothing tactics," McConnell said of Democrats on the Senate floor yesterday. He again called on Schumer to allow a vote on a targeted bill that provides extended unemployment insurance, small-business aid and funding for vaccine distribution. Read more from Erik Wasson and Laura Litvan.
House Readies Stopgap Measure: House lawmakers plan to introducea week-long stopgap funding measure this morning, a House Democratic aide said, ahead of tomorrow's vote and Friday's deadline to avert a government shutdown, Jack Fitzpatrick reports. The continuing resolution will be a simple one-week extension of funding through Dec. 18 and an extension of health-care authorization measures that were included in the first continuing resolution of the year, the aide said. House lawmakers will vote tomorrow on a week-long stopgap funding measure, House Majority Leader Steny Hoyer (D-Md.) said yesterday, giving the Senate two days to clear it and avert a government shutdown.
Trump Pick for FCC Stirs Democratic Alarm: A rush to seat Trump's nominee on the Federal Communications Commission is stirring up complaints from Democrats that it could tie up the agency in partisan deadlock, unable to advance Biden's priorities. The Senate is scheduled to vote today on the appointment of Nathan Simington, who is opposed by Democrats. Simington was approved by the Commerce Committee on a party line vote. Simington, a Commerce Department official, would replace a sitting FCC commissioner whose term is expiring and would initially be part of a 3-to-2 Republican majority. But Republican Chairman Ajit Pai has announced he will depart the agency next month, leaving four members. Todd Shields and Rebecca Kern have more.
The Coronavirus Pandemic
Moderna, Pfizer Won't Attend White House Summit: The two pharmaceutical companies closest to gaining U.S. clearance for a Covid-19 vaccine won't attend a planned White House summit intended to build confidence in the shots. Pfizer said in a statement it had informed the White House that it wouldn't attend the event. Moderna executives also won't attend, a person familiar said. FDA officials are set to attend the event so it'd be inappropriate for the drugmaker to join while its vaccine application is still under review, the person familiar with Moderna's plans said, Robert Langreth and Riley Griffin report.
U.S. Says It Will Meet Vaccine Need: U.S. officials insisted they'll have enough Covid-19 vaccine doses to let most Americans get inoculated by next summer, downplaying reports that they passed up a chance to secure more of Pfizer's shot. The Trump administration is confident that the U.S. will have enough supply to vaccinate everyone, a senior administration official said yesterday on a call with reporters. The government signed a deal last summer to obtain 100 million doses of Pfizer's experimental vaccine with partner BioNTech — enough for 50 million people, given the two-dose regimen — and also has agreements in place with Moderna, AstraZeneca, Johnson & Johnson and others. Read more from Riley Griffin.
Deaths Match April Peak With Hospitals Still Filling Up: The U.S. is now averaging about as many deaths per day from Covid-19 as it was in April when the pandemic ambushed the New York area. The seven-day average of reported fatalities rose to 2,201 on Sunday, just one shy of the peak on April 18, according to Johns Hopkins University data. Average daily deaths had been predicted in the range of 1,643 to 1,886 through the day after Christmas, according to a month-long forecast from the University of Massachusetts Amherst. Jonathan Levin has more.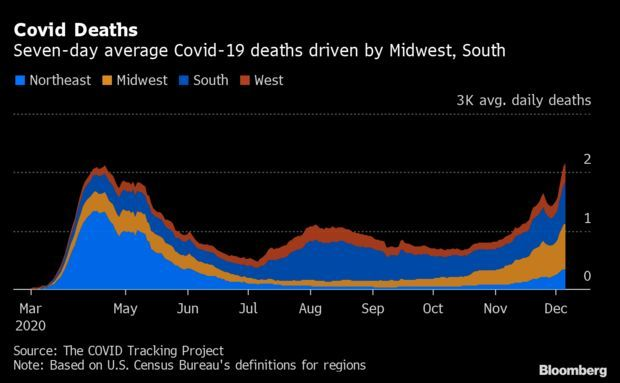 What Else to Know Today
Court System Is No 'Lapdog' to Trump, Minnesota AG Says: Trump's wild claim of a vast conspiracy to deprive him of a second term has created an unprecedented stress test on the U.S. election system and the courts, according to Minnesota Attorney General Keith Ellison. And so far, they're passing, he said. Lawsuits filed by Trump and his GOP allies have fizzled, while election officials — including Republicans — have stood by the results and rejected the president's unsubstantiated claims of massive voter fraud, Ellison said an interview Friday, hours after the Minnesota Supreme Court dismissed a Republican-led suit that aimed to decertify Biden's victory in the state. "This shows the courts are still an independent institution," said Ellison, a Democrat who was elected in 2018. "One of the hallmarks of an authoritarian state is having no press freedom and the courts are lapdogs for whoever is in power. We can say that's not true here." Read more from Erik Larson.
Neil Young Drops Complaint Against Trump Campaign: Neil Young dropped his complaint against Trump's election campaign for allegedly using two of his songs at events without his permission, according to a filing in Manhattan federal court. Young stipulated to dismiss the case in the U.S. District Court for the Southern District of New York with prejudice. Read more from Blake Brittain.
Chuck Yeager Dies at 97: Chuck Yeager, the World War II fighter ace who became the first human to fly faster than the speed of sound, epitomizing the derring-do that Tom Wolfe celebrated as "The Right Stuff," has died. He was 97. His wife, Victoria Yeager, announced Yeager's death in a post on his verified Twitter account, saying his was an "incredible life well lived" and that his "legacy of strength, adventure, and patriotism will be remembered forever." Read more from Laurence Arnold and Derek Wallbank.
To contact the reporters on this story: Zachary Sherwood in Washington at zsherwood@bgov.com; Brandon Lee in Washington at blee@bgov.com
To contact the editors responsible for this story: Giuseppe Macri at gmacri@bgov.com; Loren Duggan at lduggan@bgov.com; Michaela Ross at mross@bgov.com