What to Know in Washington: Biden Puts Banking Onus on Congress
Bloomberg Government subscribers get the stories like this first. Act now and gain unlimited access to everything you need to know. Learn more.
The White House has a message for those watching for a sweeping US response to the global banking crisis: It's now in the hands of Congress.
Since President Joe Biden spoke last Monday to reassure nervous depositors that their money was safe in financial institutions and tout a series of regulatory moves to shore up troubled banks, he has said little about the turmoil that has shaken markets.
White House officials in the meantime have amplified his calls for stronger rules to prevent future crises, including measures that would permit the Federal Deposit Insurance Corp. to further punish executives of failed banks and tighten regulations for larger banks.
Yet the White House said Monday that lawmakers must approve those changes, lowering expectations for the president to enact them using his executive power even though tougher banking regulations have a slim chance of getting through such a divided Congress. "We should not let Congress off the hook," said White House Press Secretary Karine Jean-Pierre. "More actions need to be taken for sure."
House and Senate leaders have showed little appetite for taking up such measures, turning the issue into a political hot potato—at least for now. Jordan Fabian explains Biden's strategy.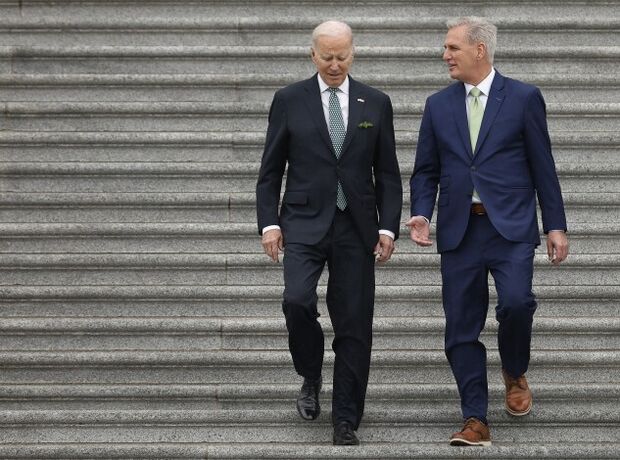 House Financial Services Chair Patrick McHenry (R-N.C.) and Senate Banking Committee top Republican Tim Scott (S.C.) requested information from the Federal Reserve and FDIC on regulatory activities related to SVB and Signature Bank up to two years before the banks collapsed, Lauren Dezenski reports.
Sen. Rick Scott said he'll introduce a bill to establish a president-appointed and Senate-confirmed inspector general for the Fed. In a letter to Fed Chair Jerome Powell, Scott (R-Fla.) also said that he expects individuals responsible for regulatory oversight of SVB, Silvergate and Signature to be fired by the end of the central bank's policy meeting this week.
Treasury Secretary Janet Yellen will say the US government could repeat the drastic actions it took recently to protect bank depositors if smaller lenders are threatened. "Our intervention was necessary to protect the broader US banking system," she plans to say at an American Bankers Association event today. Read more
Also Happening on the Hill
CONGRESS' SCHEDULE
The Senate returns at 3 p.m. to vote on advancing a repeal of military authorizations against Iraq
House Republicans meet for the final day of their retreat in Florida
Congressional Republicans say they will attempt to override the Biden administration's first presidential veto, which rescued a highly politicized Labor Department regulation that permits socially conscious retirement investing.
Biden signed a measure blocking a new criminal code in the District of Columbia that eliminated nearly all mandatory minimum sentences, breaking with many Democrats on an issue that could sway the 2024 elections.
Sen. Mark Warner (D-Va.) said a bill that would give the US legal authority to ban Chinese-owned video app TikTok now has the support of 10 Republicans, which bolsters his argument that it should be a Senate priority.
Meanwhile, another senator is demanding answers from tech companies on protections for children as the industry accelerates the release of chatbots and other artificial intelligence-based tools to the public. Read more
Beyond tech, Senate Agriculture ranking member John Boozman (R-Ark.) said he wants a hearing this year on foreign ownership of farmland, as lawmakers warn of threats from entities buying land near military bases, Maeve Sheehey reports.
Moderna plans to tell lawmakers it more than adequately compensated the US for its role in a Covid-19 vaccine partnership that brought the drugmaker billions of dollars, a central point in what's likely to be a heated Capitol Hill hearing this week.
Republican congressional leaders want the US Centers for Medicare and Medicaid Services to turn over more information on a ransomware attack that exposed the identifiable information of 254,000 Medicare beneficiaries.
Congressional lawmakers are pressuring the Department of Health and Human Services to put measures in place that would help keep people enrolled in Medicaid before eligibility checks resume in less than two weeks.
Biden announced four nominees for US district courts on Monday, including a selection for a state with two Republican senators, including trial attorney Darrel Papillion for a seat on the US District Court for the Eastern District of Louisiana.
Elections, Politics & Probes
Donald Trump says he expects he'll be charged in New York with making hush-money payments to a porn star. If that happens, how the former president is processed by law-enforcement officials in Manhattan may be unlike any defendant in history.
While Trump will get fingerprinted and have his mug-shot taken, he won't be marched before cameras in handcuffs or placed in a holding cell, according to a person familiar with the matter who asked not to be identified because the details aren't public. He'll likely remain in the custody of the Secret Service agents assigned to his protection detail, the person said.
"His status as a former president, for better of worse, will lead to somewhat different treatment," Temidayo Aganga-Williams, a former federal prosecutor, said. "The security assessments are different here than if he was a private citizen. He is less likely to be seen as a security threat than a previously unknown defendant."
The Biden administration suggested the US Supreme Court drop a closely watched election case after an unusual twist raised fresh questions about the court's jurisdiction.
Ask lawyers about Eric Davis, the judge overseeing the $1.6 billion defamation suit against Fox News by Dominion Voting Systems over its broadcasting of 2020 election-fraud claims, and the same word comes up over and over again: steady.
A Fox News producer says the network's lawyers coerced her into giving misleading testimony in Dominion's lawsuit over the network's unfounded claims of fraud in the 2020 presidential election. Read more
Around the Administration
BIDEN'S AGENDA
Shortly before 2 p.m. the president is scheduled to speak at the White House Conservation in Action Summit at the Interior Department in Washington.
At 4:30 p.m. Biden and First Lady Jill Biden will host an Arts and Humanities Award Ceremony at the White House with Vice President Kamala Harris and Second Gentleman Doug Emhoff.
Press Secretary Karine Jean-Pierre holds a briefing at 3 p.m.
Biden will establish two new national monuments and order a review that could significantly expand protected waters around remote Pacific islands, as he looks to burnish his conservation record after approving an oil drilling project in Alaska.
The president will announce the creation of the Avi Kwa Ame National Monument in Nevada, protecting a sacred site for Native Americans, including the Fort Mojave tribe. Avi Kwa Ame—or Spirit Mountain in Mojave—is in the southern corner of the state, near the borders of Arizona and California.
Biden will also create the Castner Range National Monument near El Paso, Texas, extending protections to an ancestral home to the Comanche and Apache that was subsequently used as a training ground for the military, according to a fact sheet released by the White House. Together, these monuments protect over a half-million-acres. The designations will be unveiled during Biden's speech at the White House Conservation in Action Summit today.
Taiwan officially confirmed that President Tsai Ing-wen will transit through the US, a trip that risks sparking yet another crisis between the world's biggest economies.
Bruce Springsteen, Gladys Knight and Julia Louis-Dreyfus are among 23 recipients who will be honored for their contributions to the arts and humanities by Biden.
The Biden administration's requested 19% increase for EPA funding in fiscal 2024 includes big bumps for its environmental justice, climate protection, and chemicals oversight programs, according to a budget justification released by the EPA.
The Biden administration is awarding millions of dollars to advance new transportation technology projects such as drone inspections and crash sensors, as it seeks safer and more sustainable transportation.
With assistance from Maeve Sheehey
To contact the reporter on this story: Brandon Lee in Washington at blee@bgov.com
To contact the editor responsible for this story: Giuseppe Macri at gmacri@bgov.com
Stay informed with more news like this – from the largest team of reporters on Capitol Hill – subscribe to Bloomberg Government today. Learn more.