What to Know in Washington: Biden, Putin to Talk Ukraine Buildup
President Joe Biden plans to talk by phone with Russian President Vladimir Putin today as the U.S. and its allies raise alarm about Russia's troop buildup on the Ukraine border, and ahead of further talks planned for January on NATO expansion in eastern Europe.
Here's what Bloomberg Government is tracking for Thursday.
Biden's Agenda:
The president is scheduled to speak to Russian President Vladimir Putin at 3:30 p.m.
Biden, Putin to Talk Amid Ongoing Ukraine Tensions
President Joe Biden and Russian President Vladimir Putin will discuss topics by phone today "including upcoming diplomatic engagements with Russia," National Security Council spokeswoman Emily Horne said in a statement.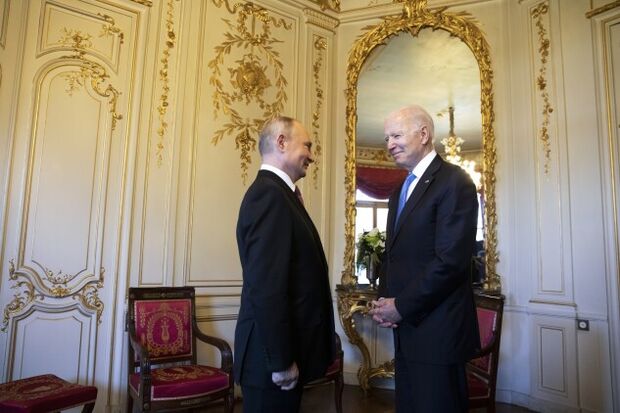 The talks follow a Dec. 7 phone exchange in which Biden affirmed a commitment to Ukraine's sovereignty and territorial integrity and warned that any Russian aggression would be met with unprecedented economic penalties. The U.S. has told European allies that the massive Russian military presence close to Ukraine may be preparation for an invasion as early as next month.
The U.S. remains gravely concerned about the buildup, a senior Biden administration official said yesterday, and it's prepared to provide Ukraine with further assistance should Russia invade. Russia denies plans for a military operation but has warned NATO against crossing "red lines" by stationing offensive weapons in Ukraine.
Today's conversation, scheduled for 3:30 p.m. Washington time, was requested by Russia, according to the U.S. official. The official said a successful conversation can only take place if there's deescalation at the Ukraine border. But Biden agreed to take part because because he believes in leader-to-leader diplomacy and that the situation demands discussions between the two, the official said.
Separately, Moscow will begin discussions with the U.S. on its demands for guarantees of an end to NATO's eastward expansion before a proposed Jan. 12 meeting between the military alliance and Moscow, according to Foreign Minister Sergei Lavrov. "We will hold the main round of negotiations with the U.S. which will take place immediately after the end of the New Year holidays," Lavrov said in a YouTube interview on Monday. Read more from Jenny Leonard.
Putin sought a phone call with Biden as a prelude to planned security negotiations at the start of the year, the Kremlin said. "The purpose of the call is very clear — to continue discussing all the issues that were on the agenda" at Dec. 7 talks between the two leaders and before the negotiations in January, Kremlin spokesman Dmitry Peskov told reporters. "From President Putin's viewpoint, there is a need for another phone discussion ahead of the start of the negotiations," he said, without elaborating. Read more from Andrey Biryukov and Irina Reznik.
Politics, Policy & Probes
The Supreme Court starts 2022 with a special session on Biden's vaccine mandate, joining a blockbuster docket that could also see affirmative action and Donald Trump's Capitol riot dispute with Democrats go before the justices. The court with its fortified conservative majority has a small window in January to tack on new cases to its argument calendar. Already, expected rulings on abortion, gun rights, and religious freedom highlight how closely the court's work this term has become tied to disputes that are sharply dividing the nation. Read more from Kimberly Strawbridge Robinson.
GOP senators are calling on the White House to change course with its selection for the Labor Department's head wage-hour regulator. Biden in June nominated David Weil to again lead the DOL's Wage and Hour Division, a role he held during part of the Obama administration. But Weil's nomination languished for months after a tie vote in the Senate Health, Education, Labor, and Pensions Committee. The Senate failed to confirm Weil before ending its business for the year. Biden must now decide whether Weil will remain his pick or if he'll select a candidate who faces less opposition. Paige Smith has more.
Two congressional Democrats in Virginia probably will face highly competitive re-election campaigns after the state Supreme Court cleared a new congressional map. The new lines, approved unanimously by the court on Tuesday, establish swing seats in the areas represented by two-term Reps. Elaine Luria and Abigail Spanberger, who were narrowly re-elected in 2020. Their 2022 contests will help determine whether Democrats can retain their majority. The southeastern 2nd District currently held by Luria will remain anchored in Virginia Beach, with changes that give it a slightly more GOP orientation. Greg Giroux reports.
Environmental justice advocates see 2022 as a make-or-break year. Biden's administration launched several big initiatives in 2021, from securing more money to improve drinking water quality and clean up Superfund sites to creating a screening tool to better highlight environmental justice communities. But advocates say those initiatives need to become action, in particular, in poorer and marginalized communities that have been disproportionately hit by pollution. Advocates argue Biden must show he hasn't forgotten minority voters who were crucial to his 2020 win. Dean Scott and Jennifer Hijazi have more.
Around the Administration
Covid-19 deaths in the U.S. are declining even as cases grow, according to federal health officials who suggested the surging omicron variant may cause less suffering than other strains. Cases rose 60% from a week prior, in large part due to the omicron variant, Centers for Disease Control and Prevention Director Rochelle Walensky said during a briefing yesterday. Over the same period, deaths fell 7% to a 7-day average of about 1,100 per day. Clinical data from South Africa and Scotland, along with results from animal studies, continue to suggest a reduced toll from omicron. Angelica Peebles has more.
Rapid tests that are being widely used to detect infections in minutes may miss some cases caused by omicron, the Food and Drug Administration said. Early laboratory data suggest antigen tests do detect infections caused by omicron, but they can have a reduced sensitivity, the agency said. The results come from an examination of the tests by the National Institutes of Health that used live virus samples, the best way to evaluate their true performance. Read more.
The Biden administration asked the U.S. Supreme Court to reconsider whether it has to continue a Trump-era immigration policy requiring asylum seekers to wait in Mexico while their cases are pending. In a filing yesterday, the Department of Justice asked the justices to review a decision by the U.S. Court of Appeals for the Fifth Circuit upholding a district judge's finding that the current president couldn't repeal the "Remain in Mexico" policy, despite additional agency action. The top court in August left in force the Fifth Circuit ruling that prohibited a walk back of the rules. Kimberly Strawbridge Robinson has more.
U.S. Secretary of State Antony Blinken urged Chinese authorities to stop arresting Hong Kong journalists, a day after the biggest remaining pro-democracy news organization shut down under a probe. Blinken's comments today came in response to Stand News's decision to lay off all its staff and cease operations. The move came hours after more than 200 police raided the outlet's newsroom, froze some HK$61 million ($7.8 million) of assets and arrested seven people connected to it on a colonial-era sedition law. Read more from Kari Lindberg.
MORE HEADLINES:
The Labor Department has finalized a decision to nix a Trump-era rule that subjected union strike funds, apprenticeship programs, and other trusts to stricter transparency requirements. The Office of Labor-Management Standards published a final rule yesterday to scrap the 2020 regulation, which required unions with at least $250,000 in annual receipts to disclose information about several forms of trusts they maintain, including credit unions. Ben Penn and Rebecca Rainey have more.
Nearly half of states will ring in the new year with higher minimum wages—with 30, plus D.C., now over the federal rate of $7.25, a rate that's not changed for a decade. In total, 25 states will see boosts to their minimum hourly pay requirement in 2022, according the Economic Policy Institute and National Conference of State Legislatures. Four states, Oregon, Florida, Nevada, and Connecticut, will phase in their increases later in the year. Read more from Rebecca Rainey.
Ghislaine Maxwell was found guilty of engaging in a 10-year sex-trafficking scheme with convicted sex offender Jeffrey Epstein, a verdict that offers long-delayed justice for his victims. The British socialite was convicted yesterday in a federal court in Manhattan after jurors deliberated for around five days. They found Maxwell guilty of five charges, including sex-trafficking of a minor, which carries a possible prison sentence of 40 years. Patricia Hurtado and Mary Biekert have more.
Editor's Note: Bloomberg Government's What to Know in Washington will not publish during the federal holiday observed tomorrow, Dec. 31. We'll resume publication Monday, Jan. 3.
To contact the reporters on this story: Giuseppe Macri in Washington at gmacri@bgov.com; Brandon Lee in Washington at blee@bgov.com
To contact the editor responsible for this story: Zachary Sherwood at zsherwood@bgov.com