What to Know in Washington: Biden Pushes Carbon Plan to World
President Joe Biden will pledge to cut U.S. greenhouse gas emissions in half by 2030 as he convenes 40 world leaders in a virtual summit intended to demonstrate renewed American resolve to fight climate change and pressure wary nations to raise their own ambitions.
Biden will announce in the two-day summit that begins Thursday that the U.S. will reduce its own greenhouse gas emissions 50%-52% from 2005 levels by the end of the decade — nearly doubling a commitment made under former President Barack Obama that was scrapped by former President Donald Trump.
The new U.S. pledge is aimed at encouraging industrializing countries including China, India and Brazil that account for much of the world's carbon output to set their own aggressive emissions-reductions targets. But Biden is likely to face a cool reception from leaders worried about committing to emissions cuts that could slow economic growth.
Biden must also confront overseas skeptics who have watched U.S. climate policy shift dramatically depending on the occupant of the White House and wonder whether the latest U.S. president's promises can be trusted.
Biden's pledge would require changes that would touch the lives of nearly every American. But Republicans in Congress are unlikely to support legislation that would make major reductions in U.S. emissions, for example by penalizing fossil fuel use or mandating renewable power, and any regulations Biden's administration issues are sure to face challenges from industry. Read more from Jennifer Epstein and Jennifer A. Dlouhy.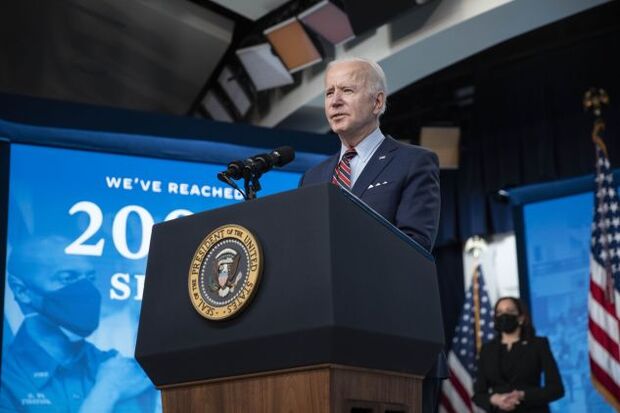 Happening on the Hill
Today's Agenda:
The House will vote today on a bill to designate Washington, D.C. the 51st state.
Senators are scheduled to vote on a bill to speed up the federal response to hate crimes.
Senate Republicans are slated to unveil their counteroffer to Biden's $2.25 trillion infrastructure proposal today at a noon press conference.
Click here for a complete list of today's hearings and markups.
GOP Senators Free to Seek Earmarks: Senate Republicans who want earmarks for projects in their states will be free to request them a decade after the practice was ended following a series of scandals. Senate Appropriations ranking Republican Richard Shelby (Ala.) said Senate Republicans at a meeting yesterday decided to keep in place their existing policy, which opposes earmarking funding for pet projects but isn't binding on individual members. "If you don't want earmarks, don't ask for one," Shelby said. "You might not get one. But the old earmark days, they're gone."
The practice of letting lawmakers designate home-state projects for funding in the past made it easier to approve annual appropriations bills. It may help ease a path for the transportation portion of Biden's $2.25 trillion infrastructure-led spending plan, by giving senators the ability to claim specific wins for their states. Momentum had been building for a return to earmarks, with Democrats and Republicans in the House already resuming the practice. Read more from Steven T. Dennis and Laura Litvan.
Farm Panel Chair Sets Year-End Deadline to Fix Rural Broadband: The top Democrat on the House Agriculture Committee is pressing to expand by the end of the year high-speed internet access to all 24 million Americans without it. The deadline from Chair David Scott (Ga.) comes as bipartisan lawmakers and the broadband industry call for a permanent solution to internet access issues plaguing remote locales, instead of relying on pilot loan programs. It isn't clear if such a plan can be included in a broader infrastructure package, tacked onto the next farm bill, or pushed through as stand-alone legislation. Read more from Rebecca Kern and Megan U. Boyanton.
States stand to collect significant new revenue from corporate taxpayers if they conform to a handful of tax code features embedded in Biden's $2.3 billion infrastructure plan that attack foreign-derived income. Read more from Michael J. Bologna.
Transit Groups Urge Funding Equity: Advocacy groups from states across the U.S. are urging Congress to evenly fund transit and highways in the next surface transportation reauthorization bill. The effort, convened by the National Campaign for Transit Justice, kicked off today with letters sent to federal lawmakers from at least 13 states. Read more from Lillianna Byington.
Biden Looks to GOP's Scott to Shepherd Police Law: The ability of Biden and Congress to rein in police brutality depends increasingly on Sen. Tim Scott (R-S.C.) — the sole Black Republican in the Senate and linchpin to any bipartisan compromise to address the repeated abuses nationwide. Ex-Minneapolis police officer Derek Chauvin's conviction on Tuesday for the murder of George Floyd gave the issue new momentum after GOP-drafted legislation collapsed in the Senate last summer. But Scott, who is working with Sen. Cory Booker (D-N.J.) and Rep. Karen Bass (D-Calif.) on the legislation, faces an uphill battle in trying to rally support — particularly in his own party — on one of the most divisive issues facing the nation.
Momentum Grows for Legislation Confronting China: Congress is moving with increasing urgency on bipartisan legislation to confront China and bolster U.S. competitiveness in technology and critical manufacturing with the Senate poised to act within weeks on a package of bills. As part of the package, Sen. John Cornyn (R-Texas) plans to push for incentives to strengthen domestic semiconductor manufacturing through his CHIPS for America legislation, according to a person familiar with the matter. The bill became law earlier this year but was never funded. Biden has called for as much as $50 billion for the initiative. Read more from Daniel Flatley.
Lawmakers Agree to Prolong Fentanyl Ban: Congressional leaders are pushing to extend a ban on highly addictive fentanyl analogues, with the promise that lawmakers will then turn to finding a permanent solution to the overdose epidemic. A House-passed six-month extension of the ban, which expires on May 6, left members of both parties unhappy. Republicans want to make permanent the government's power to classify fentanyl-like drugs among the most-controlled substances. Democrats say such policy is an extension of the war on drugs, which disproportionately hits communities of color. Read more from Alex Ruoff.
Democrats Aim to Lower Child Care Costs: Sen. Patty Murray (D-Wash.) and Rep. Bobby Scott (D-Va.) will introduce legislation today to make child care free for the lowest-income families and cap costs for middle-income families. The Child Care For Working Families Act is expected to be a blueprint for the American Families Plan, a proposal expected from the White House for massive new social spending. Read more from Andrew Kreighbaum.
Also amid preparations for Biden's next package, House leaders plan to reintroduce their signature drug pricing bill today, which would direct the government to demand lower prices from drugmakers. The bill, slated as H.R. 3, would direct the government to negotiate prices of drugs and biological products that lack competition from generic drugs or biosimilars, as well as insulin. It would also expand Medicare's benefits and create a $2,000 out-of-pocket cap for Medicare prescription drug plan beneficiaries, Alex Ruoff reports.
Politics & Influence
GOP Talks Tough on Texas Border: House Republicans hope their continued spotlight on the increase in immigrants at the southern border and their support of President Trump's policies there will resonate with a coveted constituency—Hispanic voters in Texas. Republicans are targeting three Democratic districts along Texas's southern border to flip in the 2022 midterm elections. The districts, which have some of the highest percentage of Hispanic populations in the nation, had always been considered likely to stay in Democratic hands given the party's more open stance on immigration. But the 2020 election challenged the conventional wisdom when some Hispanic-heavy areas along the border swung in Trump's favor. Read more from Emily Wilkins.
States Prepare for Reapportionment: California is one of the states BGOV's Greg Giroux will be paying attention to when the Census Bureau releases official congressional apportionment figures later this month. It's at risk of losing a seat in the House for the first time in the state's 170-year history. Read more on the states bracing for the Census report.
Oklahoma Starts Redistricting Without Data: Oklahoma's state House and Senate yesterday unveiled their designs for new district maps, building proposals without waiting for detailed data from the 2020 Census. They're constitutionally required to complete redistricting plans for state legislative districts by the end of regular session, which this year is May 28. Read more from Paul Stinson.
Barrett's Book Deal Called Bad Optics: U.S. Supreme Court Justice Amy Coney Barrett's reported $2 million book deal is drawing criticism from legal experts who say its size and timing create bad optics for a court that is already in the political crosshairs. The advance, first reported by Politico, would be the largest ever for a Supreme Court justice, topping the $1.5 million Justice Clarence Thomas received for his 2007 memoir and the $1.175 million advance Justice Sonia Sotomayor got for hers, published in 2013. Both books became best-sellers. This book would emerge unusually soon for a justice who joined the court only six months ago and has just two majority opinions to her name. Read more from Greg Stohr.
Around the Administration
Biden Went Big in First 100 Days With Challenges Ahead: By his 100th day in office on April 29, Biden will have surpassed goals he set for Covid vaccinations and be close to meeting another on reopening schools. He's skirted fault lines between progressives and centrists and kept his party united. These first few months have gone even more smoothly than Democrats had hoped. But the next 100 days and beyond already look more turbulent. Biden faces a human-rights crisis on the southern border. New coronavirus variants are fueling the pandemic. Biden's $2.25 trillion infrastructure bill is by no means certain to pass, and the next big bill on the horizon, the American Families Plan, looks like a long shot. Read more from Josh Wingrove and Nancy Cook.
White House to Get 'Aggressive' on Renewables: The White House wants to rev up projects across the nation by remodeling permitting policies that still protect the environment, Brenda Mallory, the new director of its Council on Environmental Quality, told Bloomberg Law. In her first interview since being confirmed for the job, Mallory said she wants to handle permitting in a way that enables "aggressive and high-charging deployment of renewable energies and other things." Read more from Stephen Lee, Dean Scott, and Jennifer A. Dlouhy.
The administration is reworking Trump-era environmental review standards but said it wants to keep them in place for now because they aren't causing any imminent harm to opponents. Read more from Ellen M. Gilmer.
Biden Poised to Recognize Armenian Genocide: Biden is poised to became the first U.S. president in 40 years to recognize the 1915 mass killings of Armenians as genocide, according to a person familiar with the matter, a move that risks upsetting an already tenuous relationship with Turkey, a NATO ally. Biden's pronouncement, the person said on condition of anonymity, will likely coincide with Saturday's Armenian Genocide Remembrance Day. Read more from Gregory Korte and Nick Wadhams.
U.S. Sees Modest Iran Talk Progress: The Biden administration sought to dial back Iranian assessments that both sides are getting close to an agreement on reviving the 2015 nuclear deal, saying disagreements remain wide on what steps they need to take to come back into compliance. A top State Department official said the two sides are closer to the beginning of negotiations than to the end. Read more from Nick Wadhams.
Harris to Discuss Migrant Surge With Guatemala Leader: Vice President Kamala Harris will talk on Monday with Guatemalan President Alejandro Giammattei to discuss the migrant surge and relief for Guatemala, according to a senior White House official, Jordan Fabian reports.
U.S. Weighs Global Vaccine-Expansion Move: The Biden administration is weighing an appeal from progressive Democrats to accelerate global access to Covid-19 vaccines by supporting a waiver of intellectual-property protections, a move opposed by big drugmakers. Lawmakers led by Sens. Bernie Sanders (I-Vt.) and Elizabeth Warren (D-Mass.) last week called on Biden to back a proposal before the World Trade Organization that seeks a broad waiver from obligations on the protection of intellectual property rights, including patents, copyrights and trade secrets. The aim is to ease rules regarding the production and export of vaccines and other critical medical goods needed to combat the Covid-19 virus. Read more from Eric Martin and Susan Decker.
With assistance from Alex Ruoff
To contact the reporters on this story: Zachary Sherwood in Washington at zsherwood@bgov.com; Brandon Lee in Washington at blee@bgov.com
To contact the editors responsible for this story: Giuseppe Macri at gmacri@bgov.com; Loren Duggan at lduggan@bgov.com; Michaela Ross at mross@bgov.com