What to Know in Washington: Biden Proposes New Policing Plan
Plan seeks to address voter anxiety over crime
Jan. 6 panel holds primetime hearing tonight
President Joe Biden will announce investments in new efforts to improve community policing and crime prevention on Thursday, with polls showing that his handling of crime and gun safety is weighing on Democrats' prospects in the midterm elections.
The announcement of the so-called "Safer America Plan" comes during a trip to Wilkes-Barre, Pennsylvania, as Americans continue to grapple with an increase in violent crime.
The proposal, according to a White House fact sheet, would establish a $15 billion grant program for cities and states to confront violent crime through prevention and $5 billion in community violence intervention programs. It outlines how the administration would spend $37 billion in funds included in the president's fiscal year 2023 budget.
"We need to expand community violence interventions – led by trusted messengers breaking the cycle of violence and trauma," the White House said in the fact sheet. Read more from Jenny Leonard.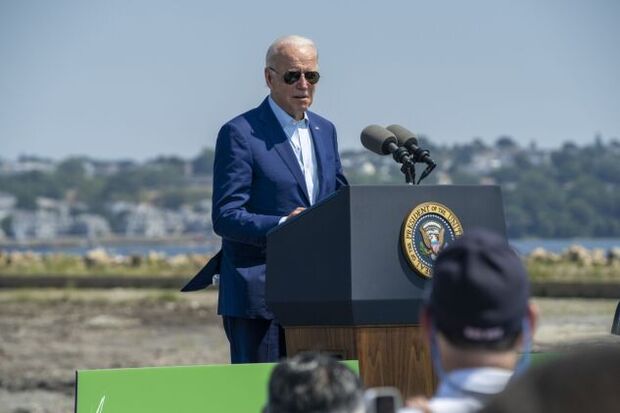 Happening on the Hill
CONGRESS' SCHEDULE:
The House meets at 9 a.m. and will vote on legislation to ensure contraception access.
Senators return at 10 a.m. to continue considering nominations.
House Republicans will be allowed to vote today on a bill (H.R. 8373) to codify access to contraception if they want to as Democrats are poised to use votes against birth control access against the GOP ahead of the midterms. The hands-off approach by House GOP leadership follows a Tuesday vote in which 47 Republicans joined all House Democrats to enshrine same-sex marriage in law (H.R. 8404). Read more from Emily Wilkins.
The bill would protect the availability of birth control established in rulings like Griswold v. Connecticut. It defines contraceptives as any drug, device, or biological product used to prevent pregnancy or for other health needs. And it would also specify that health practitioners such as doctors and pharmacists have the right to provide contraceptives. Read more in a BGOV Bill Summary by Christina Banoub.
Legislation that would allow Puerto Rico to change its relationship with the US moves to the House floor for consideration. The House Natural Resources Committee on Wednesday advanced the measure (H.R. 8393), that would mandate and fund a referendum that would present the island's voters with three options: statehood, independence, or sovereignty in free association with the US. Read more from Zach C. Cohen and Emily Wilkins.
The House Judiciary Committee backed a ban on military-style assault weapons in the aftermath of more mass shootings, but prospects for the measure to advance remain uncertain amid united Republican opposition and objections from pro-gun Democrats. The bill (H.R. 1808) to revive the federal assault weapons ban that expired in 2004 was approved Wednesday on a party-line vote of 25-18. Read more from Nancy Ognanovich.
Senate Judiciary Chair Dick Durbin said he'll consider adding more district court nominees to an upcoming confirmation hearing after a GOP senator said he won't back a second Biden nominee from his state. The decision by Sen. Ron Johnson (R-Wis.) to withhold support on a US district nominee, and most recently, a US attorney nominee "does not appear to have been made in good faith," Durbin (D-Ill.) said in a statement. Read more from Madison Alder.
Fox Rothschild partner Gregory B. Williams was confirmed by the Senate to be the next judge in the US District Court for the District of Delaware, one of the busiest patent venues in the nation. Senators cleared Williams in a 52-43 vote to succeed Judge Leonard P. Stark, who was elevated to the US Court of Appeals for the Federal Circuit earlier this year. Williams will be only the second Black judge to ever sit on the Delaware federal bench. Samantha Handler has more.
Senate Democrats are set to introduce a bill Thursday that would federally decriminalize, regulate and impose taxes on cannabis products. Majority Leader Chuck Schumer (D-N.Y.) and Sens. Cory Booker (N.J.) and Wyden, the sponsors, revised the measure, which faces significant obstacles in the chamber, after circulating a draft version last year and receiving feedback from Senate committees. Read more from Jarrell Dillard.
Elections, Politics & Probes
Former President Donald Trump's 187 minutes of inaction as an armed mob attacked the US Capitol will be the focus of a second prime-time hearing Thursday by the House committee investigating the Jan. 6, 2021 insurrection. The panel's eighth hearing since June 9 starts at 8 p.m. and is intended to be the capper of that series. Billy House previews what to watch.
The US Secret Service may have violated the Federal Records Act by not preserving text messages of 24 employees from the day before and during the Capitol attack, leaders of the House committee investigating the Jan. 6 riot said. Chair

Bennie Thompson

(D-Miss.) and Vice Chair

Liz Cheney

(R-Wyo.) said Wednesday in a statement that "every effort" must be made to retrieve texts that the Secret Service says were inadvertently erased during an equipment upgrade that began on Jan. 27, 2021, Billy House and Erik Wasson report. move this to pair with Jan 6 hearing
Steven Bannon brushed off multiple requests and warnings to comply with a subpoena from the congressional committee investigating the attack on the US Capitol, a witness testified as prosecutors rested their case in his criminal contempt trial, Sabrina Willmer reports.
Biden's job-approval rating fell to the lowest mark of his presidency, and a healthy majority of Americans don't want to see either him or Trump run again in 2024, a Quinnipiac University survey found. Biden's approval rating fell to 31% with 60% disapproving of his job performance in the survey of adults conducted July 14-18. Over 70% of Americans say they don't want to see Biden run again, including 54% of Democrats and 77% of independents, it found. Mark Niquette reports.
Sen. Michael Bennet is kicking off his campaign for a third full term with a TV spot aimed at voters disenchanted with corporate influence on Washington. A copy of his latest ad, obtained by Bloomberg Government, features Bennet (D-Colo.) touting his support for a ban on stock trading by members of Congress. Read more from Zach C. Cohen and Greg Giroux.
Intel, one of the major semiconductor companies in the US, spent a record $1.75 million on federal lobbying over the past three months as the chip industry fought to secure billions of dollars in grants and subsidies from Congress, Emily Birnbaum reports.
ByteDance, the Chinese parent company of social media video streaming sensation TikTok, spent a record $2.14 million on lobbying during the second quarter as it sought to fend off escalating congressional attacks over its privacy and security practices, Emily Birnbaum and Alex Barinka report.
Amazon spent a record $4.98 million on lobbying during the second quarter of this year as momentum intensified in Congress to pass legislation intended to crack down on technology giants. Alicia Diaz and Emily Birnbaum have more.
The Washington Commanders football team, facing House oversight on allegations of misconduct, has engaged four lobbying firms, disclosure forms show. The records, filed Wednesday with the Senate, list the firms as Cypress Advocacy, Harbinger Strategies, Dentons US, and Squire Patton Boggs, Mia McCarthy reports.
Around the Administration
PRESIDENT'S SCHEDULE:
Biden at 3:15 p.m. will deliver remarks on the Bipartisan Safer Communities Act and gun crime reduction in Wilkes-Barre, Pennsylvania.
At 6:40 p.m. Biden will participate in a Democratic National Committee fundraiser.
The Biden administration wants to spur the electrification of the transportation sector beyond traditional cars. The Energy Department plans Thursday to announce it will spend $96 million to reduce emissions by pushing forward the technology and charging infrastructure needed to electrify tractors, construction equipment, planes, trains, boats, and other off-road vehicles. Read more from Lillianna Byington.
The Biden administration is giving new powers to an office within the Health and Human Services Department to take on a more prominent role in responding to public health crises, from pandemics to natural disasters. The Office of the Assistant Secretary for Preparedness and Response will be authorized to "mobilize a coordinated national response more quickly and stably," Dawn O'Connell, the head of the unit, said in a memo obtained by Bloomberg. Riley Griffin has more.
China's envoy to the US said the Biden administration is undermining the "One China" policy through its support for Taiwan and is exacerbating tensions with its human rights claims over Beijing's treatment of Hong Kong and Xinjiang. Meanwhile, the US military said Pelosi's possible visit Taiwan next month wasn't a good idea right now, and Chinese Foreign Ministry spokesman Zhao Lijian said the trip would have a "grave impact" on the relationship with the US. Read more from Iain Marlow.
The comments come as Biden says he expects to speak to Chinese leader Xi Jinping "within the next 10 days," a rare discussion between the two men. Biden declined to say what he'd tell Xi about tariffs on the call, Nancy Cook and Josh Wingrove report.
The Kremlin is in a dash to hold referendums in Ukrainian territories occupied by its troops to give grounds for President Vladimir Putin to absorb them into Russia as early as September, according to people familiar with the strategy. Read more.
A price cap on Russian oil should go into effect alongside the December implementation of the European Union's restrictions on insurance for the commodity, a Biden administration official said Wednesday night. Read more from Daniel Flatley.
The head of the US Central Intelligence Agency said Russia's interest in buying drones from Iran for its war in Ukraine reveals the poor state of its military. "It's true that the Russians are reaching out to the Iranians to try to acquire armed drones," CIA Director William Burns said at the Aspen Security Forum, Iain Marlow reports.
Biden is a quarter of the way toward fulfilling his pledge to welcome 100,000 Ukrainians fleeing Russia's invasion, according to the Department of Homeland Security. So far 29,000 individuals from the eastern European nation have been approved to temporarily move to the US in the coming months, according to figures DHS provided Wednesday. Read more from Courtney Rozen.
To contact the reporters on this story: Michaela Ross in Washington at mross@bgov.com; Brandon Lee in Washington at blee@bgov.com
To contact the editors responsible for this story: Giuseppe Macri at gmacri@bgov.com; Loren Duggan at lduggan@bgov.com